Bouchet Elementary Teacher's Daughter is Now Also Her Student
09 November 2022
Mrs. Chyba says that it is extremely special making memories as her daughter Alice's teacher.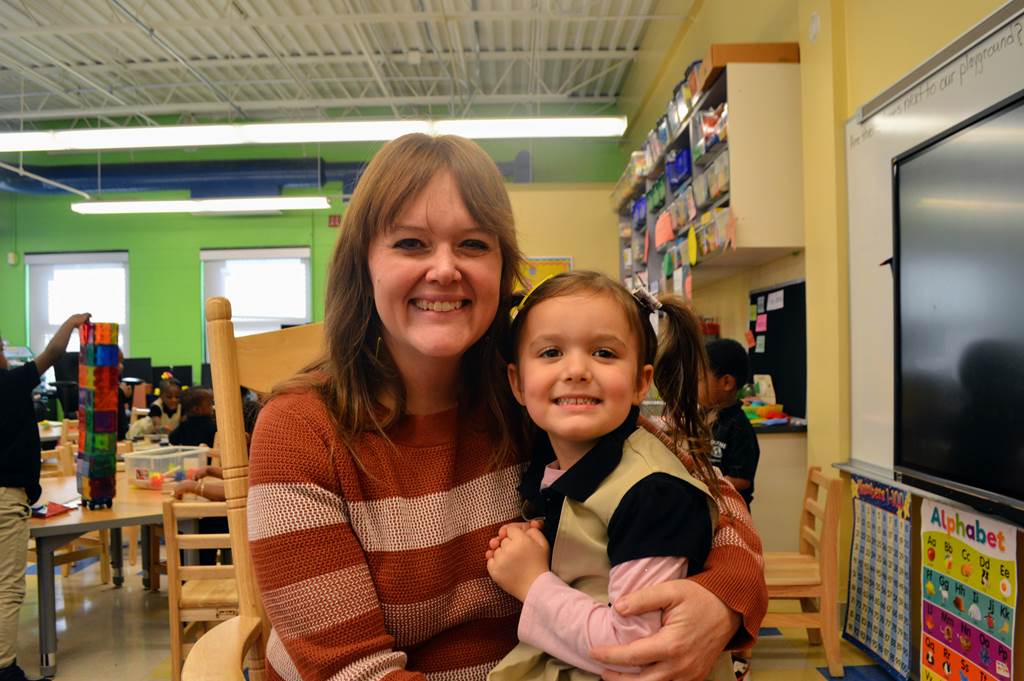 Mrs. Emily Chyba believes the biggest difference between her approach to being a teacher and her approach to being a mom is her walking speed. She realized this when she used her "teacher walk" with her daughter Alice, who was left struggling to keep up with her mom's brisk pace. Alice is now a pre-k student at Bouchet Math and Science Academy in South Shore, an IB World School. Bouchet is the same school where her mom teaches art to primary-grade students. Meaning that her mom is also her teacher every Monday and Friday.
One of the biggest draws for enrolling Alice in pre-k at Bouchet was knowing that Mrs. Minor would be her teacher. Mrs. Chyba actually started at Bouchet around the same time as Mrs. Minor about a decade ago, so she knew that her daughter would be in good hands.
"When we knew that we were going to make the shift from daycare to pre-k, I knew that Alice would be learning in a wonderful, well-structured classroom here at Bouchet," said Mrs. Chyba. "Mrs. Minor is also a very creative person outside of school, and she even made the bows that Alice is currently wearing."
Alice is a big fan of pre-k at Bouchet so far—especially her classroom. It's the perfect environment to help her build a strong academic foundation, and her mom loves the role she gets to play in her daughter's academic growth. This week, Alice's "letter of the week" is "D" and her "number of the week" is "11," which has led them to bond over study sessions in the car on the way to and from school.
"In my classroom, I can sit on the carpet and read books. And I love my cubby area because I can put my stuff there by myself," said Alice. "There's also a dramatic play area. It kind of looks like real food in a dramatic play, but it's not real."
---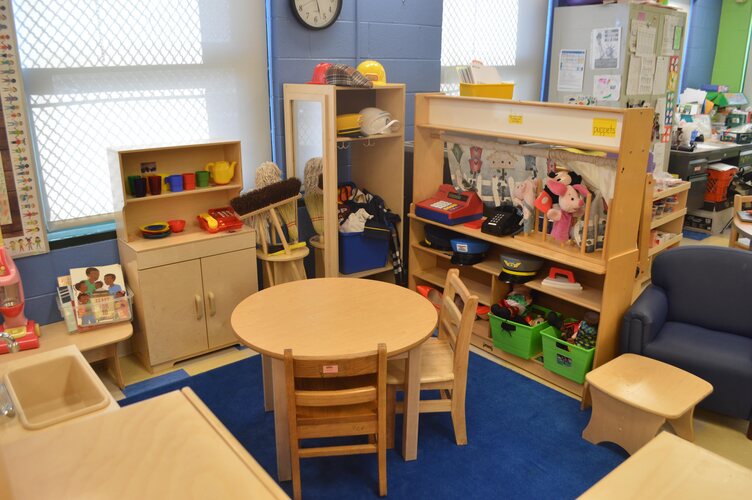 ---
Alice has been supported by the Bouchet community long before she officially became a Bouchet student. Because her mom has been teaching at the school for so many years, many Bouchet staff got to know Alice during her mom's pregnancy—and her mom even brought her to a few professional development sessions when Alice was really little.
So, when the school year started, Alice was a little overwhelmed by all the people saying hello to her and welcoming her to Bouchet. She also struggled at first with her mom entering her classroom to teach art and then leaving, but she's been getting used to it. Her sense of independence is growing and she always looks forward to going to school. She's even been pushing her mom to let her participate in more after-school activities.
Mrs. Chyba explains that the family-oriented culture at Bouchet extends far beyond the relationship she is building with Alice. Nothing symbolizes this more than the art projects she works on with her students.
"With my youngest students, a lot of art class is showing them how much glue to use or how to hold a paintbrush," said Mrs. Chyba. "And there are a lot of students in Alice's class who are the youngest siblings of other students who I have taught. You can totally tell because you start working with these students ready to teach them how to hold scissors and all of them are already holding them correctly."
Since the school year is off to such a good start, Mrs. Chyba is focused on ensuring that Alice has a well-rounded experience that will help her discover her interests both inside and outside of the classroom. This is especially important because the COVID-19 pandemic limited the opportunities for her to try out different activities as a toddler.
So far, Alice has shown interest in reading, imaginative play, and, of course, drawing and other forms of art. And Mrs. Minor makes sure that Alice also has opportunities to build her character by collaborating with her peers and learning what it means to be a good friend.
"I'm really thankful that we've had a normal year with no major interruptions thus far," said Mrs. Chyba. "I'm hoping we can make it through the winter, but, regardless, I'm just trying to enjoy having Alice in my school because it's so special to be able to make memories having her as my student."
---