Celebrating Crossing Guard Appreciation Month
22 February 2023
Miss Terry is a great example of how crossing guards positively impact their school communities.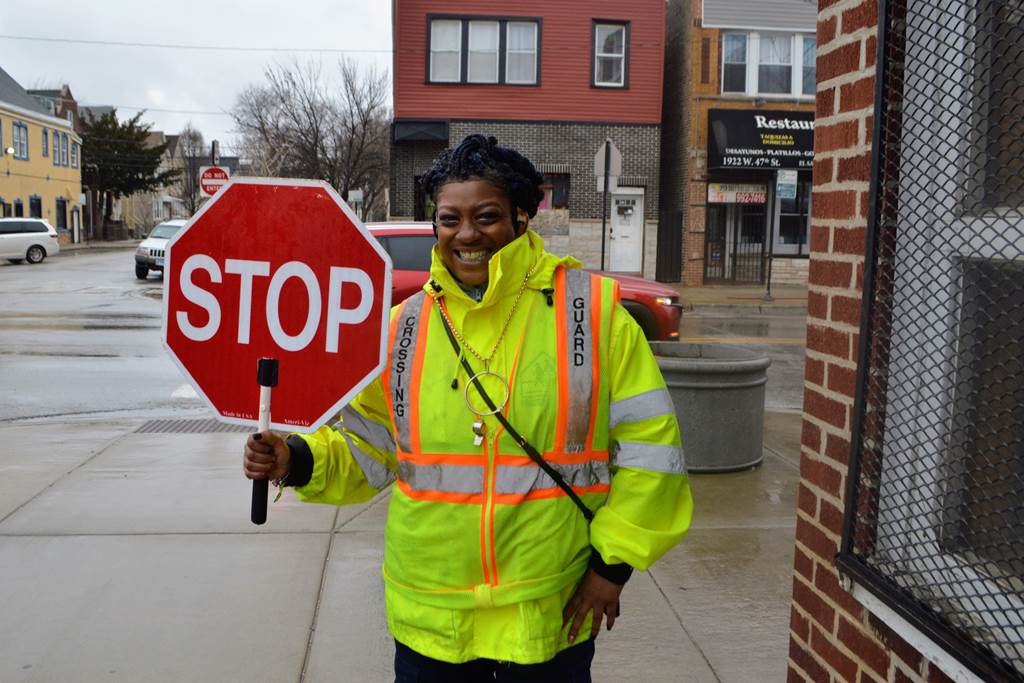 On street corners across Chicago, crossing guards play an instrumental role in helping CPS students and their families make it to and from school safely. One crossing guard who exemplifies the selflessness and compassion required to excel in this role is Miss Reshon Terry, who serves a busy intersection near Hedges Elementary School in the Back of the Yards community.
Miss Terry explains that being a crossing guard is a role she has wanted to take on for a number of years, and she finally took the initiative to become one back in 2021. She believes this job was a natural fit given that she loves caring for people and keeping them safe. Get to know her more below.
What is your approach to your role as a crossing guard?
I've always loved kids, and they gravitate to me. I try to be very observant. If a student has a new haircut or a new pair of gym shoes, I will let them know. I also try to build relationships through my smile.
The street I work on can get very congested, so it's very important for me to help the community cross the street safely. And I try to go above and beyond in my role. I even started a petition and wrote letters to the alderman's office to get a stop sign on the corner.
What is one of your favorite memories from being a crossing guard?
At the end of last school year, a student wrote me a letter and attached a flower to it. The letter said that she hoped I stayed her crossing guard because I made her feel very safe and she liked having me around here. That made me feel very special.
What advice would you give to someone who wants to become a crossing guard?
I would say that you need to have a caring heart and be a people person. You also have to be patient, because you might encounter someone who is having a rough day and need to de-escalate the situation. You should also always try to see how you can better serve the community you work in. Since I work in a largely Latino neighborhood, I am trying to learn some Spanish to better communicate with the families I see every day.
What is your message to other crossing guards for Crossing Guard Appreciation Month?
My message is to keep up the good work, keep being observant, and keep having a good attitude. I've found that you can't help others if you're not helping yourself, and the students can feel your joy when you show it to them. I always try to come to work with a positive attitude because it makes each day go by so quickly in the best way possible.