Making Memories Together at Nobel Elementary School
01 December 2022
Ms. Caracheo and her son Eduardo both love the strong sense of community at their school.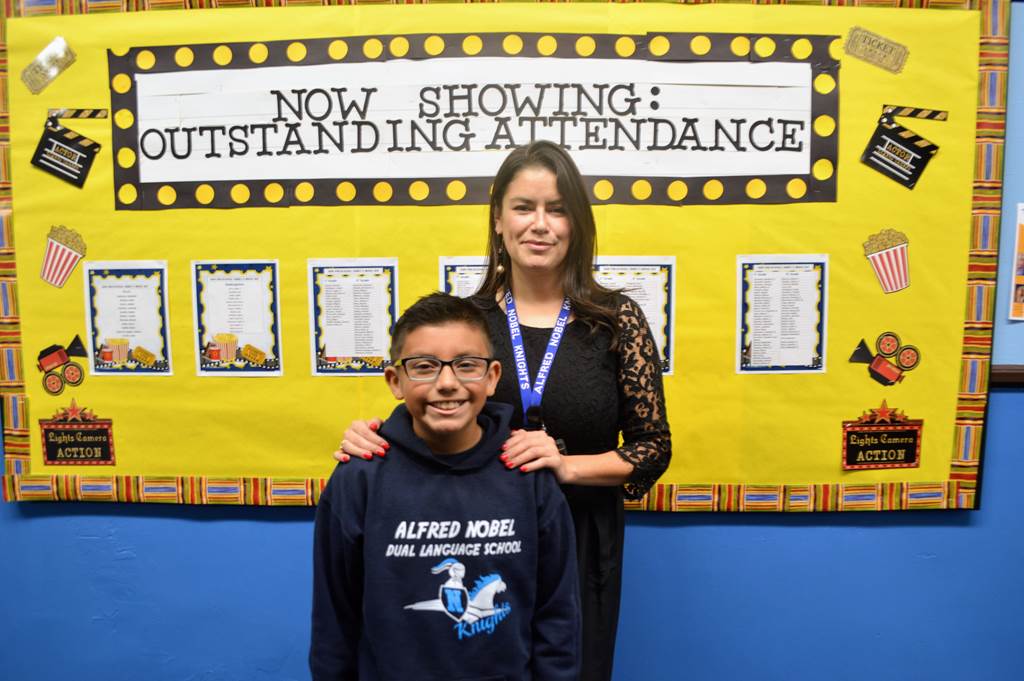 Ms. Ana Caracheo, a bilingual clerk at Alfred Nobel Dual Language School in Humboldt Park, says some of her favorite memories at Nobel involve former students returning to the school to say hello. These are students she watched grow from kindergarten all the way through eighth grade, and many of them return to thank her for all support she gave them over the years.
Being a school clerk is not Ms. Caracheo's first job at Nobel. Over her 12-year career at the school, she has held several different positions, each of which has reflected the stage of life she was in at the time. She started as a part-time bus monitor, which reflected her need for flexibility as a new mom. She then became a security officer, which reflected how Nobel helped challenge her and push her outside of her comfort zone.
And, now, she works as a bilingual clerk, reflecting all the experience she has gained as a Nobel parent that can help other parents guide their children. She even still has a few years left as a Nobel parent herself; her youngest son Eduardo is currently in the fifth grade.
Ms. Caracheo's current role includes enrolling students at the school, which she uses as an opportunity to get to know the needs of her families. She then works closely with the school's administration, social worker, and case manager to connect them with resources—everything from healthcare to housing.
"When I was a child, it was actually my dream to be a lawyer. I got my certification as a paralegal, but then I realized that I wouldn't be able to help as many people in that position," said Ms. Caracheo. "I have an amazing team helping me in this work, and I feel very happy to serve this community. Just like I want what is best for my child, I want to provide what is best for other children."
Eduardo has felt the strong sense of community as a Nobel student, and that support has helped him through challenging times. One of his favorite memories at Nobel actually occurred during remote learning. Even though he admits that being remote was not an ideal circumstance, he was able to work on a project on civil rights leaders with a close friend. That project highlighted the collaboration and joy that has been central to his time at Nobel.
---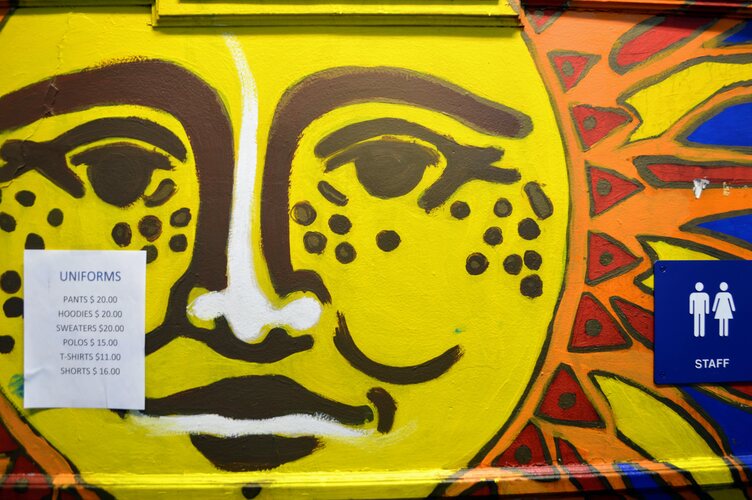 ---
And, now that he's back in the classroom, he also knows that his mom will always be nearby to ensure that he reaches his full potential.
"Since my mom is at the school with me, I think it helps a lot because it pushes me and I end up trying as hard as I can," said Eduardo. "I always hope to get good comments from my teachers to my parents."
To keep those positive comments coming, Eduardo explains that he is focused on getting straight As by improving his performance in the subjects he is struggling in, namely math. Math is also one of his favorite subjects, so he's keeping a positive attitude as he works through advanced multiplication. He's also keeping himself busy with after-school programming and his love for soccer, where he excels as both a midfielder and striker.
He feels confident that he can thrive both inside and outside of the classroom because of the adults at Nobel who want nothing more than to see him succeed.
"One of the things I like about Nobel is that the people who work there always look for ways to help the students," said Eduardo. "If you're having a hard time, you know your teachers are going to be there for you. And they are all very nice, just like my mom."
Ms. Caracheo's kindness connects back to the fact that she views Nobel like a second home. She is always smiling in the office and always cheerful when talking to families, even when it's to call home to inquire why a student is absent. And having Eduardo at Nobel with her leads to a multitude of positive connections between her two homes. Not only is she able to make memories with Eduardo at school, but she is then able to take those stories home with her and share them with her family.
Each one of those memories will help shape Eduardo into the person she wants to help him become.
"I love to spend time with him, and he's doing great right now. I want him to have fun at school and keep asking questions so he can learn as much as he can," said Ms. Caracheo. "I'm trying to teach him to be the best person he can by helping people in need, and I'm so grateful that we have each other to support each other."
---