Veteran CPS Principal Outlines His Formula for a Successful School Year
31 August 2023
Principal Dowdell always views education as his number one priority.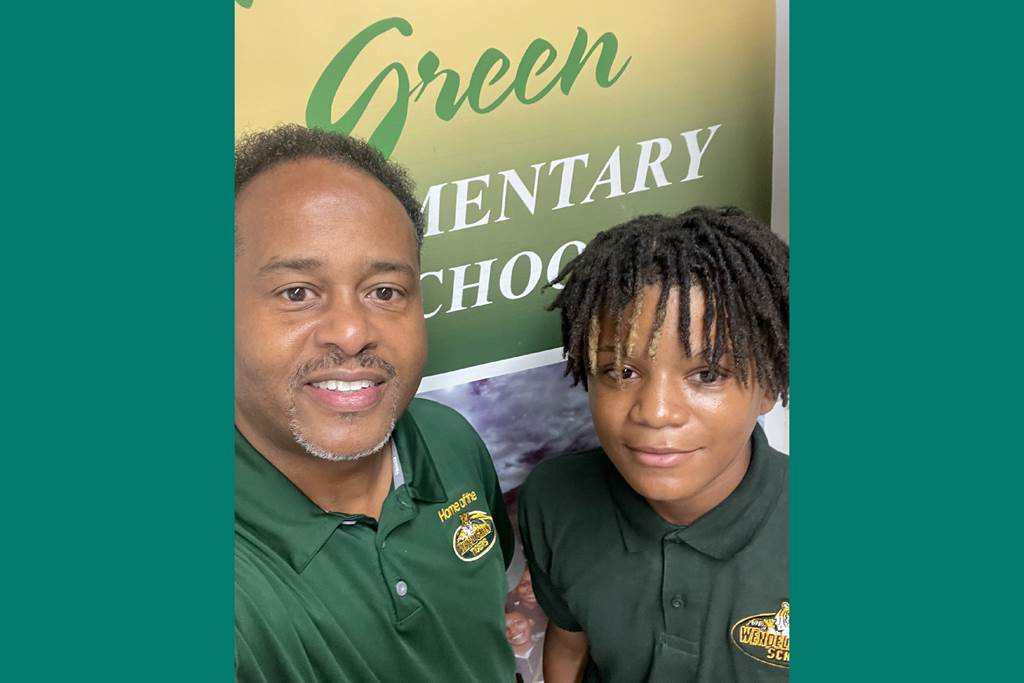 With more than two decades behind him as the principal of Green Elementary School on Chicago's South Side, Tyrone Dowdell wants his legacy to center on his belief that education should always be the number one priority and that we should "Speak Life and Speak Love" into all of our daily interactions. That's not to say that Green only focuses on meeting its students' academic needs. The school has a wide range of extracurricular programs designed to provide each student with a well-rounded experience. But academics are always top of mind.
A great example of this philosophy is highlighted in the school's basketball team. For a student to play basketball, they need to submit a weekly form that shows strong grades and positive behavior and receive sign-off from all of their teachers. Principal Dowdell recalls that, several years ago, their boys' basketball team was prematurely eliminated from the playoffs because some members of the team were not allowed to play because of their academics.
The very next year, nearly every student on the basketball team was on the honor roll and the team won the city championship.
"It was up to us to show our students that while we want them to be able to play basketball, it wasn't our priority and they needed to get their grades in order," he said. "For them to be successful in both realms was something that we really liked to see, and it helped the morale of the entire school."
Principal Dowdell's passion for helping students excel stretches back all the way to when he was in elementary school. Growing up, he quickly realized that the quality of education he was afforded, compared to the quality of education that many of his friends in the neighborhood were receiving, was vastly different. This motivated him to pursue a career as a teacher.
It's also why, during spring break, you can often find him chaperoning high school students on their college tours. He understands that in order for students to see themselves in a college setting, it is beneficial for them to experience being there before they graduate from high school.
He was hired to teach middle school social studies, but he noticed that his students often had gaps in their learning. This pushed him to go above and beyond to help ensure his students were able to take advantage of rigorous coursework in reading, math, and other core subjects. His background teaching social studies directly informs his current goal that each of his students is civically minded.
"We want to make sure that students are aware of current events and how they impact their lives," he said. "This will help them navigate the waters of being an adult and a good citizen. They will know the expectations as they maneuver through high school and into college and young adulthood."
His teaching background also informs his approach to maximizing relationships to reach a desired outcome. As a teacher, he would often differentiate a lesson ahead of time to a smaller group of advanced students. These students would then support him in teaching the lesson to their peers.
Now, as a principal, he keeps his finger on the pulse of the various connections within his building. He knows which staff members can go to their colleagues with feedback in a way that will be accepted and acted upon. But, in order for this approach to work, he knows that he needs to continually mentor his teachers and staff to grow in their practice.
"Everyone has different abilities and needs in the classroom, and differentiated coaching is time-consuming, but it definitely helps out in the long haul," he said. "When teachers see that you are genuinely invested in them, they will usually do the same for their students."
When it comes to his students, Principal Dowdell takes a data-driven approach to identify their focus areas. And, this year, the data is telling him that his students need to have writing experiences daily. Not only do they need opportunities to write, but also to revise their writing and talk about what they've written with their teachers.
Beyond academics, he knows that keeping education as the number one priority also requires cultivating a school climate that encourages students to learn. He's spent the first days of the school year hosting an ice cream social, taking selfies with students, and reminding them that they are more than capable of being successful.
"We want our students to remember that it is okay not to do well on day one, day two, or day three. If everyone came to Green as a scholar, no teachers would be needed," he said. "We are here to teach you what you don't know. Practice makes perfect, and progress does not happen without your intent and time behind it."