Second-Grade Lenart Students Transform into Famous Figures for Living Black History Museum
28 February 2023
Students transformed into Black heroes like Claudette Colvin, Garrett Morgan, and Serena Williams.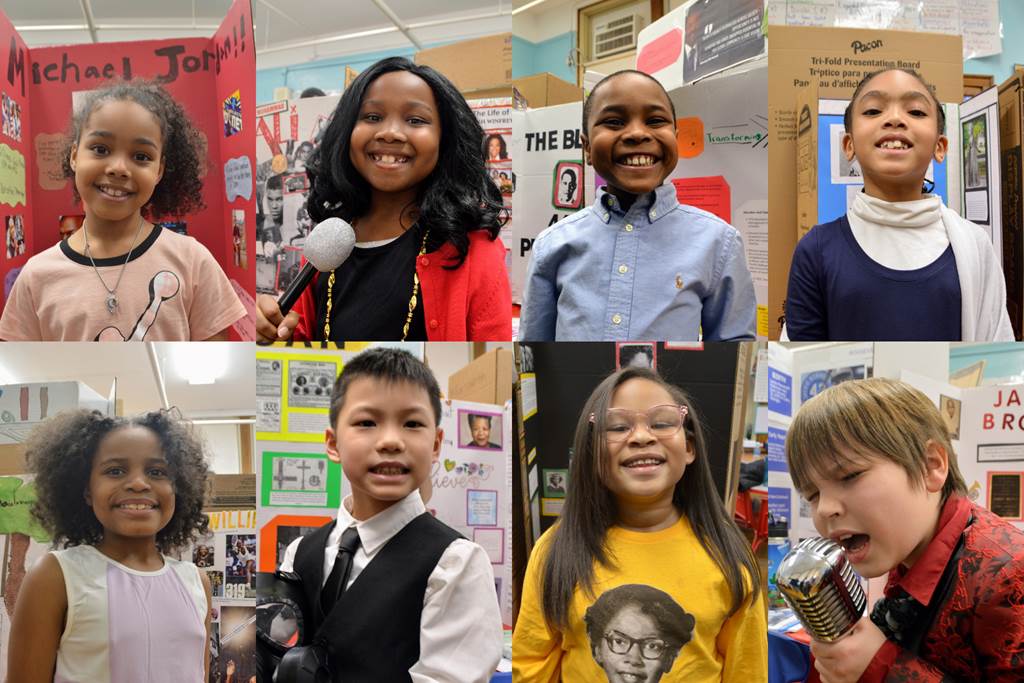 Students in Ms. Korree Kiszkan's second-grade class at Lenart Regional Gifted Center have celebrated Black History Month throughout February. They've created artwork inspired by black artists like Lorna Simpson and Jean-Michel Basquiat with the help of Lisa Tasner, their art teacher from the Hyde Park Art Center. And, to close out the month, each student participated in a Living Black History Museum.
---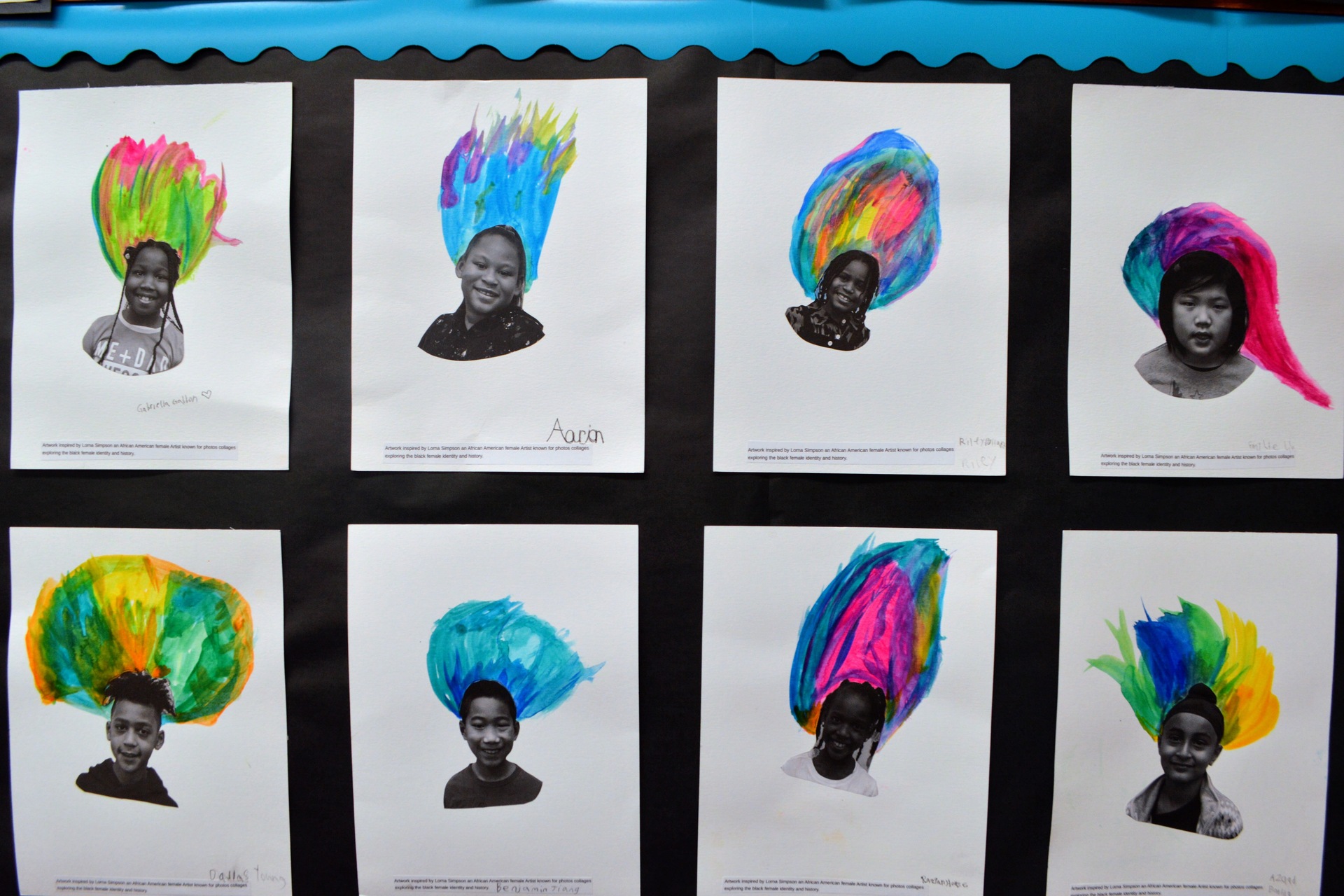 ---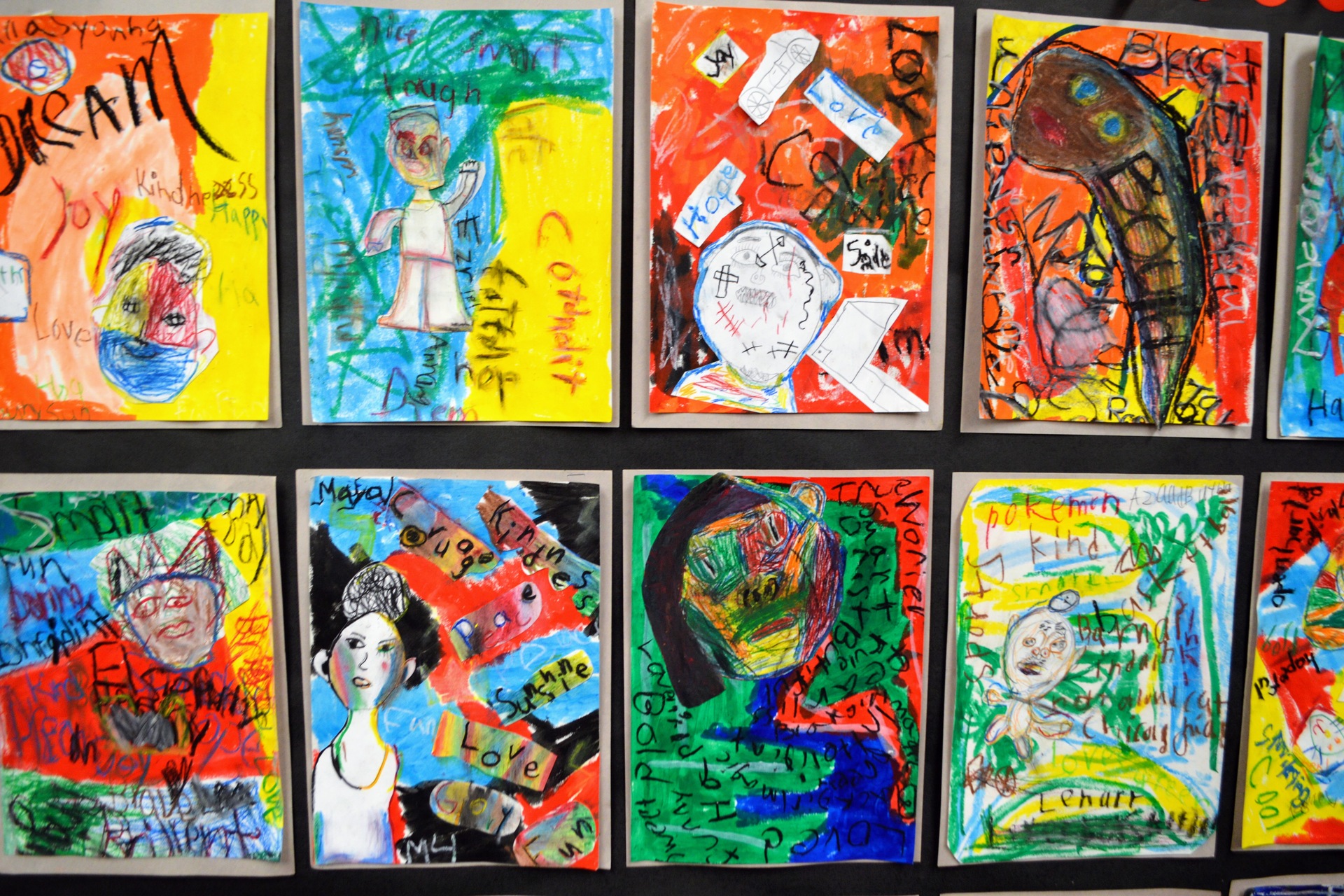 ---
Students researched Black icons and shared their knowledge by creating display boards and dressing up like them. The Lenart community was able to see all of the projects at once by walking through the museum and engaging with each student as they shared biographical information and fun facts about these Black heroes.
Read more about what eight of these students learned below.
---

"What I found most interesting is that she was the first Black woman to successfully sue a White man. And I also thought it was really cool that she has five kids," she said. "My favorite part about this project was being able to create it by myself. I just love learning new things. Second grade has been going great because I've made so many friends."
---

"David Steward is the founder of World Wide Technology, which employs about 9,000 people globally and generates over $14.5 billion in annual revenue. WWT makes electronics. He also has a mustache and has seven siblings," he said. "I wish I had 19 siblings so I could hug them and they could play with me. I loved learning about someone who makes a lot of money."
---

"At 15 years old, Claudette Colvin started the Montgomery bus boycott nine months before Rosa Parks. I think she was overshadowed by Rosa Parks because she was pregnant at the time and had darker skin," she said. "It was fun doing this project to see how people sometimes aren't given the credit they deserve. In second grade, I feel like I'm able to express my true self."
---

"I consider Oprah Winfrey to be the master of media, and I would describe her as courageous, dynamic, and helpful. She starred in 4,261 episodes of her talk show across 25 seasons," she said. "My favorite part about this project was creating the timeline for my board. It was my first time typing and printing stuff, and it went great."
---

"I learned a lot of fun facts about James Brown such as the fact that he died on Christmas and grew up during the Great Depression. He also won Grammy Awards and has a star on the Hollywood Walk of Fame," he said. "My favorite part of this part was making the poster board. The most difficult thing was putting the stickers on it, so my mom and I worked together to do that."
---

"Serena is a tennis player who inspired the next generation. She retired at the age of 41 and has an older sister named Venus who played tennis too," she said. "Something you might not know is that Serena experienced a lot of racism and mean comments during her career. That made me feel sad because no one should be treated badly. I liked this project because it let me be creative."
---

"Garrett Morgan made the gas mask and the traffic light. He also invented a hair straightener that he tested on his neighbor's dog. And he made a belt fastener for $150," he said. "He was a great scientist and leader. I don't really feel like I'm a leader yet, but I think I can work on that. My favorite part about second grade is learning math. We're currently doing multiplication."
---

"I learned that Michael Jordan won two Olympics medals, played in over 1,000 NBA games, and starred in the movie Space Jam. A fun fact is that he wore his University of North Carolina shorts under his jersey in every game he played for the Bulls," she said. "My favorite thing I learned about him was his nicknames. My favorite is 'Jumpman' because whenever I jump I feel like I'm flying."