Take Five with Dr. Sofia Adawy Akintunde: Chief Health Officer
30 March 2023
Dr. Sofia describes her work as CPS Chief Health Officer as being at the center of social justice, education, and healing.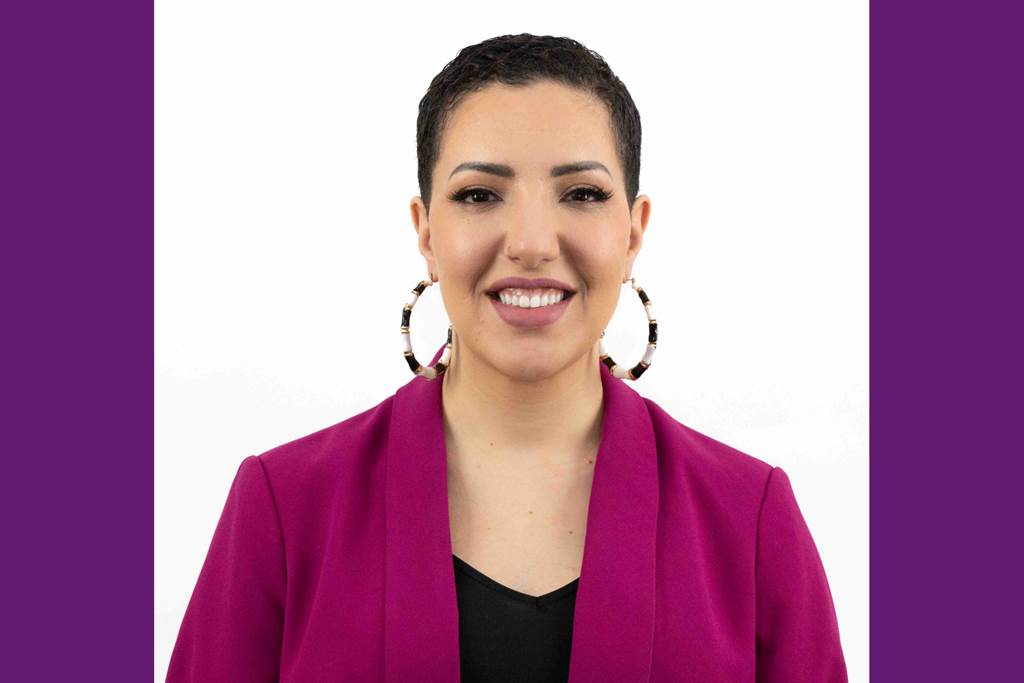 Take Five is a series that highlights some of the many CPS staff members who are going above and beyond for our schools. If you know someone who is making a difference, nominate them to be featured here.
---
In honor of National Doctors' Day on March 30, it is the perfect opportunity to introduce CPS' new Chief Health Officer, Dr. Sofia Adawy Akintunde. As Chief Health Officer, Dr. Sofia is responsible for eliminating health-related barriers to learning and advancing child health equity within our schools. She describes her work as being at the center of social justice, education, and healing.
Prior to joining CPS, Dr. Sofia served as the Senior Health Center Director at the Inner-city Muslim Action Network (IMAN) — an organization that provides wraparound services with a focus on health, wellness, and healing. In her role, Dr. Sofia oversaw the IMAN Health Center, advised the IMAN Executive Director on all health-related issues, and served as the sole physician on staff during the first two years of the COVID-19 pandemic.
Dr. Sofia attended medical school at the University of Illinois Chicago, completed a residency in Family Medicine, and spent her medical career working in Federally Qualified Health Centers, spending some time in school-based locations. But before dedicating her professional life to medicine, she taught high school history and biology in the suburbs of Chicago. Dr. Sofia is also a mom of two, including a CPS pre-k student.
What is your approach when thinking about the health and well-being of students?
I believe that what we traditionally think about as "health care" is actually "sick care." We think about getting strep throat and needing to go to the doctor. And while that is an important component of tending to one's health, we often gloss over the reasons people might get sick in the first place, or even the importance of mental health and social health.
When I think of health and wellness, I think about it in broad terms. I think it's important to ask questions like: Do you feel safe at home and in your neighborhood? Do you have enough to eat? Do you have glasses if you need them? Do you have an adult in your life who you trust? These are all important components if we're going to help our students reach their full potential.
What made you want to couple a career in medicine with the field of education?
The reason I'm so passionate about education is because it changed the trajectory of my life. I grew up as the child of immigrants, and my family was poor. There were a lot of life challenges that came along with that, including having less access to resources. My ability to attain a quality education was the thing that changed my future, and that led to the life my kids now have. So I care a lot about all the factors that can help children learn to their fullest potential. You can teach a kid all you want, but if we're not caring for their basic health and wellness needs, what are they going to be able to retain?
I'm also really passionate about mental health and educating people on adverse childhood experiences (ACEs), which are traumatic events people experience in childhood that can have profound, long-term impacts on their health. It is very important to me to educate more people about ACEs, as well as how we can intervene to prevent these types of traumatic childhood experiences from happening in the first place.
What are your top priorities as the District's Chief Health Officer?
My number one priority is mental health, which is one of the biggest crises facing our youth right now. Mental health is an umbrella that covers a lot of different issues, from access to therapy and substance use treatment to making sure our students have vibrant relationships and feel safe at home and at school. There's a lot of incredible mental health work already happening around the District, and I want to champion that work and create clearer pathways to help our students access mental health resources.
Especially now, when I'm new in this role, I want to hear from as many stakeholders as possible about what their top priorities are when it comes to health-related issues in the District. From there, I can build out my priorities and concrete plans from the common themes that emerge from those conversations.
What do you like to do outside of work?
I love the arts and all kinds of creative expression — fashion, art, music, theater. I also love cooking, particularly Italian and Latin cuisine. And I of course love spending time with my husband and two kids. My daughter is three and my son is four, so there is truly never a dull moment!
What is something people might not know about you?
When I was a high school teacher, I was also the advisor for my school's drama club. The majority of the students at the school had some level of Arabic proficiency, so one year we did an Arabized adaptation of The Taming of the Shrew for our final play of the year. It was really fun!