Celebrating Music in our Schools Month with Four CPS Music Educators
30 March 2023
Ms. Andrea Malek, Ms. Ashley Barajas-Galan, Dr. Jenai Jenkins, and Ms. Meghan Rieger are making a difference in the lives of our students every day.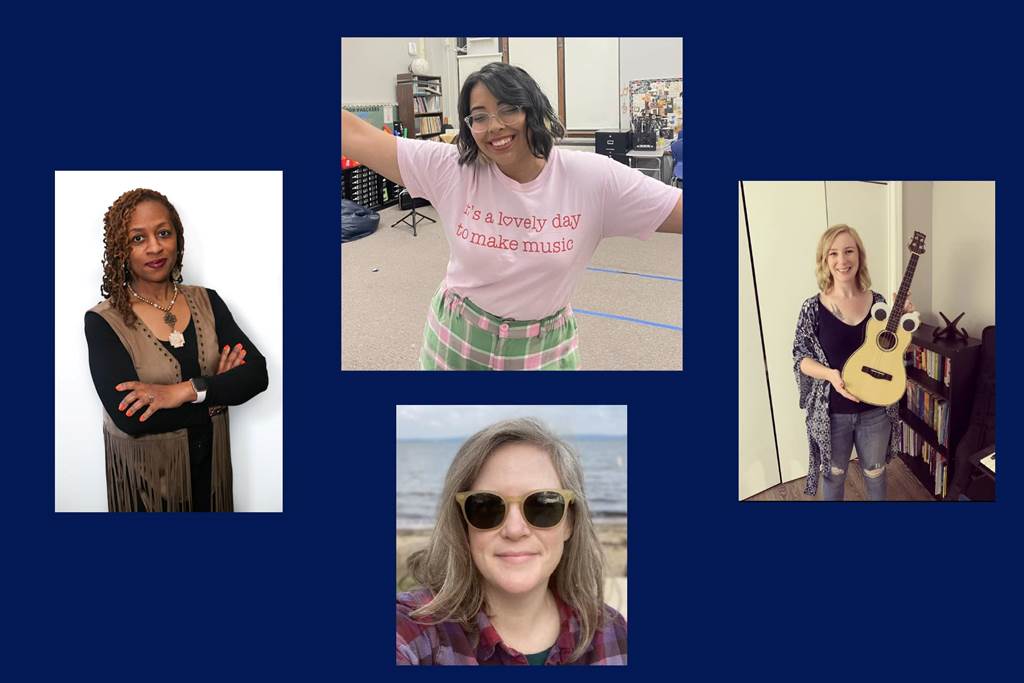 March is Music in our Schools Month, the perfect time of the year to highlight the importance of arts education in helping our students reach their full potential. CPS has taken big steps forward in expanding access to the arts over the past several years, and our educators are at the forefront of ensuring our students can benefit from high-quality, culturally responsive instruction.
Ms. Andrea Malek, Ms. Ashley Barajas-Galan, Dr. Jenai Jenkins, and Ms. Meghan Rieger are four of the outstanding music educators who are making a difference in the lives of our students every day. Get to know each of them a little better below.
---
How do you think your students would describe you?
Ms. Malek: They would probably describe me as being very energetic, and a few of them have told me that I'm pretty cool. At the same time, they probably would mention that I want them to understand how to take care of our equipment.
Ms. Barajas-Galan: I think they'd say that I am weird and funny. Sometimes, I might be strict, but, mostly, I hope they see me as someone who they can make mistakes in front of and feel supported.
Dr. Jenkins: My students would say that I'm committed to music. I think they would also say that I'm patient and give everyone a chance.
Ms. Rieger: One of my students once told me that I would make the perfect Glinda from the musical Wicked. I think that means that they see me as energetic, bubbly, and enthusiastic.
What are some of your favorite things to teach?
Ms. Rieger: I was an instrumentalist growing up who became a vocalist as well. With my third through eighth graders, I love teaching kids how to play songs that they love. And with my younger students, I love watching them discover the joy of making music as a group.
Dr. Jenkins: I love teaching the instrumental component of music education through Orff instruments, like the recorder and xylophones. I'm always adjusting my curriculum to meet the needs and interests of my students.
Ms. Malek: In the wake of the pandemic, we're finally getting some elective classes rolling. I have two band classes for the first time. I also love teaching the recorder. When I start to work on horns in my band classes, I'll probably start doing the recorder with my younger students.
Ms. Barajas-Galan: At first, I thought Boomwhackers were really silly, but I've found that it's fun to have students create music with them. I love group work and having students work together. And my heart is always with our orchestra. We're small right now, but hopefully we continue to grow.
What long-term skills do you hope your students gain from your instruction?
Ms. Barajas-Galan: My class teaches students to try their best. Even if you can't do something at first, you find that you'll eventually get the hang of it. Or, you might end up being pretty good at something that you aren't sure you'll enjoy. That's why I always encourage students to give their full effort.
Ms. Rieger: I try to open their eyes to see that a musician isn't just someone who gets up and performs. Everyone listens to music in some way, and that's a big part of being a musician. So, I want them to find the joy in music, whether it's making music, listening to music, dancing to music, or whatever they want to do.
Ms. Malek: My students are probably going to take a music class in high school, and I want them to feel comfortable and not intimidated in that environment.
Dr. Jenkins: I hope they take away the concept of how music can develop discipline. I want them to know that they can accomplish anything they put their minds to, and it will just take a little bit of time, practice, and determination.
What advice would you give to a new music teacher?
Dr. Jenkins: Don't be afraid to try new things, and don't be afraid to learn from your students. No matter what stage you are at in your teaching, it will always benefit from using your students' interests and skills to inform your future curriculum development and practice.
Ms. Malek: A piece of advice that I think is especially important for teachers who are at K-8 schools is to remember that you are going to have many of the same students year after year. If you prioritize growth with your younger students, they'll be able to show off the depth and breadth of your program when they are older.
Ms. Rieger: Let your enthusiasm for your subject shine. Your class might be the brightest part of the day for some students.
Ms. Barajas-Galan: Teachers also have to be okay with making mistakes. If a lesson doesn't go well, I try to be very reflective to make it more interesting or interactive in the future.
What is your message to your students?
Ms. Barajas-Galan: Don't let your energy die! Remember to have fun at school while also keeping your grades up.
Dr. Jenkins: The big picture can sometimes be overwhelming, so consider approaching your learning in smaller chunks. Everybody can find a little bit of success this way.
Ms. Rieger: Keep trying your best, and remember that it's okay to make mistakes.
Ms. Malek: Make some noise and go for it.