Hernandez Middle School Teacher On a Mission to Help Students Enjoy and Succeed in Math
09 May 2023
Ms. Reyes says her classroom is a place where mistakes are expected, inspected, respected, and corrected.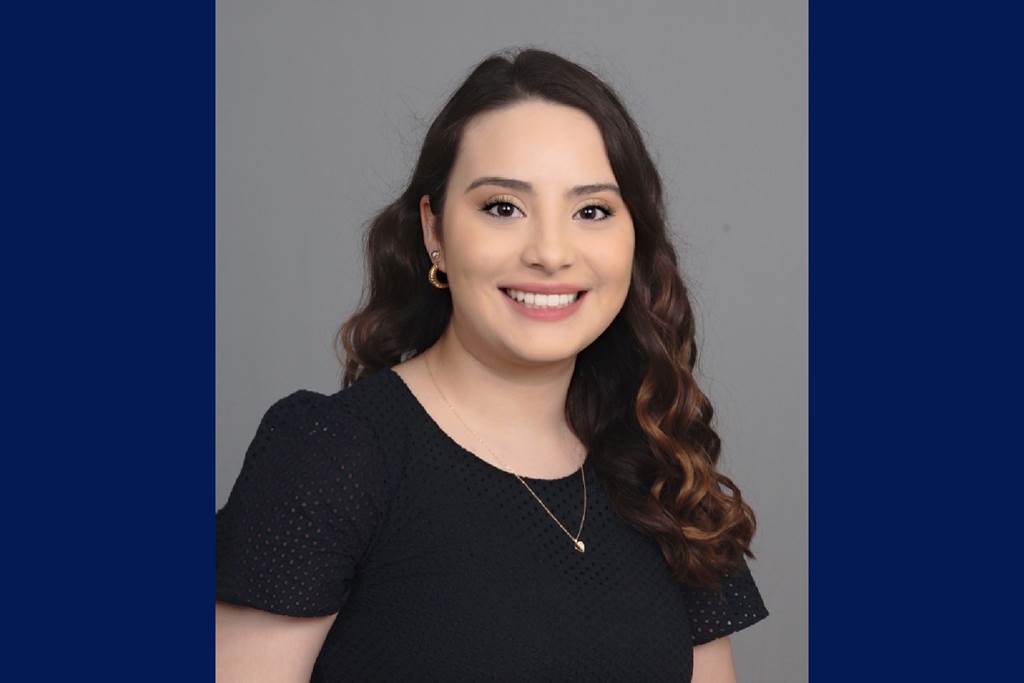 Ms. Jennifer Reyes has a bulletin board in the back of her classroom at Hernandez Middle School with a message that is central to her approach to teaching math: In our classroom, mistakes are expected, inspected, respected, and corrected. At the beginning of the school year, she reminds students that she views her class as a little family and her classroom as a safe space for students to ask questions and share their ideas without being laughed at or made fun of by their peers.
"So far, my approach seems to be working," she said. "I've honestly never had any serious behavioral issues with students, and we have a really good friendship with each other."
Math is not always a subject that clicks for all students right away, so Ms. Reyes is extremely strategic about how she is meeting each student where they are. This starts with her seating chart. She purposely pairs students who are excelling with those who are struggling to allow students to directly help their peers learn and master the material.
She also gives students detailed feedback on their assignments so they can learn from their own work, analyzing how they approached a problem in the past and recognizing how they should approach similar problems differently in the future. For students who need additional support, she devotes part of her class time on Thursdays and Fridays to small group instruction to make sure these students have additional opportunities to practice their material without feeling like they are being singled out.
Her role as a math teacher comes naturally given her background. She was a math tutor in high school and college and always loved math as a student herself. She has also been a Golden Apple Scholar since 2018. Through this program, she student-taught kids from first all the way through eighth grade at schools across Chicago.
"My goal is to not only help students learn how to do math, but also to find the joy that a math class can bring to them," she said. "And then, once they start enjoying learning, they can start thinking about STEM careers and other options they have in life."
Helping students enjoy math often starts with connecting the material to their real-life experiences. One of Ms. Reyes' favorite units is teaching percent increase and decrease because students can relate it to coupons, discounts, and money in general, bringing their own knowledge about these topics into the classroom. She also loves teaching algebra and is currently working with students on one- and two-step equations and inequalities.
Ms. Reyes started her career at Hernandez three years ago while the COVID-19 pandemic was still impacting education in major ways. She's seen firsthand how students carry the impact of the pandemic with them, which has motivated her to make sure she is also meeting her students' social-emotional needs.
"I try to show my students that they can reach out to me about more than just their math work," she said. "I'm very patient and understanding about things that they might be going through."
One of Ms. Reyes' favorite aspects of Hernandez is seeing students who have graduated and entered high school return to the school to volunteer or just check-in. She sees this as a testament to the power of building strong relationships with students and families. As a bilingual educator, she is able to communicate with parents in both English and Spanish to keep them updated on their students' progress.
Seeing students return to Hernandez reminds Ms. Reyes that she does not need to be perfect to give her students a great, memorable experience in her classroom. Instead, she focuses on simply doing her best and not being too hard on herself.
"My advice is to always smile and always give your best," she said. "You don't want your own feelings or your own biases to impact your students. You should just want to give your students a great day."
Happy Teacher Appreciation Week! Celebrate your favorite teachers using our Teacher Appreciation Week digital media toolkit.