Learning How to Excel as a First-Year Teacher
16 May 2023
By Ms. BryAnna Sumbry, Third- and Fourth-Grade Teacher at Metcalfe Community Academy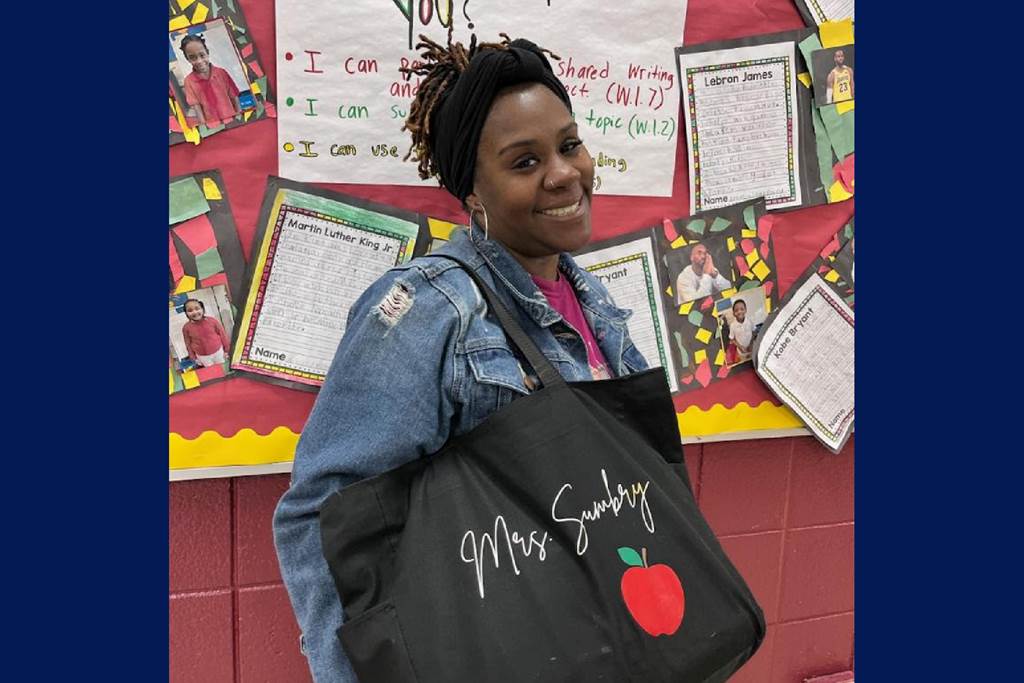 I think I've always known that I wanted to be a teacher, but there was another part of me that thought I should pursue a career in health care. Both education and health care are great industries, but, while I was working in health care, I still felt the urge to pursue teaching. I even taught at a daycare.
Thus, I knew it was time for a change. For me, the bridge to becoming a teacher was the CPS Teacher Residency program. It was a great experience. I had the most amazing mentor who told me exactly what I needed to hear to succeed in this role. I also loved that it was an accelerated program that allowed me to work on my master's degree in early childhood education and, the following year, be inside of the classroom teaching.
I am still at Metcalfe Community Academy—the same school where I was a resident. I see 68 students each day, and I know each of their names, personalities, and favorite ways to learn. We've developed great relationships with each other, and I think they would describe me as bubbly and outgoing, but strict when I need to be.
This year, I had a group of third-graders that started the school year being pretty rowdy. So, I had a chance to exercise the classroom management skills that I had developed with the help of my mentor. In the fall, I might have a student running around the classroom from time to time, but, now, no one is running around the room anymore.
Now, when I get quiet, my students know that it is time for them to quiet down as well. They know that I will wait until they are calm and ready before proceeding with teaching.
If I could change one thing about my first few months of teaching, I think I let my energy waver a little bit too much. I would never take my emotions out on my students, but I think they could tell when I was having a rough day. My first year of teaching has taught me that my energy is often just as important as my instruction.
In terms of instruction, my classroom has been making great strides in so many areas. My efforts with multiplication are a great representation of this progress. Some of my students entered the year really struggling with numbers, and, now, not only are they recognizing numbers, they're having success with multiplication.
The key has been showing them that there are different strategies they can use to solve a problem. For example, if they haven't quite mastered multiplying in their head, they know that they can draw out an array to get to the right answer.
My classroom itself mimics this approach. We have flex seating, which gives them options. If they want to stand while they work, they can go right ahead. If they want to sit in one of the big chairs at the front of my classroom and work upside down, that works for me as long as they're not distracting their peers.
I want all my students to be comfortable in this space. Not only will this help them academically, but it also helps with my classroom management.
With this school year winding down, I'm beginning to focus on some of my future goals. I want to successfully complete my second master's program, which is my learning behavior specialist endorsement. This will help me recognize more areas where students need additional support by using data to determine personalized strategies for each of them.
When I was growing up, I had several teachers that went above and beyond just teaching in the classroom. I knew I could talk to them about anything, and it's a great feeling to know that my students feel comfortable coming to me. I've always strived to be that kind of teacher, and I know that will motivate me to keep going.
Inspired by Ms. Sumbry's story? Learn more about the CPS Teacher Residency program here.