Reliving the Joy of This Year's Youth Mental Health Leadership Summit
15 May 2023
This year's summit was special because, for the first time, it was open to all CPS high school students.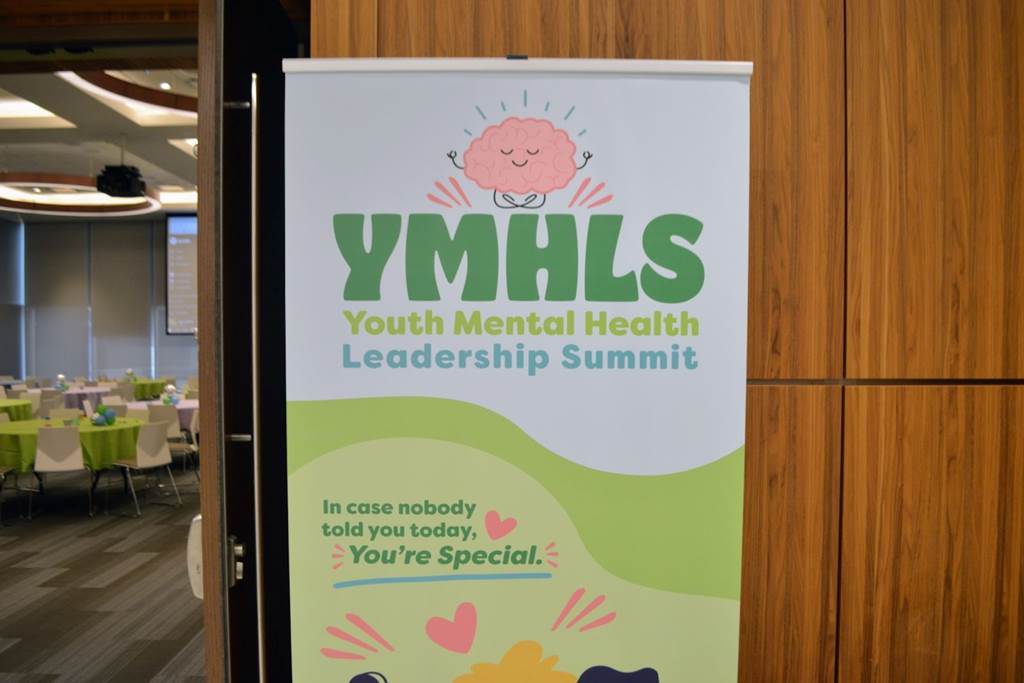 CPS hosted its second successful Youth Mental Health Leadership Summit on a windy Saturday morning earlier this May. This year's summit was special because, for the first time, it was open to all CPS high school students. And it was also special because of its theme—In case nobody told you today, you're special—which drew inspiration from a popular song lyric to encourage students to prioritize supporting their mental health and self-esteem.
The summit was jam-packed with activities, resources, and many opportunities for students to build relationships with peers and adult mentors from across the city. Follow our minute-by-minute recap below.
---

---

---
9:00 a.m: Opening Ceremony and Keynote Speaker
Before they began their workshops, students were welcomed to the summit by CPS leaders. They had the opportunity to meet Dr. Sofia Adawy Akintunde, the District's new Chief Health Officer, who shared why supporting students' mental health is one of her top priorities.
They were also introduced to Erika Kendrick, the summit's keynote speaker. She shared her journey of being a high-achieving student who still never felt like she was enough. She attributed her ability to overcome mental health challenges by developing a strong mental fitness game plan. This plan included ten aspects that she shared with students:
| | | | | |
| --- | --- | --- | --- | --- |
| 1. Support System | 2. Therapy | 3. Clean Eating | 4. Finding Your Happy Place | 5. Meditation |
| 6. Exercise | 7. Getting Enough Sleep | 8. Listening to Music | 9. Service | 10. Furry Friends |
---

---

---

---
9:30 a.m: First Workshops
Students had the opportunity to choose between three workshops to kick off their time at the summit. The sound healing workshop used crystal singing bowls to help students meditate and learn how their bodies respond to stress. The chair yoga workshop taught students ways to stretch and exercise without even leaving their seats. And the painting workshop showed them how painting can help them calm down and reduce anxiety.
---

---

---

---
10:00 a.m: Second Workshops
The second round of workshops was all student-led! Students from Lindblom Math and Science Academy shared strategies with their peers for building strong relationships with school counselors. Students from Kelly College Prep led a discussion about controlling anger and other harmful emotions.
And students from Goode STEM Academy led a workshop focused on solidarity. Their workshop included a "snowball fight" where students threw crumpled-up pieces of paper around the room. Each piece of paper had a thought-provoking question written on it, and students got into groups to discuss them.
---

---

---
10:30 a.m: Embarc Activity
It wouldn't be the Youth Mental Health Leadership Summit without a fun activity created by our partners at Embarc Chicago. This year, they led a student fashion show. Students had a blast cheering on their peers as they walked down the "red carpet!"
---

---

---

---
11:30 a.m: Final Workshops
The final set of workshops gave more schools and students opportunities to share their insights with their peers. Students from Englewood STEM High School weren't afraid to be vulnerable, sharing lived experiences that had impacted their mental health and ways they overcame the adverse impacts to their mental health.
Students from Bogan High School explored scenarios regarding bullying and provided guidance on how to minimize harm and support each other. And students from Lindblom Math and Science Academy and Kennedy High School led a conversation about how to help adults understand the challenges of being a high school student.
---

---

---

---
12:00 p.m: Resource Fair and Lunch
Every summit needs a lunch break! This year, while they selected their lunches, students were also able to learn about resources such as student-led programs offered through the CPS Office of Student Protections and Title IX and online classes from the CPS Virtual Academy.
The summit also had a DJ! Students enjoyed dancing to everything from the Cupid Shuffle to Swag Surfin' to Payaso de Rodeo. And they also made sure to take advantage of all the photo booths!
---

---

---
12:30 p.m: Embarc Activity
Our partners from Embarc rejoined students to lead them in a fun game of "This or That!" Students used glow sticks to share their preferences between two options. Some of the questions—such as Ice Spice versus GloRilla—led to a lot of discussion and debate!
---

---
1:00 p.m: Mental Health Panel
An all-star lineup of CPS staff from the Office of Social-Emotional Learning, Department of Nutrition Support Services, Office of Student Health and Wellness, Office of Safety and Security, Office of Student Protections and Title IX, and Office of Diverse Learner Supports and Services answered student questions about mental health topics.
Students asked poignant questions about responding to bullying, building relationships with school staff, and staying safe inside and outside of school that received thoughtful responses from the panel.
---

---

---
1:30 p.m: Closing Ceremony
At the closing ceremony, summit organizers thanked students for attending and shared resources they could take advantage of during the rest of the school year and beyond. They reiterated that supporting students is their focus. Student emcee Kaitlyn even shared one of her original poems with everyone!
Students, chaperones, and volunteers all had an amazing time at this year's summit. We can't wait for the next one!
Interested in learning more about the District's approach to mental health? Visit the CPS mental health webpage here.
---