New Principal at Oglesby Elementary School Off to a Fantastic Start
19 October 2023
Principal Coleman is relentless in making sure her students have what they need to be successful.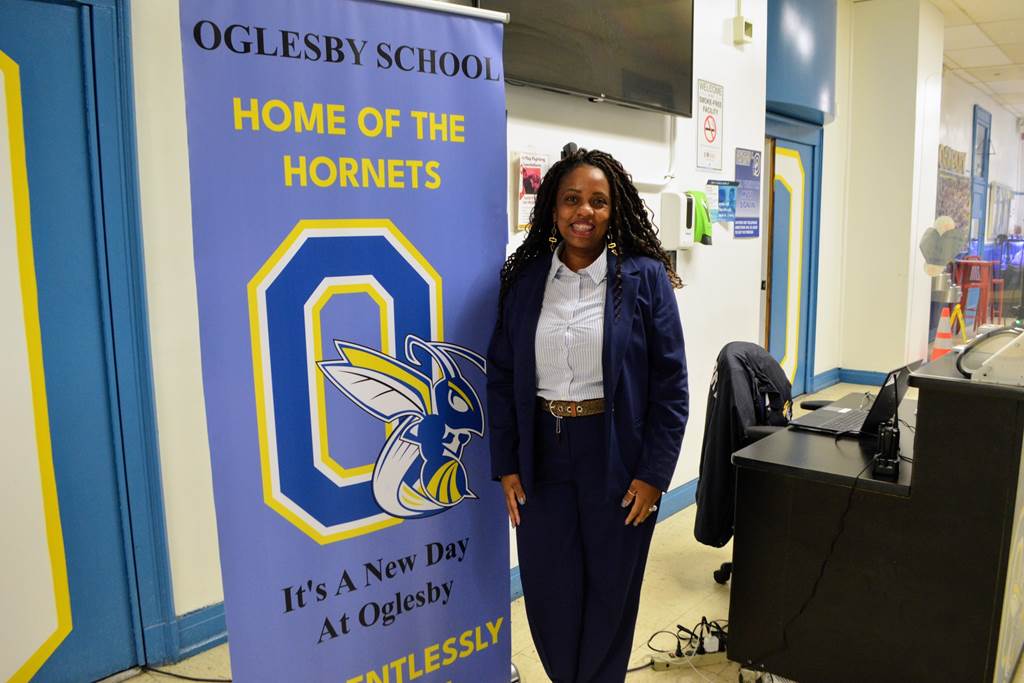 Parents who have entered Oglesby Elementary School recently have said that they can feel a change since Lekesha Coleman became principal. The school has a new aquarium. There are high-top tables throughout the building to encourage building relationships. Social-emotional supports are more robust. And, above anything else, students' faces highlight that they are excited and proud to attend Oglesby.
"When I walked in for the first time, I started asking myself questions: If this is my school, as a student, what would I remember? How does the school make me feel?" she said. "I believe that when you improve the environment for students, they rise to the occasion."
Principal Coleman calls her career with CPS an amazing 23-year journey, and her connection to the District extends even beyond those 23 years. Her first role in CPS was being a CPS student. She remembers a deep sense of family and community engagement and the support of the adults in her school building from her time growing up. She wants those qualities to remain central to the new identity she is creating for Oglesby.
After serving as a teacher, the majority of her career in CPS was her 15 years working as an assistant principal. She attributes the phenomenal mentorship she received from peers across the District as key to helping her feel confident in her ability to lead. She wants other assistant principals to remember that they have what it takes to succeed as principals and that taking the leap is worth it.
"I would have remained an assistant principal forever because it was my sweet spot," she said. "However, you can feel when you want to achieve more in your work, and my colleagues pushed me to excel and saw qualities in me that I needed to share in a broader way."
---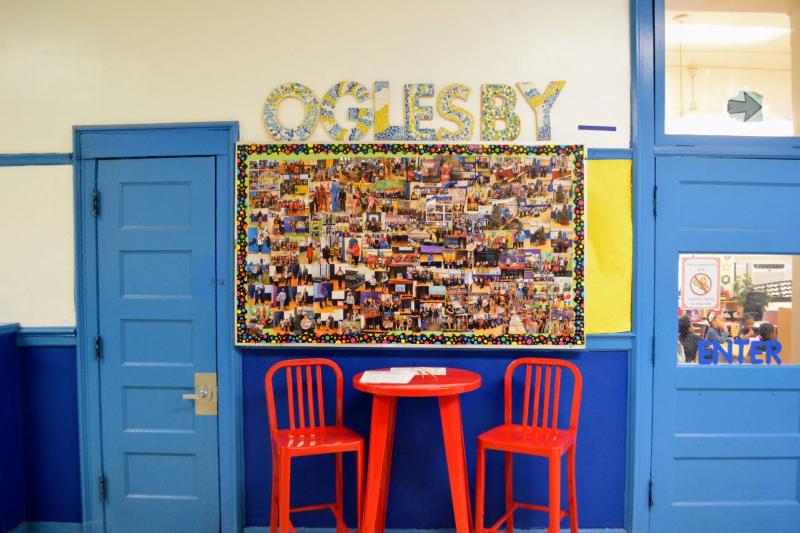 ---
In addition to improving the culture and aesthetics of Oglesby, Principal Coleman is fully focused on academics. Her school is taking advantage of the District's Skyline curriculum in all classrooms and subject areas to ensure that its students can reap the benefits of high-quality instruction. She is pleased to report that her teachers are getting into the rhythm of using it, and its implementation is going well overall.
These priorities reflect her belief that successfully running a school is not something you can do alone. You need the support of all stakeholders, especially your teachers and staff.
"If you can get your teachers on board with your vision and your values, your school can maintain itself at times," she said. "At the same time, it's important to make sure that everything I do, what I say, and every move that I make is always for my students. They are at the forefront of my day."
Ten years from now, Principal Coleman hopes that her students think back on their time at Oglesby with many of the same memories that she has from elementary school in CPS. She wants them to remember that they were safe and had a voice. To achieve this, she's created a student council that she meets with weekly. She has also given students more responsibility with the school's announcements and routinely asks them for feedback when she sees them in the hallway.
On top of these goals, she wants her students to develop into productive citizens who know how to advocate for themselves and manage their emotions.
"I am a top supporter of social-emotional development and wellness," she said. "I believe if our students have those things, they are going to achieve at the highest levels possible."
All her efforts can be summed up with a slogan she has created: It's a New Day at Oglesby. She did not expect starting a new role at a new school to be such a wonderful experience, and she attributes her strong start to how her community has welcomed and embraced her. This connection that has already formed pushes her to go the extra mile for her students.
"I describe my leadership style as relentless because through every obstacle and every challenge, CPS pushes you to rise," she said. "And, now, I'm relentless in making sure that our students have what they need to be successful."
---