Seventh-Grade Students at Sheridan Math and Science Academy Share Their Long-Standing Friendship
12 October 2023
Christopher, Juliana, and Ximena have grown their friendships with each other from kindergarten all the way to now.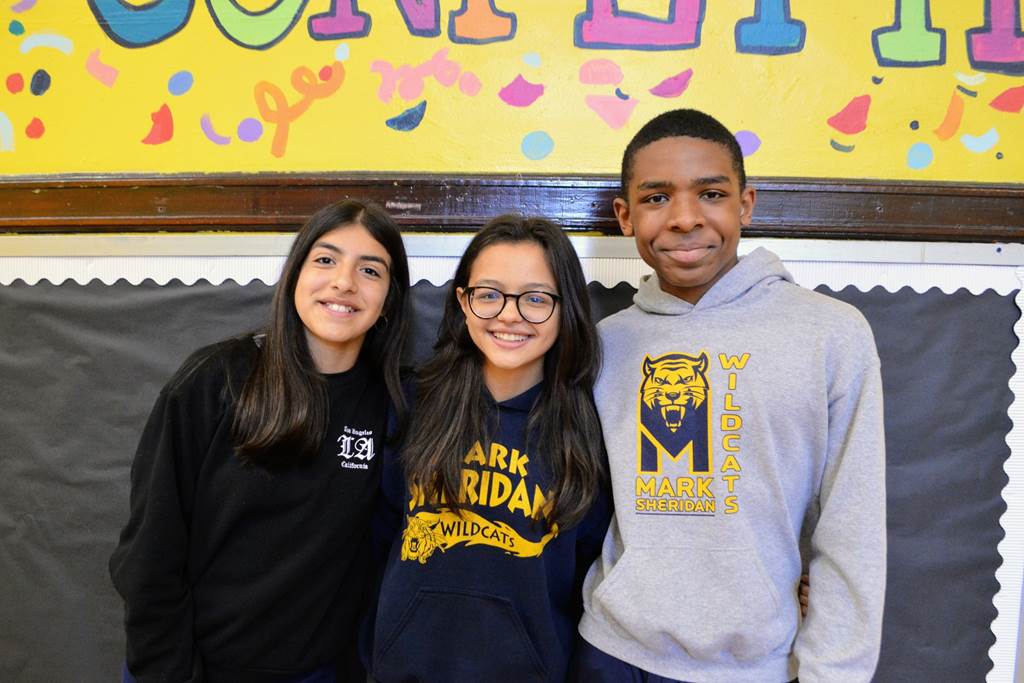 A seating chart and a bracelet are at least partially to thank for several thriving friendships that have blossomed at Sheridan Math and Science Academy in Bridgeport. Seventh-graders Juliana and Christopher were seated next to each other on the first day of kindergarten, and they started talking because of a mutual friend. Another kindergartner named Ximena saw Juliana wearing a friendship bracelet that her mom had made, and she asked her to make her one.
Then, Christopher became friends with Ximena because she was friends with Juliana. And, as you might have guessed, all three of them are extremely close now. Get to know each of them more below.
---
What are your interests both inside and outside of the classroom?
Juliana: Inside the classroom, I really enjoy learning about history. Right now, we're learning about the Civil War. I also enjoy reading and writing. Recently, I read The Way I Used to Be, which is about a girl who has gone through a lot of hard stuff navigating her high school years. When it comes to writing, I like coming up with short stories based on a prompt. Outside of school, I play volleyball, and I'm also in debate. On the volleyball court, my strengths are probably serve receive or setting. I'm in debate because I want to be a lawyer when I'm older.
Ximena: I also like history, and outside of school I participate in both soccer and volleyball. I'm enjoying what I'm learning in history right now. I started playing soccer because my grandparents would always watch soccer, and I've been playing volleyball since I was in the third grade.
Christopher: My favorite classes are math and history. In math, we're learning about integers, and it's going well. My older sister was into volleyball, so I started helping her practice, and then I realized that I really liked it. I'm also in the debate club because my mom signed me up for it because she wanted me to try something new.
How have your friendships with each other grown over the years?
Christopher: Between third grade and sixth grade, it was on and off between Ximena being in my class and Juliana being in my class. I had time to get to know both of them. At the beginning of this year, I was so happy that they were finally both in my class.
Juliana: I consider Ximena my best friend, and we've gotten a lot closer, especially during sixth grade last year. My mom is the volleyball coach, so we got used to spending a lot of time with each other. Christopher is also a really good friend and has always been there for both of us.
Ximena: Christopher and I became better friends in fifth grade. I didn't really talk to many other people in my fifth-grade class, so he and I really connected.
---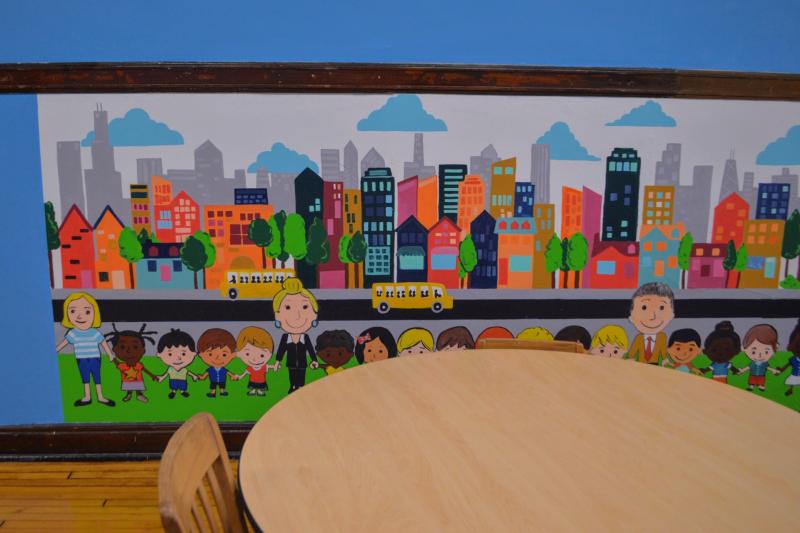 ---
What are some of your favorite memories at Sheridan?
Ximena: My favorite memories are the holiday shows that we would perform in when we were younger. I remember that one was about reindeer, and one was pajama-themed.
Christopher: I will always remember the Halloween parade because we got to dress up in costumes. The older kids would stand by the street to make sure we didn't run into it, and they would compliment us on our costumes as well.
Juliana: One of my favorite memories was with our music teacher, Ms. Glodo. I remember being really nervous about coming to her class and her being sort of a mother figure for me. She's very sweet and comforting, and I think all of the teachers here know how to handle students' feelings well.
How has this school year been going so far for you?
Juliana: It's been going really well both socially and academically. I really like my teachers and think that I'm in a pretty good class.
Ximena: I have all As right now and have gotten to connect more with my friends and learn new things about them. My grades are off to a good start because I've been studying and going over all my notes from class.
Christopher: I actually like this year because I'm off to a really good start. We had our first test and quiz, and I did well on them so I was happy about that.
What advice would you give to the students following in your footsteps, especially when it comes to making friends?
Christopher: You can achieve anything you believe in. When it comes to your friendships, you should always talk it out with those around you rather than arguing with them.
Juliana: Everything happens for a reason, and your teachers aren't going to throw anything at you that you can't handle. Something that helped me socially was listening to my older brother. He was always able to tell who my true friends were.
Ximena: Be yourself. Even when it feels like people are judging you, that is not a big deal. With your friends, communication is key. It's important to tell them how you're feeling and be honest with each other.
---