Burroughs Elementary School Simultaneously Celebrates Hispanic Heritage Month and Strengthens Bonds across Grade Levels
27 September 2023
Isabella and Gianna have gotten to know each other well through the school's buddy system.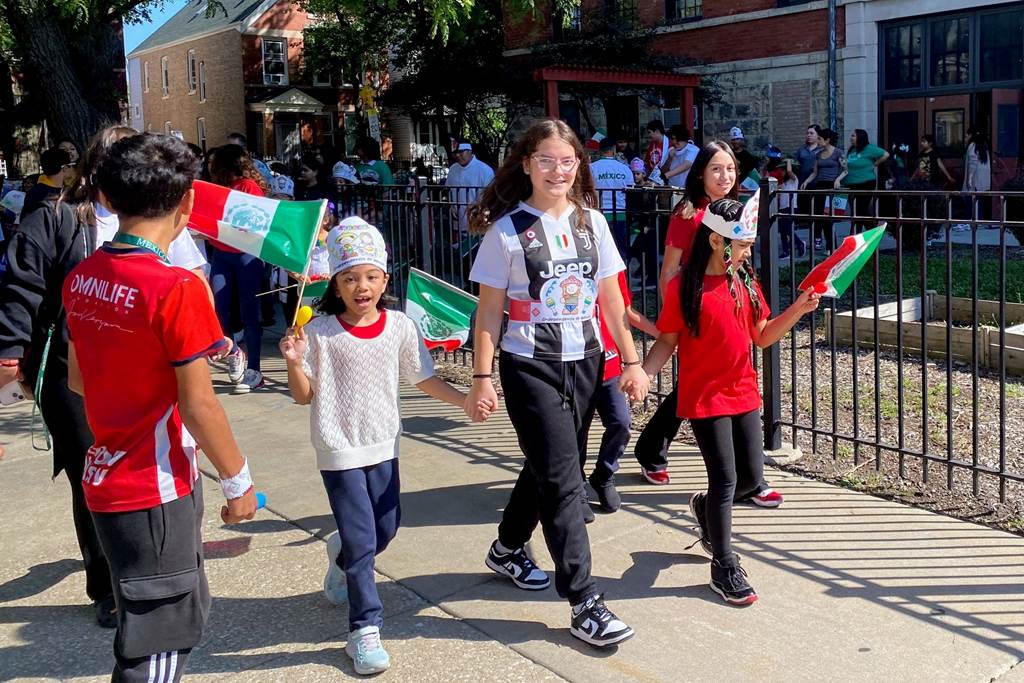 Isabella is a second-grader at Burroughs Elementary School on Chicago's Southwest Side, and a highlight of her school year so far has been the school's Mexican Independence Day parade. It was a special experience for her not only because she got to march around her neighborhood with her school community, but she also got to spend time with her buddy—an eighth-grader named Gianna.
Burroughs uses a buddy system to match older students with younger students to participate in fun activities throughout the school year. Isabella and Gianna actually started building their friendship even before the parade occurred by working together to color a hat that Isabella proudly wore during the parade.
Even though they are still getting to know each other, Isabella sees her relationship with her buddy as just one of the reasons why this school year is off to a great start.
"Most days at Burroughs, I am learning all of my favorite subjects," Isabella said. "I also love being in the parade because people play instruments and we get to walk around the whole neighborhood. I love it even though it makes my legs tired."
An important part of the parade was deciding what to wear. Isabella explains that her process was relatively easy because she didn't have too many red shirts. Gianna, on the other hand, faced an obstacle when she realized that her red shirt was missing! Thankfully, she was able to pivot and wear her little brother's jersey, which contains all the colors of the Mexican flag—red, white, and green.
---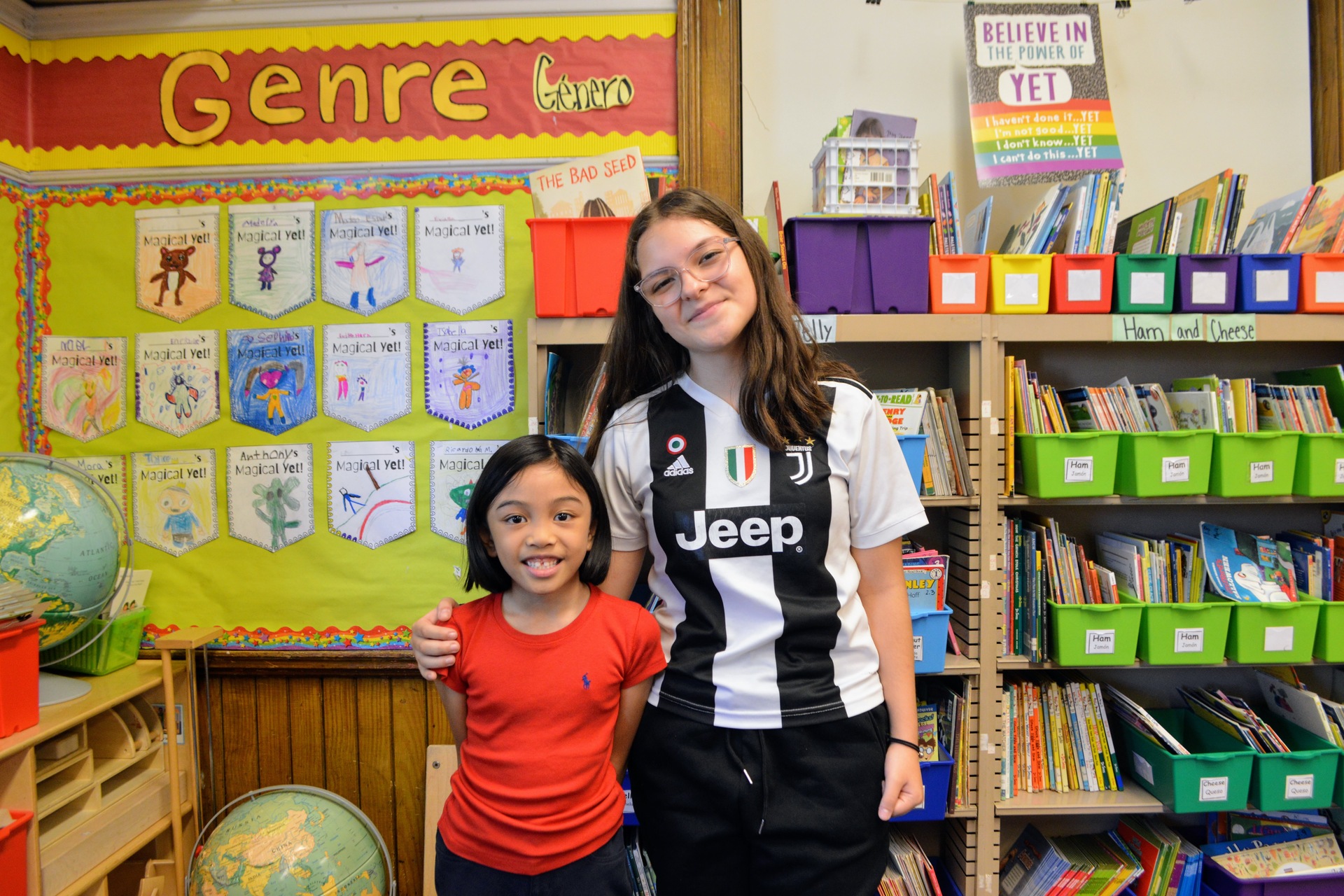 ---
Both of them believe it is important for schools like Burroughs to offer ways for their school communities to come together to celebrate Mexican Independence Day and Hispanic Heritage Month. Isabella notes that this experience connected back to her learning about how Mexico was not always an independent country from Spain. And Gianna believes that celebrations like this parade help students feel a deep sense of belonging at their schools.
"At Burroughs, most students are Hispanic, so it's nice for them to have an opportunity to celebrate their culture," Gianna said. "This is an important part of them getting to know themselves better and figure out what they believe in."
Gianna shows how the buddy system helps Burroughs students inspire the students who will follow in their footsteps. She is following in the footsteps of her two older brothers and older sister who graduated from Burroughs. Even her mom and mom's siblings attended the school! And she also has a younger brother who is in the third grade.
She is a role model both inside and outside the classroom. Her favorite subject is math—she's currently learning geometric concepts like translation, reflection, and rotation—and she enjoys playing both soccer and volleyball. One of her goals for this school year is for her volleyball team to make it further in the playoffs than it did last year.
"Burroughs is like a family. I've grown up with all of the kids around me, and the buddy system helps me get to know the younger kids, too," Gianna said. "When I switch classes, everyone I see in the hallways is people who I've known all my life."
Gianna will continue to set a great example for Isabella on how to excel academically and get more involved in all of the opportunities that Burroughs has to offer. And, with the school year just beginning, they have plenty of fun activities and events to look forward to participating in together.
The Mexican Independence Day Parade isn't even the only parade that Burroughs organizes. Gianna and Isabella are already planning for the school's Halloween parade later this fall. Gianna plans to dress up as a character from one of her favorite horror movies, and Isabella will be Stitch from the classic Disney film.
Through all of the experiences that Burroughs provides, both of these buddies are building a bank of positive memories that they will be able to fondly look back on for years to come.
---