Highlighting the Incredible Sense of Community at Pershing Magnet School
14 September 2023
This sense of community is setting the foundation for students at Pershing to develop into leaders.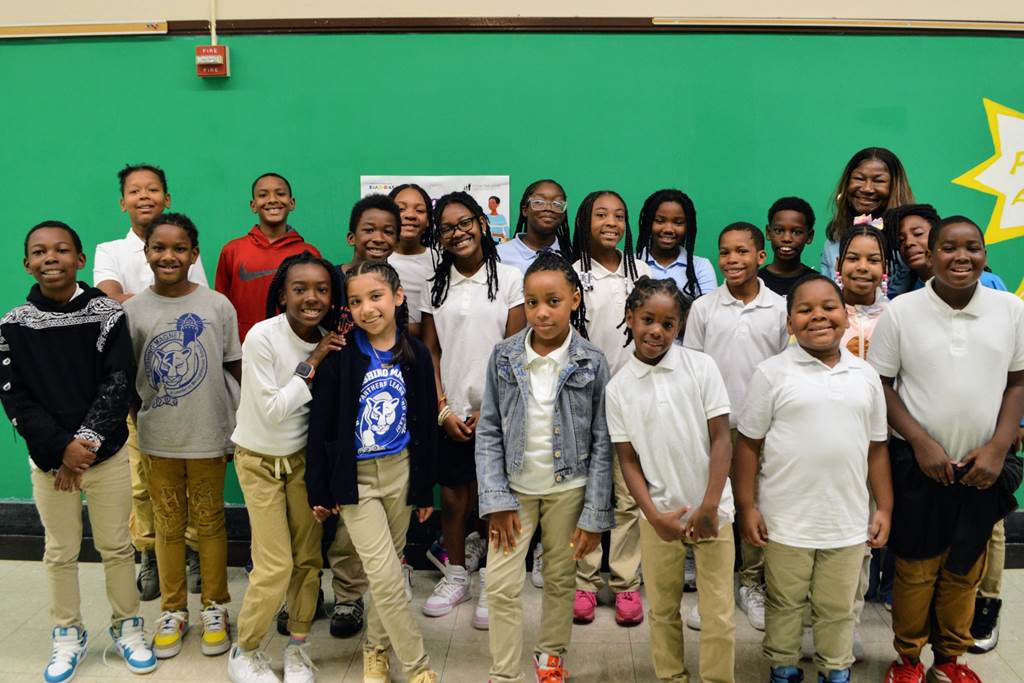 There is a lot to be excited about at Pershing STEAM Magnet School this year. For starters, the school is going strong with its focus on STEAM, which is helping students build their skill sets in everything from math to technology to the arts. And, beyond the wide range of academic resources and opportunities that the school offers, students across every grade level are just excited to be back and see their friends again.
Not only does Principal Safurat Giwa see her students as highly intelligent, but she also commends them for their approach to socializing and building relationships with each other. These relationships also reflect how they are responsible and always welcome learning. She hopes that this school year helps lay the foundation for them to develop into leaders. Regardless of their interests, she believes that their time at Pershing will equip them to be successful.
"My main goal for my students is for them to continue learning at an accelerated pace and ensure that they are being productive, challenging themselves, and striving to learn as much as they can," she said. "I also want them to continue being good friends to each other and showing kindness each and every day."
We spoke with 20 Pershing students about what these values mean to them. You can read each of their responses below.
---
Thoughts on building relationships with other students
"When it comes to making friends, I find that people often come up to me before I go to them. And then I build those friendships through events such as birthday parties and sleepovers." - Kyla J., Fourth Grade
"I've met a lot of new people this year who are nice. Letting them sit at my table and get to know me has been a great part of the year." - Sophia B., Sixth Grade
"I've made friends by talking about what we're learning, such as what we've been writing about. We've been writing about the 7 Habits." - Kaydon C., Fourth Grade
"I am really enjoying playing football with my friends. I've gotten really good at catching the ball. Inside the classroom, I like math because it helps you a lot when you know more and more." - Christian G., Fourth Grade
"My friends and I like to run around at recess, play games after school, and hang out at lunch. This year, I'm trying to get better at math." - Kayden S., Fifth Grade
Thoughts on why Pershing is a great school
"This school year, our community has already done a lot of activities together. My peers are good, and they keep these activities fun." - Malaysia T., Fourth Grade
"I still have great memories of graduating kindergarten, including the shirt I got and how happy I felt. My friends here at Pershing are good friends and so helpful." - Elyse L., Fifth Grade
"One of my favorite memories is the first day of school because it was fun to meet new people." - Rasheen A., Fifth Grade
"The activities that we do in our STEM classes are a lot of fun and motivate me to do my work. My friends are good because they help me with my confidence." - Tyshawn S., Fifth Grade
"Fifth grade is a little bit harder than last year, but we do a lot of fun STEM projects such as making 3D names. And it's great to learn with my friends because they are funny." - Amari C., Fifth Grade
---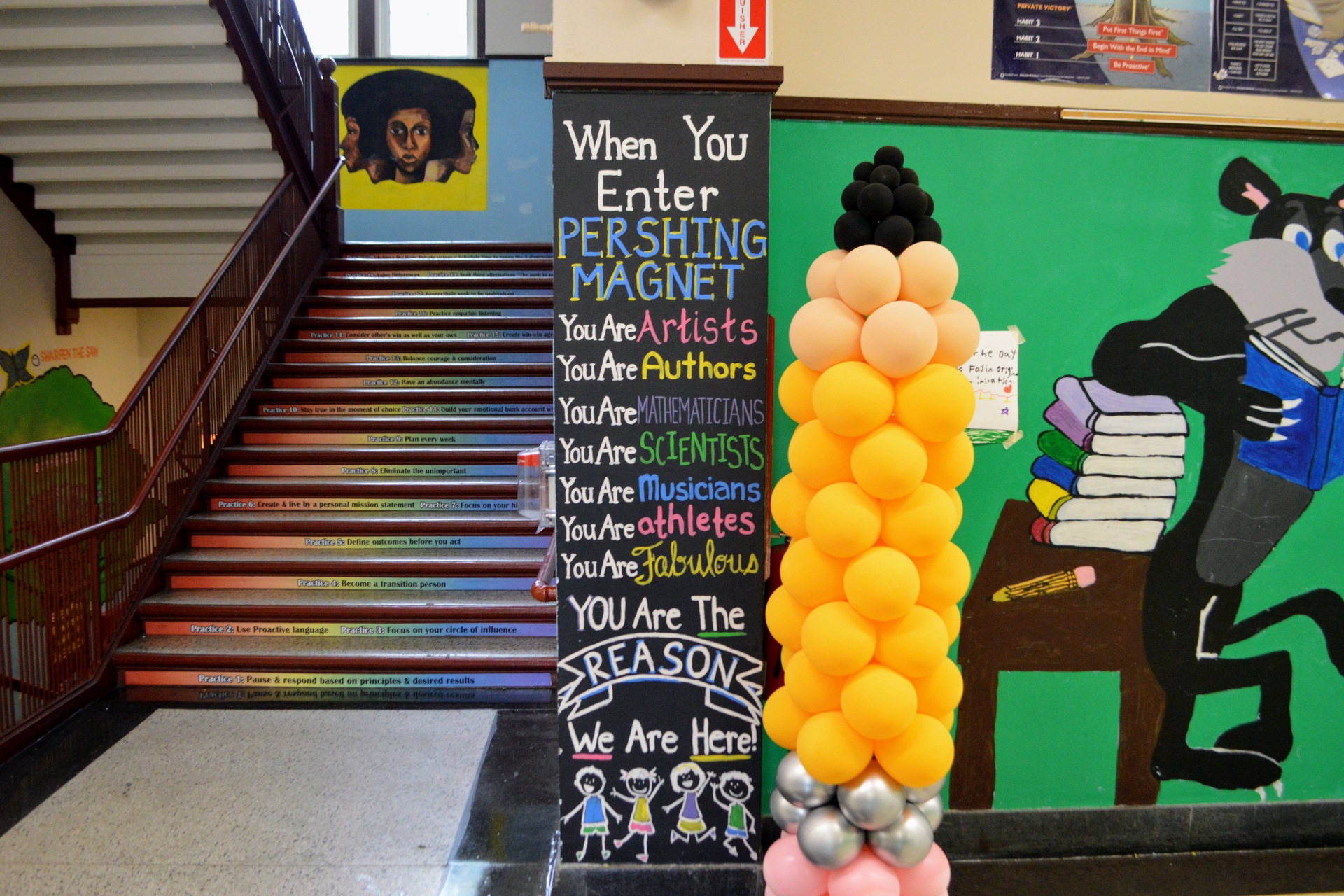 ---
Thoughts on learning and growing in the classroom
"My favorite thing to learn about is science. I'm always learning new things about animals. And my friends here are amazing." - Denver-Noir F., Third Grade
"The best part of the school year so far has been math. Being good at math makes me feel like I can be good at reading and other subjects." - Jashawn S., Third Grade
"I am enjoying math, reading, and science as my favorite subjects. I also like being at school because my friends are funny and happy." - Alayna A., Third Grade
"My favorite part of this school year has been reading, especially books by Dr. Seuss because they make me want to read more. I also have enjoyed helping my friends on the soccer field." - Carter R., Fourth Grade
"We've been learning about the qualities that make different fruits the same or different. It's been a great year, and it started on the first day when I got to see all of my friends again." - Makaylah F., Sixth Grade
Thoughts on the keys to being a successful student
"I am trying to get good grades, listen, and do the other good things that I'm supposed to be doing. It shouldn't be too hard because there's a lot of fun stuff that we usually do." - J'zaylon R., Fifth Grade
"I like to learn, have fun, and go on field trips. I also make sure to spend time with my friends and my family." - Eugene C., Third Grade
"Being successful is all about learning and helping my friends. I've been learning football, and I've also been doing a lot of reading." - Jacari G., Fourth Grade
"This school year has been going well because I feel like I've been getting into trouble less than in fourth grade, which is a part of my goal of being one of the top students in my class." Yuri M., Fifth Grade
"I've been working really hard to be kind and help people. I'm also focused on having good grades." - Empress G., Fifth Grade
---