The CPS Annual Regional Analysis (ARA) is a collection of reports designed to inform conversations with communities to address the question - what school options do families and communities need?

The purpose of the ARA is to support CPS's goal to provide every student with a high-quality education in every neighborhood. These reports aim to ensure that every student in Chicago has access to quality public schools and a variety of programs.

The reports present CPS data in one place, without making recommendations or suggestions for action. They give stakeholders consistent information about school quality, enrollment patterns, school choice, and program offerings by region.
Structure & Organization
The ARA consists of a district report and 16 regional reports. The City of Chicago Department of Planning and Development created boundaries for regions based on housing and employment research. Natural borders such as rivers and train lines divide each region. These borders are likely considerations for families when selecting a school. The ARA uses these regions as they are more consistent than city wards or school networks.

The ARA includes all CPS schools, including traditional neighborhood schools, Charter schools, Selective Enrollment, Magnet, Special Education Specialty, and Options High Schools.
Region Map
The Northwest Side region's boundaries are, generally, the city's border at West Devon Avenue and West Howard Street on the north, the Metra Union Pacific North Line / North Ravenswood Avenue on the east, the I-90/94 Expressways on the west, and West Diversey Avenue on the south. It contains parts of 10 wards, 10 neighborhoods, and 10 community areas. It is served by 12 CTA train stops and 4 Metra stops.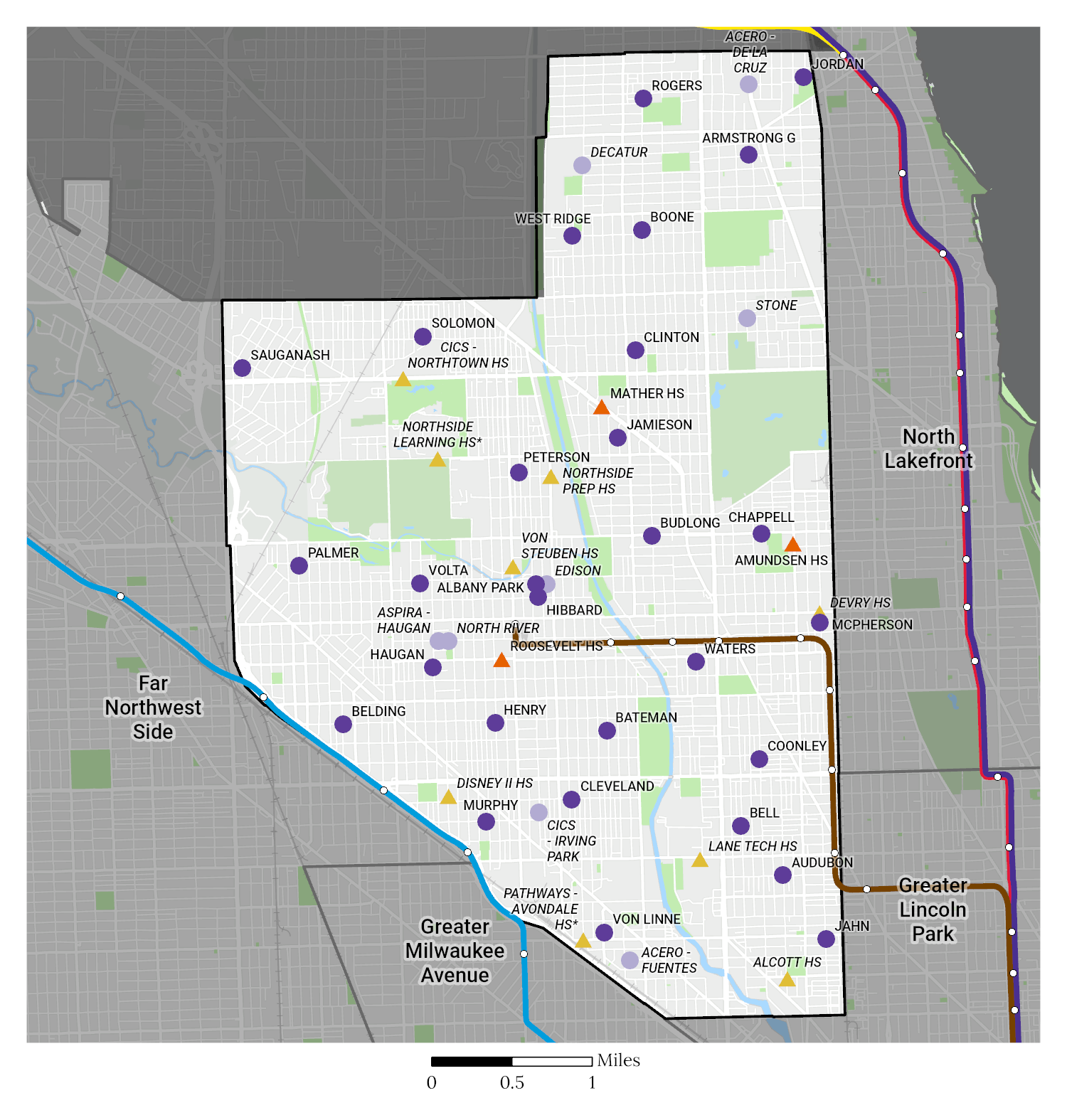 * Denotes Options/alternative or special education specialty school
Racial/Ethnic Composition
The Northwest Side region over the last four years has remained relatively diverse.

In the racial/ethnic composition of the Northwest Side student population, the majority of students identify as Latinx or White, although in the past four years the percentage of students identifying as Latinx has decreased from 46% to 44% and the percentage of students identifying as White has increased from 25% to 26%.

The majority of the students in the southwestern portion of the Northwest Side region identify as Latinx, while the southeastern portion is primarily made up of students identifying as White, and the northern portion of the region is more diverse.
Race/Ethnicity Composition Over Time
Race/Ethnicity Composition Over Time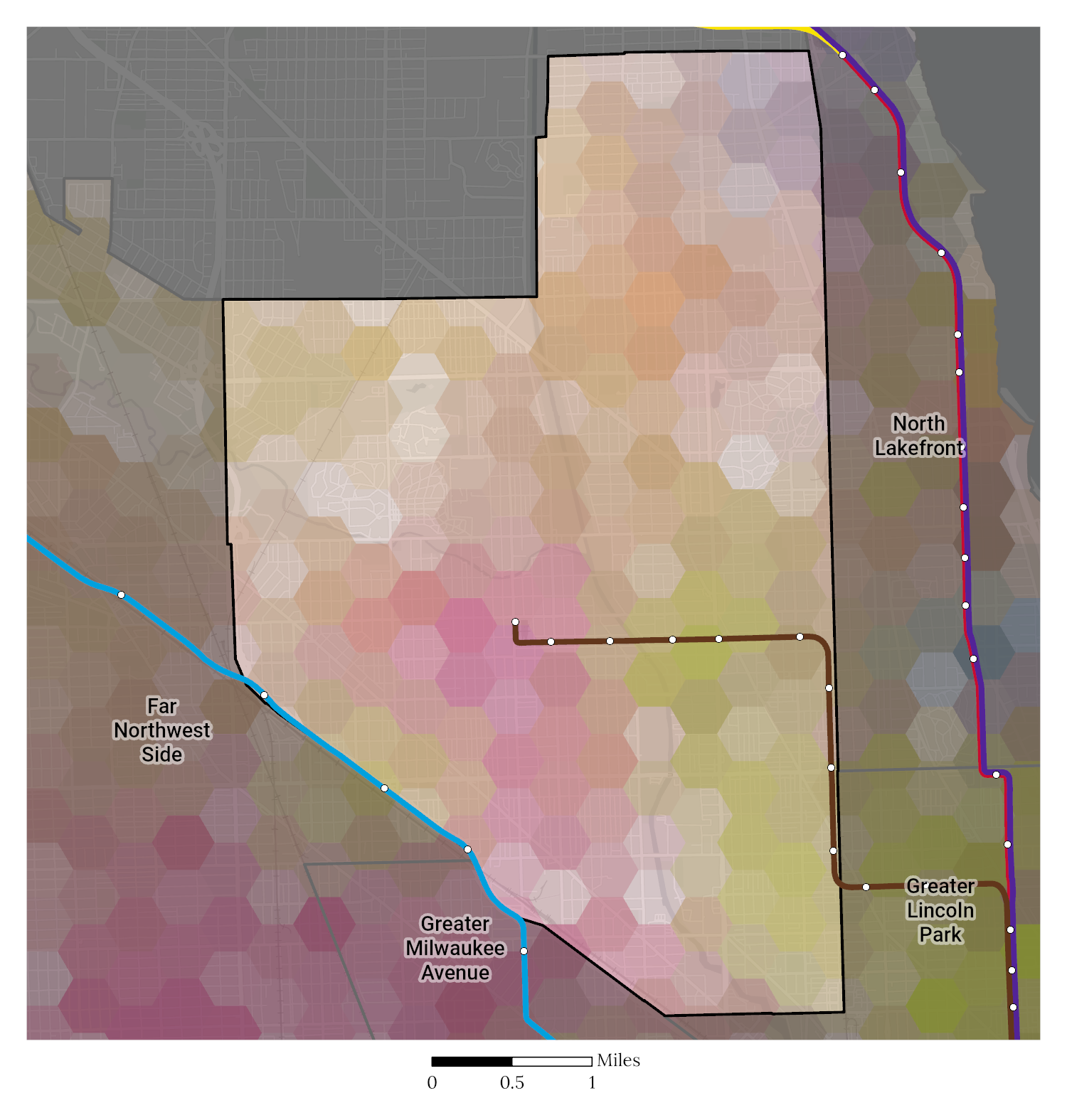 Free and Reduced Lunch Rates
In the past four years, the percentage of students qualifying for Free and Reduced Lunch (FRL) has decreased from 64% to 59%. The percentage of students qualifying for FRL in the region remains lower than the overall district percentage of 73%.1, 2
The Northwest Side region is primarily made up of high-income neighborhoods, with some lower-income neighborhoods in the northern and western portions of the region.
Free and Reduced Lunch Rate Over Time
Free and Reduced Lunch Rate Over Time