Science Teacher Overcame Rough Start, Now Encourages Students
07 May 2019
Meet math and science teacher Karolina Towner, a former Michigan State University Urban STEM fellow who teaches at Albany Park Multicultural Elementary School in the Albany Park neighborhood.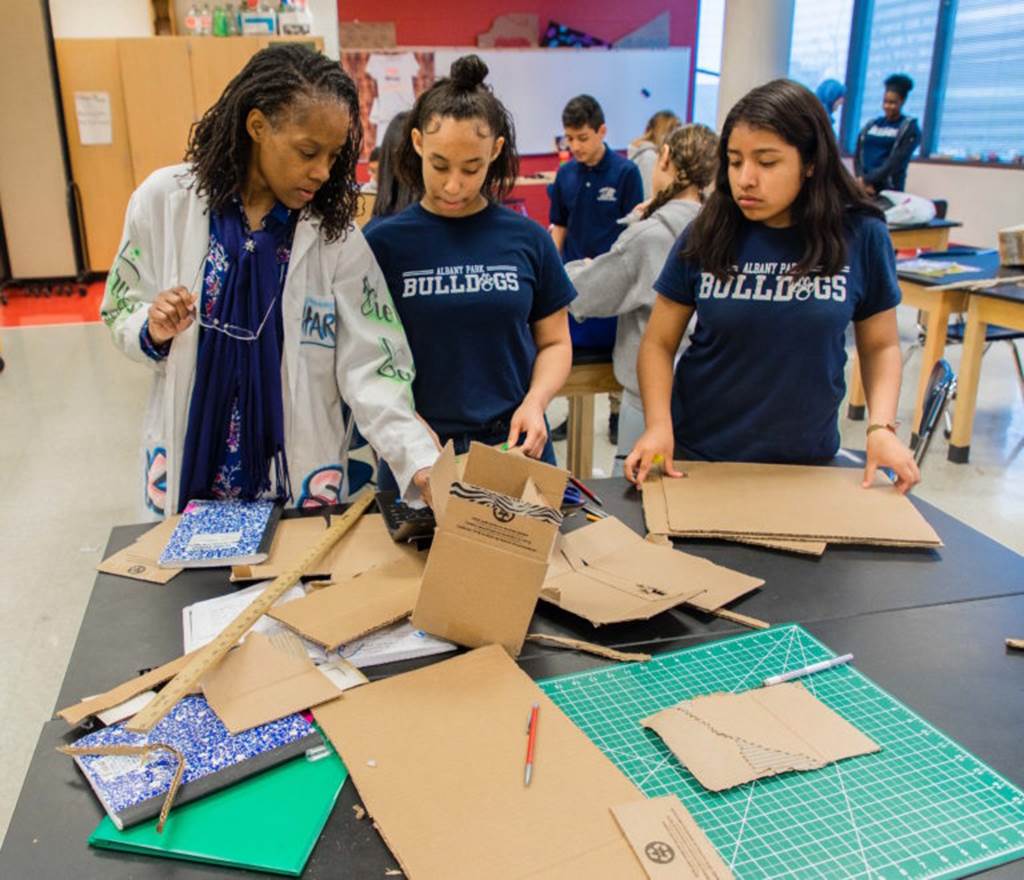 It's Teacher Appreciation Week and we are highlighting teachers throughout the district. This week, we will be highlighting a different teacher each day to showcase their exceptional commitment to students. Please share this story and help us shout out CPS teachers all week.
Meet math and science teacher Karolina Towner, who teaches at Albany Park Multicultural Elementary School in the Albany Park neighborhood. She's a former Michigan State University Urban STEM fellow.
An Albany Park elementary school eighth-grade science teacher wanted to make her lesson on 'Harnessing Human Energy" more exciting and engaging for students. So what did they do? Designed and raced "Muscle Karts," of course.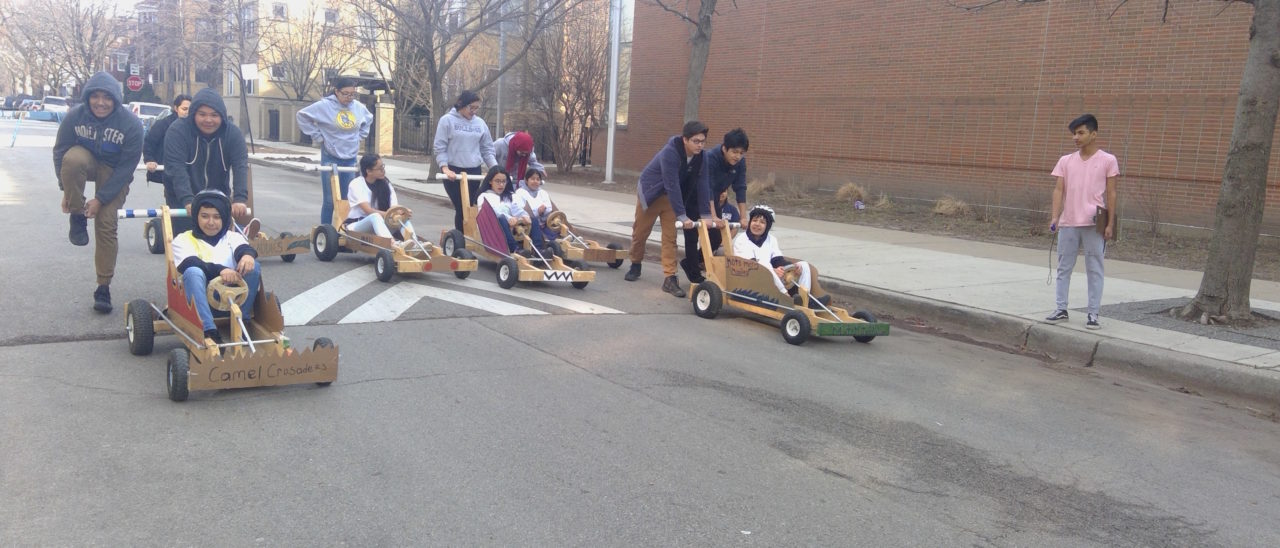 Karolina Towner, who has taught at the school for 20 years, said if her lessons aren't fun and interactive, she finds ways outside of the box to make them interesting.
"I want to try to get them up out of their seat and apply what they've learned as much as possible," Towner said.
She combines the new Amplify Science curriculum's STEM-based projects with her own unique set of hands-on projects.
Her students said they appreciate it and agreed that she makes science "fun."
"She's not a boring teacher," said 13-year-old Zaria Taylor. "It's like every other two weeks we have a project."
Lucrecia Ortiz, 14, described her as "spunky."
"I've enjoyed science a lot more since being in her class," said Ortiz.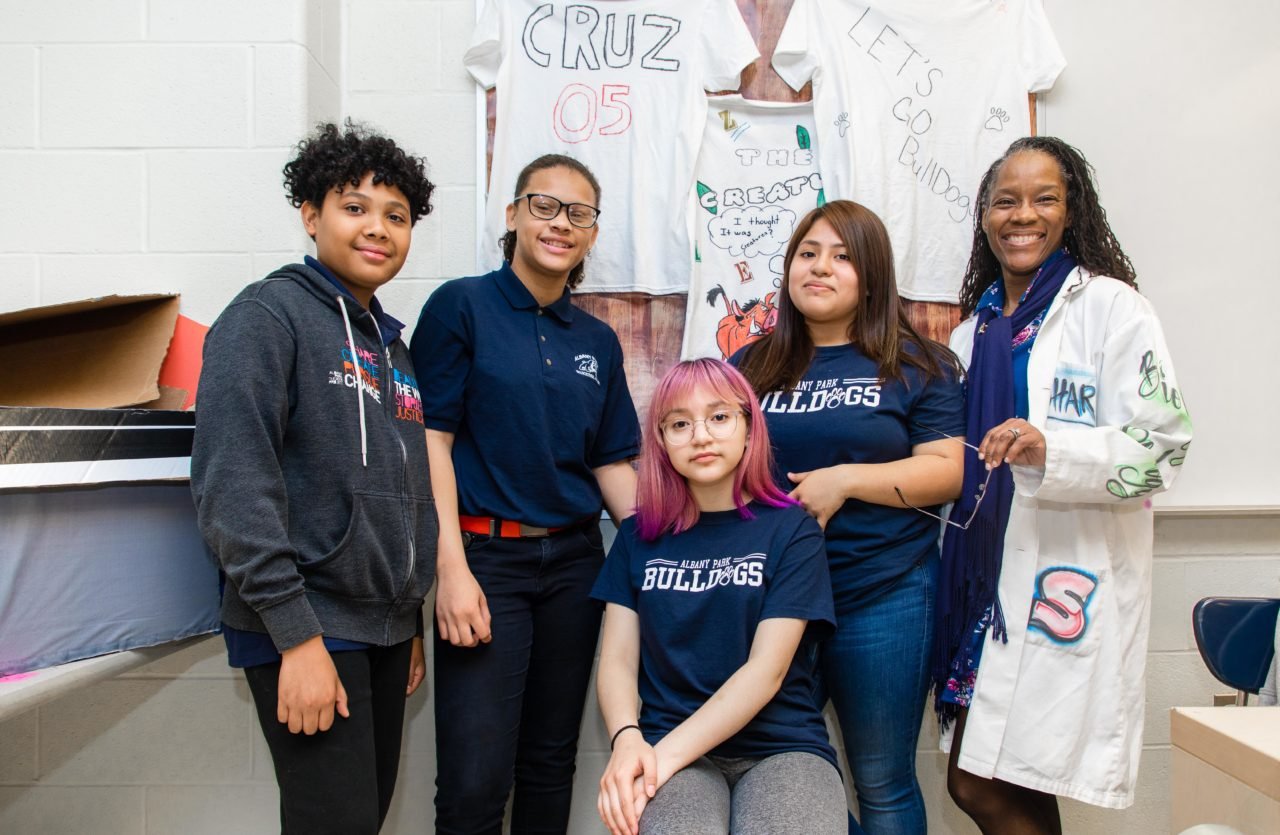 Over the years Towner said her teaching style has become less "textbook-ish" and more engaging and interactive. "I can't only do, 'OK, turn to page 7,' but I know it has a place, but it doesn't have to be the only place."
To stay current with the Science, Technology, Engineering, and Mathematics (STEM) educational world, Towner attends workshops and conferences, oftentimes shared by the district. That's how she learned about the University of Illinois' Center for Science and Technology's kart loaning program.
The bare wooden karts were delivered to her class, where they remained for four weeks. Students were able to choose their small groups and were tasked with designing their kart and its steering wheel logo, adding a license plate, and side and front panels. They even created team names and t-shirts. In the end, their weeks of hard work was rewarded with a day of racing.
"They say 'science is so boring' but there's so much that you can do," Towner said. "I try to get them to get their hands dirty."
Through this learning activity, Towner's two eighth-grade science classes each received six karts and got a hands-on lesson on motion, speed, and acceleration.
THE PERSONAL CONNECTION
Towner said that she openly shares with her students that as a young student, she wasn't interested, nor that good, at math and science.
"I struggled with math," she said. "I took pre-algebra three times in high school."
But thanks to teachers who pushed her and a never-quit attitude, she discovered that she could excel in math and science.
"I ended up tutoring others all through high school, and so the more I did that, the more it just seemed natural to go into teaching," she said. "I never looked back. I just think that education is in my soul."
"Even when I got my National Board Certification, I didn't pass it the first time. I had to do that twice…I tell them that."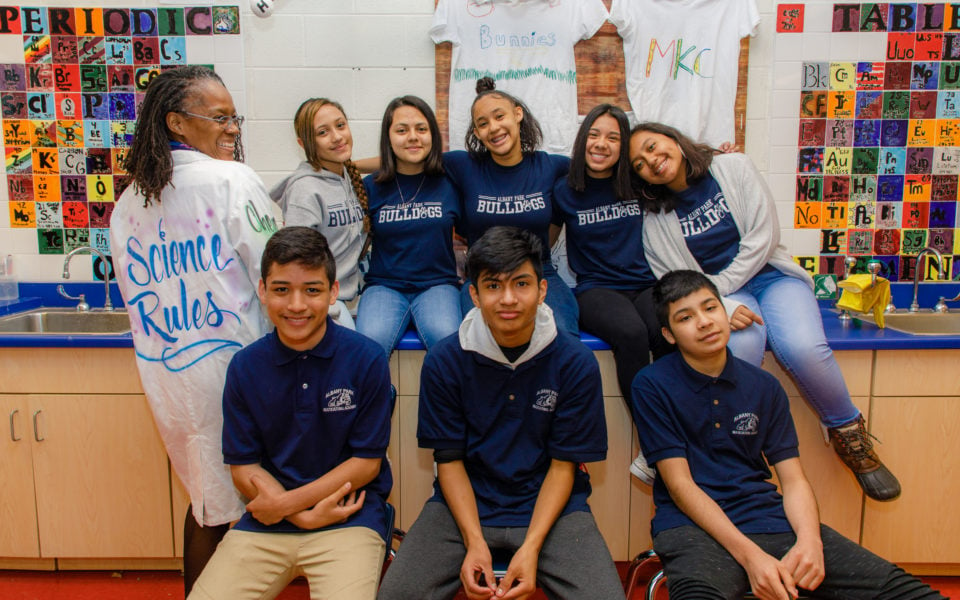 Travis Kiama, 14, said that he's always loved science, but his interest in the subject has grown even more since being in Towner's class.
Students describe her as "fun," and "different." Although she can be strict, they all agreed she's also really "cool" and can relate to them.
"Ms. Towner is so nice and you can tell that she cares about her students a lot," said 13-year-old Brenda Sagal.
Towner said she does her best to reach them and she draws from personal experiences.
"I grew up in Cabrini Green during a rough time," she said. "I thought I was, not exactly stupid, but that I didn't know enough because of where I was from. Science was not my first love, math wasn't either, and yet here I am teaching both."
Her former seventh- and eighth-grade teacher at Disney Magnet took the time to give her encouragement, motivation, and essential items like shoes and sometimes clothes.
Towner said that she's carried that memory with her and makes sure she is also connecting with her own students.
"The smallest thing could be the biggest thing in somebody's life," she said, adding that she encourages everyone to extend a hand.
"All you have to do is reach back and that's what I try to do, reach back [in] some kind of way," she said.