Take Five with Julia Friedland and Geniz Hernandez at the Children First Fund
16 December 2022
Geniz, Julia, and the rest of their team at the Children First Fund have been busy hosting celebrations, distributing gifts to students, and trying to spread as much cheer as possible this holiday season.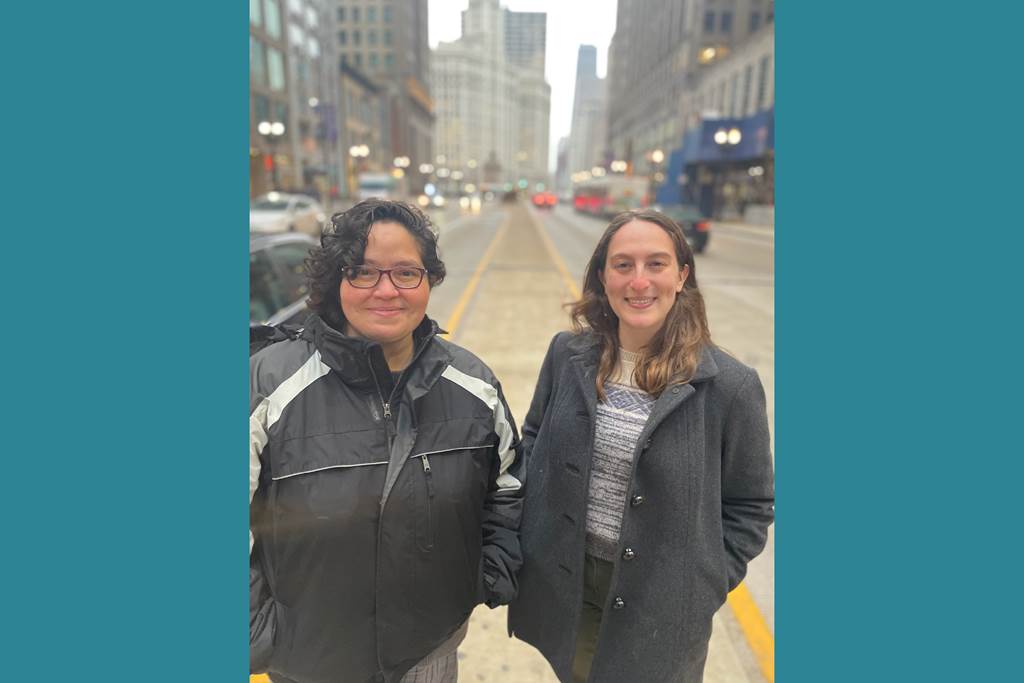 Take Five is a series that highlights some of the many CPS staff members who are going above and beyond for our schools. If you know someone who is making a difference, nominate them to be featured here.
---
In the spirit of holiday giving, we are pleased to introduce Julia Friedland and Geniz Hernandez from the Children First Fund: the Chicago Public Schools Foundation (CFF). Geniz and Julia first started working together as grant writers within the CPS Office of Budget and Grants Management, then moved together to CFF in 2019.
As Development Specialists at CFF, Geniz and Julia research, identify, and vet potential grants that are aligned with District priorities, then help CPS departments and schools apply for these opportunities. One of their guiding principles throughout this work is equity — Julia and Geniz use the CPS Equity Framework to ensure that any resources coming into the District are distributed fairly and responsibly.
---
Can you tell us about the holiday campaigns CFF is working on right now?
Right now, we are really focused on matching partners to schools where the need is the greatest. Whether you're one person who wants to make a single donation or a company that wants to establish a lasting partnership with a school, we want to make sure we are able to match these donations to the right schools so our students can thrive.
With the help of our community partners, we've been hosting celebrations, distributing gifts to students, and trying to spread as much holiday cheer as possible. The past few years have been really hard for our schools, and it feels good to focus on raising spirits in our communities this holiday season.
We also supported the CPS Office of Family and Community Engagement to host the annual Legacy of Love luncheon for the families of CPS students who passed away during the previous year. Those students and families are always close to our hearts and minds, but especially during the holidays.
How can people get involved in giving back to our school communities?
We recommend donating to our Compassion Fund, which provides direct financial relief to our families and schools. People can donate any amount, and even small donations go a long way. The Compassion Fund will always go where the need is the greatest. For example, our current focus with the Compassion Fund is on getting winter gear like coats and gloves for students, especially newcomers and students in temporary living situations. During the back-to-school season, the Compassion Fund might be more focused on getting school supplies for students. But whatever time of year it is, the Compassion Fund's purpose is to meet our schools' urgent needs. If you want to make a donation, you can always visit childrenfirstfund.org/donate.
Describe each other for a moment — what would you say are each other's biggest strengths?
Julia: Oh, that's easy. Geniz is the most empathetic person on the planet. No matter what the situation, she approaches everything with such a sense of care and compassion for everyone involved.
Geniz: Julia is an incredibly intelligent person and has an eye for innovation. She is able to make connections and actually bring great ideas across the finish line. That is not something everyone can do!
What is most meaningful to you about your work?
Julia: I love being able to talk with so many informed and visionary people throughout the District and hear about their dreams and plans for CPS. I think it's amazing to have a chance to contribute to causes I care about and help children access the same opportunities and resources — and even greater ones — than I had access to when I was growing up.
Geniz: When I write something, or I make a pitch to a funder, these ideas I have are still a dream. But the moment that a school gets a grant or a funder says "yes," these ideas become reality. It feels kind of magical when you find out that students are actually going to benefit from something that was just an idea in your mind.
What is the best gift you've ever given or received?
Julia: When I graduated high school, my aunt got me a ukulele and I taught myself to play! It's amazing, because I have very small hands and would never really be able to play a guitar. I can play all the songs on Steven Universe, because they're all composed on ukulele. But I want to think of a cooler one… I can also play "The Way I Am," by Ingrid Michaelson. Actually, that might be less cool.
Geniz: I think the best gift I've ever given was being able to fly my mom out to visit me in September. I hadn't seen her in person in a long time, so it was really nice to be able to pay for her travel and be with her.