Building Familial Bonds at Deneen School of Excellence
16 November 2022
The school year is off to a great start for Ms. Treadwell and her children Daniyah, Logan, and Kaden.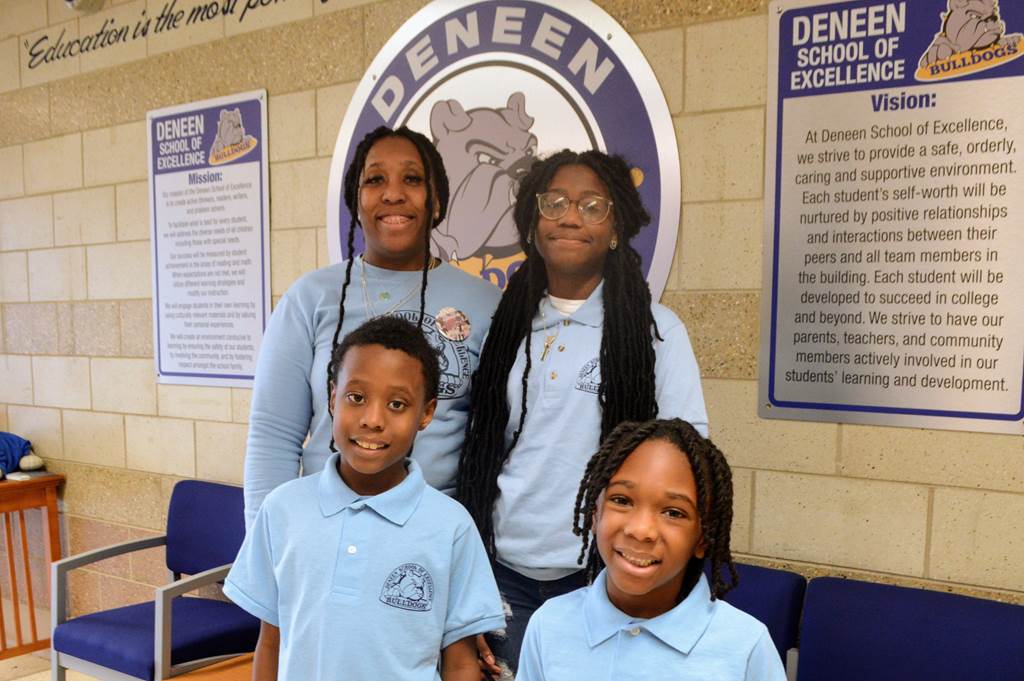 Ms. Bianca Treadwell and three of her children—Daniyah, Logan, and Kaden—are new additions to the Deneen School of Excellence community this school year, and, so far, the school year has been going great. While adjusting to a new school is always a transition, Daniyah has been enjoying all the opportunities she has as a seventh-grader at Deneen, Logan is enjoying both math and reading in his third-grade class, and Kaden describes his kindergarten class as "really so awesome."
And the year is also off to an exciting start for Ms. Treadwell. She started as a substitute clerk and then transitioned to be a miscellaneous employee, and she is now about to start a new role as a special education classroom assistant. Get to know her family more below.
How has the school year been going so far?
Kaden: I like it because it's so cool. I like the decorations in my classroom.
Logan: In math class, I'm learning about division, and, in reading class, I get to read books, and then I have to do work about the book afterward. I have to write about the main character and what they were doing.
Daniyah: It's been great overall. At first, it was a little bittersweet because I had to leave my friends at my old school, but the students here are great and the building is way better. I'm even running for homecoming princess.
Ms. Treadwell: I knew my younger kids were going to adapt, but I wasn't as sure about Daniyah because she had been at their old school for so many years. But she's been adapting well, and I'm so glad about that.
What are your goals for this school year?
Ms. Treadwell: Daniyah is a principal scholar and a straight-A student, so she's doing well. Logan is on the A/B honor roll, and I just want him to bring his Bs up to As. And, for Kaden, I want him to learn how to read in kindergarten. He also sometimes struggles with paying attention, so I hope he can work on that also.
Daniyah: My goal is to just keep doing what I am doing. I think my teachers have been impressed with my work. Next year, I know I'll have to take the high school admission test, and I know high schools will be looking at my grades from this year. Hopefully, before I get to high school or maybe in high school, I'll figure out the career I want to do.
Logan: Reading is the class that I need to bring my grade up. I'm going to try to get all my work right like my exit tickets, which have questions about the book I'm reading. On my last exit ticket, I got all the questions right.
---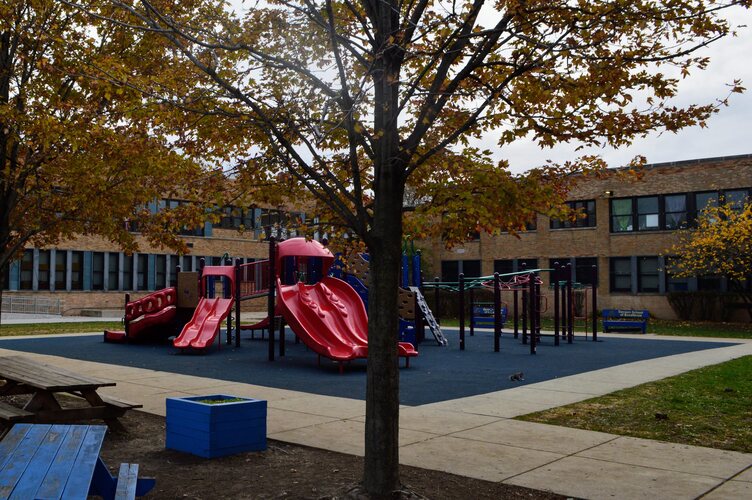 ---
What are you thankful for this year?
Kaden: I'm thankful for my class. It's so great and everyone has been nice to me because I'm the new student.
Daniyah: I'm grateful for all the cool people in my life and my family and friends. Having my mom here made it much easier to get comfortable with everyone here because they like her and I'm her daughter. But people don't just see me as her daughter, they also see me as my own person.
Ms. Treadwell: I'm thankful for my kids, my mom, and this job. I'm really thankful for this job because it gives me more time to spend with my children.
What message do you have for the rest of your family for the rest of the school year?
Ms. Treadwell: My message to my kids is that you guys are making me proud and will continue to make me proud, and I love you guys.
Daniyah: I'm a middle child and also the only girl with three brothers, so my message is to myself, and it's to move out as soon as possible. Living in a house full of boys can be a lot sometimes.
Logan: I have a message for Daniyah. I hope she can get to know everyone this school year and that she can stop being shy and talk to people.
Kaden: I like to see my mom laugh because she has a beautiful face. I like to talk about my mom, too, because I love her a lot. I love my brother because I talk about my brother all the time. And I do the same for my sister and everybody.
---