Starting off High School on a Hopeful Note
19 October 2022
Fabiola is looking forward to learning more about who she wants to become in the future.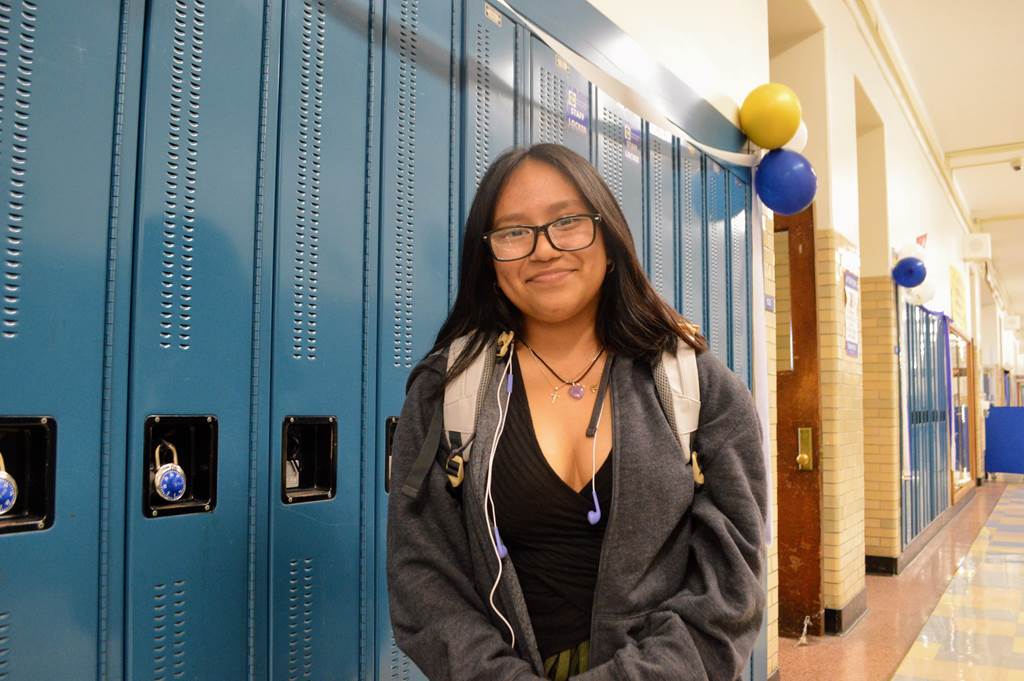 By Fabiola A., Freshman at Foreman College and Career Academy
---
My first few months of high school have taught me that life can be tiring. There are times when I just want to give up and go to sleep. But I know I have to work hard, and I am always hopeful that I can get through the challenges that come my way.
One of the first challenges that I experienced in my life was transferring to a new elementary school in the middle of second grade. It was scary at first, but my extroverted side shone through and I was able to make new friends quickly.
It was exciting and sad at the same time to graduate from that school earlier this year, but I'm happy overall that high school has started because my time at Foreman is off to a great start. So far, most of my schoolwork has been review, so I feel like I'm doing well academically. And making friends has been easy because I've found fellow extroverts. Whenever I see new faces, I always want to go say "hi" and learn more about them.
I like learning about math. Even though I'm not great at it, I know that I will get better at it with time. And I also enjoy reading. Right now, we're reading and writing different kinds of poems. I wrote a poem that required me to fill in blanks to describe how I saw myself. It started like this:
Hi, my name is Fabiola
No, wait, my name is Fabi
I grew up in Chicago, Illinois
I'm half Mexican and half Ecuadorian
I grew up Mexican because of my mother
I grew up Ecuadorian because of my father

But I'm more Mexican than Ecuadorian since I stay home more with my mother
---
---
My reading teacher, Mr. Hathaway, is very outgoing and always checks up on us. He also plays a lot of fun games with us to help us learn our vocabulary words. In biology, we're learning all of these new concepts like "nitrogen cycle" that I have never heard of before, so I try to go over my vocabulary at night before I go to bed.
I rely on schedules that tell me which assignments I need to work on each day of the week. This will help me stay on top of my work throughout high school. Even though I'm only a freshman, I already have my sights set on becoming a lawyer. I have a close relationship with my family, and my main motivation for choosing this career is to be there if any of my family members need a lawyer in the future.
I have two younger brothers: one is in seventh grade and the other is a baby. My baby brother always wants to be around me. And while I'm not super close with my other brother yet, I help him with his schoolwork and he shares all the beef or tea that is going on at his school.
Being the oldest sibling, I've learned many lessons that my brothers should know. The biggest lesson that I think they should know is the importance of balancing focusing on school with finding time for yourself to relax and have fun.
And, if there are other students who are distracting you, don't be afraid to keep your distance from them so you can focus.
I'm hopeful that I will be able to find the right balance at Foreman, and I am also giving myself the space to discover new interests.
When I was younger, I had naturally curly hair and my mom tells me my eyes were a bluish-gray color. But my hair is no longer curly and my eye color has changed as well. That reminds me that it is okay for people to change and, even though I have set some big goals for myself, it is okay for those goals to change, too.
I'm looking forward to many parts of high school that are still to come, but what I'm looking forward to most is learning more about who I want to be in the future.
Outside of school, you can often find Fabiola playing soccer with her two brothers while she babysits them. She's also discovered a new sport that she enjoys playing: badminton.
---