Sharing My Leadership Journey
11 April 2023
By Ms. Daisy Hernandez, Assistant Principal at Durkin Park Elementary School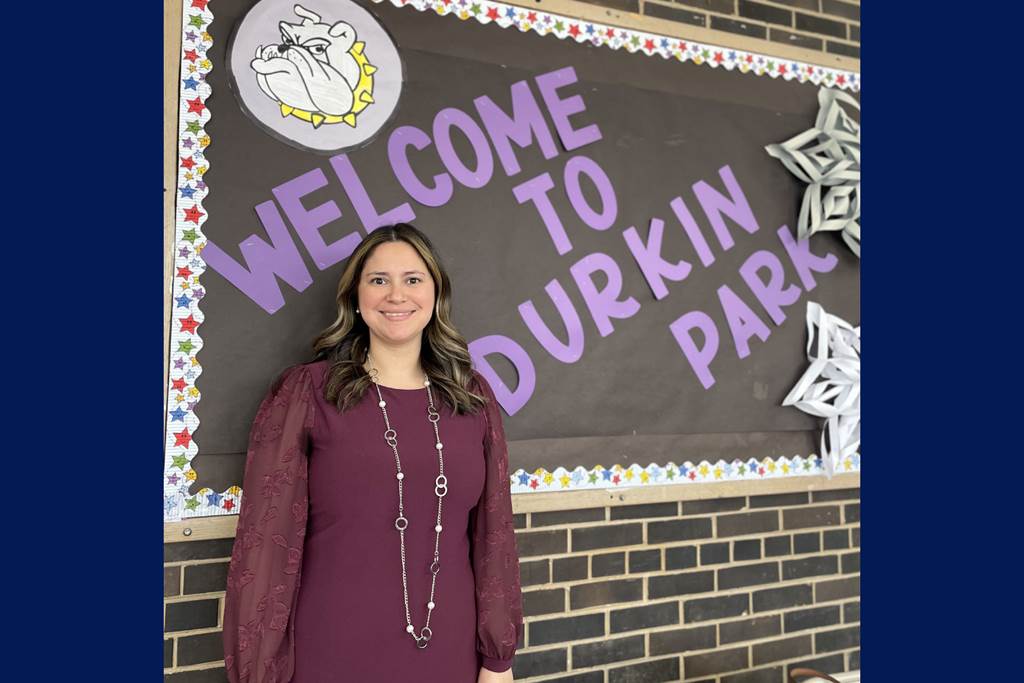 Growing up, I knew I wanted to be either a pediatrician or an educator because I loved working with kids. I am a product of CPS, having attended Ruiz Elementary School and being part of Jones College Prep's first graduating class. I had a tutoring job in high school that I enjoyed, but it wasn't until college that I solidified that I wanted to become a teacher.
I started as a bilingual kindergarten teacher, and that grew into other roles with additional responsibilities such as becoming the lead literacy teacher and later the English language program teacher. These roles required me to work closely with administrators, be part of the school's instructional leadership team, and chair the literacy committee.
After earning my master's degree in administration and teaching for a few more years, I decided to take the leap and become an assistant principal. I was scared to put myself out there. The opportunity had knocked on my door many times, but I didn't feel like I was ready. In 2021, I learned that Durkin Park Elementary School was looking for an assistant principal that was bilingual and had a strong background in literacy and the Multi-Tiered System of Supports (MTSS) framework.
I felt like I would be a good fit since I had these qualifications, but I felt even better about taking on this role after meeting with the principal, counselor, teachers, and members of the Local School Council. Everyone made me feel so welcome, and I could tell the school was a tight-knit community.
I was ready to join a new school because, even though I had been at my previous school for so many years, I felt like I would always see myself as a teacher there. I knew it would be difficult to maintain the relationships I had built if I transitioned into administration. I am so grateful that I was able to build my capacity there, but it was time for me to make an impact somewhere else.
On a daily basis, I'm asked if I enjoy being an assistant principal, and my response is always that I absolutely love it. It certainly is a busy job, and there are always shifting and competing priorities, but I truly enjoy coming to work every day. I see my current position as being the best of both worlds. I'm an administrator, but I still get to interact with students, teachers, and parents daily.
Interacting with teachers comes naturally to me given that I was a teacher for 14 years. My teachers appreciate that and know that I will always empathize with them. And I love being able to connect with my parents given that my twins are part of Durkin Park's half-day pre-k program. I can connect with my parents not only as a school leader but also as a fellow parent.
With our students, I focus on being extremely approachable so students know I am always willing to talk to them. We're always looking to improve our attendance, so I also look for ways to incentivize our students to come to school ready to learn, while also making sure to go the extra mile to celebrate their academic accomplishments.
When I look back on my career, the main characteristic that I think represents me is that I love to learn. If I didn't know how to do something, I would keep learning until I mastered that new skill. I've always tried to maintain a growth mindset in every role that I've had. The only thing I think I would do differently is to become an assistant principal sooner because I feel like I am now on an amazing journey that has so much to offer.
I think the best person to become an administrator is a teacher. So, for all the CPS teachers who are thinking about becoming assistant principals, take advantage of opportunities to grow your leadership skills. This will allow you to use your voice to impact school-wide decisions. Then, once you start implementing your own initiatives and seeing results, it might be time for you to take that next step.
For Assistant Principal Appreciation Week, AP Hernandez wants her fellow assistant principals to remember that their school communities see all of their hard work. You can share a note of appreciation with your favorite AP through our social media toolkit.