Highlighting Four of our Golden Apple Award Finalists
31 March 2023
These educators share a commitment to helping their students grow both inside and outside of the classroom.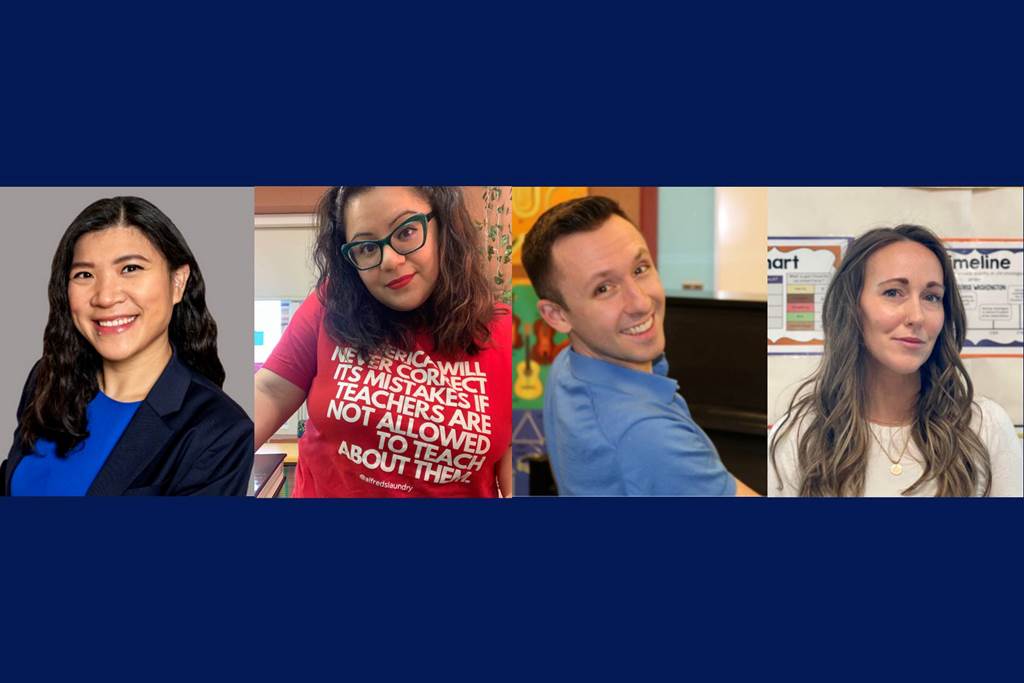 This month, we are highlighting each of our Golden Apple Award finalists by showcasing the amazing work they are leading in their schools. These educators represent schools from all over Chicago, and each of them shares a commitment to helping their students grow both inside and outside of the classroom.
Read more about our next four finalists below — Ms. Helen Chan, Ms. Andrea Salgado, Mr. Justin Wrzesinski, and Ms. Emily Brown.
---
Ms. Helen Chan
Fourth Grade Math Teacher at South Loop Elementary School
What was your reaction when you learned you were a Golden Apple Finalist?
When I was a child, I saw Golden Apple teachers on TV and thought it was amazing. Through my years in teaching, I've always dreamt of becoming a Golden Apple winner one day. As time passed by, I let go of that dream because I didn't think it would happen to me. With so many exceptional teachers out there, I didn't think I had what it takes to stand out from them, so I was actually really shocked! I was pleasantly surprised.
What is your approach to teaching?
My favorite theory is Lev Vygotsky's sociocultural theory. It is about how students learn through social interaction and how they use their identity and their cultural background to help them succeed.I used that approach in my classroom because I know how scared and nervous students can be at school. Pushing them to collaborate with each other, while being proud of what they have to offer is going to help them be successful in the future.
What is your favorite part of your day at South Loop?
It's definitely the students. They learn from me because I'm the teacher, but I learn so much from them, too. As I mentioned, I learn about their identity, their own cultural backgrounds, their day-to-day life, their struggles, and their celebrations. I like sharing their joys and challenges with them.
I also have a very supportive administration, and that's what's great about South Loop school. They remind us to practice self-care, and they look out for us. They understand that we have a life outside of teaching.
---
---
Ms. Andrea Salgado
Seventh and Eight Grade Literacy, Writing, and Civics Teacher at North River Elementary
What or who inspired you to pursue a career in education?
My fifth-grade teacher, Ms. Menchaca, at Patrick Henry Elementary School because she made me feel just so happy and welcomed. During that time, I was an English Language learner, so Spanish is my first native language. She just made learning fun, and I didn't feel different or excluded because I spoke Spanish. I want to be that "Ms. Menchaca" to someone.
What do you hope your students take away from your class?
I'm really into finding books for my students, specifically, that are culturally relevant. Growing up, I didn't read about students like me who are bilingual, first-generation, brown girls. I like to make sure that we find books or even expose them to books that are like mirrors in which they can see themselves or maybe sometimes a window to something new or different to themselves.
What motivates you to continue your work as a teacher?
Learning and growing as a professional. I look at things as just adding more into my toolbox. I'm currently getting my master's at Northeastern Illinois University and attending professional developments. I just want to spread all this knowledge, and I'm so fortunate to have the support of my administrators.
And then my kids! So, my daughter is four years old, and I see her at home playing with her dolls, and she says: "I'm teaching them like you do at escuelita [school]." In the back of my head, I know I'm somebody's mom. I'm somebody's role model, and I want to make the best of it.
---
---
Mr. Justin Wrzesinski
General Music Teacher at Coonley Elementary School
How did you end up working in education as a music teacher?
I knew that I just wanted to be involved in music in some kind of way. I had a really good band director, Mike Wallace, in high school, who was the one who kind of inspired me, directed, and guided me into music education. Being in music education gave me a sense of giving back. I wanted to inspire students like my teachers had inspired me. Music comes to me naturally, so it felt more like a calling than just a job I want to do.
What's your favorite part of teaching?
I love to see that snapshot of the beginning with where the students are, and then I picture the ending snapshot of where I want them to be. I love that when we get toward the goal, students can look back and have that realization of like: "Wow, I learned how to play this instrument!" Or when, as a group, the students get to recognize that progress and see that growth. That drives me to want to do more.
Are there any projects coming up that you're excited about?
May is going to be a loaded month! We have our spring musical with 60 or so kids in the cast, and we put on a full-size show in May. I'm looking forward to the eighth graders doing the rock band performance, and then I have two band concerts. That concert in the spring usually has a theme, so we're doing songs of the century. And then, of course, we have the Three Piggy Opera. It's a tradition that we do with the Kindergarten class each year at our school.
---
---
Ms. Emily Brown
Eight Grade Reading Teacher at Robert J. Richardson Middle School
What does your CPS journey and career path look like?
I have always known I wanted to be a teacher ever since my 3rd-grade teacher, Miss Stevens. She was passionate and kind, educated and beautiful, and I was immediately inspired to become a teacher as well. As a CPS alum myself, graduating from Sutherland Elementary and Morgan Park High School, I knew that I wanted to teach at CPS.
What was your reaction when you learned that you had been named a Golden Apple finalist?
Shocked! As a 2005 Golden Apple Scholar, I began my pre-career learning from Golden Apple Fellows. Teachers that had been identified as the best, and through their instruction and guidance early on, I have become the teacher that I am today. To even be put into the same category as that prestigious group of teachers is an honor that I have yet to truly comprehend. Not to mention that I am witness to amazing, passionate, dedicated, and truly talented teachers daily at Richardson. I know that CPS is teeming with excellence, and to be considered one of those is one of the most humbling and rewarding experiences I have had as a teacher.
What is your biggest goal for your students?
My main goal for my students is simple, I want them to be proud of themselves, to have that aha moment, and feel their mind light up. That feeling is a spark that can lead to them igniting a fire for learning. We have all had that experience, and we know that initial pride it brings.