Why I Wouldn't Change Anything about My Career with CPS
20 April 2023
By Ms. Ethel Barker, Assistant Principal at Wilma Rudolph Learning Center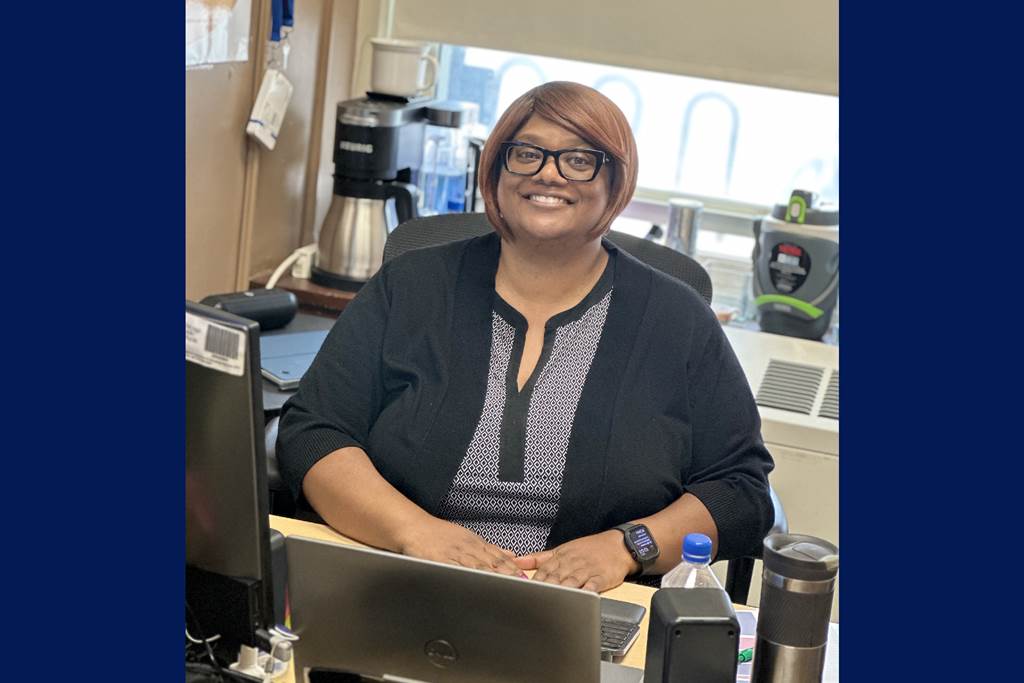 A good analogy for my career is that it is like a three-layer chocolate cake. The first layer represents my work as a classroom teacher. The second layer represents my work in the CPS Central Office. The third layer represents my work at the network level. And my current role as the assistant principal of Wilma Rudolph Learning Center is like the icing on my cake.
It is the perfect role for me after having served the District for 29 years because it allows me to apply everything I have learned in my various roles with CPS to support students with special needs and their families.
Having served CPS for so long, you might be surprised to learn that teaching was not my initial career choice. I wanted to be a photojournalist. When I was a student at Curie High School on Chicago's Southwest Side, I used to take photos and interview my peers to create stories. That led me to attend Northern Illinois University with the intention of majoring in journalism.
However, after I held several internships within that field, I realized that being a journalist might be a little too fast-paced and stressful for me. My aunt worked for Chicago Public Schools, and she was the one who encouraged me to try teaching. I changed my major to elementary education and transferred to Chicago State University, and it was a perfect fit because I still got to do a lot of reading and writing.
My first job in CPS was at Grimes Elementary School near Midway Airport. I taught a variety of grades at the middle-school level, and my principal especially commended me for my work adapting the curriculum for my special education students. That's when I realized that special education was my calling. I went back to school to focus on special education and also received my principal endorsement.
After working at the school level for a bit longer, I eventually got promoted to work at the District's Central Office. I spent the bulk of the middle part of my career working in various roles. I was an instructional coach and manager for special education. I ran summer programs at one point. Everything I did connected back to supporting instruction and inclusion for diverse learners.
I then moved into a role called a network liaison, where I worked with the District's Network Offices to improve instruction by creating continuous improvement plans. When these networks learned that I had a background in special education, I also took on additional responsibilities related to supporting diverse learners.
When this role ended, I became a special education administrator for Network 6, which is Rudolph's network. I worked closely with Chief Nicole Milberg to support all the students in that network by working with their teachers, school leaders, counselors, and case managers to develop impactful instructional strategies. I also used my knowledge of Central Office to help schools navigate different departments.
In this role, I worked with Rudolph on a project to raise student achievement. When the assistant principal position opened up, they reminded me that I had been in so many positions for the District but had never served as a school leader.
So, I decided to take the job, and it has been a dream come true. Rudolph is a school specifically designed for diverse learners, with a full nursing staff, occupational therapists, and physical therapists. I felt like I hit the lottery because I absolutely love working at Rudolph. My focus is ensuring that our students continue learning and making progress while having as much access to the general education curriculum as possible. I wake up every morning ready to strategize on behalf of my students.
I started by sharing the different layers of my career, and it feels like each layer made the next layer possible. My work as a teacher prepared me well to work in Central Office. My experiences there gave me the knowledge I needed to support our CPS networks. And my work in Network 6 allowed me to become familiar with Rudolph and enable me to succeed there as an assistant principal.
For this reason, I feel like my career panned out in exactly the right way. I feel like I can look back knowing that I made a positive impact in each of my roles, and I still view each new day as exciting because I know I am still making a difference now.
In addition to being a CPS assistant principal, AP Barker is also the mom of two CPS high school students. You can learn more about Wilma Rudolph Learning Center by visiting its website.