Take Five with Tiffany Watkins: Teacher and Wellness Champion at Westcott Elementary School
21 April 2023
Mrs. Watkins is passionate about helping the District's youngest learners get outdoors and learn about nature.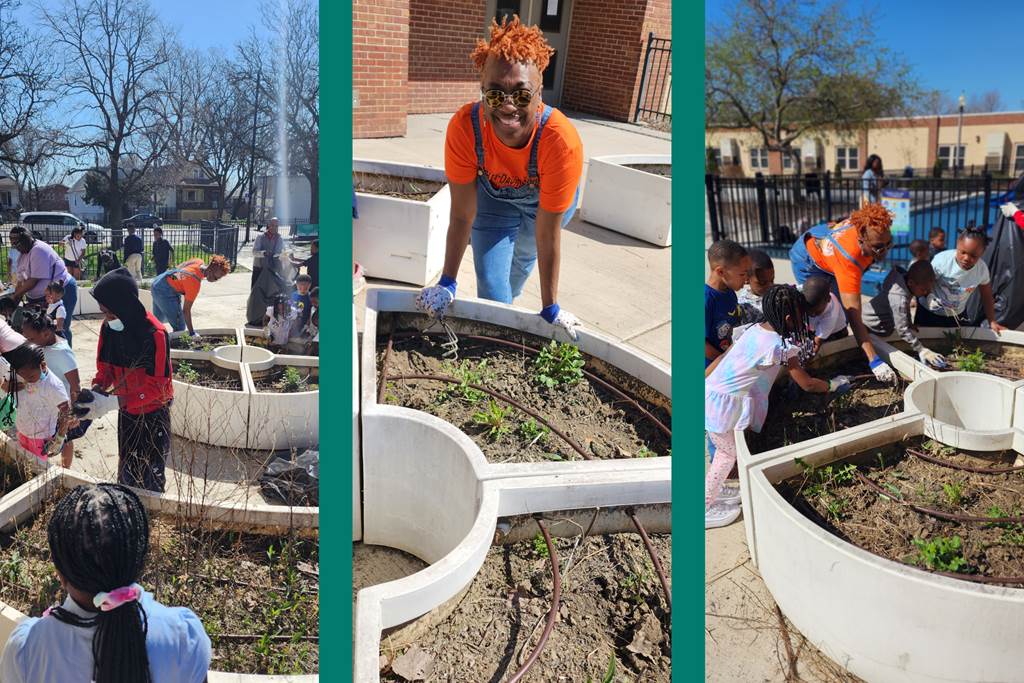 Take Five is a series that highlights some of the many CPS staff members who are going above and beyond for our schools. If you know someone who is making a difference, nominate them to be featured here.
---
In honor of Earth Day on April 22, 2023, we are thrilled to honor one of the many incredible CPS educators who are passionate about nature, garden, and sustainability education. Meet Mrs. Tiffany Watkins, a pre-k teacher and Wellness Champion at Oliver S. Westcott Elementary School.
When Mrs. Watkins arrived at Westcott almost 19 years ago, she knew immediately she had found a school community she could call home. Since then, she has taught a few different grade levels, but her true passion is teaching the District's youngest learners — pre-k students. Mrs. Watkins appreciates her students' resiliency and the way they show up every day ready to explore the world and their environment.
Mrs. Watkins, along with other CPS educators and community partners, will be presenting on the importance of garden education for our community in the first annual Green and Growing Summit on May 6, 2023. Mrs. Watkins will be leading a workshop titled "Activate your Outdoor Space." If you're interested in learning more about the garden education movement in Chicago, you can learn more and register on the Green and Growing Summit webpage — tickets are free!
When did you know you wanted to be a teacher?
I always knew I wanted to be a teacher, but I took a slight detour into the medical field when I was getting my bachelor's degree. I had actually gotten to my clinicals at the very end of my program when I realized that my true calling was to be a teacher.
Can you tell us more about your passion for health, wellness, and helping your students get outside?
It all connects back to when CPS started the Healthy CPS Campaign and I was asked to be Westcott's Wellness Champion. Health and well-being impact everything and are crucial to learning. Since then, we've gotten our learning garden and Space to Grow playground, both of which we can use as resources to teach. I think being outside and connecting to nature is good for all of us, especially after being cooped up inside during the pandemic. I teach lessons about nature and my class does a lot of outside activities, such as days where everyone can bring a bike (or tricycle or scooter!) to school. It's so important to teach our children about health and wellness while they're young.
What is your approach for incorporating more nature and green space into the school day?
I think it's important to change the way we think about the outdoor spaces that are available to us. We should look at what we can do to support and enhance these spaces. Every school is different; use what you have! I love that we're able to capture what's special about our school and the land we have access to and create spaces that are both beautiful and functional for our students. And there are so many lessons that we can connect to nature and the outdoors!
What are your favorite lessons to teach your students?
There are so many. Right now, we're learning about water, which is essential to all living things and has so many different functions. We talk about how important it is for us to drink water, how water comes from nature into our faucets, and how in different locations people's access to water is different. Teaching pre-k is so fun, because it really lets you explore these big, fundamental concepts and you get to watch students connect the dots on topics like water, trees, and clothing.
What do you like to do outside of work?
I recently became a TreeKeeper with Openlands, which involves taking a course on caring for trees and earning your TreeKeeper license. It's very nerdy but fun. I also love to be home organizing my space and enjoying time with my family. I spend a lot of time with other people — I'm married with children, I have a big group of friends, and I come from a large family. I wasn't even born alone; I have a twin! So I really cherish my alone time and would love to spend a day alone by the water.