Take Five with Stefani Hicks: Middle School Writing Teacher at Harte Elementary
03 February 2023
Known as a solution-oriented team player, Mrs. Hicks loves teaching middle schoolers because of their energy, thoughtfulness, and insight.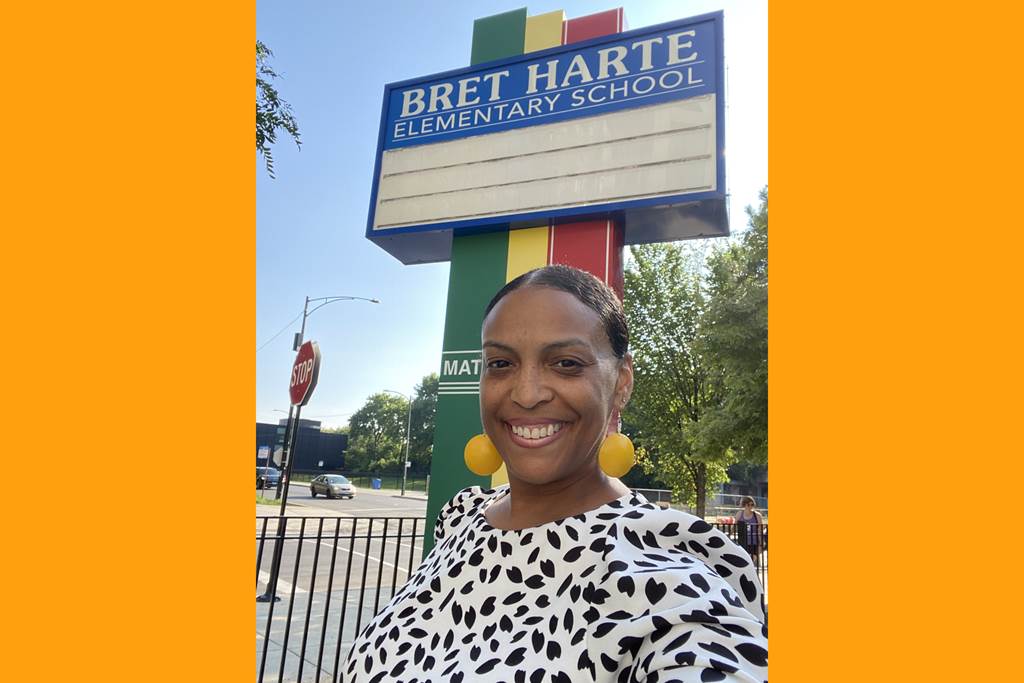 Take Five is a series that highlights some of the many CPS staff members who are going above and beyond for our schools. If you know someone who is making a difference, nominate them to be featured here.
---
Meet Mrs. Stefani Hicks, a middle school writing teacher at Bret Harte Elementary School who is known for being a solution-oriented team player. A Bowen High School graduate, Mrs. Hicks started as a CPS teacher fresh out of college and spent 18 years at Horace Mann Elementary before moving to Harte almost seven years ago. Throughout the course of her career, Mrs. Hicks has taught English language arts, civics, and social studies to her students; she has also taught nearly every elementary grade level. Mrs. Hicks has spent the most time teaching eighth grade specifically, and Mrs. Hicks says she loves teaching middle schoolers because of their energy, thoughtfulness, and insight.
Mrs. Hicks' work with her middle school students does not end when the school day is over; she also serves as the student council leader and is in charge of organizing and facilitating her school's student council activities and elections. In this role, Mrs. Hicks has a special hand in making sure Harte students feel empowered in their school community, as well as a front-row seat to her students' creativity and engagement.
It's currently Black History Month — What is your approach to incorporating Black history in your work?
One of the biggest ways we recognize Black History Month at Harte is through our spirit week. Under my supervision, our Student Leadership Council champions a week of activities that promote Black excellence, achievements, and innovations in everything from the arts to STEM. We want all students, pre-k to eighth grade, to be able to participate in this celebration, express themselves, and feel a sense of pride and ownership in their learning community. It is so important that our students see their reflection in the world around them.
What made you want to become a teacher?
I come from a line of educators — both my mother and older sister are also teachers. From an early age, I've loved working with children and have just always wanted to pursue teaching. I really, truly enjoy being a teacher, and I'm so glad that I've spent the last 25 years in the classroom. I see myself in the classroom for the rest of my career. I don't need to be anywhere else.
What is most rewarding about your work?
The real rewards come when these kids come back years later, or find me online and email me or send me a message about how they're doing. Their success is my success. It means so much to me to get a notification from a student who remembers me from years ago telling me I taught them something or inspired them in some way. Hearing I was instrumental in a student's life in some way is the best reward — better than any paycheck I could have ever received.
Why is it important to amplify student voice?
Students need to be true, active members of their school community. If we don't listen to our students and what they're saying, I think we're doing an injustice to them and their education. Students are on the receiving end of feedback all the time, and we need to ask ourselves if we give students that same opportunity to voice their opinion. I think a focus on amplifying student voice should be a priority in every school.
What do you like to do outside of work?
I am very involved with my spiritual community — I sing in the choir and do a lot of work with the youth and young adults in my church. I'm also a Zumba instructor by night, which is just a total party. Traveling and seeing more of the world is definitely high on my list of things I want to do outside of work. I'm an island girl, so Aruba is definitely one of my favorite places I've ever been. But in the future, I would love to travel to Africa, specifically Ghana, as well as Spain!