Building Community through Music at Schmid Elementary School
13 January 2023
Students and staff came together for Schmid's Winter Wonderland.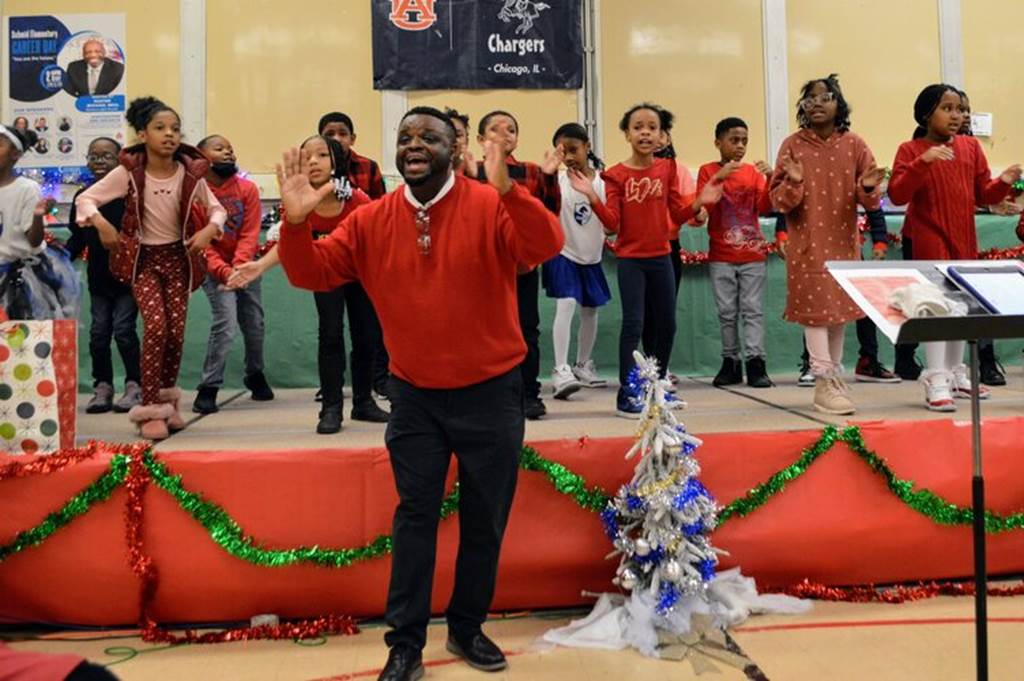 While this wasn't the first school year that Schmid Elementary School on Chicago's South Side held a winter assembly, Principal Tenesha Hatter believes that performances at Schmid have been taken to the next level. That's because the school has a new music teacher, Mr. Cha'Ron Bradley, who went above and beyond to ensure this year's winter concert—"Schmid's Winter Wonderland"—allowed the school to end 2022 on a high note.
The concert was structured to allow students from every grade level from Pre-K through eighth grade to perform, while also highlighting some of the school's extracurricular activities and partnerships, as well as the musical talents of several individual students. It also had plenty of opportunities for audience participation and engagement.
---
---
Mr. Bradley joined Schmid this year after working as an assistant principal at several other CPS elementary schools, noting that he wanted to return to the classroom because he missed having a more direct connection with students. He describes his role at Schmid as "the best of both worlds" because he is able to inspire students in the classroom while also wearing his administrative hat as part of the school's Instructional Leadership Team and culture and climate team.
His approach to teaching music centers on finding ways to connect his lessons to what students are learning in their core subjects.
"I view music as a worldwide language, and, first and foremost, I want the kids to have fun," said Mr. Bradley. "When they're first having fun, then we can explore marrying their musical talents with other parts of their education. Like when we discuss rhythm and time signatures, we can explore how it is related to math. And exploring different musical genres and cultures ties back to social studies."
---
---
Now that a successful concert is behind him, Mr. Bradley says his main goal for the rest of the school year is to begin working toward a spring musical. He wants to combine music with acting and set design to display his students' talents while also ensuring they are meeting their grade-level standards for fine arts.
If the spring musical is anything like the school's "Winter Wonderland," the Schmid community is sure to love it. Mr. Bradley was extremely intentional about ensuring that each student performance focused on uplifting the school community during the holiday season.
---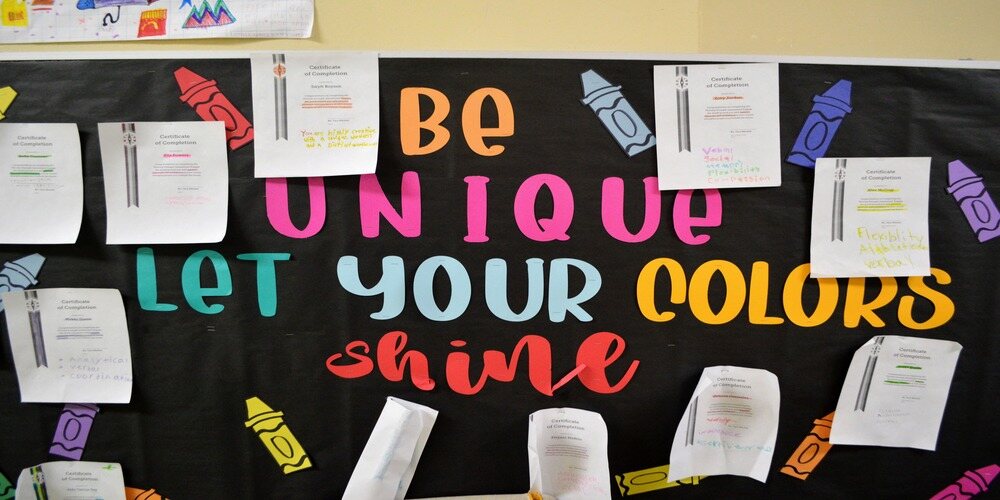 ---
"With the continued challenges that we are facing with COVID-19 and some of the disparities in our city, it's a joy to see how the students have been able to rise above these barriers and enjoy spreading holiday cheer," said Mr. Bradley. "Giving them an opportunity to perform on stage builds a connection with their families, and it's extremely fun for us to get to perform for the school community."
With two student emcees leading the way, Schmid's winter assembly contained everything from classic Christmas carols to modern holiday songs. Each performance was filled with energy, from a welcome from the school's cheer squad to a cardio drumming demonstration led by Ms. Monroe, the school's physical education teacher.
---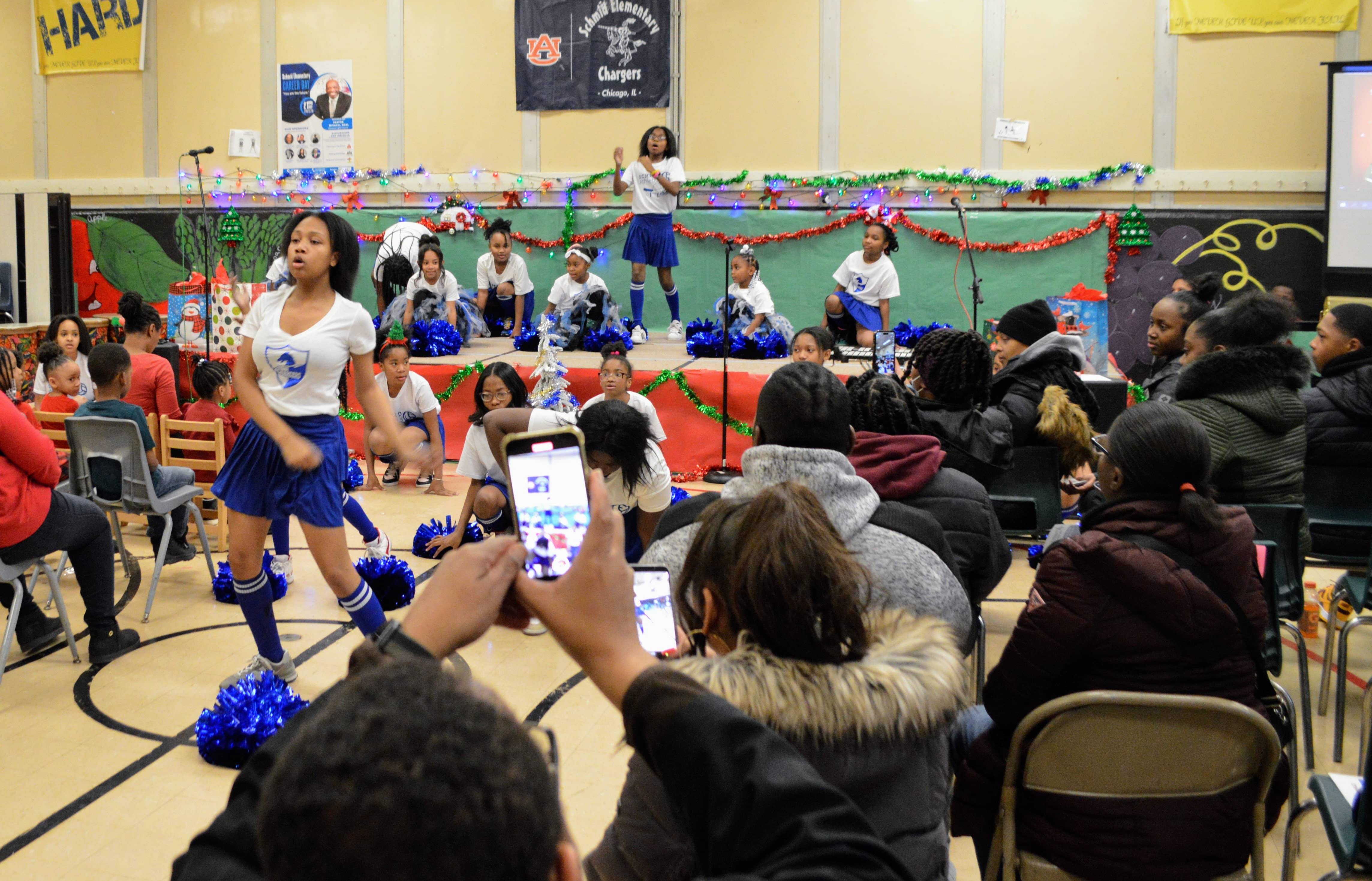 ---
Many students were able to display their passion for music through solos, from kindergarten student Rashaun Mayberry singing "Jingle Bells" to sixth-grade student Abigail Milam showing her talents on the xylophone.
Eighth-grade students performed "Carol of the Bells," and they put their own spin on it by incorporating some African drum beats. And one of the highlights of the entire concert was Schmid's fourth- and fifth-grade students singing "Christmas at Schmid," an original song about their appreciation for being part of the Schmid community.
---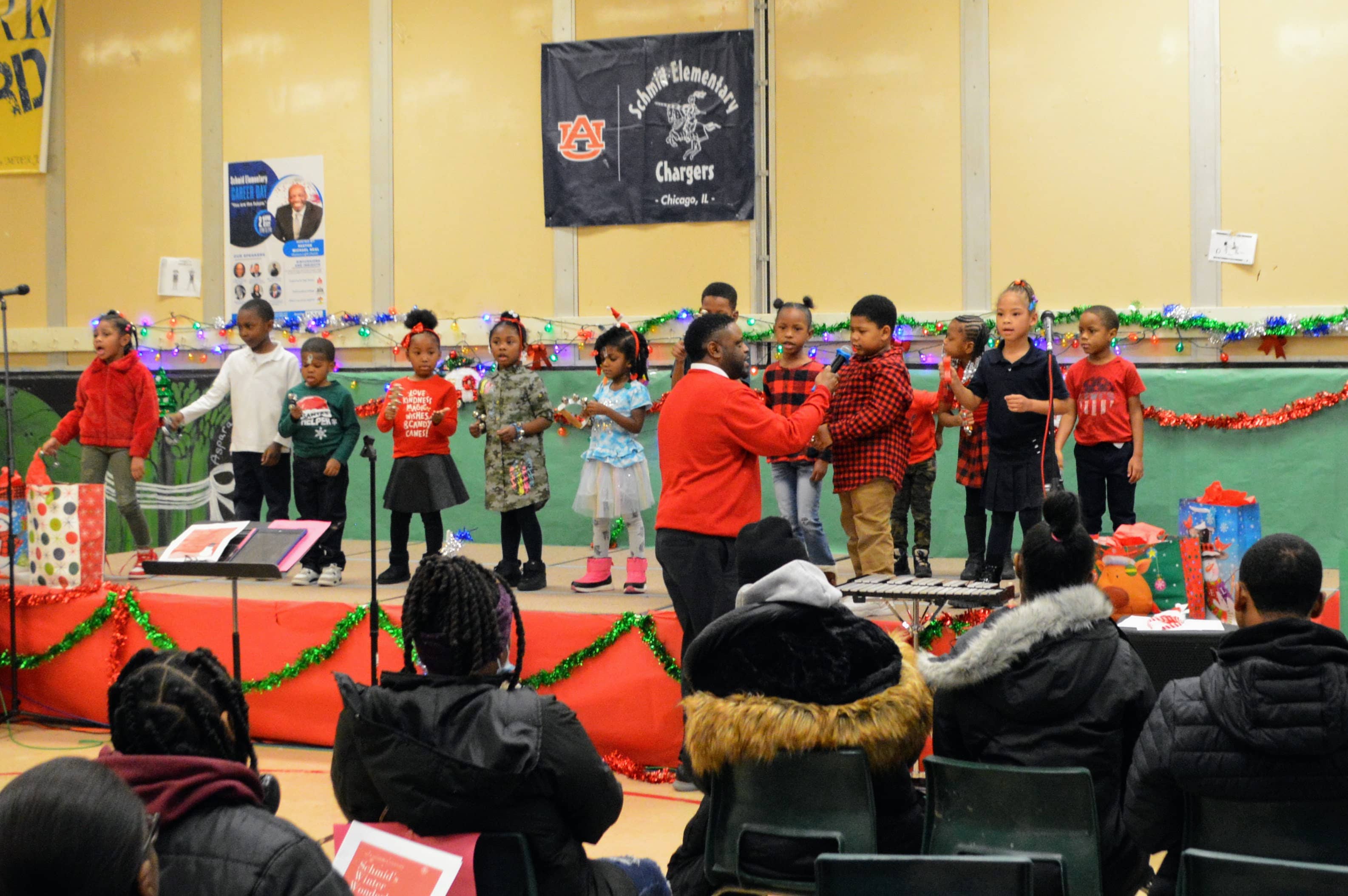 ---
While the students might not remember every word of the songs they performed years down the line, Mr. Bradley and the rest of the team at Schmid know that a focus on music and the arts will develop a number of skills that students will be able to draw from for the rest of their lives.
"The major thing that I want students to remember from my class is that it taught them that they can approach any problem or challenge with the mindset that they can do it because they have the skills to do so," said Mr. Bradley. "Helping them build their toolkits is what will keep them on track for graduation, for their careers, and for life."
---