Highlighting Four of Our Golden Apple Award Finalists
24 March 2023
These educators share a commitment to helping their students grow both inside and outside of the classroom.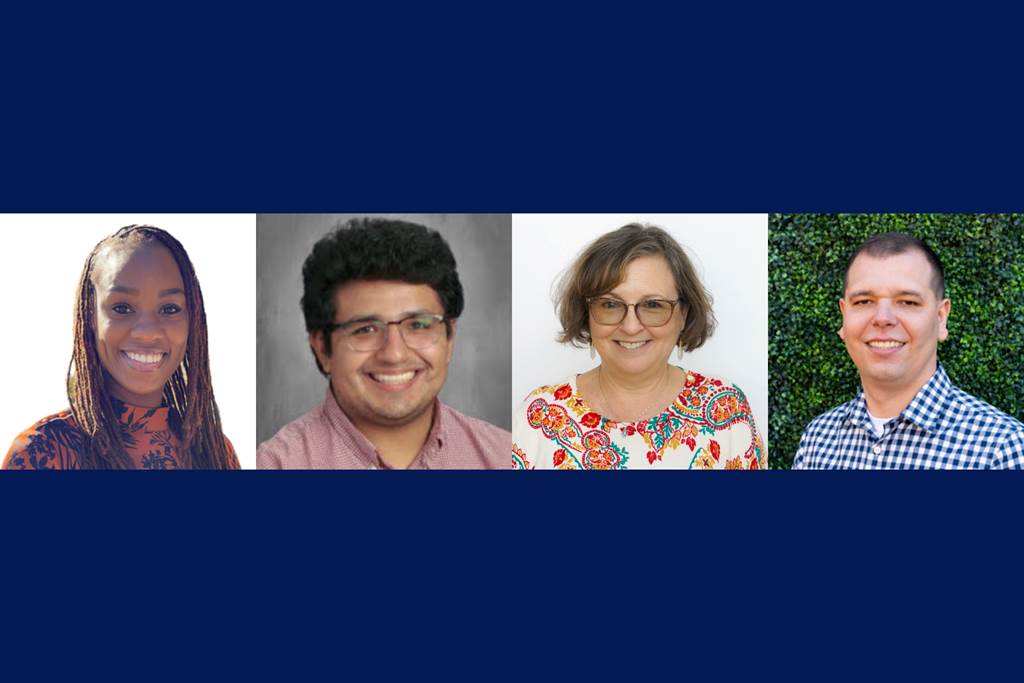 This month, we are highlighting each of our Golden Apple Award finalists by showcasing the amazing work they are leading in their schools. These educators represent schools from all over Chicago, and each of them shares a commitment to helping their students grow both inside and outside of the classroom.
Read our first feature here, and read more about our next four finalists below — Mrs. Anquineice Brown, Mr. Miguel Melchor, Mrs. Donna Puccini, and Mr. Piotr Wojciaczyk.
---
Mrs. Anquineice Brown
Fourth Grade Math and Science Teacher at Marquette Elementary School
What led you to working in education?
I started in public health, so education has always been part of my work, even when I wasn't in the classroom. I began my career working at a community organization for children and adults with sickle cell disease, doing a lot of community outreach and health education. I was also serving in my church as a youth leader and teaching a Sunday school class. Eventually, the grant that was funding my public health work ended, and I found myself at a bit of a crossroads. A piece of me had always been interested in becoming a classroom teacher, so I ended up applying to a Chicago teacher residency program in the summer of 2016 when my son was just three months old. To this day, becoming a teacher is easily one of the best professional decisions I've ever made.
What is your approach to teaching?
I have a bachelor's degree in biology, a minor in chemistry, and a master's degree in public health — science is my first love, and my brain is very analytical. I love bringing a lesson to life and creating an opportunity for students to apply the concepts they're learning in the classroom to their lives outside of school. We're learning fractions right now, and that's incredibly relevant to real life. We are always sharing and splitting things with one another! Or, take area and perimeter: we're able to bring in the examples of working in construction, putting up a fence, laying sod, or even thinking about area rugs and bath mats.
What do you hope your students take away from your class?
I hope my students always remember that I care more about them as human beings than anything they could ever produce on paper. My mantra for them is to "be great." They're already great just the way they are, and I want them to continue being themselves and being great. I know that in 20 years when I run into them downtown or at the airport, or when I see them come up on the news because they're doing something amazing, I'll be able to remember them when they were in fourth grade and know how wonderful their character is.
---
Mr. Miguel Melchor
Sixth Grade Math and Science Teacher at DeWitt Clinton Elementary School
What was your reaction when you learned that you were a Golden Apple Finalist?
I was shocked; it is such an honor to be recognized and represent my school in this way. I became a Golden Apple Scholar when I was a senior in high school, and they supported me throughout my college career at the University of Illinois at Chicago, so it feels like such a full circle moment. Since I was a CPS student (Peirce Elementary School Class of 2006 and Lake View High School Class of 2010), I have been passionate about education because I truly believe in its ability to transform people's lives.
What is exciting to you about teaching right now?
Personalized learning. Equity is very important to me, and I am always striving to meet students where they're at and make sure they feel supported and have access to engaging curriculum and resources. I've begun implementing self-paced math units, which helps students work at their own pace and have more autonomy over their learning, and students have really responded to it. It's amazing to see how much they have all grown and learned this year.
What are your goals for your students?
I want my students to embrace a growth mindset. We will all fail and face challenges in life, but if they have a growth mindset it will help them persist, take responsible risks, think flexibly and creatively, and show empathy to others.
---
Mrs. Donna Puccini
Fifth Grade Teacher at Edgebrook Elementary School
How did you end up working in education?
My career path is not a straight line. I actually did get my degree in elementary education, but I couldn't see myself in one room all day back when I was 22. I didn't understand how dynamic classrooms really are, but it turned out okay because it brought me to other rich experiences in the meantime. I worked in film for a while, including in the Jewish Community Centers of Chicago helping teenagers who were making their own cable television show. After that, I supported teenagers who were arriving in the United States from the former Soviet Union. I eventually found my way to classroom teaching when my children started going to school. I've been at Edgebrook for the past 15 years, and I love it. I'm excited to come to work every day, and that is the truth.
What is your approach to teaching?
I focus on teaching lessons through multiple perspectives and centering identity, especially in Social Studies. For example, I don't just teach my students about European explorers arriving in the United States. I also teach them about the civilizations that were already here. When I first started out, I felt like I had to cover everything in history. But now, I focus more on teaching specific moments and events and exploring them deeply. We don't have a textbook anymore, and we do a lot of reading and collaborating. I always try to give my students the opportunity to use their voice and be heard.
What are your goals for your students?
I hope my students become empathetic and compassionate adults who are involved in their community and active members of society. I also want them to keep learning, reading, and collaborating with other people.
---
Mr. Piotr Wojciaczyk
Middle School Design Teacher at Pulaski International School of Chicago
How did you end up working in education as a design teacher?
I moved to the United States from Poland when I was a freshman and attended Taft High School. I had a few very influential teachers, especially my music teacher — I played the bassoon. At first I wanted to follow in his footsteps and become a music teacher myself, but I decided to branch out and switch to elementary education. I taught science for a while and did a lot of hands-on projects. So when Pulaski introduced the design class back in 2014, our International Baccalaureate coordinator thought I would be a good fit to teach the course. I received training and ended up getting a master's degree in design and educational technology. I love teaching design — there is always something new to explore, and students are really able to express their individuality in my class.
What types of design lessons do students learn in your class?
My class is like a giant maker shop. In sixth grade, we do graphic design where they make vinyl stickers, graphic t-shirts, and posters. In seventh grade, we work on sewing and have a big fashion show. We also design in Sketchup and 3D print. And then in eighth grade, we do a little bit of woodworking, coding, and explore electronics. A few years ago, I entered a contest and won some CNC wood carving machines for my classroom, which students have been really loving. Right now, students are making wooden toys that we will be able to donate to kids in need.
A lot of these skills are totally new to students. We talk a lot about failing forward, which means that it's okay to try something new and have it not work out. You can always start over and try again.
Is there anything coming up that you're excited about?
Definitely our annual fashion show. Every project we do starts with a problem that students solve using the design cycle. This year in our sewing unit, we have been learning about fast fashion and how much clothing ends up in landfills and has a negative impact on our environment. So my students' goal this year was to design a clothing line that is the opposite of fast fashion: clothing that is made from high-quality and environmentally responsible fabric. We have been working on this project for some time now — students have created an entire collection — and now they'll be able to show off their hard work. We always have a big show with a runway in the auditorium and everything!