How One Family's Connection to Their Neighborhood Elementary School Spans Multiple Generations
01 November 2023
Sisters Louise and Cece and their mom, Ms. Tess Haskins, have accumulated a variety of positive memories at Sutherland.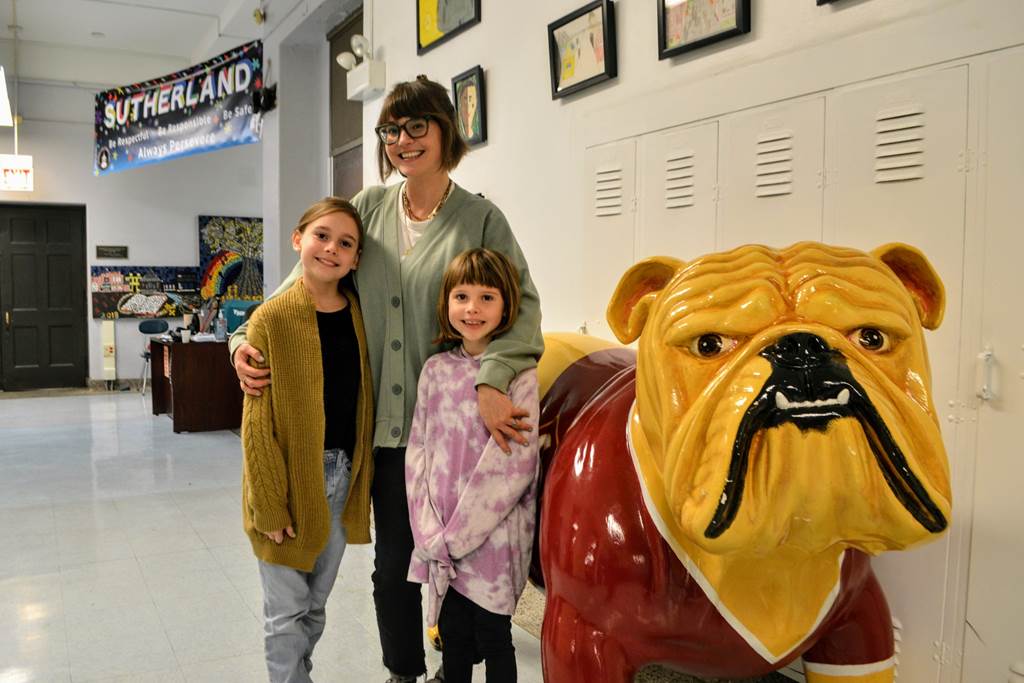 Sisters Louise and Cece see their mom, Ms. Tess Haskins, more often than the typical elementary school student does on a weekday. Ms. Haskins works as a second-grade teacher at Sutherland Elementary School—the same school her daughters attend. And their family has been connected to Sutherland long before now. Ms. Haskins herself attended the school from sixth grade onward, and she describes her years as a Sutherland student as a transformative experience.
"Attending Sutherland really changed the course of my life," Ms. Haskins said. "I met my best friends who are still my best friends here, and I always knew that I wanted to send my kids here because I had such a wonderful time."
Louise, now in fourth grade, and Cece, a second-grader, have developed similar interests both inside and outside of the classroom. They are both known to be very strong readers and enjoy reading everything from realistic fiction novels to the Junie B. Jones series. They also enjoy art—Louise likes to make sculptures out of wood and metal, and her younger sister can often be found making friendship bracelets.
Their similarities also extend to their view of their school itself; they both love Sutherland.
"Sutherland is a very nice school. All the teachers are very kind," Louise said. "It's nice that my mom works here because if I'm not feeling well and need to talk to someone about it, I can go down to her classroom."
All three of them have accumulated a variety of positive memories at Sutherland. Ms. Haskins' favorite memories typically center on either the teachers or friends that she had growing up, or her current students, who she describes as wonderful. Louise will always remember two staff members in particular—Ms. Gaskin, her beloved second-grade teacher, and Ms. Helen, a kind-hearted recess monitor. And Cece needs just one word to describe her favorite memories: lunchtime.
---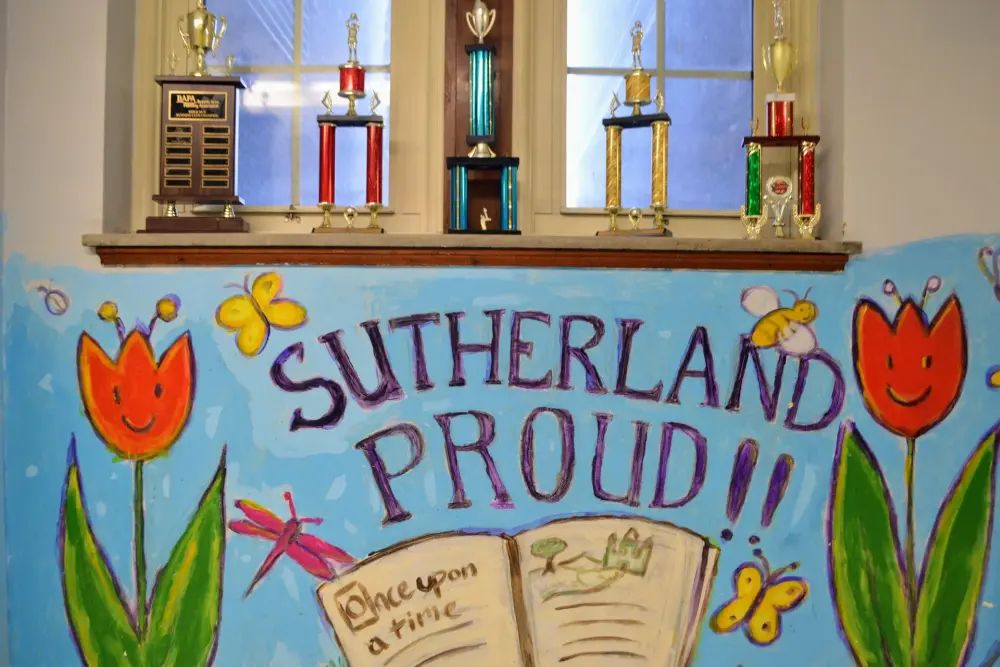 ---
With her two daughters excelling at reading, Ms. Haskins' goals for Louise and Cece are focused on two areas where they have more room for improvement: math and organization. She is confident that they will continue to develop in those areas, especially because their teachers are her colleagues who she trusts.
You might assume that their relationships at the school would get complicated, especially during school years like this one where one of her daughters is in the same grade that she teaches, but Ms. Haskins notes that the supportive community at Sutherland keeps this from happening.
"I was always a little nervous about the parents who I have relationships with because their students are in my class being the parents of my daughters' friends," Ms. Haskins said. "However, it's been great. I do get an inside view of what they're learning in second grade. When they go into other grades, I have more catching up to do."
The strong foundation that both Louise and Cece are receiving at Sutherland is sure to help them achieve their future goals. Louise is considering becoming a doctor, and Cece wants to be a teacher just like her mom.
"I want my job to be being the best teacher at Sutherland," Cece said. "I would teach the kids really good and interesting stuff and read them Junie B. Jones books."
Ms. Haskins believes that one of the keys to helping her daughters grow isn't even an academic component; it's the diversity that Sutherland embraces. She notes that a part of the Sutherland experience for students is learning about inclusivity without even realizing that they are doing so. This happens naturally because of all the opportunities that students have to build relationships with peers who are unique in terms of race, socioeconomic status, and learning ability.
And, as her two girls continue to progress, she will continue to cheer them on from not too far away—her own classroom.
"Both Cece and Louise make me so proud every day," Ms. Haskins said. "They're kind, smart, and hardworking. I want them to keep being themselves and keep being patient and kind to their teachers."
---