Terrific Staff at Colemon Academy Keeps Both Students and Parents Engaged
02 November 2023
Mrs. Fox and Mrs. Jackson appreciate that their children are taken care of so well by their colleagues.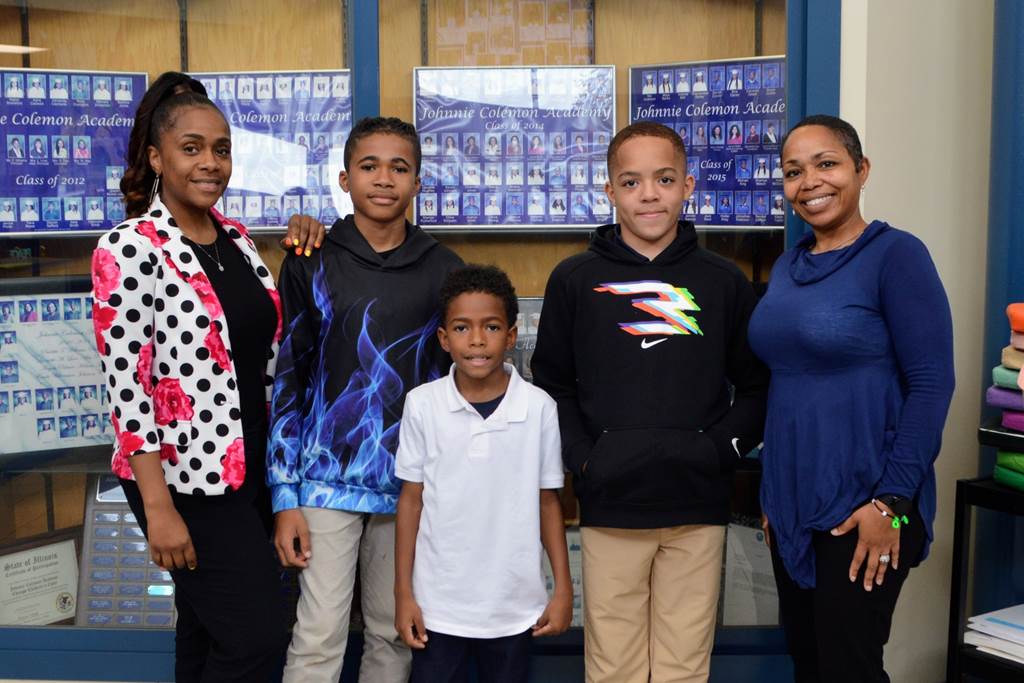 Mrs. Erica Fox, the intermediate math and science teacher at Johnnie Colemon Elementary Academy, explains that a pivotal moment in her son Daniel's education happened in the fifth grade. His teacher routinely showed the class videos of different colleges to inspire them about the future. One day, Daniel watched a video of Hampton University, a historically Black university in Virginia. Now in seventh grade, Daniel is not only thinking about high school, but he still has his sights set on Hampton as well.
Mrs. Fox and Daniel are not the only mother and son who are working and learning at Colemon together. Mrs. Tabitha Jackson, the school's interventionist, has two children of her own at Colemon. Her son Adonis is in the seventh grade like Daniel, and her son Elijah is in the third grade. While she notes that her initial reason for sending her children to Colemon was tied mostly to the convenience of her working there, she loves the staff at the school and now appreciates that her children are taken care of so well.
"I love the instruction at Colemon and how the teachers work with the students both during school and after school," said Mrs. Jackson. "Since I work at Colemon, I have easy access to their teachers, but we've set up great boundaries and they're very honest with me."
All five of them have established a list of positive memories at Colemon, many of which have strengthened their relationships with each other. Daniel is not Mrs. Fox's first child to attend Colemon, and she says watching her daughter graduate was a highlight. She also notes that the school has a fabulous music teacher and loves watching Daniel perform in assemblies. She says that even though he may pretend like he doesn't enjoy performing, she knows deep down that he does.
---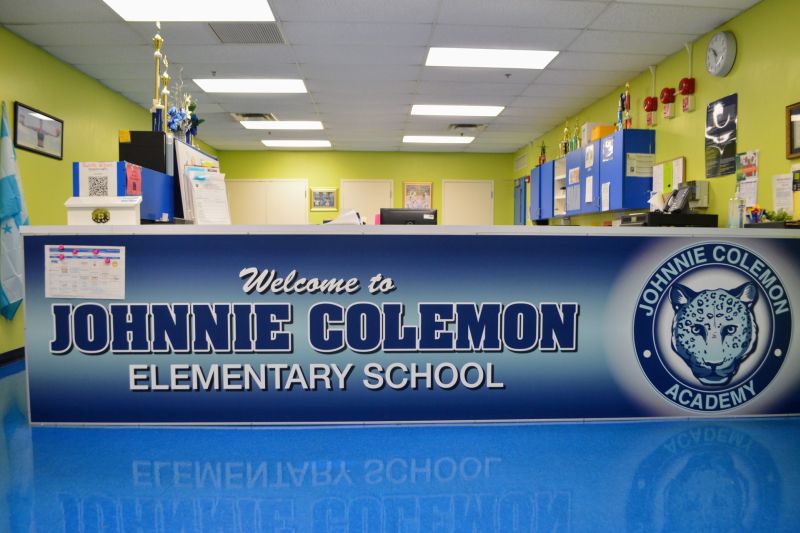 ---
Mrs. Jackson explains that some of her favorite memories reflect the "unity" of the school. One fun example has been spearheaded by the school's gym teacher. For years, students have participated in a fitness challenge in gym class, and the teacher will write down each student's data on the wall to inspire some friendly competition between them. And now, the teachers have been getting involved as well. Mrs. Jackson can't say that they enjoy doing it, but she believes that it is a great way to bring everyone together.
Daniel, Adonis, and Elijah have similar interests both inside and outside of the classroom. They all love math. Elijah is doing great with his multiplication tables. Daniel is mastering how to calculate the area of a circle. And Adonis is taking algebra, which he says has been pretty easy so far. Outside of school, you can often find Elijah playing Roblox, and Daniel and Adonis excel at a variety of sports—football, soccer, baseball, and basketball.
With his strong interest in sports, Daniel can see himself as an athlete when he is older. On the other hand, Adonis is planning on using his interest in STEM as the foundation for his future career. Fun fact: He actually enjoyed remote learning because of its stronger focus on using technology to learn.
"I love playing with technology," Adonis said. "So, I think I would be good at coding or anything technology-related."
Mrs. Fox and Mrs. Jackson know that they don't have to put in any extra effort to keep their students interested in math and science. That is why their focus for this school year is on helping them foster a love of reading. They note that one of the best parts about Colemon is that the school is always trying something new. For example, the school established partnerships to give students hands-on learning opportunities related to STEM topics.
That's why they would love to see the school establish a book club to connect students with books on subjects that interest them.
"Increasing my son's reading starts with him being interested in reading," said Mrs. Fox. "I try to encourage him to read the types of literature that he likes."
As educators—and as moms—both Mrs. Fox and Mrs. Jackson have plenty of advice for their kids. It boils down to a few key reminders: stay focused, know who you are, and do not change yourself for anyone. While they aren't in the classroom with their children to ensure they heed these lessons, they can feel confident knowing their colleagues can do so on their behalf.
---