Meet the High School Principal Determined to Help Each of Her Students Excel
05 October 2023
Principal Kennedy believes her school can be a place that builds revolutionaries.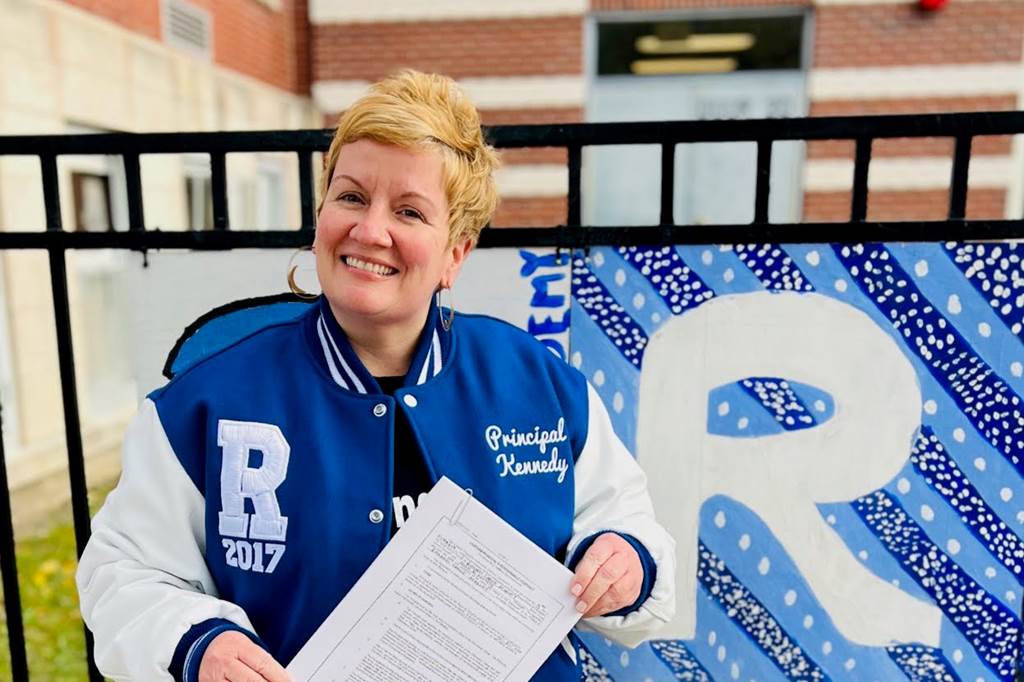 Principal Ellen Kennedy is connecting her efforts this school year back to a question: "How do we move from survive to thrive?" In a way, this question has guided her seven years as the principal of Richards Career Academy, from her first week on the job to now.
She describes joining Richards in 2017 as being in charge of a school that was on life support. There were many challenges that nearly pushed her to quit within her first year of becoming a principal. But every time she felt that she was moving toward leaving, her supportive team and her passion for working with youth would draw her back in.
And, now, Richards has a completely different culture than it did back then. It offers more electives and out-of-school time opportunities for its students. More students are engaging in the earned honors opportunities in their classes. It has a football team and other new athletics programs. All of these steps forward are a testament to Principal Kennedy's transformational leadership and unwavering commitment to the Richards community.
"When we talk about helping our school thrive, what thriving means to me could be completely different from what it means to you," she said. "That's why we need to work together to develop a collective understanding of what thriving means for Richards and the journey we will take to get there."
Principal Kennedy took a unique path to becoming a principal. Her background is not in teaching, but in social work. She believes that this pushes her to prioritize the social-emotional wellness of her students and proactively address potential barriers to learning.
At the same time, she says that she has worked hard to build "street cred" with her teachers as an instructional leader as well. She hasn't done this by managing down; instead, she has positioned herself as the school's "lead learner" who learns alongside her fellow educators.
---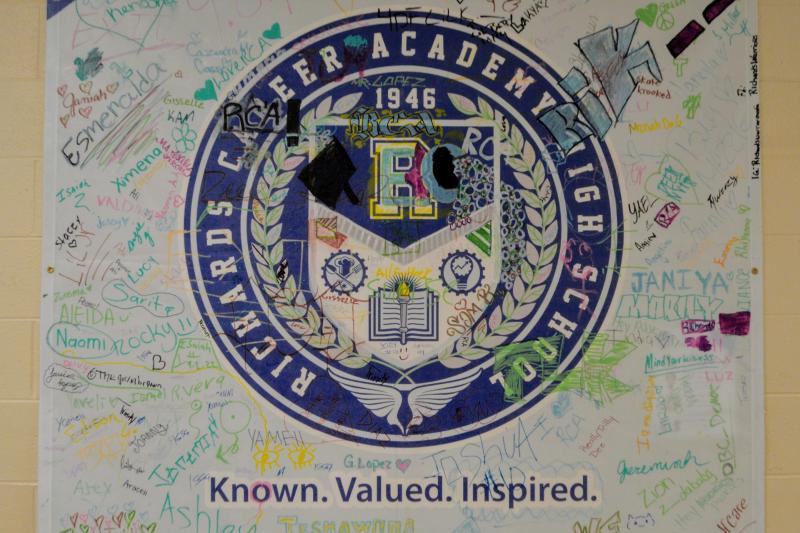 ---
"I think it's a great combination for an administrative team to have someone with a teaching background and someone with a clinical or social-emotional background," she said. "If you're not addressing how these factors intersect, it makes a complicated job even more complicated."
She also knows that students will only be able to fully take advantage of the opportunities that Richards offers if her staff are engaged in the work. That is why one of her priorities has been to model structures that reduce burnout. She recently removed her work email from her cell phone for the first time as a principal. And she is extremely conscious about giving her staff as much planning time as possible so they can lead impactful instruction.
While Richards has clearly been moving in the right direction for years now, Principal Kennedy does not want to be complacent and knows there is always more work to be done. This is clear from the school's current Continuous Improvement Work Plan, which is focused on inclusive and supportive learning, curriculum and instruction, and postsecondary success—simultaneously.
"We believe in the idea that if our most vulnerable students are growing and doing well, that it does have a ripple effect on the entire school," she said. "We're also focused on academic discourse in our classrooms and improving our postsecondary planning apparatus so it starts in ninth grade."
Reaching these goals is not only about strategic planning; it is also about the day-to-day experiences that make Richards a supportive community. Principal Kennedy notes that one of her highlights of the school year is the cheer line that the school organizes right before students take the SAT. They even call out each student's name with a microphone to provide an extra level of encouragement.
She believes that youth deserve that type of support every day. Not only will it help them have a strong high school experience, but it can also positively impact them for years in the future.
"I tell my staff that I want Richards to be a school that builds revolutionaries," she said. "Every student should be equipped with the tools, skills, advocacy, and social consciousness to break down systems that were never built for them to succeed. They can be at the forefront of building new systems."
During Principal Appreciation Month, she certainly thinks about her own journey and how her time as principal of Richards nearly ended as quickly as it began. Now, she is thriving, or is at least "moderately more confident" as she puts it, and she attributes that to the support of other principals across Chicago.
"I continue to sit in this seat and do this work because of the fellowship and community that I have with my fellow principals," she said. "They have supported me when I've felt down, and have shared laughter and traded resources with me. They add so much joy to this experience."
---