Take Five with Chad Thomas: Director of School Leader Engagement
06 October 2023
Chad is passionate about helping CPS principals connect and find community with each other.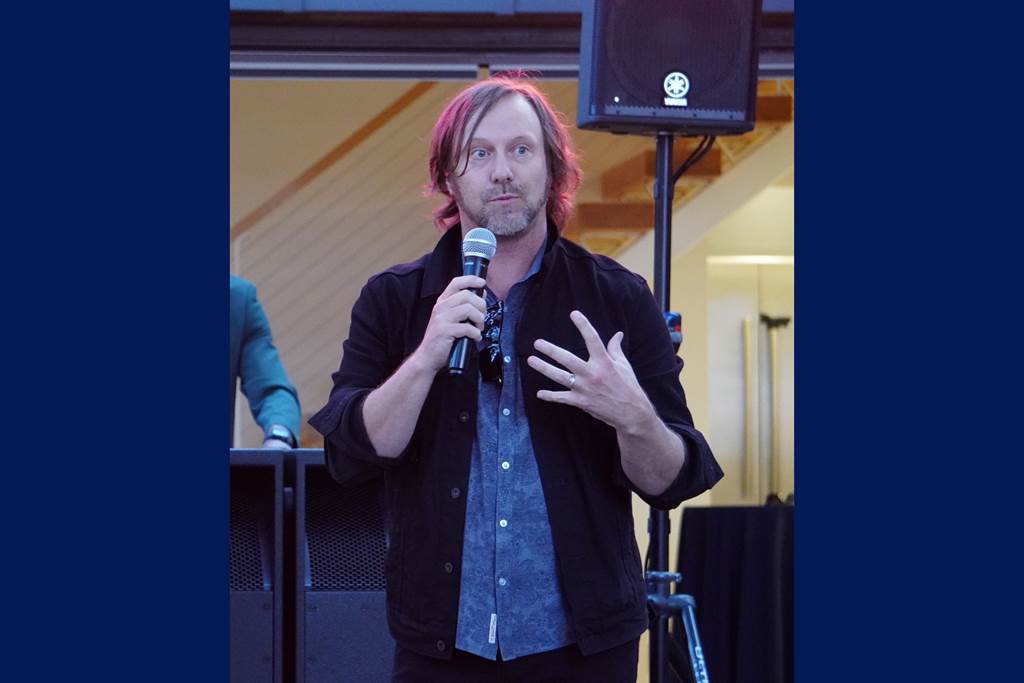 Take Five is a series that highlights some of the many members of the CPS community who are going above and beyond for our schools. If you know someone who is making a difference, nominate them to be featured here.
---
This week, as part of our District's celebration of Principal Appreciation Month, we're excited to introduce you to Chad Thomas. Chad is a former CPS principal and current Director of School Leader Engagement in the CPS Department of Principal Quality (DPQ). In his current role, Chad is passionate about helping CPS principals connect and find community with each other. He is also committed to uplifting principal voice and giving school leaders a platform to share their stories.
Chad started his teaching career in Indiana more than 20 years ago before moving to Chicago and joining the CPS family. Throughout his career as a reading teacher and instructional coach, Chad worked in multiple CPS high schools (including Farragut, Fenger, and Dyett) and earned his National Board Certification.
Chad's career as a school leader began when he served as the assistant principal of Chicago's Harper High School. He was then selected as the principal of Sullivan High School in the summer of 2013. Chad served in this role for nine years, describing his time there as "amazing." To learn more about Chad's work at Sullivan, watch his TEDx Talk here, or read Refugee High: Coming of Age in America by Elly Fishman.
October is Principal Appreciation Month. What does DPQ have planned to celebrate Chicago's school leaders?
To kick off the month, CPS will be publishing the second-ever issue of our School Leader Magazine (you can read the first issue here), which is a celebration of our principals. Throughout the entire month, we're going to spotlight principals and their stories, and we're also hosting some great events. In collaboration with the Chicago Public Education Fund, more than 100 CPS principals will get to attend the Bulls vs. Nuggets game, and there will also be a storytelling event at the Field Museum later in the month spotlighting principals' stories. We're also starting a new tradition called "Coffee and Community" where principals can go to a few coffee shops around the city on report card pick-up day and get a coffee and pastry on CPS.
What originally made you want to become an educator?
I have ADHD and dyslexia, and I struggled in school. For a while, no one knew that I couldn't read, because I've always been a good verbal communicator and I was able to get by with context clues. But then our picture books started to turn into chapter books, and things went south for me. I actually failed the fifth grade. Special education teachers were the ones who brought me out of that and gave me tools and really helped me learn.
I have always been a person who runs toward the fire. So I pretty quickly decided I wanted to teach English or reading, because that's what I struggled with most when I was a student. My disability has definitely created a lot of struggles for me, but it's also been a superpower. It pushed me to lean into my people skills, and the ability to connect with people has always been a crucial skill for me, especially when I was a principal.
What are you most passionate about in education?
Restorative practices, which include repairing harm, forgiveness, and second chances. I failed a grade, and people could have given up on me, but they didn't. So very early on, I learned the value of a restorative mindset, second chances, and learning people's stories. Empathy is where connection lives — I take that into all of my relationships, both professional and personal.
What do you like doing outside of work?
Eating waffle fries dipped in mayo. I'm also in a couple of bands, because I love to sing and play music. But there's never a dull moment in my house — I have a teenager (who attends CPS) and a 10-pound dog who thinks he's a 100-pound dog. The dog's name is Moses, but we call him Booger Bear.
What physical object could you not live without?
Since music isn't a physical object, I'd have to say my record player.