10 February 2022
Chicago Public Schools and City Colleges Of Chicago Celebrate Students' Apprenticeship Placements with Inaugural CLC Announcement Week
Students at seven CPS high schools were selected for Youth Apprenticeships at leading companies in the healthcare, technology, automotive, and construction industries, where they will gain critical career skills and experiences before they graduate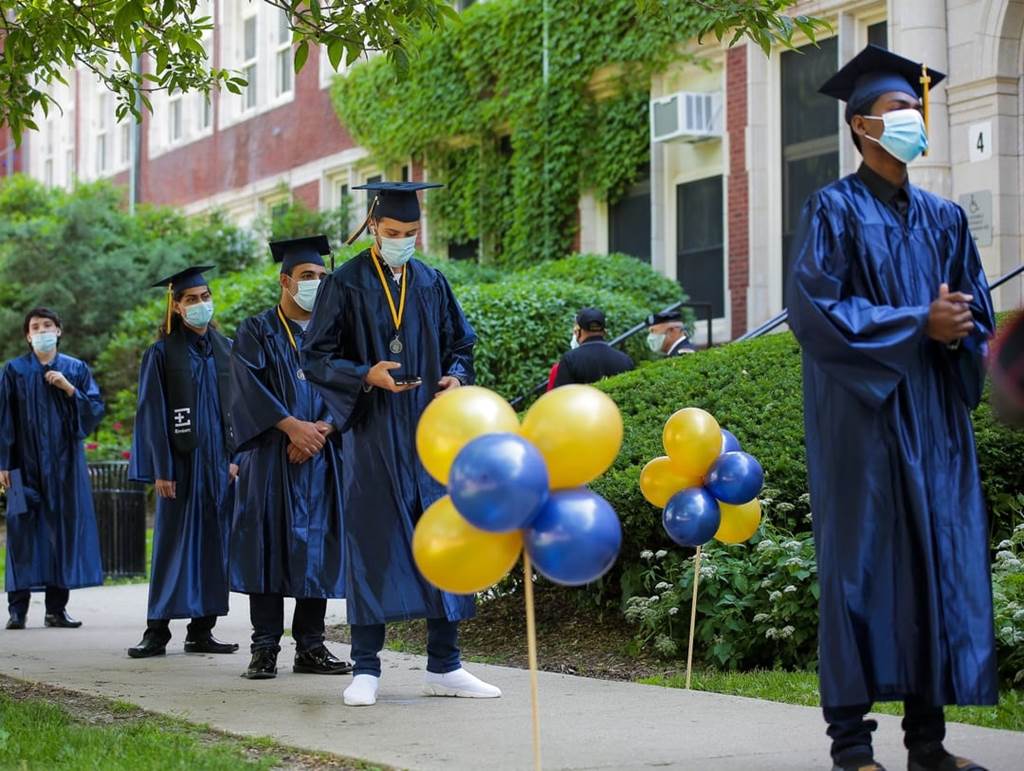 CHICAGO – Chicago Public Schools (CPS) and City Colleges of Chicago (CCC) today marked the conclusion of the inaugural Apprenticeship Announcement Week for Career Launch Chicago, a part of the Chicago Roadmap, itself an unprecedented collaboration that increases postsecondary opportunities for Chicago's youth.
CPS CEO Pedro Martinez and City Colleges of Chicago Chancellor Juan Salgado on Friday joined staff from CPS and CCC to celebrate students from Richard T. Crane Medical Prep High School and Prosser Career Academy who are starting apprenticeships through Career Launch Chicago (CLC). Students were acknowledged for their paid apprenticeship placements and commitment to the rigorous selection process, including career-readiness workshops, a resume submission, recommendations, and multiple interviews. CLC is a youth apprenticeship program administered collaboratively by Chicago Public Schools, City Colleges, One Million Degrees, and industry partners to offer youth apprenticeship experiences for CPS students.
Youth apprenticeships provide opportunities for high school students to experience work environments. Students travel from their school campuses to their job sites everyday after class. In addition, students will also earn high school credit and get paid for the hours that they work, a unique on-the-job learning experience. Upon completion of an apprenticeship, students have the opportunity to start their careers or enroll full time into a four-year institution to build on the credits earned in high school and community college. Youth apprenticeships also play a significant role in the development of the workforce, building employer partners' talent pipelines.
Through Career Launch Chicago, the Chicago Roadmap partners aim to provide students with essential skills and exposure to succeed in their chosen career path. Apprenticeships are a unique feature of the career model pathway programs that aim to bring sustainable employment and economic mobility to our city. This year, 25 students from seven CPS high schools will participate in competitively paid, semester-long apprenticeships at high growth, high-demand industry job sites across the city.
CLC Apprenticeship Announcement Week brings together participating apprentices and industry partners to celebrate apprenticeship placements as well as the inaugural work and partnership of this newly developed Districtwide apprenticeship program. CLC Announcement Week includes 'tour dates' where members of the CLC team from CCC and CPS visit each school to present the apprentices with new hire kits and employer swag. Collectively, the Chicago Roadmap partner institutions have collaborated on Announcement Week to honor our students in this momentous career milestone and acknowledge our employers for their partnership and commitment.
"This position fits well within our current Workforce Development Plan and should be of benefit to all," said Eric Hoffman, Ann & Robert H. Lurie Children's Hospital. "Our apprentices will get meaningful work experience and exposure to many different occupational career paths as they participate in our Facility Operations. They will work alongside our Facilities and Construction Project teams, all the while learning valuable skills that will help them in their future career endeavors. We are proud to be a part of this initiative and to partner with CLC to make these opportunities available to our youth. They are the future of Chicago."
Apprenticeship partners and experiences represent industries aligned with career-focused pathways being built out as part of the Chicago Roadmap collaboration. Initial apprenticeship employer partners include Ann & Robert H. Lurie Children's Hospital, CPS Office of Computer Science, Gerber Glass and Collision, Northwestern Medicine Pharmacy Dept., Northwestern Medicine IT Dept., Rush University Medical Center (REACH), and S&C Electric Company.
"Through our partnership with Career Launch Chicago, we look forward to engaging in supportive, life-changing experiences with all of those involved," said Darius Caffey, Rush University Medical Center. "By helping students learn about the world of STEM, we're providing them with the guidance, resources, hands-on learning opportunities, and connections that can lead to a successful career."
The Chicago Roadmap
The Chicago Roadmap is an unprecedented partnership between Chicago Public Schools (CPS) and City Colleges of Chicago (CCC) to support students along a seamless path to and through college on the way to their chosen careers. Through the Roadmap, CPS and CCC are transforming their relationship from a successful collaboration to convergence, with alignment at every level of our organizations. By providing access to high-quality programs, advising and supports, career exploration, and preparedness, the Roadmap strives to dramatically and equitably increase student outcomes in college enrollment, college degree attainment, and employment.
Career Launch Chicago is made possible thanks in part to generous philanthropic contributions made to the Children First Fund: the Chicago Public Schools Foundation (CFF) and the City Colleges of Chicago Foundation (CCCF). Children First Fund serves as a fiscal sponsor for the Chicago Roadmap and works in close partnership with CCCF to support the advancement of the Chicago Roadmap.
About Children First Fund: The Chicago Public Schools Foundation
The Children First Fund is the philanthropic and partnership arm of Chicago Public School (CPS). It serves as a knowledge hub and liaison between CPS and its community of partners, securing and organizing resources that advance CPS' mission to provide a high-quality public education that prepares every child in every neighborhood for success in college, career, and civic life. For more information, please visit https://www.childrenfirstfund.org or find us on social @ChiFirstFund.
Chicago Public Schools serves 330,000 students in more than 600 schools. It is the nation's third-largest school district.