Take Five with Heather Van Benthuysen: Executive Director of Student Voice and Engagement
03 March 2023
Heather has always been a passionate advocate for media literacy, civic engagement, and elevating student voice.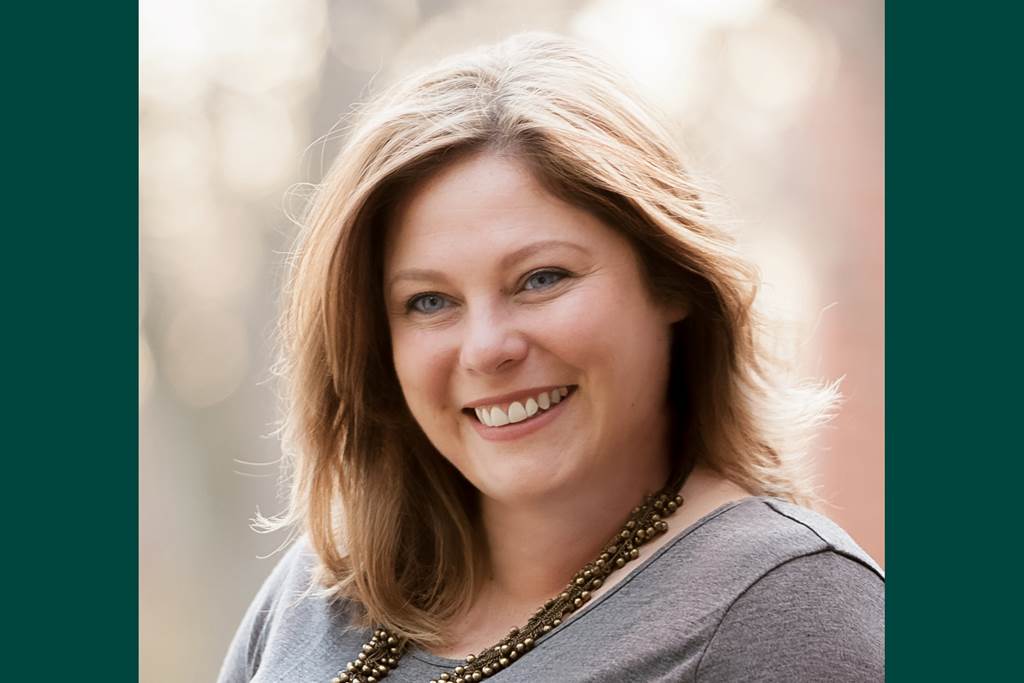 Take Five is a series that highlights some of the many CPS staff members who are going above and beyond for our schools. If you know someone who is making a difference, nominate them to be featured here.
---
Meet Heather Van Benthuysen, Executive Director of Student Voice and Engagement. Heather's CPS journey started almost 20 years ago when she was working as a high school English teacher. After teaching at North-Grand High School, VOISE Academy High School, and Alcott College Prep High School, Heather left CPS to work at an education nonprofit. But after just a year away, Heather jumped on the opportunity to return and lead civic learning opportunities in the district, and she's been here ever since. Although she's held multiple positions during her time with CPS, Heather has always been a passionate advocate for media literacy, civic engagement, and elevating student voice.
Heather currently leads the Department of Student Voice and Engagement, which is focused on creating learning experiences that are responsive and engaging for students and ensuring students are centered in the decisions made in their classrooms, schools, and the district. Heather's work is also closely aligned with the CPS Instructional Core, which names identity, relationships, and community as the center of all of our instructional priorities.
When did you first know you wanted to work in education?
I knew I wanted to be a teacher since fourth grade. There was a chart in our classroom, and our teacher would put stickers on it whenever you completed something, and there were some students who didn't have any stickers, including me. I remember thinking that there must be a better way, and I've always been motivated to create a classroom where every student felt happy and included.
Why is student voice important?
Our young people are the ones who are most impacted by the decisions that we make and they have a great deal of expertise, insight, and ideas to offer. Their perspectives are incredibly valuable and necessary to ensure that we are making good decisions with sustainable and positive impacts. I always say that our students aren't magically whisked away into the world of adulthood when they turn 18. Schools are the first civic institutions that they experience, and if we want to build and aspire to a healthy democracy tomorrow, we must ensure that our young people are involved and engaged in their schools and communities today. I think there can be an assumption that young people don't know or don't care about what's going on in the world around them, and that couldn't be further from the truth.
What are some of the projects you're most excited about?
The Cultivate survey has been at the forefront of my mind lately; it's a student survey the district just launched that measures student experiences in their learning environments. It's so important for us to consider students' daily experiences as equally important to something like academic rigor, because you need a nurturing and supportive environment in order to get to deep and rigorous learning.
Our team is also focused on improving our Student Voice Committee (SVC) program and building a student voice infrastructure, which means creating processes, events, and structures to help connect our students' perspectives to the decision-makers in their schools and at CPS. In recent years, we have seen a lot more interest in student voice in decision-making through our SVC program, which is wonderful. And we also want to help adults and students do this in a sustainable way that truly honors, and is responsive to, all of our young people on multiple levels. There will be a lot more coming out about this, and I am excited about this work. The more we understand how our decisions impact our students, the stronger our actions and policies will be. The more we include our students as the important stakeholders and collaborators they are, the stronger our communities will be.
We are also really focused on creating more opportunities for culturally responsive and sustaining practices in all content areas. For example, we are laser-focused on the Inner Core of identity, community, and relationships. We're developing resources and professional learning to support the Cultivate framework and help educators do identity work together and nurture powerful, inclusive learning environments in any content area. We are building K–8 inquiries that teach financial education through students' lived experiences. Also, we want students to apply what they're learning to address community-based problems, so we are developing action projects that enrich Skyline curriculum for each content area in each grade level.
That's just a few — I could talk about this forever, our team is incredible.
You and your team have been crucial in giving guidance to our schools on how to discuss difficult or controversial topics in the classroom. Can you tell us more about your approach to connecting classroom instruction with current events?
As a school district, our primary function is to prepare our young people to be powerful in the world, and that's not just in college and career. It's also in civic life. The more our society becomes politically and socially divided, the more important it is for us to build spaces in our schools that promote building bridges, sharing perspectives, creating mutual understanding, and being able to have real conversations around difficult or controversial topics. This is a fundamental practice within a commitment to equity. Over the last year and a half, we've been working on making comprehensive guidance, strategies, and resources on how to promote engagement in difficult or controversial topics in the classroom, and there will soon be professional learning opportunities on this topic. We don't want to run away from hard topics. We want to approach them ethically and responsibly, and give our young people the tools they need to engage in these issues so they can continue to have an impact.
What do you like to do outside of work?
I love hiking and being outside. Every weekend, I try to be in nature for at least three hours, whether that's a local park or beach or a longer trip away. My partner John, my dog Jim, my family, and friends really ground my life; I try to stay connected and find new experiences with them. I also like to collect and cultivate moss. Moss is fascinating. I have some moss that's 15 years old and it's been sealed in a jar for a year, and then all of a sudden, a new plant will start growing from it. It's beautiful!