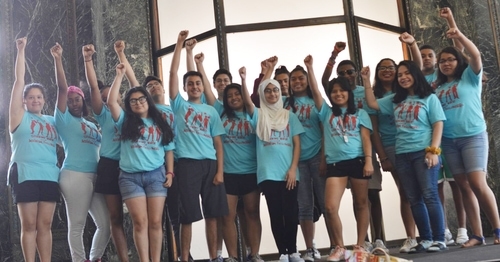 SVAF is a CPS youth leadership group with a mission to inform, shape, and strengthen the district's commitment to elevate youth voice and build strong student-adult partnerships in decision making across all schools and district systems and structures. SVAF is a year-long program where students participate in an intensive summer of learning and planning, and then organize or participate in stakeholder meetings, conferences, and student-led events throughout the year. In order to support their leadership, students learn about CPS systems and structures; identity, power, and community; adultism and systems of oppression; anti-racist education; and critical media literacy
This high school leadership group is a capstone of our Student Voice Committee (SVC) program. Student leaders that are part of their school's SVC apply to be a Student Voice and Activism Fellow.
These leaders are committed advocates of student voice in all aspects of schooling. SVAF has varied roles in the district: they train teachers, administrators, and central office staff in building meaningful youth-adult partnerships; they lead conferences and workshops for other students on youth leadership and advocacy in their schools and communities; and advise central office departments on strategic decisions. Some of their flagship events include:
CPS Student Leadership Conference: A full-day student-led conference with workshops designed and led by student-leaders across the district. The workshops are all designed to teach SVC students how to amplify their leadership and make an impact in their schools.
MLK Middle School Student Leadership Conference: The student-led conference is designed to train and support CPS middle school students in how to lead a successful Student Voice Committee at their school.
Power Palooza: This student-led conference is designed for teachers and school leaders. SVAF students design workshops to help adults build stronger student relationships, and make space for student voice and leadership in their classrooms and schools.
Quarterly Student Leadership Meetings: SVAF invites student leaders across the district to come together quarterly in order to meet with district offices and departments to learn about, discuss, and advise on their district strategic plans. These convenings are critical to ensuring all district decision-making is informed and strengthened by student perspective.
Our district student voice strategy is led by The Department of Social Science and Civic Engagement. For more information on SVAF contact Camille Powell, SVAF Coordinator cjpowell2@cps.edu and Cristina Salgado, Senior Student Voice Specialist ccsalgado@cps.edu.