Seven Questions with a Golden Apple Leadership Award Finalist
18 April 2023
Principal Calloway says her top goal is always to provide an environment that is safe and fun for students.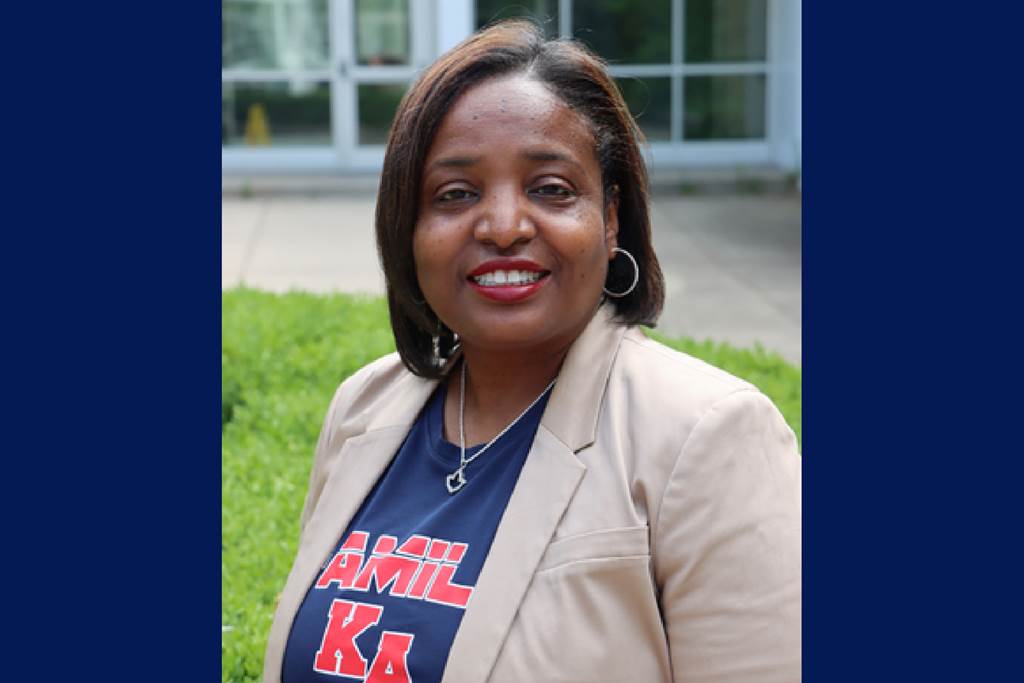 Principal Karen Calloway first became part of the Kenwood Academy High School community back in 1997 as a school counseling intern. A product of Chicago Public Schools herself, she discovered her passion for working with students while serving as a tutor in college. After being offered a position as a school counselor at Kenwood, she became the chair of the counseling department, then the dean of students, then an assistant principal, and now has served as the school's principal for nearly five years.
Earlier this year, Principal Calloway's commitment to the Kenwood community was recognized as she was named a finalist for the Golden Apple Award for Excellence in Leadership. Read more of her story below.
---
What keeps you coming back to Kenwood year after year?
Kenwood is a unique and special place. We work with every type of student and have students coming from all over the city. Although we're a neighborhood high school, we serve students from different backgrounds because of our academic center and magnet program. Our goal is to provide all students with a comprehensive experience that includes the arts, academics, and athletics.
How do you think Kenwood students would describe you?
I actually asked that question the other day, and they told me that I was approachable, fun, kind, and encouraging. They also told me that they enjoy feeling like they can always come talk to me about whatever is on their mind. They know that they can email me or stop by my office and that I'll be upfront and personal with them.
What are some of your favorite memories from your time spent at Kenwood?
I love when we have alumni return to the school to speak with students about their journeys. The students eat those conversations up and they really help them think outside of the box about what their future could look like.
My favorite experiences are graduations. You get to see a student come in as a 14-year-old excited about the experience of high school, and then you blink your eyes and they are walking across the stage getting ready to go to college and take on the world.
What are some of your current goals for Kenwood?
Our goal is always to provide an environment that is safe and fun for students, and can feel like a home away from home. We also continue to grow our enrollment, which is a testament to the work that is being done by the teachers and staff here. And we also want our facilities to meet our students' needs. We're creating a baseball field for our athletes, planning a STEM lab, and connecting our two buildings with a pathway that will increase student safety.
What was your reaction to being named a Golden Apple Award finalist?
I was surprised even to learn that I had been nominated. When I learned that I had been selected as a finalist out of so many candidates, I was really proud and flattered. It was a great feeling.
What advice would you give to someone who is just starting their career in CPS?
I would encourage them not to make decisions based on income. Instead, if you are doing your work with passion and with the end goals of making others better and being an academic servant, then the money will follow. In my case, I've never planned out moving into new roles. I've just fallen into them because everything I do is grounded in what is best for our kids.
What is your message to your students for the rest of the school year?
I would tell them that this is just like a track meet, and we're in the last leg. You want to give it all you've got and finish strong. I know that it might seem a little challenging, but I know that my students can push through it.
We are so proud of Principal Calloway and all of our Golden Apple Award finalists. You can read our features on our finalists for the Golden Apple Award for Excellence in Teaching here, here, and here.