Annual CPS Academic Report Card Highlights Record-Breaking Student Accomplishments During the 2019-20 School Year
22 September 2020
Academic Report Card Highlights Key Data and Takeaways from the 2019-20 School Year; Chicago Public School Students Achieve Highest-Ever Graduation Rate and Highest Percentage of Graduates Earning Early College and Career Credentials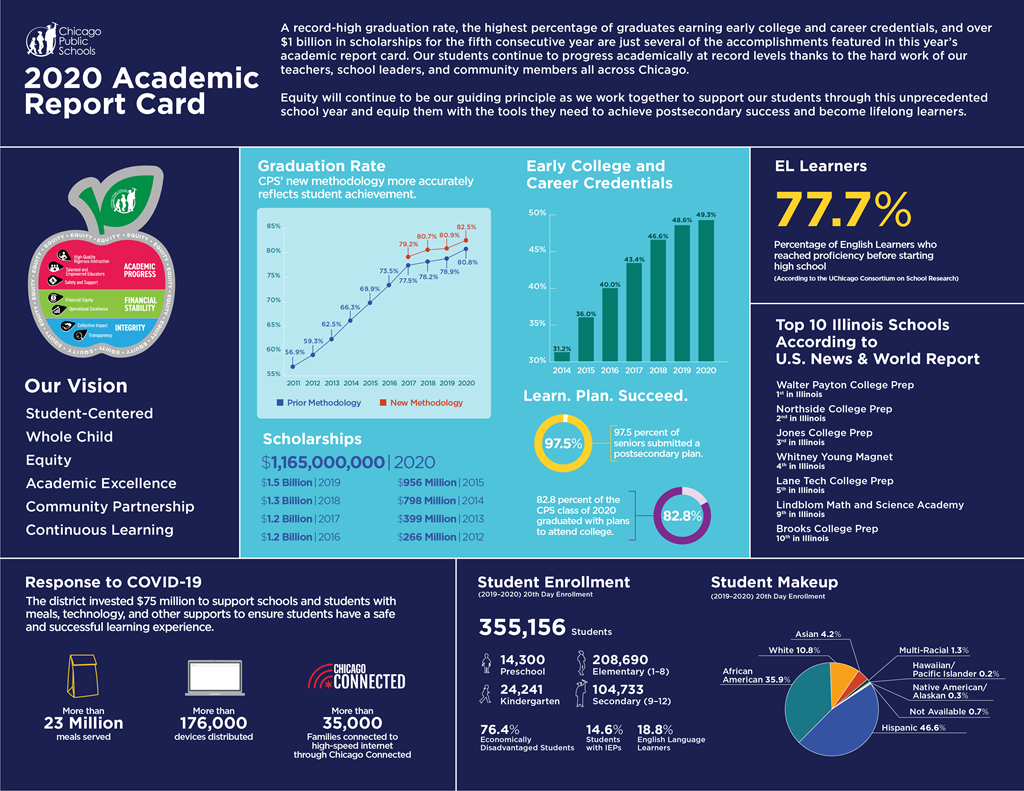 CHICAGO – Marking another year of strong academic progress despite unprecedented circumstances, Chicago Public Schools (CPS) today released the district's annual Academic Report Card—a comprehensive overview of the record-setting achievements of students all across the city during the 2019-20 school year. The annual Academic Report Card outlines key statistics and achievements, including a record-high graduation rate, a record-high percentage of students earning early college and career credentials, data from the first year of Learn.Plan.Succeed., and more. It also outlines key district-wide efforts that have supported students and families across the city as they navigate remote learning.

"Another year of strong academic progress can be attributed to the dedication of our educators, counselors, support staff and school leaders as they've provided a high-quality learning experience for our students," said CPS CEO Dr. Janice K. Jackson. "Our students and their families have worked so hard to achieve new heights during this unprecedented pandemic and I continue to be inspired by Chicago's brilliant youth. As we move into a new school year, we remain committed to achieving the mission outlined in the district's Five-Year Vision, with a renewed focus on equity as a moral imperative to ensure our most vulnerable students continue to grow and achieve."
"Students in every corner of the city are contributing to the district's academic progress, achieving their goals in record numbers and making all of Chicago beam with pride," said CPS Chief Education Officer LaTanya D. McDade. "To continue our positive trajectory, we remain focused on our goals and strategies that support students, such as expanding academic programs, ensuring students have access to high-quality curriculum and instructional resources and social-emotional support."
Report Card Highlights:
Record-High Graduation Rate: CPS students achieved a record-high five-year graduation rate of 82.5 percent, an accomplishment spearheaded by strong gains from Latinx and African American students. Over the past decade, the district's graduation rate has increased by nearly 27 percentage points.
Highest Percentage of CPS Graduates Earning College and Career Credentials: This year, a record-high 49.3 percent of graduates left CPS having earned at least one early college and career credential (ECCC) through courses such as Advanced Placement (AP), International Baccalaureate (IB), Career and Technical Education (CTE) courses, dual enrollment, dual credit, and more. The district continues to increase access to college-level coursework in high schools, which helps prepare students for post-secondary opportunities and helps make college more accessible and affordable.
Supporting Post-secondary Success: The Class of 2020 was the first class to graduate under Learn.Plan.Succeed., which ensures seniors have meaningful planning conversations with dedicated staff, and submit concrete post-secondary plans. More than 97 percent of seniors at district-operated schools submitted a plan, and nearly 83 percent of those plans included a college acceptance.
More than $1 Billion in Scholarship Offers: Last year's graduating class earned over $1.16 billion in scholarship offers, making 2020 the fifth straight year that students have earned over $1 billion. Expanding access to college-level programming and support from dedicated school counselors and college and career coaches have helped ensure students are aware of scholarship opportunities and receive the support they need to complete applications. More than 10,000 seniors accessed the CPS Academic Works Scholarship tool, which is a resource that pairs students with over 200 strategic scholarships that are promoted throughout the school year.
Strong Progress from English Learners: Groundbreaking new research from the UChicago Consortium of School Research showed that nearly 80 percent of CPS English Learners developed English proficiency by eighth grade and play a key role in contributing to the district's academic progress. The research also found that the majority of former ELs matched or exceeded the progress of their peers on key academic indicators, such as GPA, attendance, and FreshmanOnTrack.
Meeting Critical Needs During the COVID-19 Pandemic: Since the start of the pandemic, the district has provided more than 23 million meals to students at hundreds of sites across the city. Additionally, the district is committed to ensuring every student who needs a device receives one. Last school year, the district distributed more than 128,000 devices, and, as of September 21, the district distributed more than 48,000 devices for the fall and connected more than 35,000 students to high-speed internet through the groundbreaking Chicago Connected program, which provides eligible families with up to four years of free, high-speed internet.
Chicago Public Schools serves 355,000 students in 638 schools. It is the nation's third-largest school district.
###