Annual CPS Academic Report Card Spotlights Student Achievements During 2020-21 School Year
27 October 2021
Report Card Includes District's Record-Breaking Graduation Rate of 83.8 Percent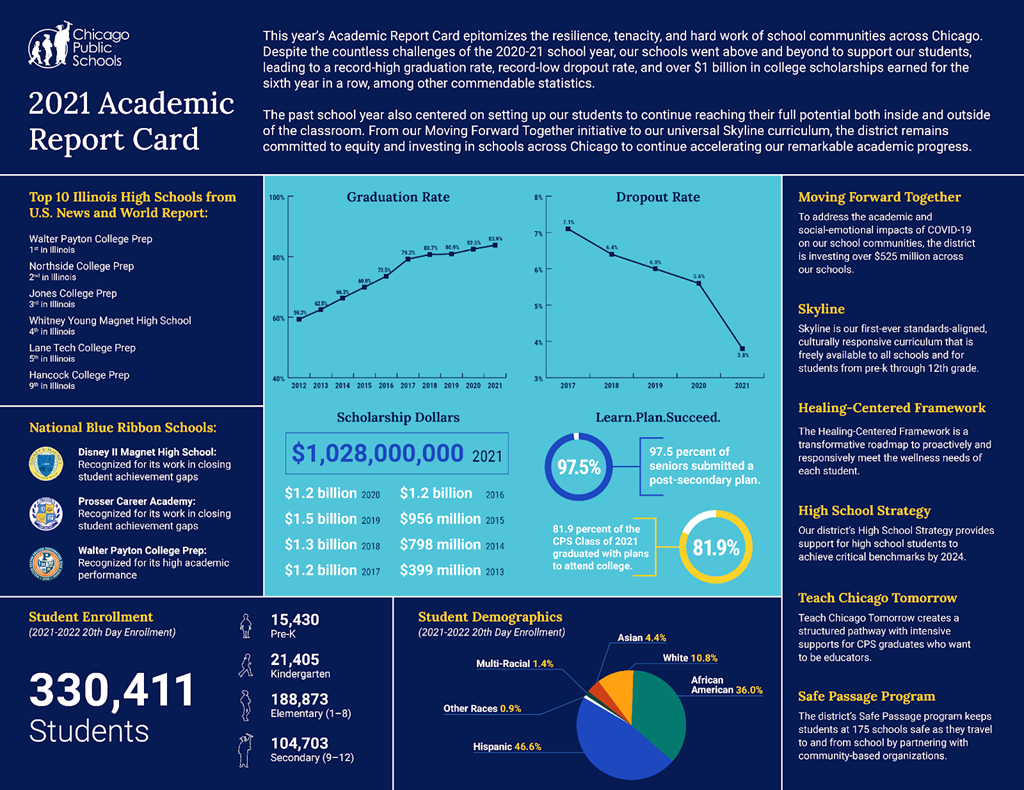 CHICAGO - Chicago Public Schools (CPS) today released the District's annual Academic Report Card — a comprehensive overview of student academic progress and accomplishments during the 2020-21 school year. It also outlines key initiatives that will guide the District's work in alignment with its core values of equity, community partnerships, and creating student-centered learning environments that support the District's youth amid the ongoing COVID-19 pandemic. This year's Academic Report Card includes several record-breaking statistics, including the District's highest-ever five-year graduation rate of 83.8 percent, lowest-ever one-year dropout rate of 3.8 percent, and more than $1 billion in college scholarships earned for the sixth consecutive year.
"Our students have displayed incredible resilience and tenacity to continue building upon the District's impressive academic progress even during an incredibly challenging school year," said CPS CEO Pedro Martinez. "From a record-setting graduation rate to more than $1 billion in college scholarships earned, the statistics in this year's Academic Report Card are not just numbers—they represent students from across Chicago who will be ready to contribute to our city and world in countless ways."
CPS, like many school districts across the country, saw a drop in total enrolled students this school year with the 20th day enrollment this year showing 330,411 students, down from 340, 658 enrolled students last school year, a three percent decline.
An overall decline in the U.S. birth rate, coupled with some transfers to public school systems outside Chicago are among the factors that contributed to the decline. Importantly, the District has continued to re-engage students since the pandemic, providing additional support to help more than 6,000 seniors graduate last year, and continuing that outreach this school year.
"I'm proud of our efforts to continue to engage students as they emerge from the pandemic," said CEO Martinez. "We will continue to analyze our enrollment data in conjunction with a review of programs and opportunities to ensure our students have access to high-quality academic and programmatic offerings across all schools and neighborhoods."
Report Card Highlights
Record-Setting Graduation Rate: CPS students achieved a record-high five-year graduation rate of 83.8 percent, an accomplishment spearheaded by especially strong gains from Black students. Over the past decade, the District's graduation rate has increased by nearly 27 percentage points. The four-year rate saw a similar gain, increasing 26 percentage points in the same time span and remaining nearly level since last year at 80.2 percent for the Class of 2021.
Lowest-Ever One-Year Dropout Rate: The District's one-year dropout rate hit a record low of 3.8 percent, nearly two percentage points lower than during the 2019-20 school year. The decrease was largest for Black students and also decreased for Latinx students, White students, Asian students, diverse learners, and English learners.
Preparing Students for Post-Secondary Success: Through the District's

Learn.Plan.Succeed.

initiative, all high school students are required to develop a concrete post-secondary plan before they graduate. This year, 97.5 percent of seniors submitted a post-secondary plan, and 81.9 percent of the CPS Class of 2021 graduated with plans to attend college.
More than $1 Billion in Scholarship Offers: The Class of 2021 is the sixth straight graduating class to earn more than $1 billion in college scholarship offers. CPS continues to prioritize connecting students to support from dedicated school counselors and college and career coaches so they remain aware of scholarship opportunities.
World-Class Schools Across Chicago: This year, six of the top 10 high schools in Illinois are CPS schools according to U.S. News and World Report. Additionally, the District celebrated three National Blue Ribbon schools this year, two of which received the award for closing student achievement gaps.
Moving Forward Together: To continue building upon the District's impressive progress and help schools rebound from the impacts of the pandemic, the District is investing over $525 million on curriculum enhancements, technology investments, and resources to support social-emotional learning.
###