Chicago Public Schools Selects Honorary Student Board of Education Member for 2023-24 School Year
28 June 2023
Kenwood Academy Junior Will Uplift Student Voices and Perspectives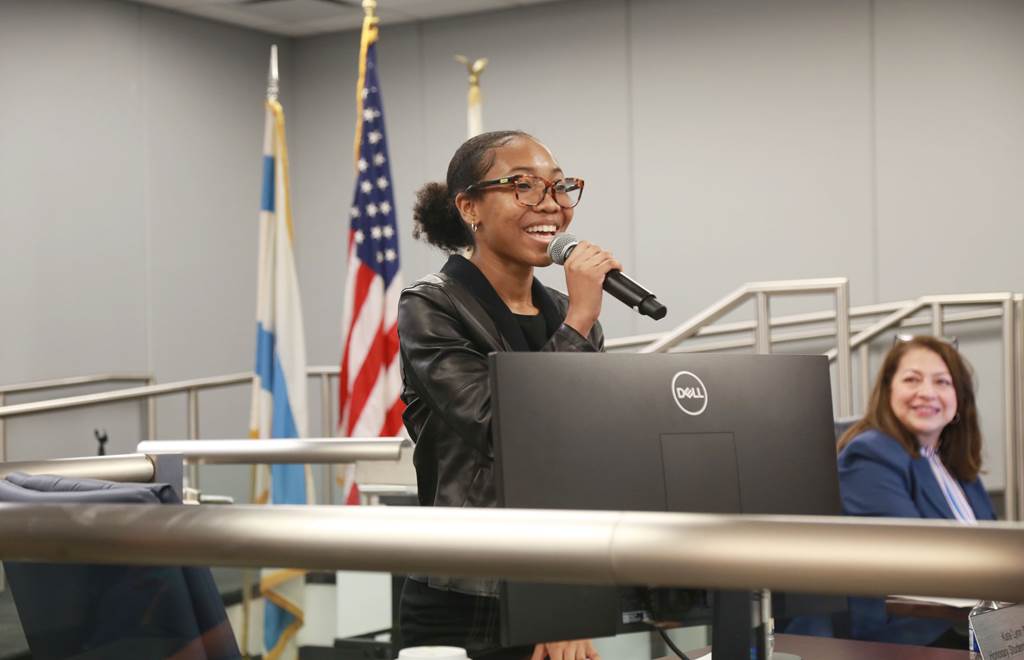 CHICAGO – The Chicago Public Schools (CPS) Board of Education (BOE) Wednesday welcomed Kenwood Academy High School rising junior, Kate'Lynn Shaw, as the Board's honorary student board member for the 2023-24 school year, effective as of today's monthly BOE meeting. High school students are encouraged to apply for the role and are then interviewed and one candidate is selected by BOE members to represent the interests of CPS students as an honorary student board member.
"Student voices like Kate'Lynn's are essential to developing education policy that reflects the values and needs of our school communities," said Chicago Board of Education President Miguel del Valle. "Our honorary student board members are an asset to our Board and we are excited for Kate'Lynn to lend her voice to assist the Board during the next school year."
In 1995, the Board created the honorary student board member position in recognition of the importance of student voices to public education. For the last 28 years, honorary student board members have helped support the Board's mission of providing quality education for Chicago's youth. Shaw, the student representative on Kenwood's local school council (LSC), replaces outgoing honorary student board member and Jones College Prep rising senior, Emmanuel Ofosuhene.
"At CPS, we know that when we listen to our students, we make our schools stronger," said CPS CEO Pedro Martinez. "We are excited to welcome Kate'Lynn to the Board as an honorary student member and to hear her perspective on important issues and policies that impact students. Congratulations to Kate'Lynn on this accomplishment and our deepest thanks to her for her commitment to student advocacy."
As the 2023-2024 honorary student board member, Kate'Lynn will:
Represent the CPS student body at the Chicago Board of Education's monthly meetings;
Serve as an appointed member on a District-level student committee; and
Receive a $1,000 scholarship towards her education at a two- or four-year college or university.
2023-24 Chicago Board of Education Honorary Student Board Member Kate'Lynn Shaw
Student Board members can not vote on Board matters but are encouraged to share their perspective. Kate'Lynn aims to lean on her experiences as a member of Kenwood's policy debate team which allowed her to participate in a forum on the 2023 municipal elections.
"Being named an honorary student board of education member is an amazing opportunity I do not take lightly. I can't wait to get started," said Kate'Lynn Shaw, president of Kenwood's Class of 2025. "I'm hoping my experience of advocacy at Kenwood will help me do the same for all CPS students."