Health Requirements
This page details CPS health requirements, recommendations, and forms to facilitate families' access to reliable information and to the basic health care all students need to thrive in school.
Read through this page carefully for information about CPS health requirements, services, and forms. To view the information as a complete document, open the Student Health & School Forms Booklet linked below. For questions about Illinois student health requirements, please contact your school's main office.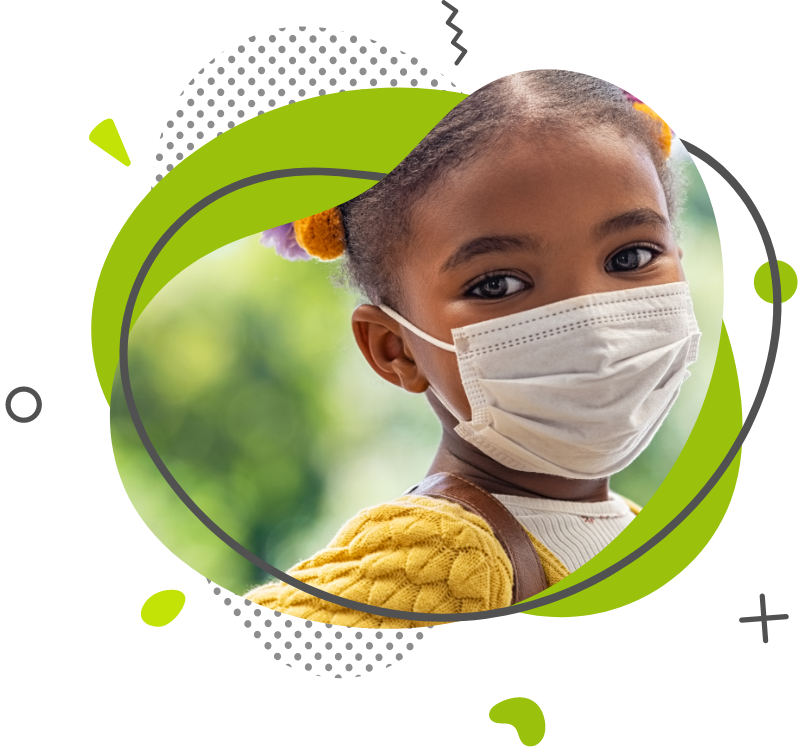 Student Health and School Forms
Parents must return all forms to school clerks.
Forms All Parents Must Complete
Forms Medical Provider Must Complete and Parent Must Return to School Clerks
Health Guidance
In addition to submitting the required health forms, please view our health notices to learn more about options available to you. Each notice includes a linked document with more information.

Minimum Health Requirements 2022-2023
Evidence shows that healthy students have better attendance patterns and perform better academically. The health requirements outlined in this document apply to all children enrolled in a Chicago Public School. Children must provide proof of required immunizations and school physical exam before October 15, 2021, or they will face exclusion from school.
Examination Requirements
Physical Examination
Vision Examination
Dental Examination
Immunization Requirements
Diphtheria, Pertussis (Whooping Cough) & Tetanus (DTP, DTaP & Tdap)
Polio
Measles, Mumps, and Rubella (MMR)
Hepatitis B
Varicella (Chicken Pox)
Haemophilus Influenzae, type B (HIB)
Pneumococcal Conjugate (PCV)
Meningitis Conjugate (MCV4)

Recommended Vaccines: HPV, Flu, and COVID-19
HPV, Flu, and COVID-19 vaccines are recommended by doctors, nurses, and respected medical and public health organizations, such as the American Cancer Society, the Centers for Disease Control and Prevention, and the Chicago Department of Public Health.
Flu Vaccine
Protect your child from influenza every year. Getting a flu shot every year is the best opportunity to avoid this illness.
COVID-19 Vaccine
Protect your child from COVID-19. This vaccine protects people from serious illness and hospitalization from COVID-19.
HPV Vaccine
Protect your child now against cancer later in life. This vaccine series prevents six kinds of cancers.

Vision Program: Schedule An Eye Exam
Chicago Public Schools has partnered with Illinois Eye Institute at Princeton and Tropical Optical to provide vision exams for CPS students. Seven locations throughout the city have been provided for your convenience. Review the list of vision service locations in the document linked below, or on this webpage. You may select any of the locations listed or your own healthcare provider.
Tropical Optical Locations
Families can walk-in from 10:30 a.m. to 2:00 p.m. or call (773) 762-5662 for additional appointment hours. For children 5yr through high school.
6141 West Cermak Road, Cicero, IL 60804
3624 West 26th Street, Chicago, IL 60623
2250 South 49th Avenue, Cicero, IL 60804
3213 West 47th Place, Chicago, IL 60632
2767 North Milwaukee Avenue, Chicago, IL 60647
9137 South Commercial Avenue, Chicago, IL 60617
Illinois Eye Institute Locations
Families can walk-in Monday to Friday from 8:30 a.m. to 9:30 a.m. For afternoon appointments call (312) 949-7990.
Ages 3 through high school.
Lewenson Center, 3241 South Michigan Avenue, Chicago, IL 60616

For Students with Asthma
Asthma is the most common chronic illness of childhood. Chicago has an especially high number of children with asthma, and children in some Chicago neighborhoods suffer more than others. All students, including those with asthma, should feel safe and supported at school.
Use the forms found in the Student Health & School Forms Booklet and on this webpage to tell your school about your child's asthma. The school nurse or clerk may have additional forms to complete. Health forms must be updated each school year. They are reviewed by the school nurse and relevant CPS staff and kept on file for use during the school year.
You must turn in these forms each school year:
Asthma Action Plan — signed by a medical provider
Request for Administration or Self-Administration of Medication — completed by the parent/guardian and medical provider
Original (or clear copy) of asthma medication or pharmacy label with your child's information

Students in Temporary Living Situations
Every student in a temporary living situation shall have equal access to the same free and appropriate educational opportunities as students who are permanently housed. This commitment to the educational rights of students in a temporary living situation, youth, and youth not living with a parent or guardian, applies to all services, programs, and activities provided or made available by the Board of Education of the City of Chicago.
A student is considered to be in a temporary living situation
if he or she lacks a fixed, regular, and adequate nighttime
residence and includes children and youth who are:
Sharing the housing of other persons due to loss of housing,
economic hardship, or similar reason
Living in a motel/hotel, trailer park or camping ground, due
to lack of alternative, adequate housing
Living in emergency or transitional shelters
Living in cars, parks, public spaces, abandoned building,
substandard housing, bus or train station, or similar setting
Abandoned in hospitals
Migratory children living in one of the above settings
Youth not in the custody of a parent/guardian (unaccompanied youth) of any age, in one of the above settings
Explore Your Healthcare Options
Get covered and take advantage of available healthcare options for the upcoming school year, including accessible health insurance, COVID-19 testing, vaccinations, mental health services, and more. For more information, call the Healthy CPS Hotline at 773-553-KIDS (5437).
Looking For a Different Form?
Find more health and safety forms used by CPS at the Health Forms for Parents and Caregivers page.