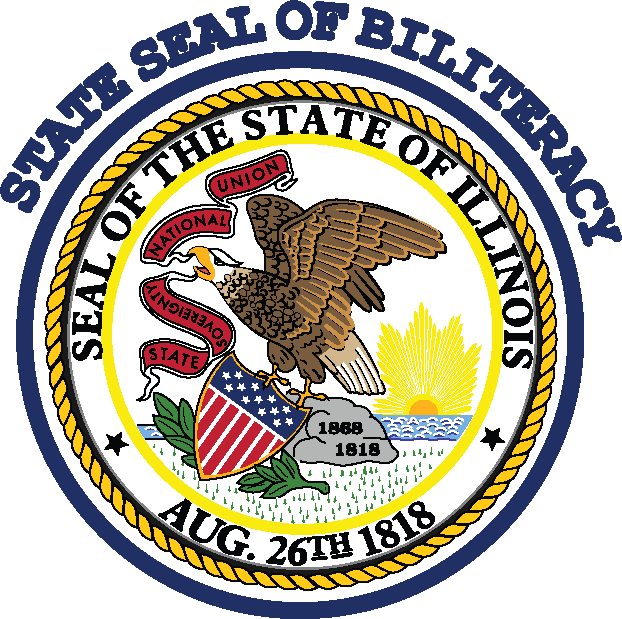 The State Seal of Biliteracy is a recognition given by the State of Illinois to high school seniors who have studied and can exhibit the ability to communicate in two or more languages (including English) by their senior year of high school. It is highlighted on high school diplomas and serves as a statement of accomplishment for college admission and for future employment.
Recognition is not solely based on students' current language proficiency, but also in the continuing development of that language throughout the course of their elementary and middle school years in preparation for high school. Students who are native English speakers and English Learners (ELs) are eligible for the State Seal of Biliteracy.
Students who come close to meriting the Seal at the high school level will receive the State Commendation Toward Biliteracy, demonstrating progress toward full biliteracy in English and another language. Recipients of the Commendation must still meet English proficiency requirements and adhere to the Illinois State Board of Education World Language requirements.
Studies Toward the State Seal of Biliteracy
Elementary school students should consider enrollment at schools that offer at least 120 minutes of world language instruction on a weekly basis in order to assist in their development of language proficiency, where they can be assessed in fifth and eighth grades and may be eligible for the CPS Seal of Biliteracy.
High school students should focus on strengthening their skills on the world language of their choice and work towards enrollment in an AP or IB program. They should also focus on college prep coursework in preparation for the SAT.
Applying for the Seal
To receive the Seal, graduating seniors must complete an online application and demonstrate proficiency in English and a World Language according to the criteria listed by the Illinois State Board of Education. The Office of Language and Cultural Education will send eligible students an application for the Seal.
CPS Pathways Towards the Seal of Biliteracy
School Principals of 5th and 8th graders who are enrolled in a language education program at their school, including world language, dual language, and transitional bilingual education, are eligible to complete an application in early fall (application will be shared via the ONS Weekly Memo) to have a district-approved assessment administered to their eligible students.

Questions can be sent to seal@cps.edu.
HIGH SCHOOLS WITH FORMER SSB RECIPIENTS
SY21
SSB Recipients
(83 High Schools)
SY20
SSB Recipients
(78 High Schools)
ACERO - DE LA CRUZ
ACERO - DE LA CRUZ
ACERO - GARCIA HS
ACERO - GARCIA HS
ACERO - SOTO HS
ACERO - SOTO HS
AIR FORCE HS
ALCOTT HS
ALCOTT HS
AMUNDSEN HS
AMUNDSEN HS
ASPIRA - BUSINESS & FINANCE HS

ASPIRA - BUSINESS & FINANCE HS

ASPIRA - EARLY COLLEGE HS
ASPIRA - EARLY COLLEGE HS
BACK OF THE YARDS HS
BACK OF THE YARDS HS
BROOKS HS
BROOKS HS
CARVER MILITARY HS
CARVER MILITARY HS
CATALYST - MARIA
CATALYST - MARIA
CHIARTS HS
CHIARTS HS
CHICAGO ACADEMY HS
CHICAGO ACADEMY HS
CHICAGO AGRICULTURE HS
CHICAGO AGRICULTURE HS
CHICAGO MATH & SCIENCE HS
CHICAGO MATH & SCIENCE HS
CHICAGO MILITARY HS
CHICAGO MILITARY HS
CICS - NORTHTOWN HS
CICS - NORTHTOWN HS
CLEMENTE HS
CLEMENTE HS
CURIE HS
CURIE HS
DEVRY HS
DEVRY HS
DISNEY II HS
DISNEY II HS
EPIC HS
EPIC HS
FARRAGUT HS
FARRAGUT HS
GAGE PARK HS
FOREMAN HS
GOODE HS
GAGE PARK HS
HANCOCK HS
GOODE HS
HORIZON - SOUTHWEST
HANCOCK HS
HUBBARD HS
HORIZON - SOUTHWEST
INFINITY HS
HUBBARD HS
INSTITUTO - HEALTH
INFINITY HS
INSTITUTO - LOZANO HS
INSTITUTO - HEALTH
INTRINSIC HS
INTRINSIC HS
JONES HS
JONES HS
JUAREZ HS
JUAREZ HS
KELLY HS
KELLY HS
KENNEDY HS
KELVYN PARK HS
KENWOOD HS
KENNEDY HS
KING HS
KENWOOD HS
LAKE VIEW HS
LAKE VIEW HS
LANE TECH HS
LANE TECH HS
LINCOLN PARK HS
LINCOLN PARK HS
LINDBLOM HS
LINDBLOM HS
MARINE LEADERSHIP AT AMES HS

MARINE LEADERSHIP AT AMES HS

MATHER HS
MATHER HS
MULTICULTURAL HS
MULTICULTURAL HS
NOBLE - ACADEMY HS
NOBLE - ACADEMY HS
NOBLE - BULLS HS
NOBLE - BAKER HS
NOBLE - BUTLER HS
NOBLE - BULLS HS
NOBLE - GOLDER HS
NOBLE - GOLDER HS
NOBLE - MANSUETO HS
NOBLE - ITW SPEER HS
NOBLE - MUCHIN HS
NOBLE - JOHNSON HS
NOBLE - NOBLE HS
NOBLE - MANSUETO HS
NOBLE - PRITZKER HS
NOBLE - MUCHIN HS
NOBLE - RAUNER HS
NOBLE - NOBLE HS
NOBLE - ROWE CLARK HS
NOBLE - PRITZKER HS
NOBLE - UIC HS
NOBLE - RAUNER HS
NORTH-GRAND HS
NOBLE - UIC HS
NORTHSIDE PREP HS
NORTH-GRAND HS
OGDEN HS
NORTHSIDE PREP HS
PATHWAYS - ASHBURN HS
OGDEN HS
PAYTON HS
PATHWAYS - ASHBURN HS
PHOENIX MILITARY HS
PATHWAYS - AVONDALE HS
PROSSER HS

PATHWAYS - BRIGHTON PARK HS

RICKOVER MILITARY HS

PATHWAYS - HUMBOLDT PARK HS

ROOSEVELT HS
PAYTON HS
SCHURZ HS
PHOENIX MILITARY HS
SENN HS
PROSSER HS
SOCIAL JUSTICE HS
RICHARDS HS
SOLORIO HS
RICKOVER MILITARY HS
SPRY HS
ROOSEVELT HS
STEINMETZ HS
SCHURZ HS
TAFT HS
SENN HS
VON STEUBEN HS
SOLORIO HS
WASHINGTON HS
SPRY HS
WELLS HS
STEINMETZ HS
WESTINGHOUSE HS
TAFT HS
WORLD LANGUAGE HS
VON STEUBEN HS
YOUNG HS
WASHINGTON HS
WELLS HS
WESTINGHOUSE HS
WORLD LANGUAGE HS
YOUNG HS