CPS Provides Additional $15 Million in Classroom Funding for 2018-19 School Year
26 October 2018
Schools Where Enrollment Increased Received Additional Funding and Schools with Lower-than-Expected Enrollment Maintain Initial Funding Levels; CPS Also Releases Official Enrollment for 2018-19 School Year
CHICAGO - Chicago Public Schools (CPS) announced today that it has provided an additional $15 million to 307 schools to help ensure that schools with growing enrollment have the resources needed to provide all of their students with a high-quality education. Schools where enrollment declined will keep all their initial funding.
"Thanks to hard-fought state education funding reform and a new approach to budgeting that promotes school stability, CPS can help principals and LSCs plan with confidence and continue their record-setting academic progress," said CPS CEO Dr. Janice K. Jackson. "The district's improved financial position means we can support growing schools and invest more in schools where enrollment is declining with funds specifically designed to support schools that are under-enrolled. We're also pleased to see this year that more families who choose CPS are keeping their children enrolled in CPS schools – a testament to our hardworking educators and the work the city is doing to invest in all our schools."
The additional funding coincides with the release today of the district's official enrollment for the 2018-19 school year.
Additional Funding for Growing Schools
Additional funding for district-run schools is based on enrollment taken on the 10th day of the current school year. District-run schools received funding for the current school year based on their enrollment in the 2017-18 school year, and schools that increased enrollment compared to last year have received additional funding to support their additional students. In total, 249 district-run schools received a combined $15.5 million in additional funding due to increased enrollment.
No district-run school that saw an enrollment decline in the past year is losing funding this fall; however, if schools applied for supplemental funding advances based on anticipated enrollment growth and did not reach their self-projected target, then their advance funding has been withdrawn. Fifty-four district schools that requested and received funding advances did not meet the enrollment they projected, and $3.2 million worth of those advances will no longer be available to those schools. The average adjustment based on unrealized advances for the 54 schools was $59,000, and resulted in no position reductions.
Current state law requires CPS to fund charter schools through a funding method that adjusts funding levels based on current enrollment. Charter school enrollment exceeded projections by 337 students, and accordingly, 54 charter schools are projected to receive an additional $2.9 million. CPS continues to work with its partners in the charter community to advocate for a revised charter funding laws that will help promote a more stable and balanced approach to funding charter schools.
Official Enrollment Reflects National Demographic Trends in Large Districts
CPS' official enrollment for the 2018-19 school year is based on actual enrollment from the 20th day of school. Enrollment for the 2018-19 school year is as follows:
System-wide: 361,314
District-run K-12 schools: 282,012
K-12 charter schools (including alternative and options schools): 61,634
| | School Year 2017-2018 Enrollment | School Year 2018-2019 Enrollment |
| --- | --- | --- |
| District-run Elementary Schools (Includes K-12 Schools) | 214,081 | 207,032 |
| District-run High Schools | 73,821 | 73,419 |
| Charter/Contract | 55,157 | 54,569 |
| Charter/Contract – Alternative | 4,936 | 4,742 |
| Alternative Learning Opportunity Programs | 2,331 | 2,317 |
| District and Charter Pre-K | 19,441 | 17,668 |
| SAFE | 11 | 6 |
| District Alternative | 437 | 510 |
| Specialty Schools (excluding Pre-K) | 1,167 | 1,051 |
| Total Enrollment | 371,382 | 361,314 |
Consistent Rate of Eligible Students Enroll and Increasing Number of Families Stay with CPS
While declining birthrates and national immigration trends have had an impact on enrollment in the district, a consistent rate of eligible school-aged children in Chicago have enrolled in CPS during the past five years. Approximately 88 percent of students who are eligible for school in Chicago attend CPS schools, indicating that enrollment decreases are primarily due to demographic trends.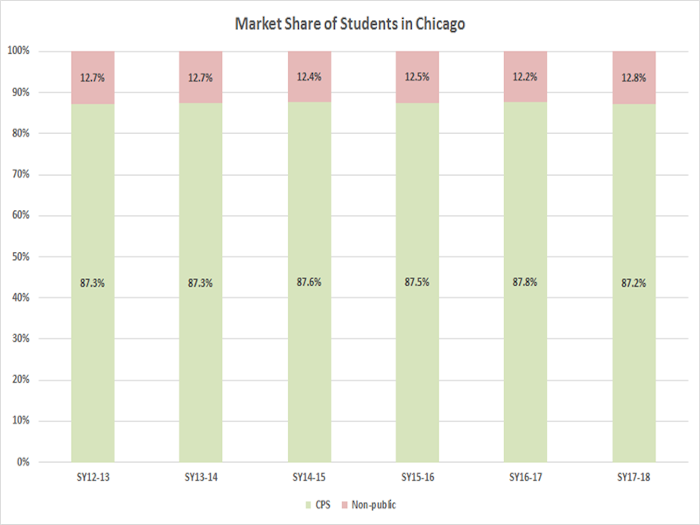 Source: ISBE
In addition, enrollment trends show that once families choose CPS, they are increasingly staying in CPS schools, especially in high school grades, where Freshman On-Track has reached a record 89 percent and graduation has reached a record 78.2 percent. By this important measure, CPS retained 3,715 more students in the 2018-19 school year than the 2016-17 school year, or about 1 percent of total enrollment. More families staying in the district also reflects CPS' continued academic improvements.
Commitment to Supporting Schools with Declining Enrollment
CPS recognizes that declining enrollment presents challenges for schools. In addition to shifting to a budget system that eliminates fall budget cuts, CPS has taken the following new steps in the past year to support schools that may be experiencing a decline in enrollment:
CPS established a $10 million Small Schools Fund that provide supplemental resources to 129 schools to help ensure students receive a rich academic experience and assist schools in retaining and attracting students.
CPS provided $5 million in supplemental funding to protect schools that would otherwise lose more than 3 percent of SBB funding — even if they saw a significant enrollment drop between the fall of 2016 and the fall of 2017. This protection has helped ensure that significant enrollment declines do not result in dramatic funding changes at any school.
In accordance with a new state law, the Board of Education this week passed its first Under-Enrolled Schools Policy, to establish a policy to identify potential interventions to address under-enrolled schools.
"We are committed to ensuring that all students receive a quality, well-rounded education regardless of where they attend school, and ensuring all of our schools have the resources they need to effectively support their students – regardless of their enrollment," said CPS Chief Education Officer LaTanya D. McDade. "Our new investments to support schools with declining enrollment are making a real difference, and we will continue to prioritize equitable investments of high quality resources."
Laying the groundwork for Universal Pre-K
As part of Mayor Rahm Emanuel's commitment to provide every Chicago 4-year-old with access to free, full-day pre-kindergarten by 2021, CPS added 3,700 full-day pre-K seats this year, including converting 162 classrooms from half-day to full-day pre-K and adding 36 new classrooms. Research shows that children who attend full-day pre-K are more than twice as likely to be ready for kindergarten than those who attended half-day or no preschool.
According to a recent CPS analysis, students who attended CPS preschool programs had higher GPAs, better attendance, and higher standardized test scores compared to their peers with no pre-K education by the time they reached third grade.
Additionally, parents are taking advantage of new CPS pre-K opportunities with 94.5 percent of new full-day pre-K slots filled, which is up from last year when 88.6 percent of CPS full-day pre-K seats were filled.
Between CPS and community-based organizations, the city serves approximately 27,000 three- and four-year-olds.
Chicago Public Schools serves 361,000 students in 644 schools. It is the nation's third-largest school district.
# # #