Chicago Public Schools Opens GoCPS Applications for the 2024-25 School Year
13 September 2023
High School Admissions Test Available in Six Languages for First Time
CHICAGO – Chicago Public Schools (CPS) opened the GoCPS application window today, allowing students and families to begin exploring their educational options for the 2024-25 school year. From today until 5 p.m. on November 9, 2023, families of students who will be entering grades K-9 in the 2024-25 year can begin applying for a wide variety of academic programs available across the city. As part of the District's ongoing effort to promote a more equitable enrollment process, CPS this year reduced the length of the District's high school admissions test (HSAT) to one hour, down from two and a half hours, and will offer the assessment in six languages – instead of only English – for the first time this year.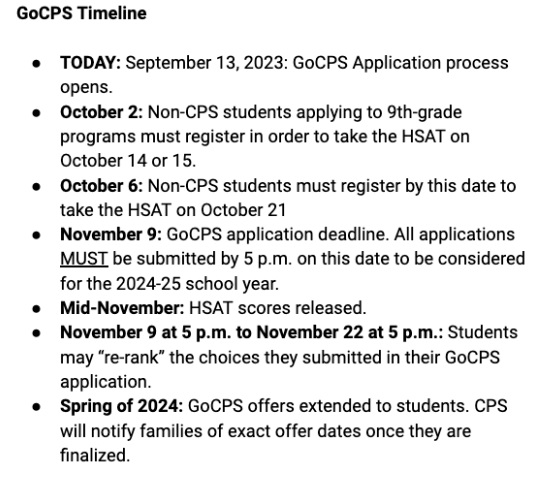 "Across the District, we are proud to offer students high-quality educational opportunities both in their neighborhoods and throughout Chicago," said CPS CEO Pedro Martinez. "The strength and diversity of our educational programs allows students to earn college credits, take International Baccalaureate and Advanced Placement courses, become bilingual and biliterate, and explore STEM, CTE, and Service Leadership programs all while still in a CPS classroom. We are excited for students and families to begin exploring all CPS has to offer for the 2024-25 school year."
In addition to attending their neighborhood school, students also have the opportunity to attend a variety of schools with programs to meet the diverse needs and interests of CPS students. Families can learn more at a GoCPS Information Session – available in both English and Spanish – by registering online. The first of more than 20 online information sessions takes place at 9 a.m. on September 19 with sessions available weekly through the beginning of November.
Every student is guaranteed a seat within the general education program of the neighborhood school associated with their home address. However, students and families can use the GoCPS application to explore programs that best fit their needs. High school and elementary school applicants must complete the GoCPS application by 5 p.m. on November 9, 2023. Families will receive GoCPS offers during the Spring 2024 semester by email.
High School Students
Students entering high school in the 2024-25 school year can apply to a variety of programs, including selective enrollment, International Baccalaureate (IB), Science, Technology, Engineering, and Math (STEM), Fine and Performing Arts, Service Leadership Academies, Career and Technical Education (CTE), Dual-Language programs, and more.
Students applying to selective enrollment high schools and many choice high school programs must also complete the HSAT as part of their application. For the first time, the test will be offered in six languages: English, Spanish, Arabic, Mandarin, Urdu, and Polish, and will be only one hour in length, with one 30-minute section in reading and one 30-minute section in math. CPS will release HSAT scores by mid-November.
Students will be able to "re-rank" their GoCPS choices from 5 p.m. November 9 to November 22, 2023 at 5 p.m. This will allow students applying to high school programs to adjust their school rankings after receiving their HSAT scores.
Elementary School Students
Families of elementary school students entering grades K-8 may use the GoCPS application to apply to magnet, magnet cluster, dual-language, and selective enrollment programs for the 2024-25 school year. Families can apply to one of these programs even if their student is currently attending their neighborhood school or a non-CPS school. Families who wish to apply to selective enrollment programs will need to schedule their child(ren) for an entrance exam as part of the GoCPS application.
For more information and a list of all available programs, visit cps.edu/gocps. Families are invited to contact CPS' Office of Access and Enrollment at (773) 553-2060 or gocps@cps.edu with any questions.