How can you get vaccinated?
Starting May 13, all Chicagoans 12 years and older are eligible to receive the COVID-19 vaccine.
Students, parents and community members can get vaccinated in a variety of ways, including at public CPS vaccination events. See a full list of event dates and locations below, or get vaccinated by scheduling an appointment with a vaccine provider.
CPS employees and vendor employees can sign up to get vaccinated at a CPS employee vaccination center in addition to making an appointment with a vaccine provider.
Why should everyone get vaccinated?
The COVID-19 vaccine is a safe and effective way to protect yourself and your community. The vaccines teach our immune system how to recognize and fight the virus that causes COVID-19, and they have been proven to be effective at preventing severe illness and death from COVID-19. Learn more by exploring the resources below.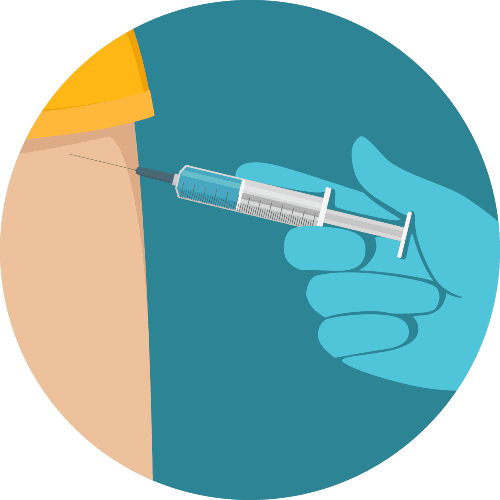 As of March 17, 2021 CPS has offered vaccination opportunities to all employees
How many employee vaccinations has CPS offered?
CPS is closely tracking employee vaccination efforts. The chart below reflects vaccinations through CPS school-based sites, vaccination opportunities through private healthcare partnerships, and vaccinations obtained independently through health care providers. The data draws from CPS vaccination sites and survey reports. This chart will be updated weekly.
CPS Vaccination Centers
Partnerships at non-CPS Sites
Independent Providers
Confirmed Totals
Total Employee Population
First Dose Scheduled
Survey Response Rate
Confirmed First Dose Totals
9,121
1,307
11,951
22,379
48,138
N/A
All:
55%
Teachers
4,191
457
7,438
12,086
22,117
293
61%
Other CTU Members
1,245
290
1,543
3,078
7,631
93
51%
School-Based Administrators
154
220
479
853
1,281
7
82%
Other Employees
3,172
296
1,929
5,397
15,401
148
43%
Network Staff, Citywide Employees, Central Office
359
44
562
965
1,708
28
81%
Notes
Data last updated May 7, 2021.
Which CPS staff have been offered vaccinations?
CPS committed to providing vaccination opportunities to all employees in an equitable way as quickly as possible. Our prioritization framework helped guide vaccination opportunities to the staff who experience the highest risk first, and staff who are 65 or older were given priority within their subgroups. ADA or caretaker accommodations did not impact placement in priority groups.
All staff are now eligible to be vaccinated through a CPS vaccination center, their doctor, local pharmacy, or other city- and state-based vaccination sites.
If you have questions about where a specific role not listed falls in the prioritization framework, please reach out to vaccines@cps.edu.
Group 1
High Exposure: Individuals whose job responsibilities require them to work in close physical proximity with others. Oftentimes these individuals cannot practice social distancing while executing their job responsibilities.
Subgroup 1.1
| | |
| --- | --- |
| Offered | School-based nutrition staff |
| Offered | School-based security staff |
| Offered | School leaders |
| Offered | Care room attendants |
| Offered | Clerks |
Subgroup 1.2
| | |
| --- | --- |
| Offered | Bus aides |
| Offered | Cluster program teachers and paraprofessionals |
| Offered | Pre-K teachers and paraprofessionals |
| Offered | SECAs |
| Offered | Technology coordinators |
Group 2
Medium Exposure: Roles that may require regular interaction with other staff members and students where social distancing may not be possible at all times.
Subgroup 2.1
| | |
| --- | --- |
| Offered | Facilities staff |
| Offered | Other elementary school teachers and paraprofessionals |
Subgroup 2.2
| | |
| --- | --- |
| Offered | Other high school teachers and paraprofessionals |
Group 3
Low Exposure: Individuals whose jobs can largely be performed remotely.
Subgroup 3.1
| | |
| --- | --- |
| Offered | Central and network office staff |
Notes
The majority of school-based positions not otherwise listed (e.g., College and Career Specialist, Literacy Coach, Military Instructor, School Counselor, School Librarian, Youth Intervention Specialist, and all other school-based positions) are captured in the subgroups of "Other elementary teachers and paraprofessionals" and "Other high school teachers and paraprofessionals".
Frequently Asked Questions
Find answers to questions about Chicago Public Schools' vaccination program, including about staff eligibility, timeline, and more.