Why should everyone get vaccinated?
The COVID-19 vaccine is a safe and effective way to protect yourself and your community against COVID-19. The vaccines teach our immune system how to recognize and fight the virus that causes COVID-19, and they have been proven to be effective at preventing severe illness and death from COVID-19.
Learn more and help spread the word about getting a COVID-19 vaccine:
How can I sign up for a vaccination appointment?
All Chicagoans 16 years and older are now eligible to receive the COVID-19 vaccine. Below are a few ways to sign up.
Schedule an appointment on Zocdoc
Look for vaccine appointments at zocdoc.com/vaccine or use Chicago's COVID-19 Vaccine Finder.
Contact your healthcare provider
You may be able to schedule an appointment with the health clinic or hospital where you have gotten medical care in the past.
Schedule an appointment with a pharmacy
Pharmacies across the city have been provided vaccines and each have their own registration processes (included below). Pharmacies have been asked to prioritize Chicagoans and current patients.
Walgreens: Register online, call your local Walgreens, or 1-800-WALGREENS (1-800-925-4733)
Mariano's: Register online
Walmart: call: 833-886-0023; Option 1
Jewel Osco: Register online, or call 877-723-3929
Chicago Costco Pharmacies: Register online for an appointment or call the pharmacy directly, including:

Chicago Costco Pharmacies 1430 S. Ashland (Chicago Medical District): call (312) 492-3601
Chicago Costco Pharmacies 2745 N. Clybourn Ave (Lincoln Park): call (773) 360-2052
Enroll with one of Chicago's many Federally Qualified Health Centers (FQHCs)
Chicago has hundreds of community based FQHCs that you can visit to receive your COVID-19 vaccine and other healthcare services.
Reach out to Chicago Vaccine Angels
My Block, My Hood, My City has partnered with the Chicago Vaccine Angels to help all Chicagoans get access to a vaccine appointment regardless of insurance or immigration status. By signing up, a group of volunteers will secure an appointment for you at a convenient time and location. They can also help with transportation if needed. If you are interested in booking a COVID-19 vaccination, please click here to sign up or call 312-600-8925.
All CPS Employees Can Now Schedule a COVID-19 Vaccination Appointment!
All CPS staff and employees from eligible vendors are now able to sign up for vaccination appointments at CPS Vaccination Sites located throughout the city of Chicago.
All CPS employees and the employees of our largest vendors can get vaccinated at a CPS vaccination center (or through their doctor, healthcare provider, pharmacy, or city-based sites).
In order to ensure equitable access to vaccinations for staff at CPS vaccination centers, CPS initially followed a prioritization system based on the level of exposure to others, ability to maintain mitigation measures, and amount of time spent working in person throughout the school closures.
To receive a vaccine at a CPS vaccination center, staff are asked to bring one of the following work-related staff identification items to your appointment as proof of eligibility:
CPS ID badge
Professional license number or certificate
CPS pay stub
Insurance card
Thank you to our partners at the Chicago Department of Public Health and other local health care providers for assisting the district in these critical vaccination efforts.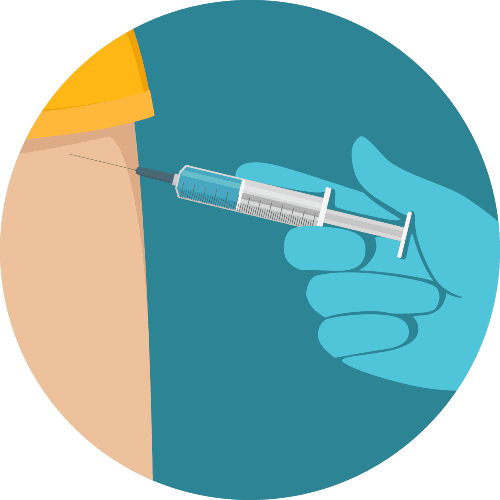 As of March 17, 2021 CPS has offered vaccination opportunities to all employees
How Many Vaccinations Has CPS Offered?
CPS is closely tracking employee vaccination efforts. The chart below reflects vaccinations through CPS school-based sites, vaccination opportunities through private healthcare partnerships, and vaccinations obtained independently through health care providers. The data draws from CPS vaccination sites and survey reports. This chart will be updated weekly.
CPS Vaccination Centers
Partnerships at non-CPS Sites
Independent Providers
Confirmed Totals
Total Employee Population
First Dose Scheduled
Survey Response Rate
Confirmed First Dose Totals
9,068
1,300
11,890
22,258
48,066
N/A
All:
55%
Teachers
4,172
455
7,403
12,030
22,120
304
60%
Other CTU Members
1,241
288
1,532
3,061
7,613
92
51%
School-Based Administrators
153
220
479
852
1,280
8
82%
Other Employees
3,144
293
1,916
5,353
15,352
161
43%
Network Staff, Citywide Employees, Central Office
358
44
560
962
1,701
28
81%
Notes
Data last updated April 30, 2021.
Which CPS Staff Have Been Offered Vaccinations?
CPS committed to providing vaccination opportunities to all employees in an equitable way as quickly as possible. Our prioritization framework helped guide vaccination opportunities to the staff who experience the highest risk first, and staff who are 65 or older were given priority within their subgroups. ADA or caretaker accommodations did not impact placement in priority groups.
All staff are now eligible to be vaccinated through a CPS vaccination center, their doctor, local pharmacy, or other city- and state-based vaccination sites.
If you have questions about where a specific role not listed falls in the prioritization framework, please reach out to vaccines@cps.edu.
Group 1
High Exposure: Individuals whose job responsibilities require them to work in close physical proximity with others. Oftentimes these individuals cannot practice social distancing while executing their job responsibilities.
Subgroup 1.1
| | |
| --- | --- |
| Offered | School-based nutrition staff |
| Offered | School-based security staff |
| Offered | School leaders |
| Offered | Care room attendants |
| Offered | Clerks |
Subgroup 1.2
| | |
| --- | --- |
| Offered | Bus aides |
| Offered | Cluster program teachers and paraprofessionals |
| Offered | Pre-K teachers and paraprofessionals |
| Offered | SECAs |
| Offered | Technology coordinators |
Group 2
Medium Exposure: Roles that may require regular interaction with other staff members and students where social distancing may not be possible at all times.
Subgroup 2.1
| | |
| --- | --- |
| Offered | Facilities staff |
| Offered | Other elementary school teachers and paraprofessionals |
Subgroup 2.2
| | |
| --- | --- |
| Offered | Other high school teachers and paraprofessionals |
Group 3
Low Exposure: Individuals whose jobs can largely be performed remotely.
Subgroup 3.1
| | |
| --- | --- |
| Offered | Central and network office staff |
Notes
The majority of school-based positions not otherwise listed (e.g., College and Career Specialist, Literacy Coach, Military Instructor, School Counselor, School Librarian, Youth Intervention Specialist, and all other school-based positions) are captured in the subgroups of "Other elementary teachers and paraprofessionals" and "Other high school teachers and paraprofessionals".
CPS Vaccination Centers
Chicago Vocational High School
2100 E 87th St, 60617
Clark High School
5101 W Harrison St, 60644
Clemente High School
1147 N Western Ave, 60622
Roosevelt High School
3436 W Wilson Ave, 60625
Find a Vaccination Site
Use this map to search for vaccination locations, including both city-based sites and CPS vaccination centers.
Frequently Asked Questions
Find answers to questions about Chicago Public Schools' vaccination program, including about staff eligibility, timeline, and more.