Submit Your Health Screener
All students, staff, and visitors must complete a health screener each day they visit a CPS building.
Opt-Into Non-Emergency Communications
Whether your family choses in-person or remote learning, it is imperative that CPS has the ability to quickly communicate with you. CPS utilizes a phone messaging system to alert families about COVID-19 information, individualized processes, events, and updates; as well as announcements about report card distribution, parent-teacher conferences, and more. To ensure you receive these periodic school or district related notifications and reminders, your consent is needed.
If you have not done so already, please complete and return the School Messaging Consent Form below.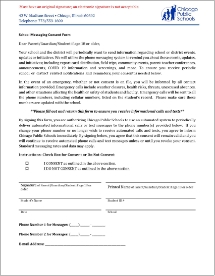 Videos
Daily Staff and Visitor Health Screening Training Video
Health Screener Reviewer Training Video
Daily Student Health Screening Training Video