In This Section
Learn more about what a school day will look like if you opted into in-person learning.
Understanding In-Person Learning Models
As part of our reopening plan, students who chose to return to school will learn in-person through a hybrid learning model. K-8 students will split time learning at home and at school. This allows schools to limit class sizes and ensure students and staff can practice social distancing. The model a student gets assigned to depends on the number of students who opt-in for in-person learning and staffing flexibility at their school:
2 Day In-Person Model
Elementary School students will be assigned to pods that will learn in-person two days per week and remotely three days per week. Students will either learn in-person on Monday and Tuesday or Thursday and Friday. Wednesday is a remote learning day for all students.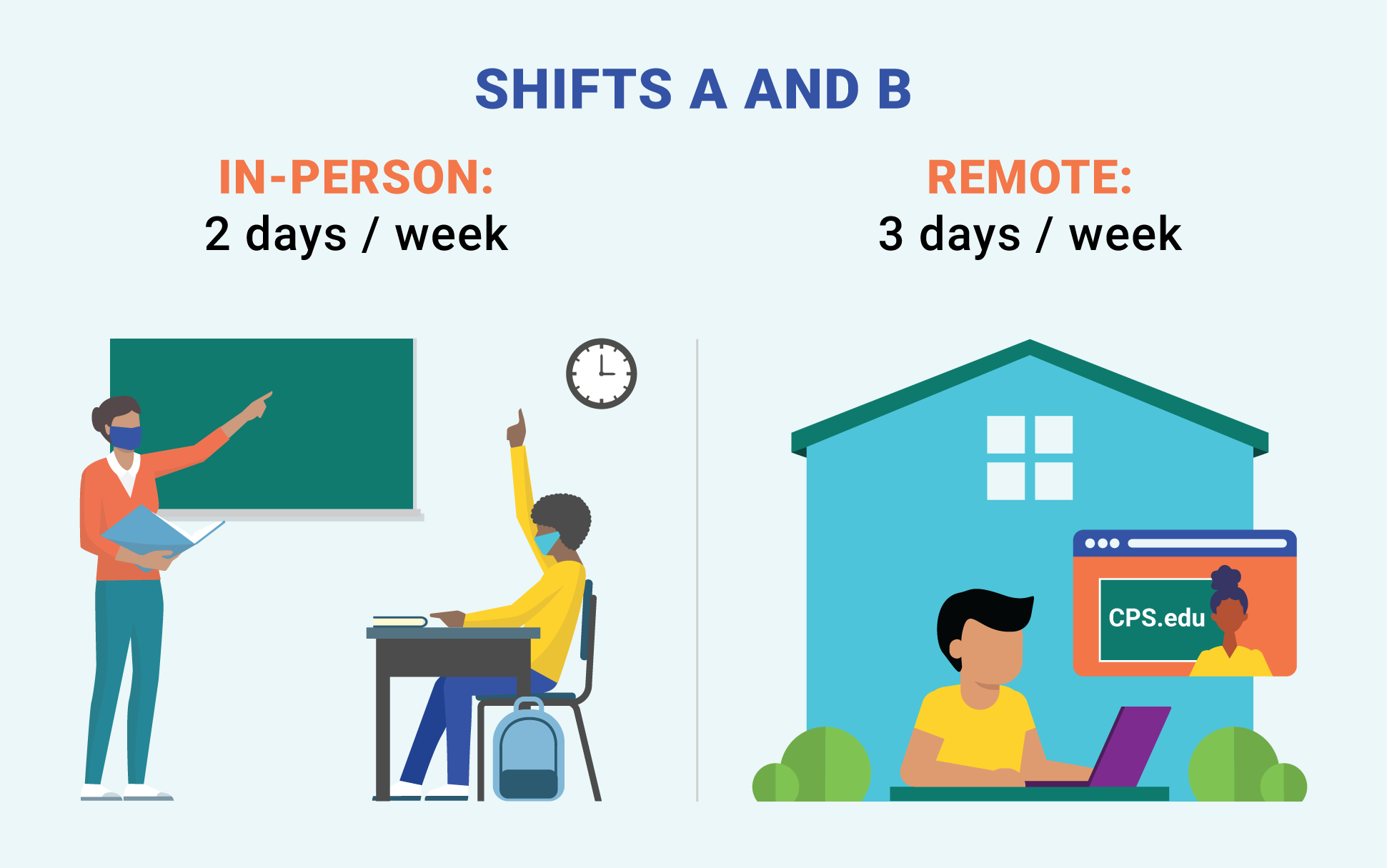 4 Day In-Person Model
Elementary School students will be assigned to pods that will learn in-person on Monday, Tuesday, Thursday, and Friday and remotely on Wednesday. High School students will not be assigned to pods.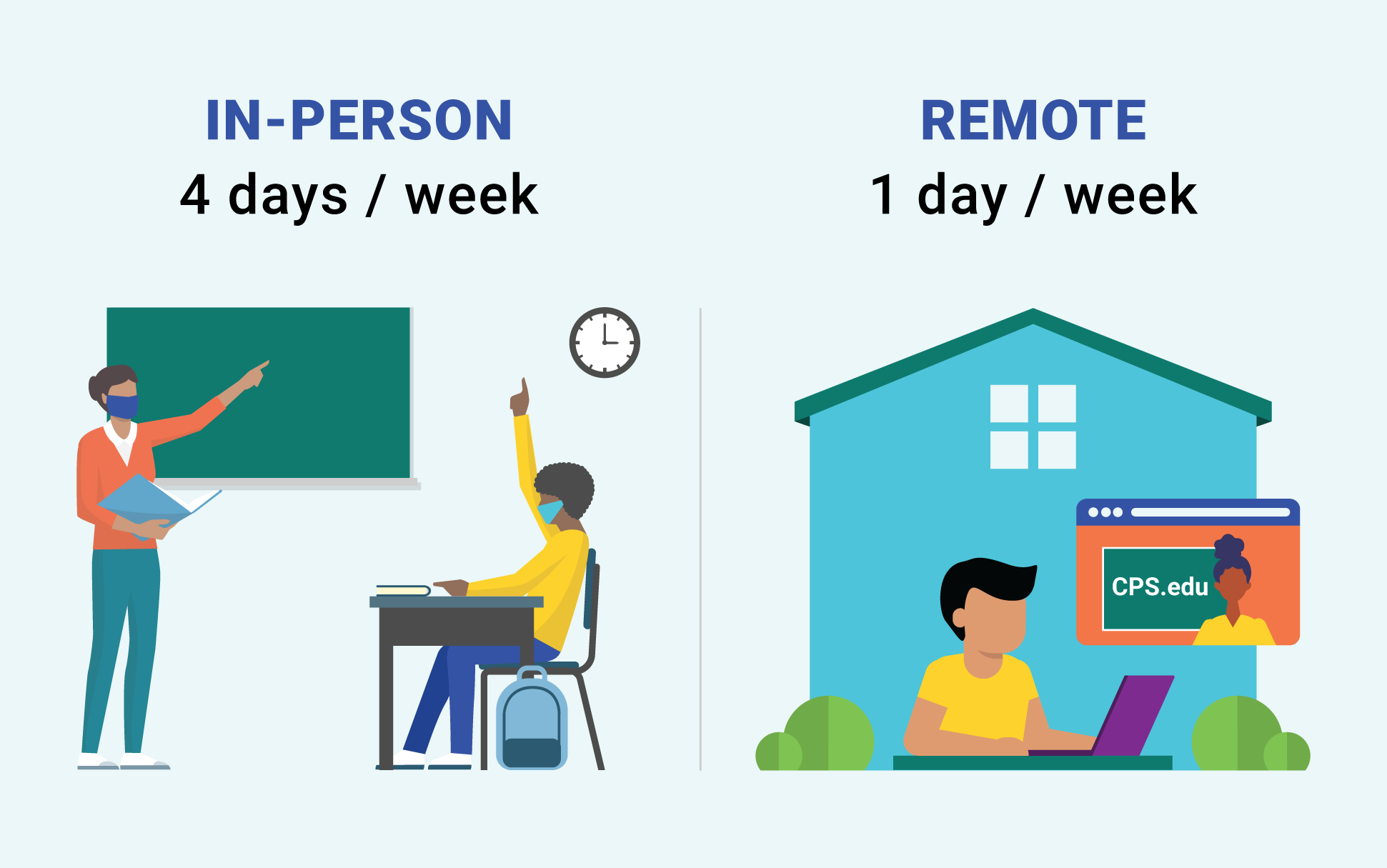 5-Day in-person Model
Students in pre-k and cluster cluster will learn in-person five days per week. In some instances, pre-k and cluster programs may need to adopt a hybrid model to allow for social distancing. Some K-8 students may be able to learn in-person five days per week where capacity allows for social distancing.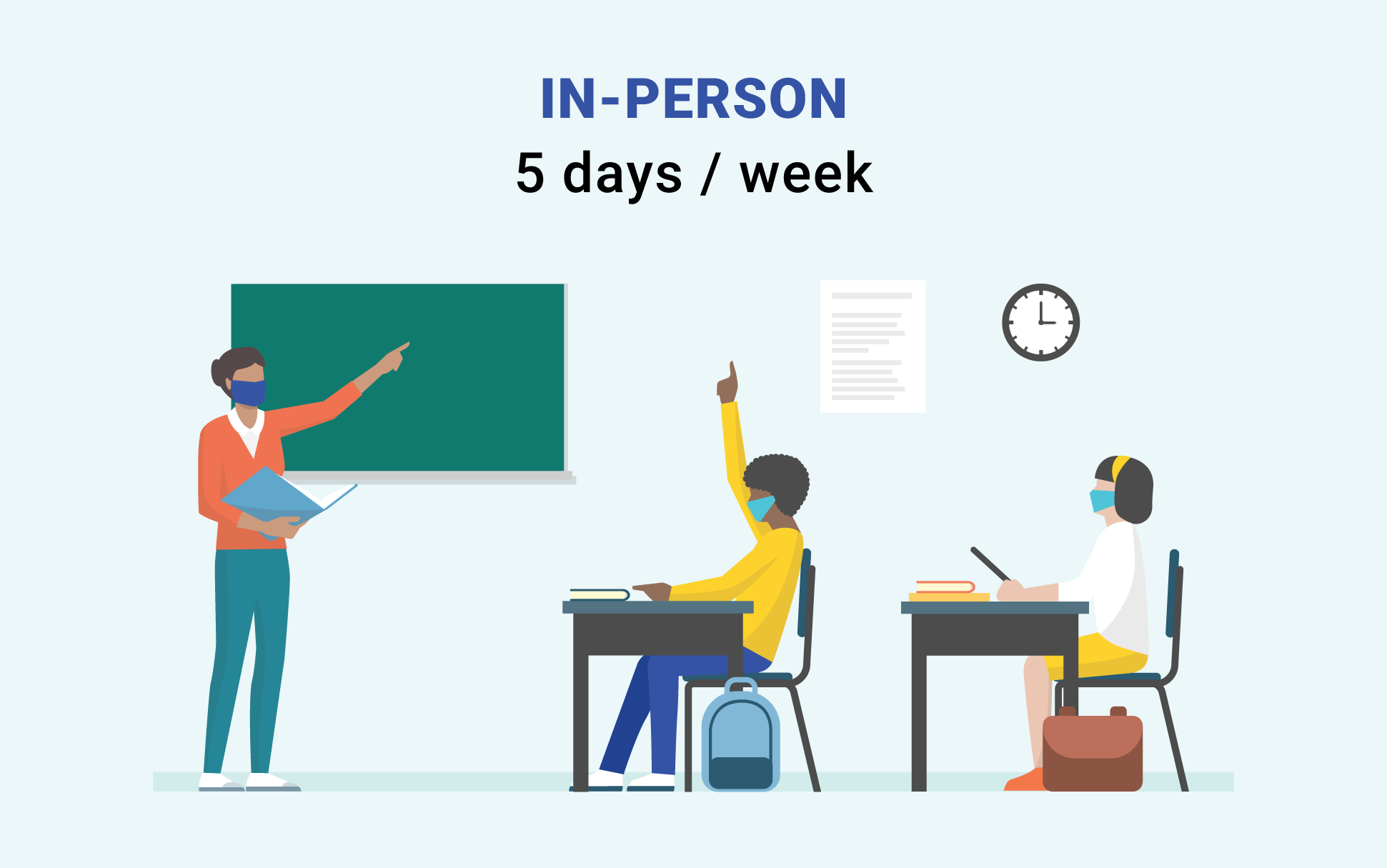 School Day Examples
These school day examples will explain what to expect during in-person learning so you and your child can prepare for class.
Additional Information
The information below will help you plan for your child's return to in-person learning.
Opt-In Process
Parents have the ability to opt-in or opt out of in-person learning. Find out how and when the next window will open.
Transportation
Getting to and from school safely is an important part of the school day. Learn how CPS is modifying our transportation processes to prevent the spread of COVID-19.
LEARN MORE
Health Screener & Building Access
Anyone who enters a CPS building will need to complete a health screener and follow other safety protocols.
Pods
Keeping students together in small groups for the entire school day will help them stay safe.
Care Rooms
When a student feels ill or develops symptoms, they will be taken to a care room until their parents can pick them up or they are taken to get medical assistance.
LEARN MORE
Specials
Specials such as art, music, and physical education will look different for students who are learning in person.
Meal Sites
In-person learning families can still get free meals from CPS meal sites on the days of the week that they learn remote.
Sports
The district is excited to announce the safe return of limited spectators to outdoor Chicago Public League sporting events.
End-of-Year Activities
Families will be allowed to attend limited in-person end-of-year activities this school year while adhering to social distancing and PPE requirements from IDPH and the City of Chicago.
Protocols for In-person Extracurricular Programs
Vendors may provide in-person programming if they follow the appropriate protocols. If your organization would like to provide in-person programming, please reach out to your school principal or sponsoring central office department contact. If your principal or contact agrees that your organization should be considered for in-person programs, you must submit an on-site services application.
Note that, in order to provide services, vendors must:
Have an active vendor number
An active partnership, documented through an open PO, Services Agreement, or grant award letter
All staff serving students must have a current CPS background check on file for your organization
Reminder about Health Protocols
Chicago Public Schools has put in place number health and safety measures that meet all local, state, and federal guidelines for safely reopening CPS facilities. As part of these safety measures, vendor staff will be required to complete the following prior to entering a CPS facility to:
Wear the appropriate face covering or mask
Frequently wash hands or use hand sanitizer
Maintain a social distance of six feet whenever possible
Complete a health screener assessment for which the link is here
At the entrance of CPS facilities, there will be a check-in station where a staff member will confirm the points above, and proceed with a temperature check.
To help expedite the check-in process, please complete the health screener before arriving at a CPS facility. The health screener can be submitted by using a mobile device, laptop, or tablet at cps.edu/healthscreener. If you do not pass the health screener, you will not be permitted to enter a CPS facility.
Please watch this two minute video explaining the proper check-in protocol and completion of health screener for staff and visitors. If you have any questions about our health and safety protocols, please contact us at 773-553-KIDS (5437) or familyservices@cps.edu.