Dear CPS Families,
We know that the best place for your child to learn is in the classroom, and we have been working tirelessly to prepare our buildings to welcome students and staff back to school. Following the guidance of our public health officials, we are planning to begin opening our school buildings for families who choose to return following winter break. Students enrolled in pre-k and moderate and intensive cluster programs will have the option to return on Monday, Jan. 11, 2021, and students in K-8 will be able to return on Monday, Feb. 1. High school students who learn in general education settings will continue learning at home, and we will continue to evaluate options for a return to in-person learning for those students in 2021.
To prepare for the safe return to school buildings, families of children who are eligible to return will be contacted later this month to understand their preferred learning setting following winter break.
Tentative timeline for returning to school based on public health conditions and guidance
Week

Staff

Families

November 23, 2020

Intent-to-return form sent to K-8 staff.

Educator Guidance released

Opt-in form sent to all families of students in Pre-K-8 and cluster programs. Please note that families who responded to the survey in October do not need to re-submit if their preference has not changed.

Parent Handbook released

December 7, 2020

Intent-to-return deadline for K-8 staff

Opt-in form submission deadline

January 4, 2021

Pre-K and cluster program staff return

January 11, 2021

Students in pre-k and cluster programs return

January 25, 2021

K-8 staff return

February 1, 2021

K-8 students return
According to public health data, schools can be open safely
While COVID-19 remains an incredibly serious threat to our community, the public health data in Chicago and across the nation show that schools are rarely a source of COVID-19 transmission. With this new understanding of COVID-19, we must challenge the assumption that school buildings must stay closed and do everything we can to bring students back to school.
Although COVID-19 cases are rising in many areas, numerous states in the U.S. and countries in Europe are keeping schools open because mitigation strategies have proven to be successful. Today, Governor Pritzker moved Illinois to Tier 3 of the Restore Illinois Mitigation Plan beginning this Friday, Nov. 20, in order to slow the spread of COVID-19. While our schools can continue to operate because they play an essential role in the lives of students and families and are not a significant source of viral transmission, high school sports including practices and competitions will be paused until further notice.
Getting students into schools at an early age is arguably the most consequential intervention in our toolbox to boost their long-term academic success, career prospects, and lifetime earnings. This year, however, enrollment in pre-k plummeted 44 percent among Black students and 29 percent among Latinx students. As a matter of equity, this is simply unacceptable.
And pre-k students are far from the only ones who need our help. Due to the immense burden placed on parents to support home-based learning, we have also seen attendance plummet among our students with significant needs. In a recent survey, more than five thousand families told us they wanted to come back to school because online learning was simply not working for their child.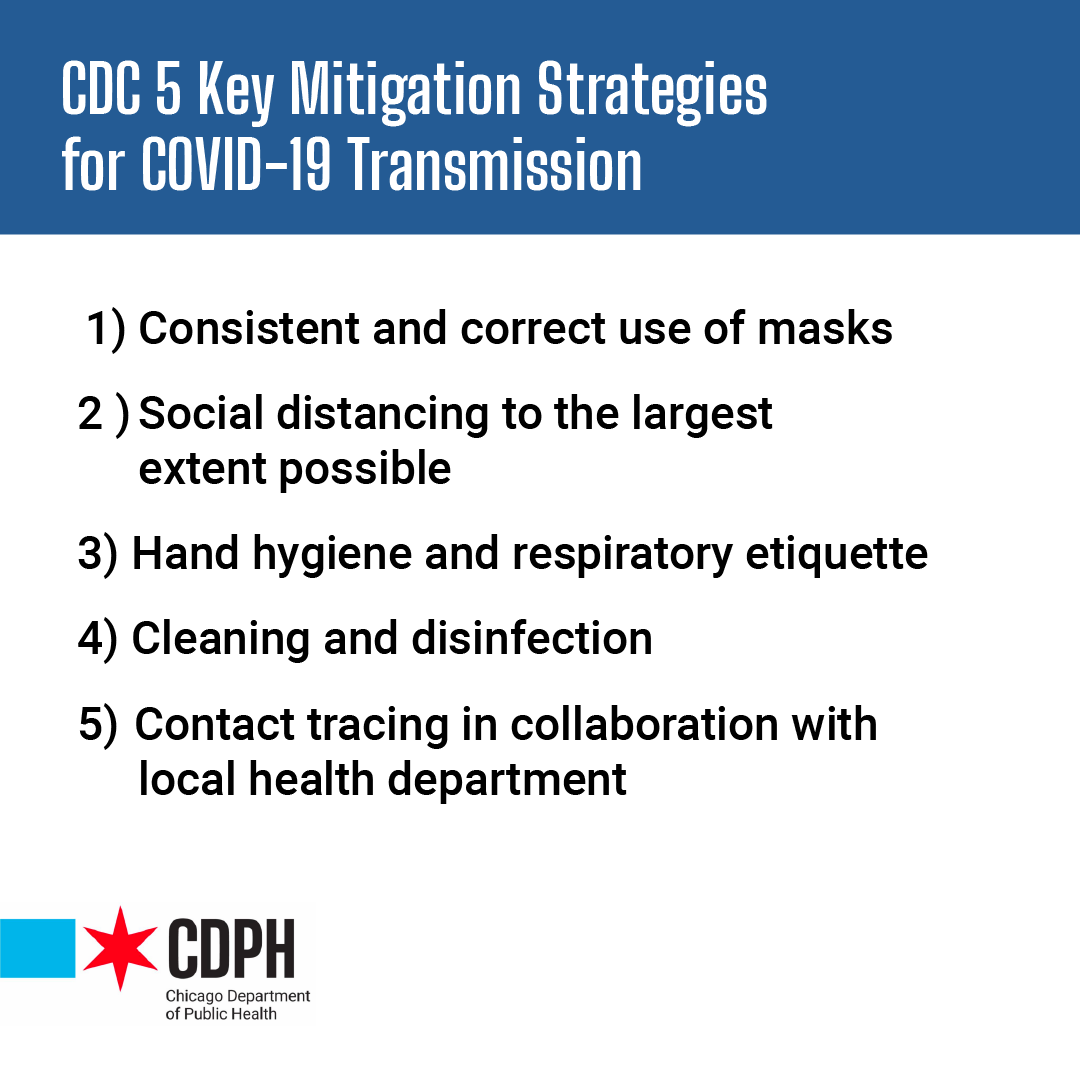 CDC 5 Key Mitigation Strategies for COVID-19 Transmission
Consistent and correct use of masks
Social distancing to the largest extent possible
Hand hygiene and respiratory etiquette
Cleaning and disinfection
Contact tracing in collaboration with local health department
School buildings will look different
Schools will look and feel very different when teachers and students return. To support the Centers for Disease Control and Prevention's five key strategies for mitigating COVID-19 transmission, schools will take the following safety measures:
Anyone entering a school building for more than 10 minutes will be required to complete a health screener before coming to school to ensure they are free of COVID-19 symptoms and to support the Chicago Department of Public Health's contact tracing efforts.
Students and staff who are symptomatic or have had close contact with someone who tested positive will not be allowed to enter the building and will be provided access to free COVID-19 tests through either established primary care providers or city partners.
Anyone entering a school building will also have their temperature checked and be required to wear a face covering, which the district will provide for every student and staff member.
Signs have been installed throughout the building to help students socially distance, and desks and classroom furniture will be spaced further apart.
Hand sanitizer stations are placed throughout the building to help everyone practice good hand hygiene.
Classrooms have been cleaned from top to bottom and facilities staff members will implement an enhanced cleaning routine.
To help prevent the spread of COVID-19, every classroom will have a HEPA air purifier that will remove 99.99% of airborne mold, bacteria, and viruses. By placing a HEPA air purifier directly in the classroom near students and staff, we can better capture particles, clean the air, and reduce the risk of indoor transmission of viruses and bacteria.
We also hired independent state-certified environmental specialists to test schools for indoor air quality, and classrooms have been checked to ensure they are properly ventilated and meet ASHRAE's standards. Families can check the status of their child's classroom by visiting cps.edu/airquality.
Help flatten the curve this holiday season so schools can reopen in the new year
We hope that we will be able to welcome back students beginning in January, but we must continue taking all necessary steps to mitigate the spread of COVID-19, especially during the holiday season. We urge everyone to follow Chicago's stay-at-home advisory, avoid travel, and limit holiday gatherings to only those in your households. The sooner we flatten the curve, the sooner all students will be able to return to school.
While the science is clear that school can proceed safely with mitigations like the ones we have implemented, CDPH is closely watching the citywide growth in cases — as determined by the amount of time it takes for case counts to double — because case growth can disrupt educational activities as more staff and students need to isolate due to exposure outside of school. For that reason, CDPH has determined that in order for schools to reopen, the length of time over which cases double will need to extend by at least a 50 percent, which will indicate that the outbreak is stabilizing and the curve is flattening. In Chicago, that will mean moving from the city's current doubling rate of 12 days to at least 18 days by the time classes begin.
We thank you for your patience as we work closely with public health officials to reopen schools safely. We wish you a happy, healthy holiday season and will continue communicating regularly about our plan to reopen Chicago's schools in early 2021.
Sincerely,
Nuestro plan para recibir de regreso a estudiantes y personal en 2021
Estimadas familias de CPS,
Sabemos que el salón de clases es el mejor lugar para que su hijo aprenda, y hemos trabajado sin descanso para preparar nuestros edificios para recibir de regreso a los estudiantes y el personal. Siguiendo los lineamientos de nuestras autoridades de salud pública, estamos planificando comenzar la reapertura de nuestras escuelas a las familias que escojan hacerlo después de las vacaciones de invierno. Los estudiantes matriculados en Pre-K y programas grupales moderados e intensivos tendrán la opción de regresar el lunes 11 de enero de 2021, y los estudiantes en K-8 podrán hacerlo el lunes 1 de febrero. Los estudiantes de secundaria que aprenden en un marco de educación general continuarán la instrucción en sus domicilios, y vamos a continuar evaluando las opciones para su regreso al aprendizaje personal en 2021.
Para preparar el regreso seguro a los edificios escolares, las familias de los niños que sean elegibles para hacerlo serán contactadas a finales de este mes, para entender sus preferencias para después de las vacaciones.
Calendario tentativo para el regreso a las escuelas
Semana

Personal

Familias

Noviembre 23, 2020

Formulario sobre intención de regresar enviado al personal de K-8

Divulgación de la Guía para el Educador

Formulario enviado a familias para optar por los programas de Pre-K-8 y grupales. Por favor, tenga en cuenta que las familias que respondieron a la encuesta en octubre no necesitan volver a presentar el formulario si sus preferencias no han cambiado.

Divulgación del Manual de Padres

Diciembre 7, 2020

Plazo final para la intención de regresar del personal de K-8

Plazo final para presentar el formulario de participación (Opt-in)

Enero 4, 2021

Regreso del personal de Pre-K y programas grupales

Enero 11, 2021

Regresan los estudiantes en programas Pre-K y grupales

Enero 25, 2021

Regreso del personal de K-8

Febrero 1, 2021

Regreso de los estudiantes K-8

Febrero 9, 2021

Comienzo del tercer trimestre
Según los datos de salud pública, las escuelas pueden abrir con seguridad
Aunque el COVID-19 continúa siendo una amenaza increíblemente seria para nuestra comunidad, los datos de salud pública en Chicago y toda la nación muestran que las secuelas son una fuente rara de trasmisión del COVID-19. Con esta nueva comprensión del COVID-19, debemos disputar la suposición de que los edificios escolares deben permanecer cerrado, y hacer todo lo posible para regresar a los estudiantes a los salones de clase.
Aunque los casos de COVID-19 están aumentando en muchas áreas, numerosos estados en los Estados Unidos y países europeos mantienen abiertas las escuelas porque las estrategias de mitigación han probado ser exitosas. Hoy, el gobernador Pritzker anunció que Illinois vuelve al nivel 3 del Plan de Mitigación "Restore Illinois" a partir de este viernes 20 de noviembre, con el fin de reducir la propagación de COVID-19. Si bien nuestras escuelas pueden seguir operando porque desempeñan un papel esencial en la vida de los estudiantes y las familias y no son una fuente significativa de transmisión viral, los deportes de secundaria, incluidas las prácticas y las competencias se detendrán hasta que Chicago vuelva a la Fase 4.
Y los estudiantes de Pre-K están lejos de ser los únicos que necesitan nuestra ayuda. Debido a la inmensa carga que se coloca en los padres para apoyar el aprendizaje en el hogar, también hemos visto caer en picado la asistencia de nuestros estudiantes con necesidades importantes. En una encuesta reciente, más de cinco mil familias nos dijeron que querían volver a la escuela porque el aprendizaje en línea simplemente no funcionaba para sus hijos.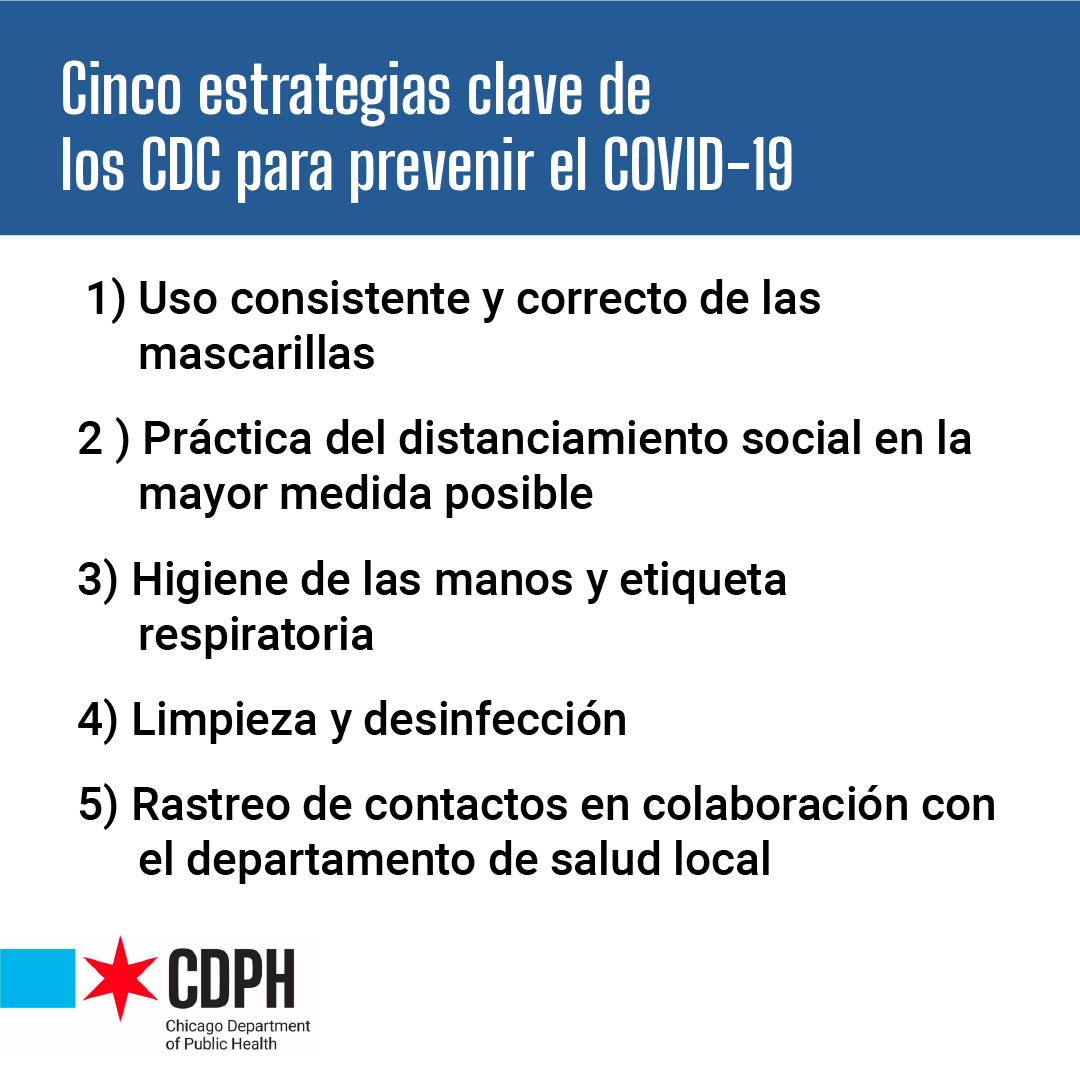 Cinco estrategias clave de los CDC para prevenir el COVID-19
Uso consistente y correcto de las mascarillas
Práctica del distanciamiento social en la mayor medida posible
Higiene de las manos y etiqueta respiratoria
Limpieza y desinfección
Rastreo de contactos en colaboración con el departamento de salud local
Los edificios escolares lucirán distintos
Las escuelas se verán y se sentirán muy diferentes cuando los maestros y los estudiantes regresen. Para apoyar las cinco estrategias clave de los Centros para el Control y la Prevención de Enfermedades para mitigar la transmisión de COVID-19, las escuelas tomarán las siguientes medidas de seguridad:
Cualquier persona que ingrese a un edificio escolar durante más de 10 minutos deberá completar un examen de salud antes de venir a la escuela para asegurarse de que no tiene síntomas de COVID-19 y para apoyar los esfuerzos de rastreo de contactos del Departamento de Salud Pública de Chicago.
Los estudiantes y el personal que presenten síntomas, o que hayan tenido contacto cercano con alguien que dio positivo en la prueba, no podrán ingresar al edificio y se les proporcionará acceso a la prueba gratuita de COVID-19 a través de proveedores de atención primaria establecidos o socios de la ciudad.
A cualquier persona que entre a un edificio escolar también se le controlará la temperatura y se le pedirá que use una cubierta facial, que el distrito proporcionará a cada estudiante y miembro del personal.
Se han instalado letreros en todo el edificio para ayudar a los estudiantes a distanciarse socialmente, y los escritorios y los muebles de las aulas estarán más separados.
Las estaciones de desinfectante de manos están ubicadas en todo el edificio para ayudar a todos a practicar una buena higiene de manos.
Los salones de clases se han limpiado de arriba a abajo y los miembros del personal de las instalaciones implementarán una rutina de limpieza mejorada.
Para ayudar a prevenir la propagación de COVID-19, cada salón de clases tendrá un purificador de aire HEPA que eliminará el 99,99% del moho, las bacterias y los virus en el aire. Al colocar un purificador de aire HEPA directamente en el aula cerca de los estudiantes y el personal, podemos capturar mejor las partículas, limpiar el aire y reducir el riesgo de transmisión de virus y bacterias en interiores.
También contratamos especialistas ambientales independientes certificados por el estado para evaluar la calidad del aire interior en las escuelas, y las aulas han sido revisadas para asegurar que estén adecuadamente ventiladas y cumplan con los estándares de ASHRAE. Las familias pueden verificar el estado del aula de sus hijos visitando cps.edu/airquality.
Ayude a aplanar la curva esta temporada navideña para que las escuelas puedan reabrir en el nuevo año
Esperamos poder dar la bienvenida a los estudiantes a partir de enero, pero debemos continuar tomando todas las medidas necesarias para mitigar la propagación de COVID-19, especialmente durante la temporada navideña. Instamos a todos a que sigan el aviso de Chicago sobre cómo quedarse en casa, , evitar los viajes y limitar las reuniones durante las festividades solo a aquellos en sus hogares. Cuanto antes aplanemos la curva, más rápido será el regreso a la escuela de todos los estudiantes.
Si bien la ciencia es clara de que la escuela puede proceder de manera segura con mitigaciones como las que hemos implementado, el CDPH está observando de cerca el crecimiento de casos en toda la ciudad, según lo determinado por el tiempo que demora la duplicación, porque se pueden interrumpir actividades a medida que más personal y estudiantes necesiten aislarse debido a la exposición fuera de la escuela. Por esa razón, el CDPH ha determinado que para que las escuelas vuelvan a abrir, el tiempo de duplicación de casos deberá extenderse al menos en un 50 por ciento, lo que indicará que el brote se está estabilizando y la curva se está aplanando. En Chicago, eso significará pasar de la tasa de duplicación actual de 12 días, a por lo menos 18 días cuando comiencen las clases.
Les agradecemos su paciencia mientras trabajamos en estrecha colaboración con los funcionarios de salud pública para reabrir las escuelas de manera segura. Les deseamos una feliz y saludable temporada navideña y continuaremos comunicándonos regularmente sobre nuestro plan para reabrir las escuelas de Chicago a principios de 2021.
Atentamente,