Showcasing our Academic Recovery
08 September 2023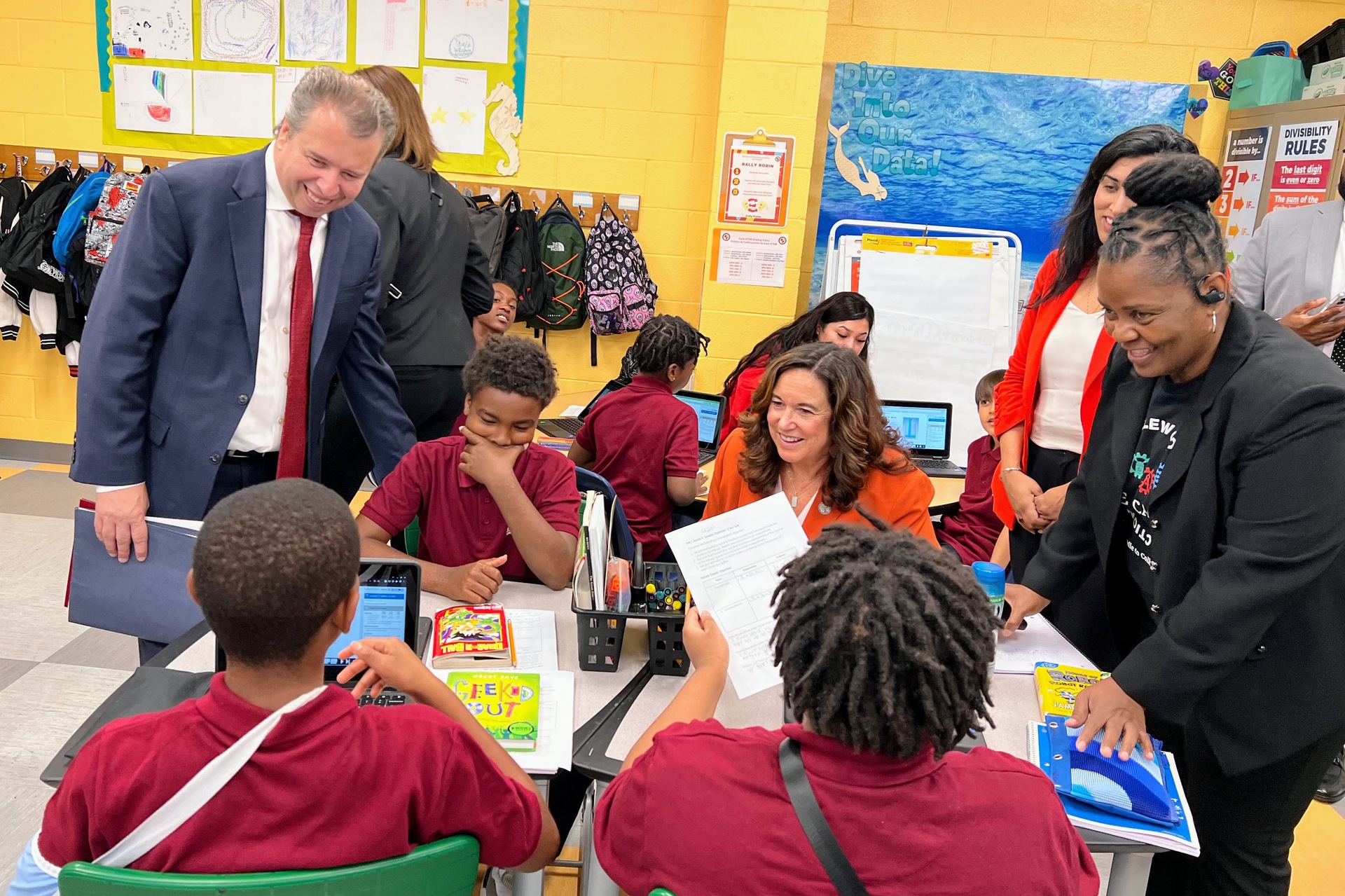 Dear CPS Families, Colleagues, and Supporters,
This week, our District was thrilled to host Cindy Marten, Deputy Secretary for the U.S. Department of Education, to showcase how CPS is working to support our students' academic recovery following the COVID-19 pandemic. The visit was a chance for us to highlight valuable partnerships that are helping accelerate learning across the District, as well as our significant expansion of middle school algebra.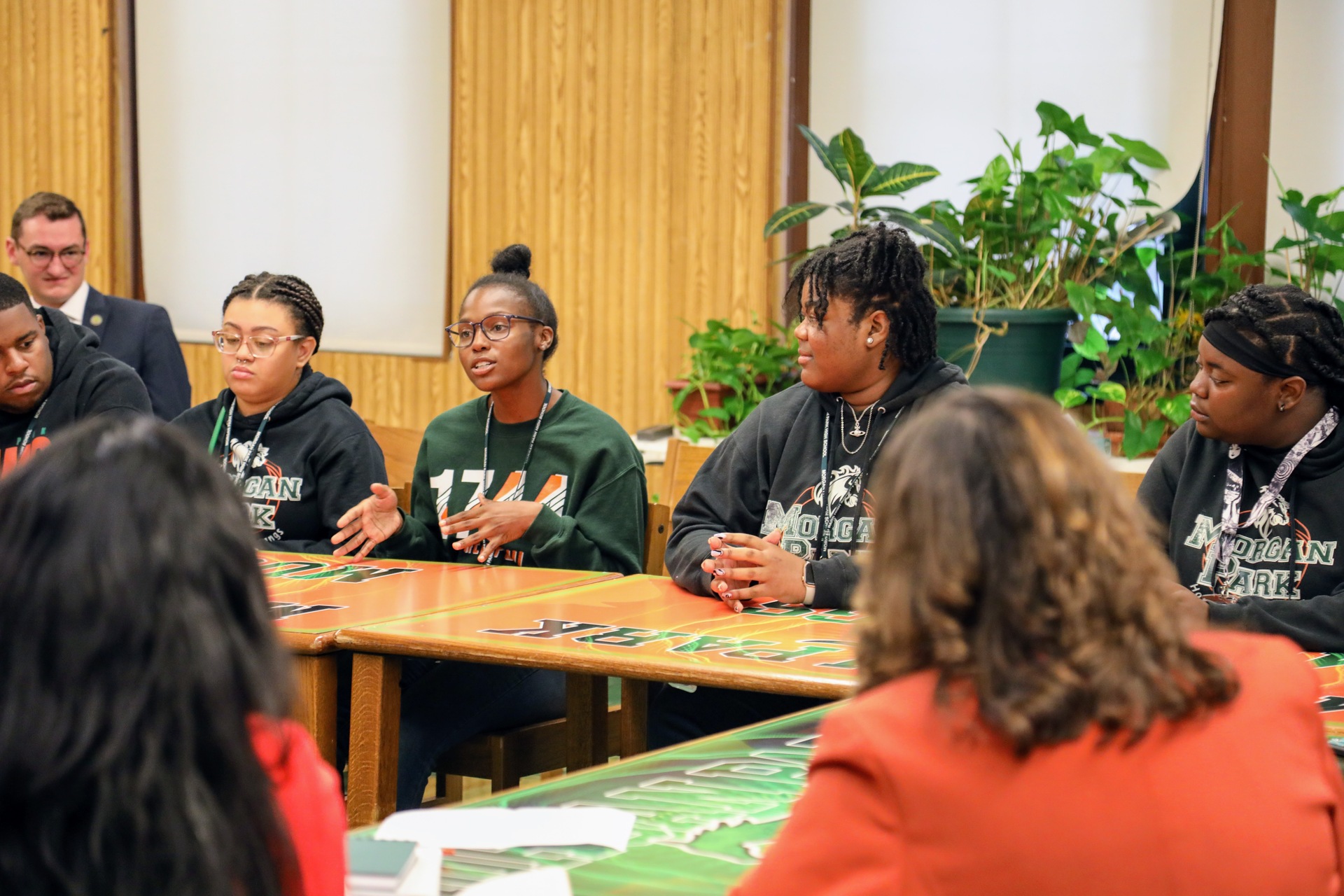 The visit included stops at two CPS schools, beginning with Morgan Park High School on Chicago's far south side. Secretary Marten joined myself, Chief Education Officer Bogdana Chkoumbova, and members of the school community to discuss Morgan Park's participation in the National Partnerships for Student Success (NPSS) program—a nationwide effort around recruiting and training adults who can work directly with schools to improve academic, social, and emotional outcomes for students in the wake of the pandemic.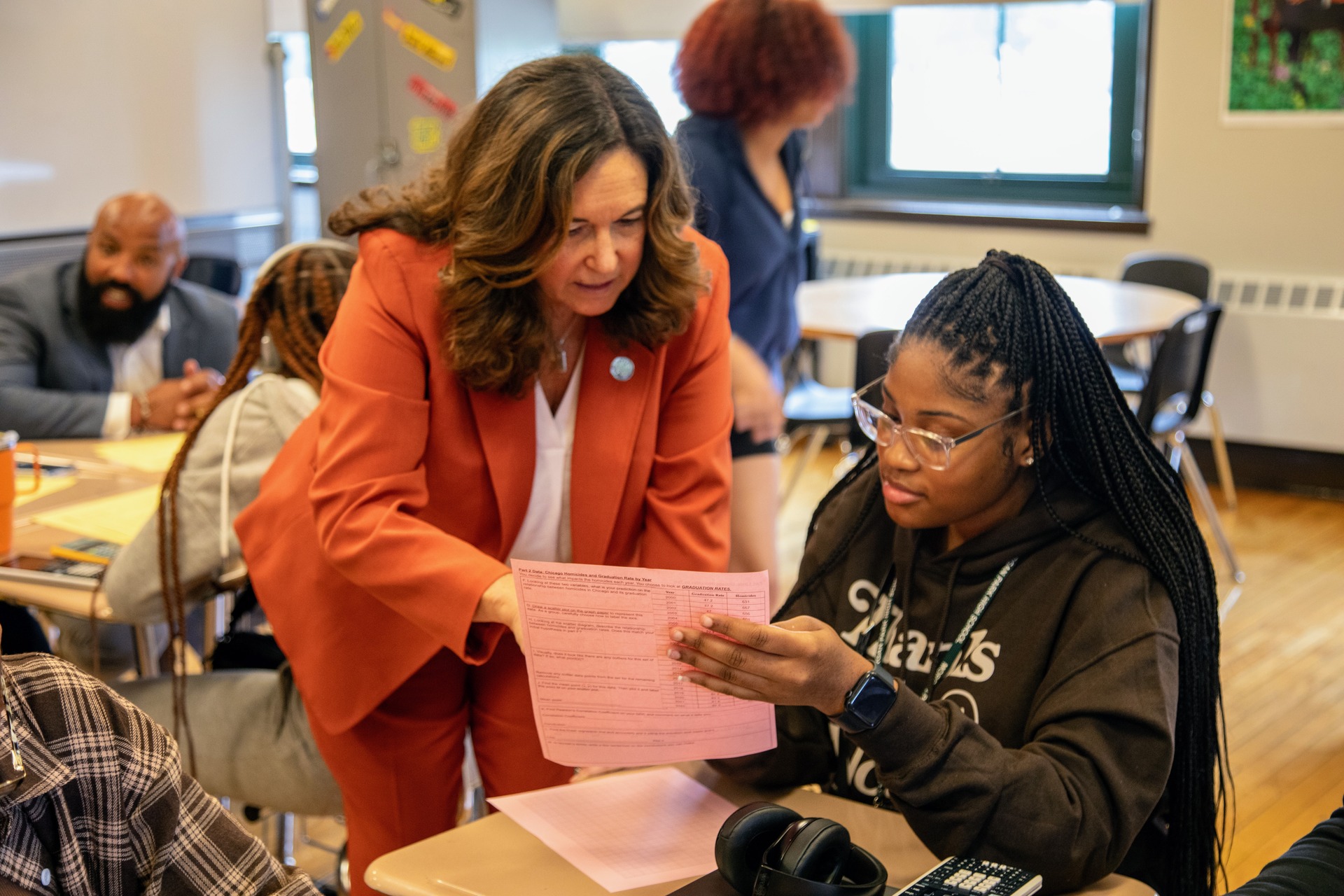 At Morgan Park, the NPSS partnership has taken shape in several exciting ways, including high-dosage math tutoring by our partners at SAGA, and a close relationship with College Possible, which helps support Chicago-area students along their path to a college degree.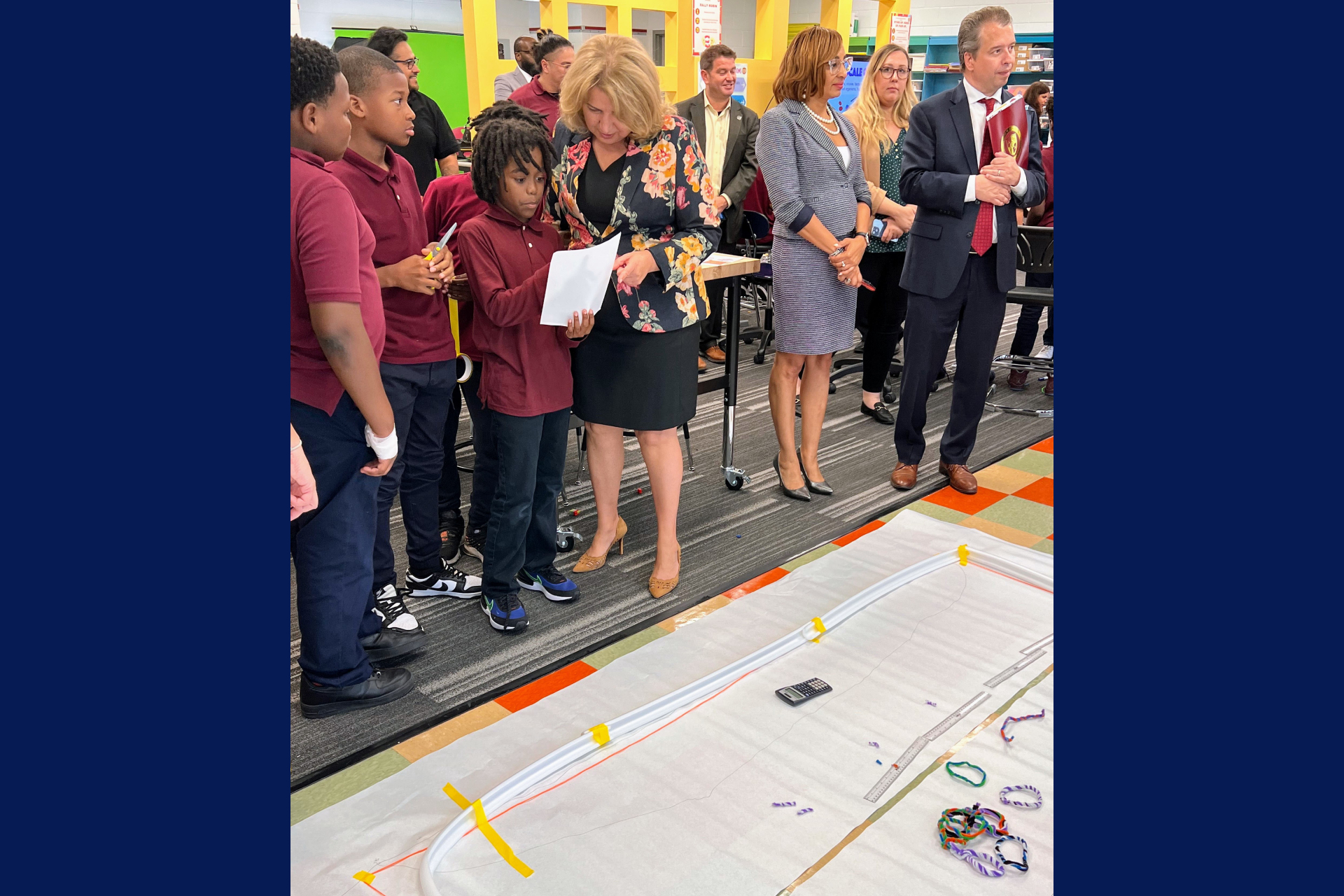 At Earle STEM Academy in Chicago's Englewood community, we were able to show Secretary Marten even more evidence of the power of NPSS. Support from this initiative has contributed to tutoring programs, increased social-emotional supports, and a mentoring program to help prepare eighth grade students for a successful transition to high school. Partnerships also serve as an anchor for the entire school community at Earle, connecting families with local services and resources while hosting a robust collection of classes and programs for parents.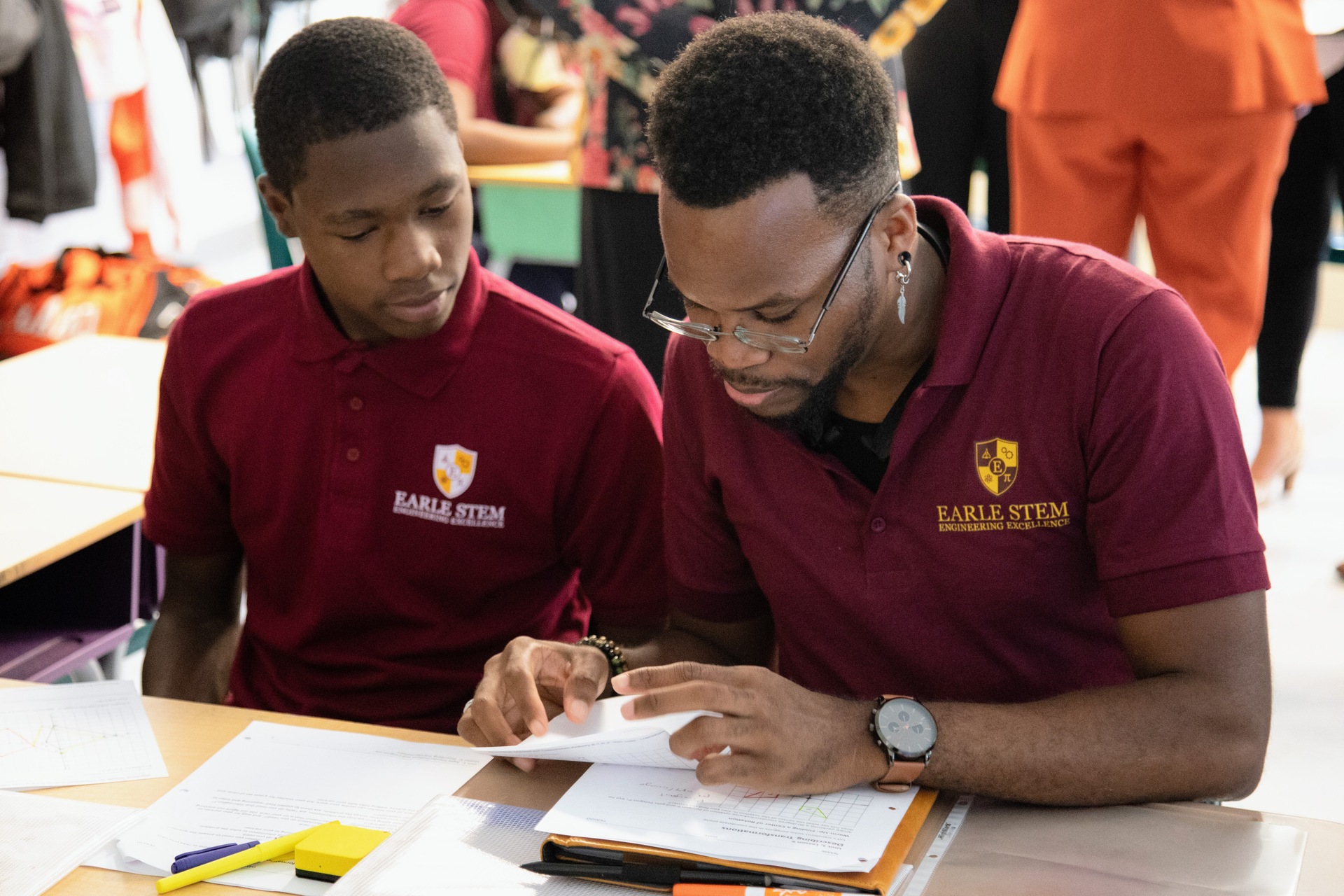 One of my favorite parts of this week's visit was showcasing all that CPS is doing to expand algebra access in our middle schools. Along with more than 100 other elementary schools around the District, Earle is part of an expanded access program for algebra. Through this program, thousands of CPS students are able to complete high school algebra as middle school students, giving them the chance to take more advanced math courses once in high school, up to and including AP Calculus.
Thanks in large part to this expanded access program, the number of CPS schools offering middle-grades algebra has grown significantly in the past few years, as have the number of students taking and passing the Algebra Exit Exam.
More than 98% of CPS elementary schools now offer algebra programming, which is an increase of approximately 20% in the past two years.
Last school year, more than 87% of schools offering this programming had students take the Algebra Exit Exam (up 11% from the 2021-22 school year)
The pass rate among 8th-graders taking the Algebra Exit Exam has grown by 7 percentage points in the past two years, returning us to what we were seeing from students before the pandemic.
The focus on accelerating students' growth in math will not only support them in high school. The benefits will extend to higher education and careers, where our students will be better prepared for jobs in high-demand STEM fields.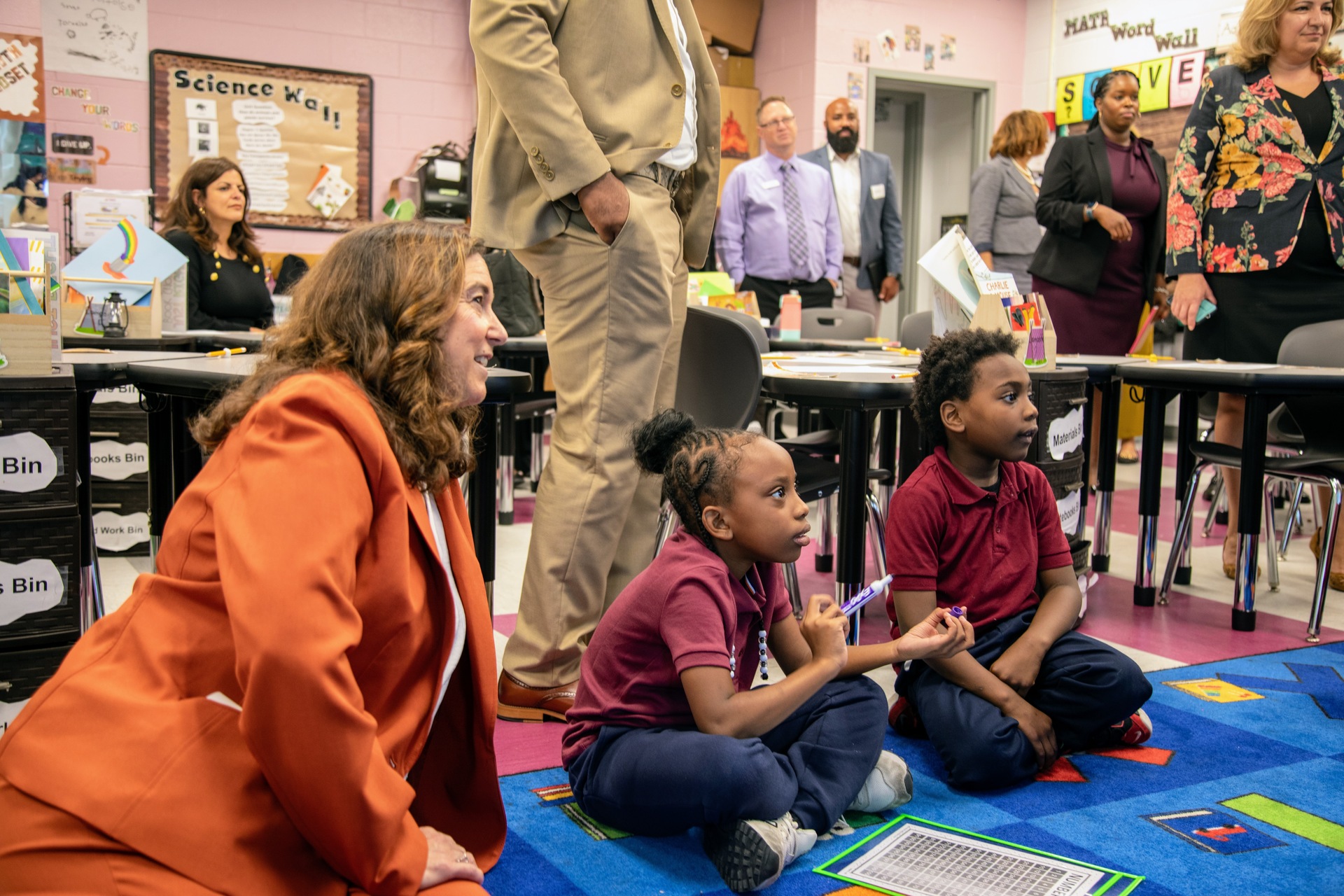 It was an honor to host Secretary Marten in our schools this week, and to showcase some of the academic recovery work that is proving so successful for CPS students. I look forward to our continued partnership, and I thank everyone across our district for their effort in driving our students' academic progress.
Sincerely,
Pedro Martinez
Chief Executive Officer
Chicago Public Schools
Help Us Highlight Your School
We love highlighting the amazing things that are happening day-to-day in our schools, along with the people who are making them happen. There is no better source for this good news than you—the members of our school communities—so we hope you will consider sharing your stories by completing this brief form.
Suggestion: Hispanic Heritage Month begins on September 15. Share how your school is planning to celebrate!
Help us show the world that the best are with CPS! Fill out this form so that we can share your stories in this newsletter, on our District's blog, across our CPS social media channels, and through press releases and advisories to the media.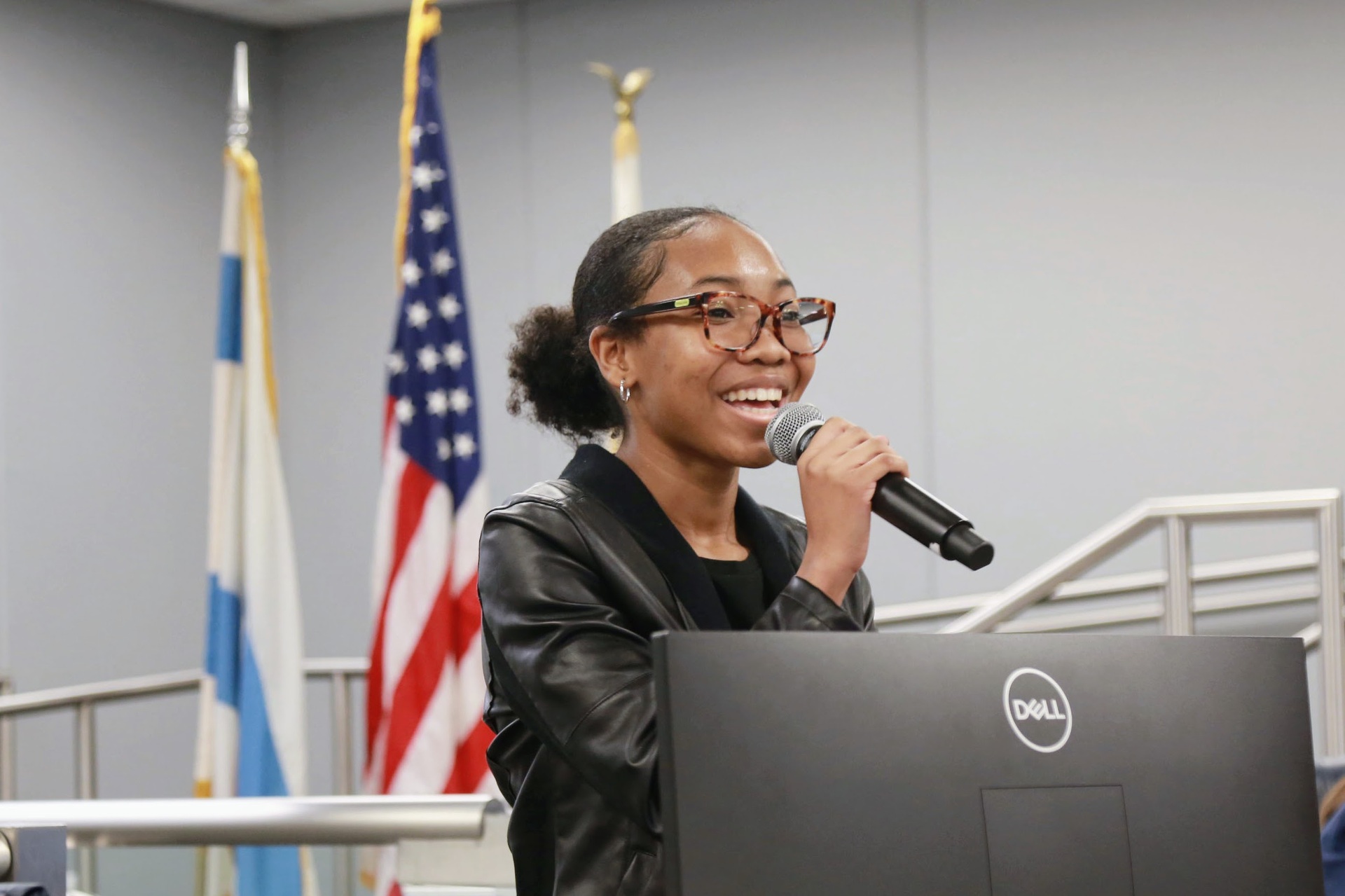 Take Five is a series that highlights some of the many members of the CPS community who are going above and beyond for our schools. If you know someone who is making a difference, nominate them to be featured here.
Today, we are thrilled to spotlight Kate'Lynn S., a current junior at Kenwood Academy High School and our District's 2023–24 Honorary Student Board Member.
Kate'Lynn describes herself as a "school person"; she loves Kenwood and the community she has found there. When she was younger, Kate'Lynn mostly kept to herself. But once she got to Kenwood in seventh grade, her eyes were opened to the type of student leader she could become. Kate'Lynn started to dive headfirst into every opportunity that interested her, and quickly discovered a passion for student government, debate, and voice.
Kate'Lynn first heard about the opportunity to serve as the District's Honorary Student Board Member through her high school counselor, Ms. Julie Stanton, who told her she would be perfect for the role.
As the Honorary Student Board Member, Kate'Lynn represents the CPS student body by attending the monthly Chicago Board of Education meetings and advocating for student voice on behalf of herself and her peers.
The application process to become next year's Honorary Student Board Member will open in the spring of 2024. All rising juniors and seniors at CPS who are interested in gaining leadership experience and shaping the future of the District are encouraged to apply. Visit cpsboe.org for the Board's full schedule of upcoming meetings.
What are your goals as this year's Honorary Student Board Member?
I am here for students. I want to make sure all of our schools' Student Voice Committees are strong and well supported, as well as explore how we can create more opportunities for kids to speak out about politics and cultural life. I am very interested in learning more about how CPS and our city's systems interact and who has jurisdiction over what. I think it's important to have a political philosophy, but we also need to be figuring out how to transform those ideas into material change.
Which issues impacting CPS students are you most passionate about?
Environmental justice, and specifically water equity and our processes for checking for lead in pipes across the city. I am also passionate about funding equity, which comes from my firsthand experience attending a predominantly Black school. My peers deserve to have access to the resources and opportunities that will help them make the most out of their education.
What is your advice for CPS students who want to get more involved in their communities?
Be loud. Don't be afraid to be the person in the room who says what everyone else is thinking. Or better yet, be the person in the room who doesn't talk the most, but who speaks up when it's important. Don't be afraid of your own power—you have it for a reason, so use it.
What do you like doing outside of school?
I really like roller skating, and I'm a big reader. I read a lot of philosophy, and I love American gothic fiction. My favorite author is Toni Morrison. Also, my mom is a caterer and throws a lot of parties. I'll help her with her events, but only with things that don't involve touching the stove... I cannot cook. The last time I tried, I accidentally burned the noodles.
Where do you see yourself in the future?
Working in water equity. I want to study chemical engineering at Yale and work in New York. I would also like to become a debate coach in some capacity, and I see myself potentially going to law school to work in criminal justice, or patents if I stay on the chemical engineering path.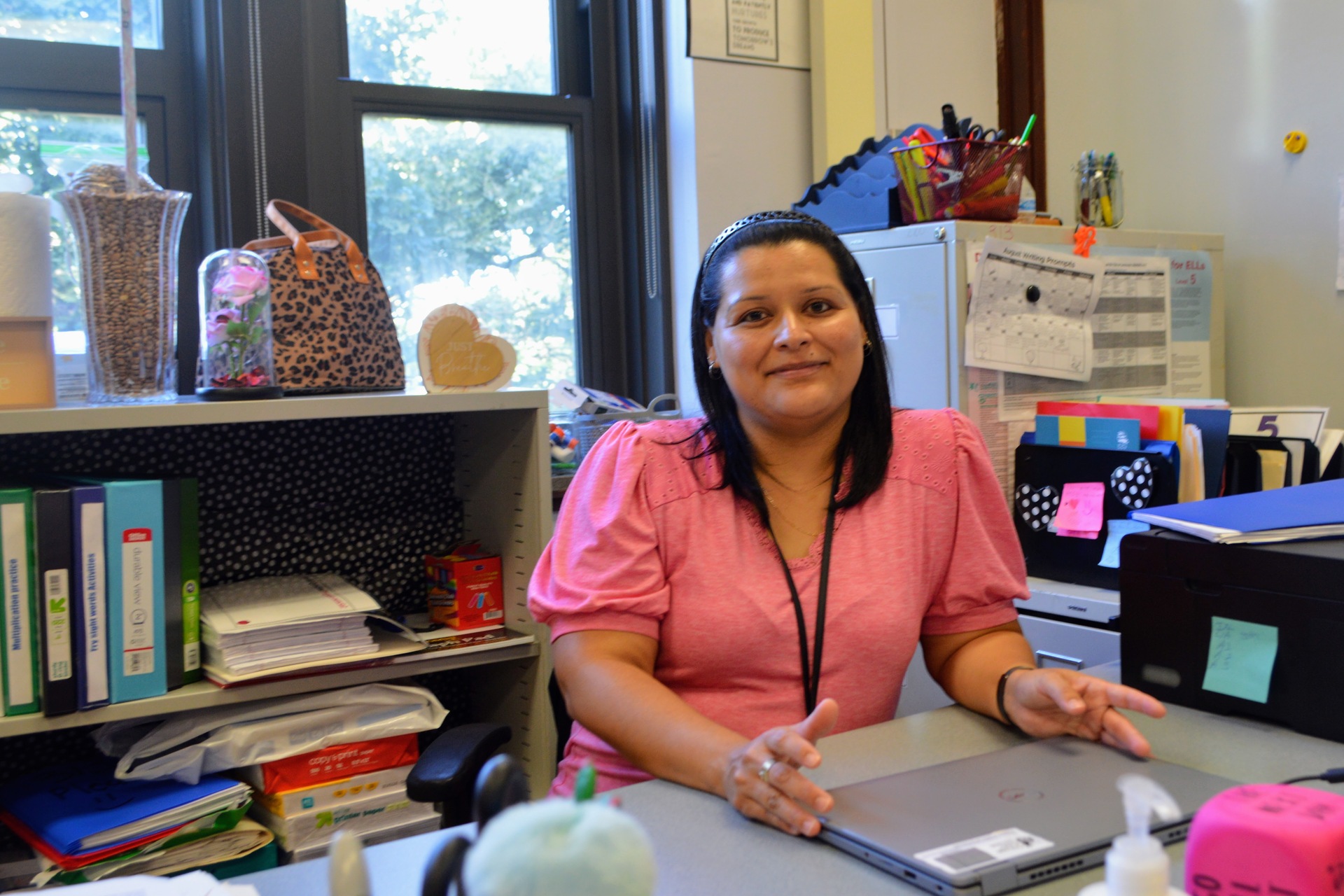 Highlighting Our Amazing Teachers
The school year is off to a great start, and the District's phenomenal teachers are a big reason why. At Burbank Elementary School, bilingual educator Mrs. Isela Garcia-Saldana says that her approach to teaching stems from the fact that she enjoyed school growing up and felt that she had great teachers in her bilingual classes.
She's a mom of both a current Burbank student and two Burbank graduates. She's a former Burbank parent volunteer and special education classroom assistant. She's also a CPS graduate and, like many of her students, came to the United States when she was young. All of these different pieces of her identity have allowed her to create a classroom environment where everyone feels like they belong.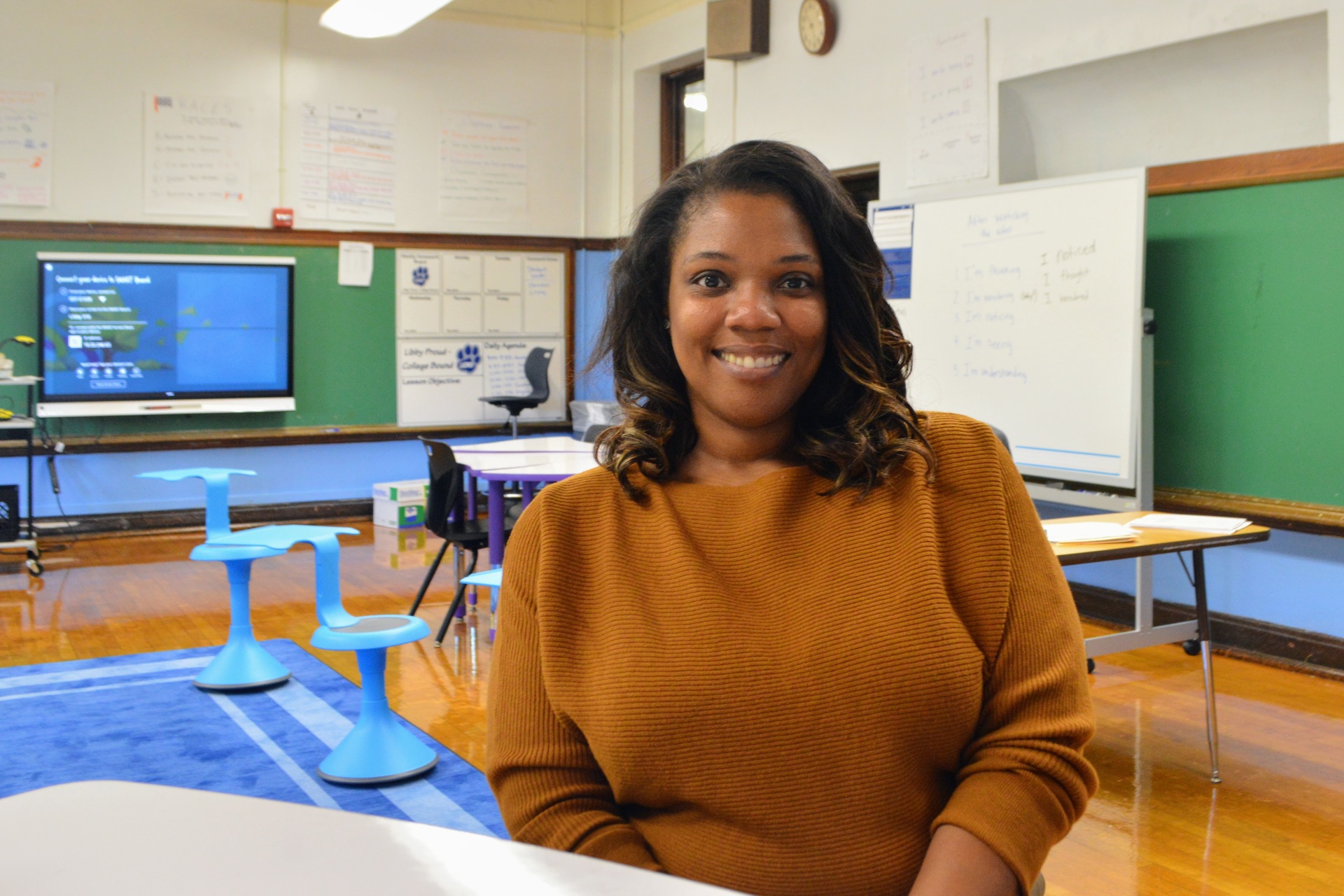 And, at Libby Elementary School, diverse learner teacher Ms. Mekea Williamson wants her students to remember that they have a voice and hopes that they never settle for anything less than being respected while also respecting others. This same advice helped her as a CPS student, so she knows firsthand how powerful it can be.
She cultivates self-advocacy within her students by making sure they know how to find resources on their own. If a student needs more one-on-one attention, she always makes herself available. While she never strays from giving a student grade-level work, she creatively adjusts the pace or quantity of the work given to ensure that she is meeting the student where they are and that they are able to feel a sense of success and accomplishment.
A Look Around the District
Check out some highlights from past events happening in our District!
At Simeon High School, located in the Chatham neighborhood on the South Side, a group of 14 students were able to participate in a Carpentry program sponsored by One Summer Chicago. Throughout their summer, the students learned more about framing walls, drywalling, how to do construction math, and expanded on their woodworking techniques.
And Sabin Elementary School, located in the Wicker Park neighborhood, started off the school year with its first-ever Back to School Bash. With over 200 families in attendance, students were able to celebrate with games, food, free haircuts and braiding services from Traditions Barber Shop. Families were also provided with resources and other free services to prepare for the school year!
Want to Make a Lasting Impact on Your School? Run for Your Local School Council!
Serving on a Local School Council (LSC), and voting in the LSC election that will take place later this school year, are two impactful ways that parents, staff, community members, and even students can do to make a difference at their schools.
On Thursday, September 21, CPS will hold a kick-off event with information on how joining the LSC and voting in the upcoming elections can make a positive impact on your school and community. Here's how to participate:
When: Thursday, September 21, 2023
Time: 6–7 p.m.
Location: Virtual
RSVP Information: cps.edu/lscregistration (By completing this form, you will ensure that a meeting link is sent to you approximately 30 minutes before the event begins).
Languages: Spanish interpretation and American Sign Language interpretation will be provided.
LSCs play a critical role in the success of our schools. They help ensure students and staff are able to benefit from strong leadership, equitable resources, and a vision that meets the needs of the whole child.
Please attend the information session on Thursday, September 21 for more information on the upcoming LSC election.
New Menu Offerings at CPS Schools
The CPS Department of Nutrition Support Services spent the summer visiting schools, conducting tastings, and getting feedback from students on potential new menu items. Items that were rated highly by students are now on school menus for this school year.
New Menu Items at Schools Managed by Aramark

New Menu Items at Schools Managed by Open Kitchens

Biscuits and gravy
Chicken aloha bowl

Flatbread pizza kit
Gyros
Penne with alfredo or meat sauce
New smoothie flavors

Chili cheese fries
Hot honey popcorn chicken
Jerk pasta salad
Turkey barbacoa and kielbasa
As a reminder, all CPS menu items are pork free. You can review additional CPS nutrition guidelines here and view school menus here.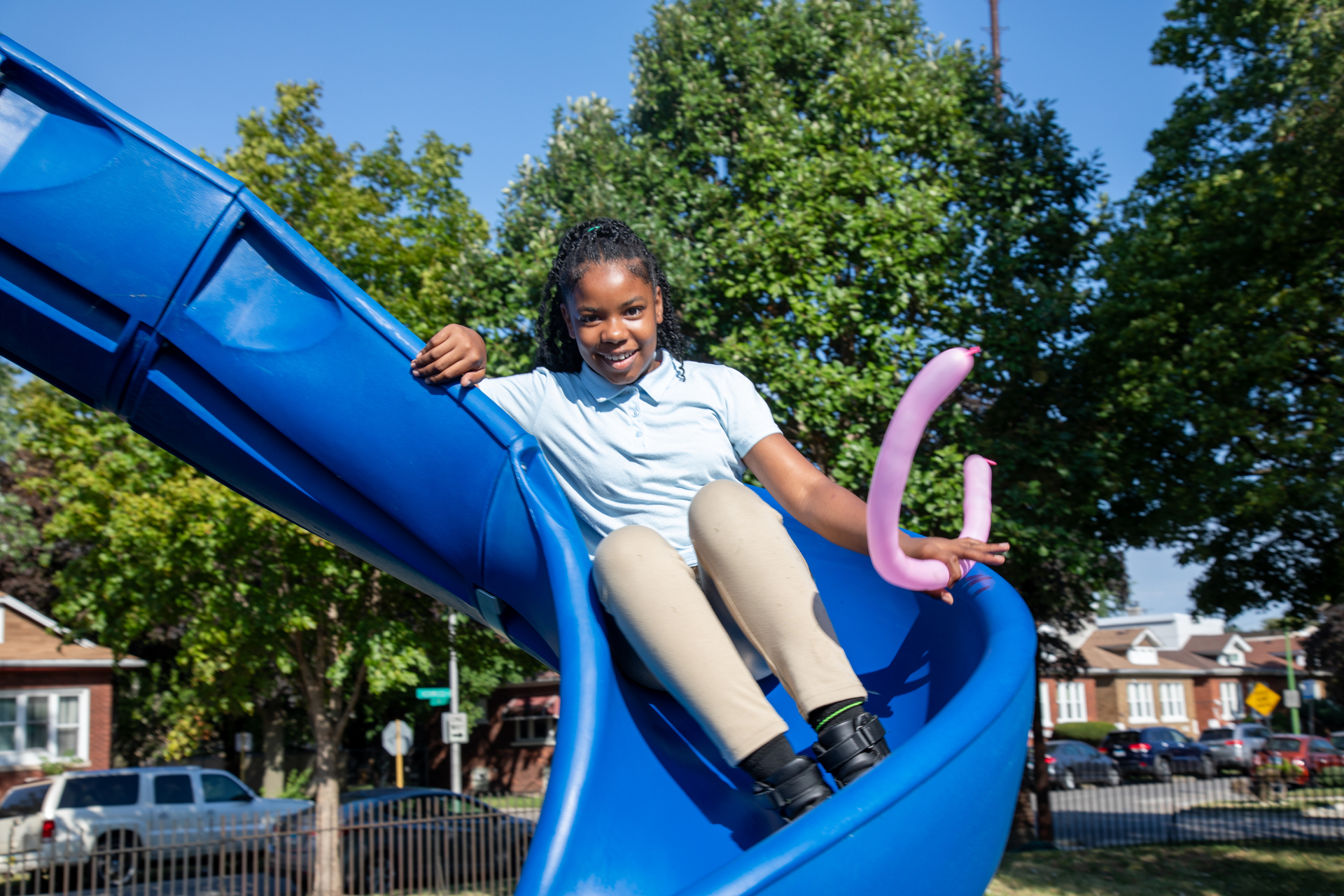 An Exciting Addition to Expand Play
Thanks to a collaboration between CPS and several partners, including Discover and KABOOM!, students at Avalon Park Elementary School on Chicago's south side now have a brand new playground to enrich their school experience. With a modern design that reflects the school's signature color of blue, this playground includes three slides, a climbing net, and several interactive games, all atop a safe, rubber surface. Part of our District's ongoing commitment to invest in neighborhood schools, this new play space will provide students with many benefits, including an increased feeling of pride and connectedness with their school.
Important Information for Families Receiving Medicaid Benefits
All families who receive Medicaid benefits must renew them annually. The State of Illinois is currently mailing renewal forms on a rolling basis. The envelope will look like this:

Once you receive your renewal form, please fill it out and send it back as soon as possible to ensure that your family does not lose Medicaid coverage.
You can also renew your benefits online. Visit abe.illinois.gov and click "Manage My Case" to log in to your account. A step-by-step guide to renewing your benefits either by mail or online can be found at cps.edu/medicaid.
If you need assistance, you can call the Healthy CPS Hotline at 773-553-KIDS (5437) or fill out an assistance request form, and a coordinator from the CPS Office of Student Health and Wellness will be happy to assist you.
A Ticket Offer from the Chicago Red Stars
Join the Red Stars in welcoming back our World Cup players on Sunday, September 17 at 5 p.m. at SeatGeek Stadium in Bridgeview. CPS families can take advantage of this first-come, first-serve exclusive discount offer. Get your tickets now!
Important Dates
For more upcoming events around the District, visit cps.edu/calendar.
Wednesday, September 20: September Board Agenda Review Committee Meeting. Learn more at cpsboe.org.
Friday, September 22: Professional development day for school staff; no classes for CPS students.
Thursday, September 28: September Board of Education Meeting. Learn more at cpsboe.org.
---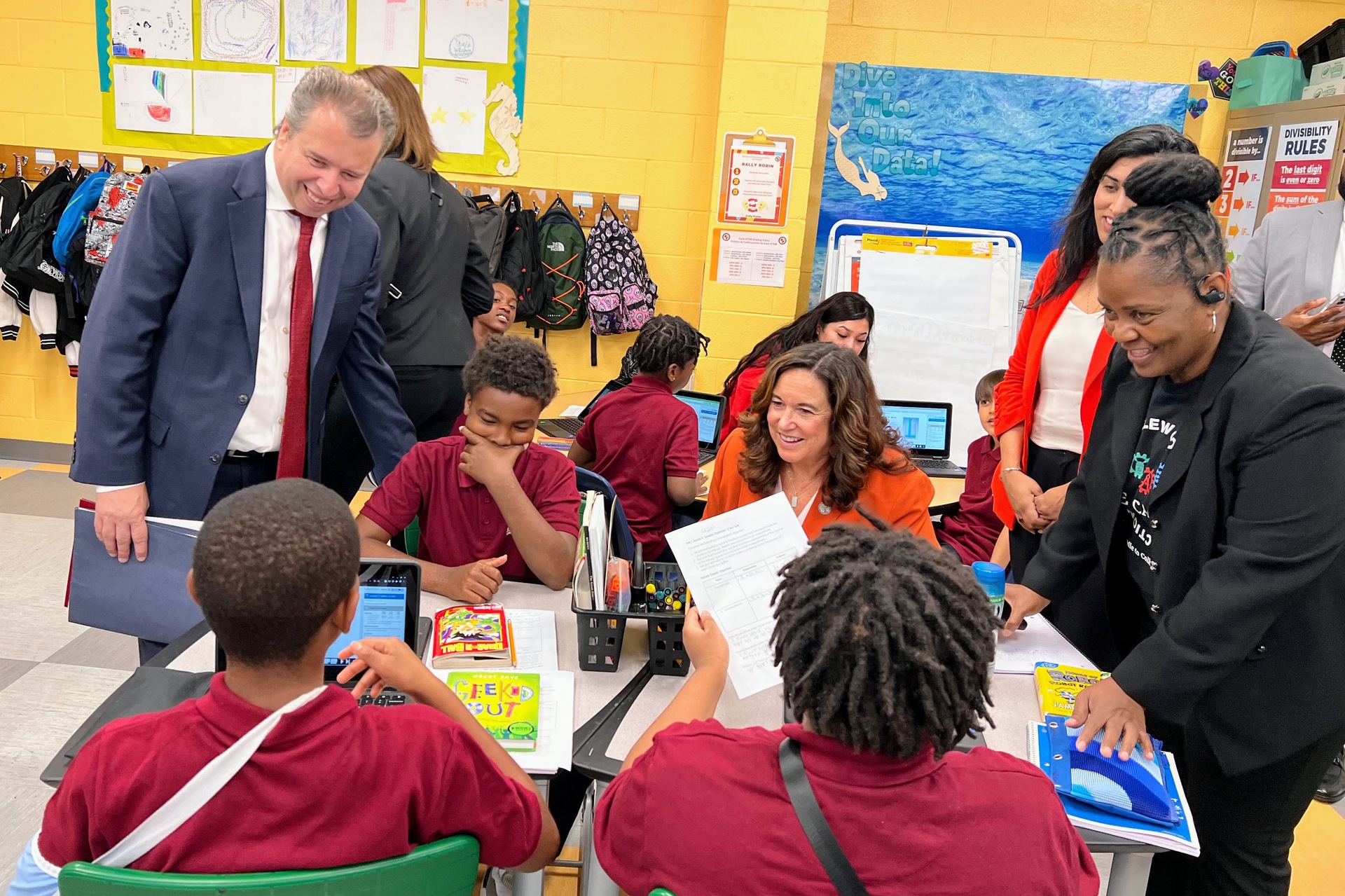 Estimadas familias, colegas y simpatizantes de las CPS:
Esta semana, nuestro Distrito tuvo el placer de tener como huésped a Cindy Marten, subsecretaria de Educación de los Estados Unidos, y de poder demostrarle como las CPS están trabajando para apoyar la recuperación académica de nuestros estudiantes tras la pandemia de COVID-19. La visita también presentó una oportunidad para que pudiéramos resaltar las valiosas colaboraciones que ayudan a acelerar el aprendizaje por el Distrito, además de nuestra expansión significativa del álgebra de escuela intermedia.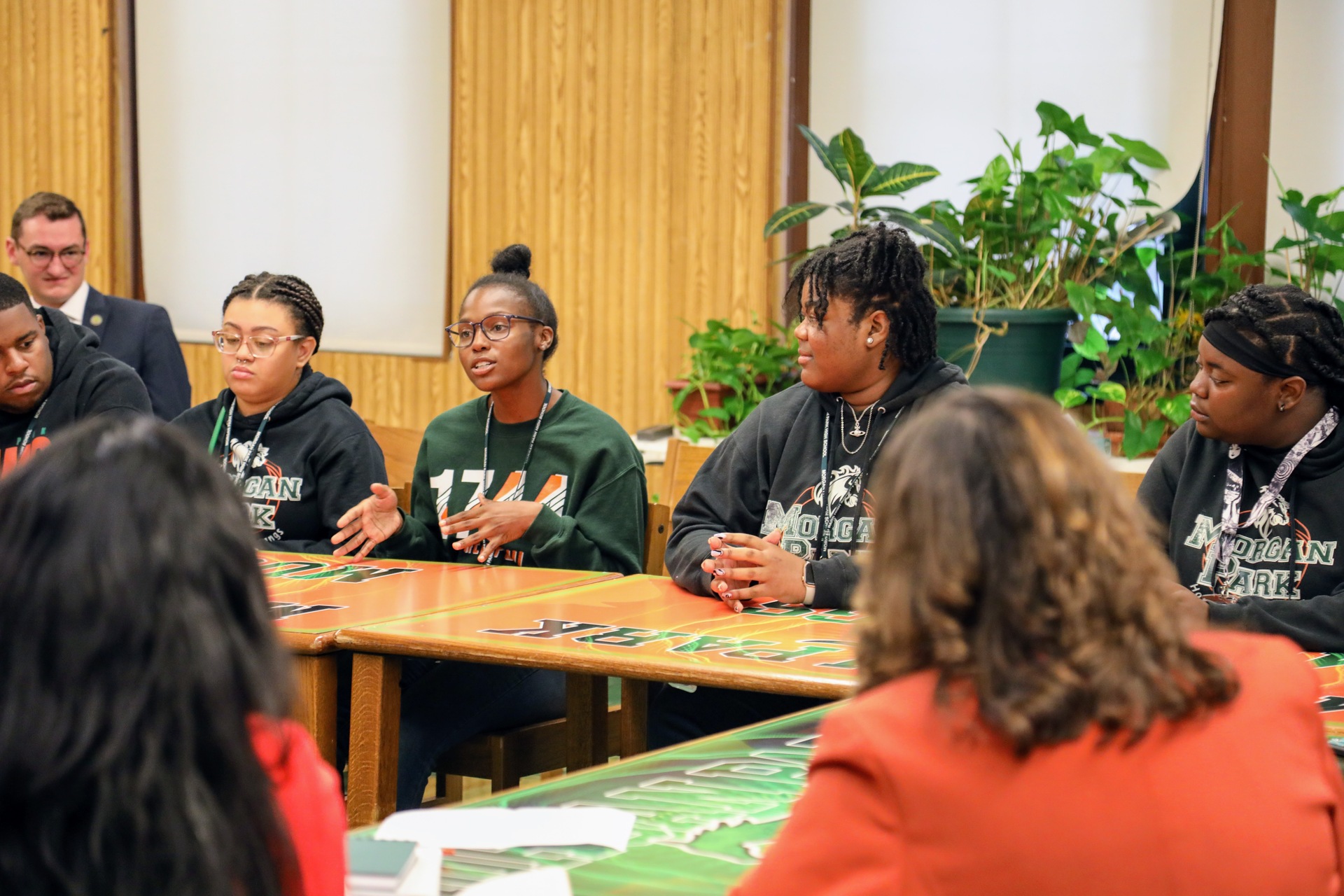 La visita incluyó paradas en dos escuelas de las CPS, comenzando con la Escuela Secundaria Morgan Park, en el extremo sur de Chicago. La subsecretaria Marten, junto conmigo, la directora de educación Bogdana Chkoumbova y los miembros de la comunidad escolar, discutimos la participación de Morgan Park en el programa National Partnerships for Student Success (NPSS), un esfuerzo nacional para reclutar y entrenar adultos que puedan trabajar directamente con las escuelas para mejorar los futuros académicos, sociales y emocionales de los estudiantes tras la pandemia.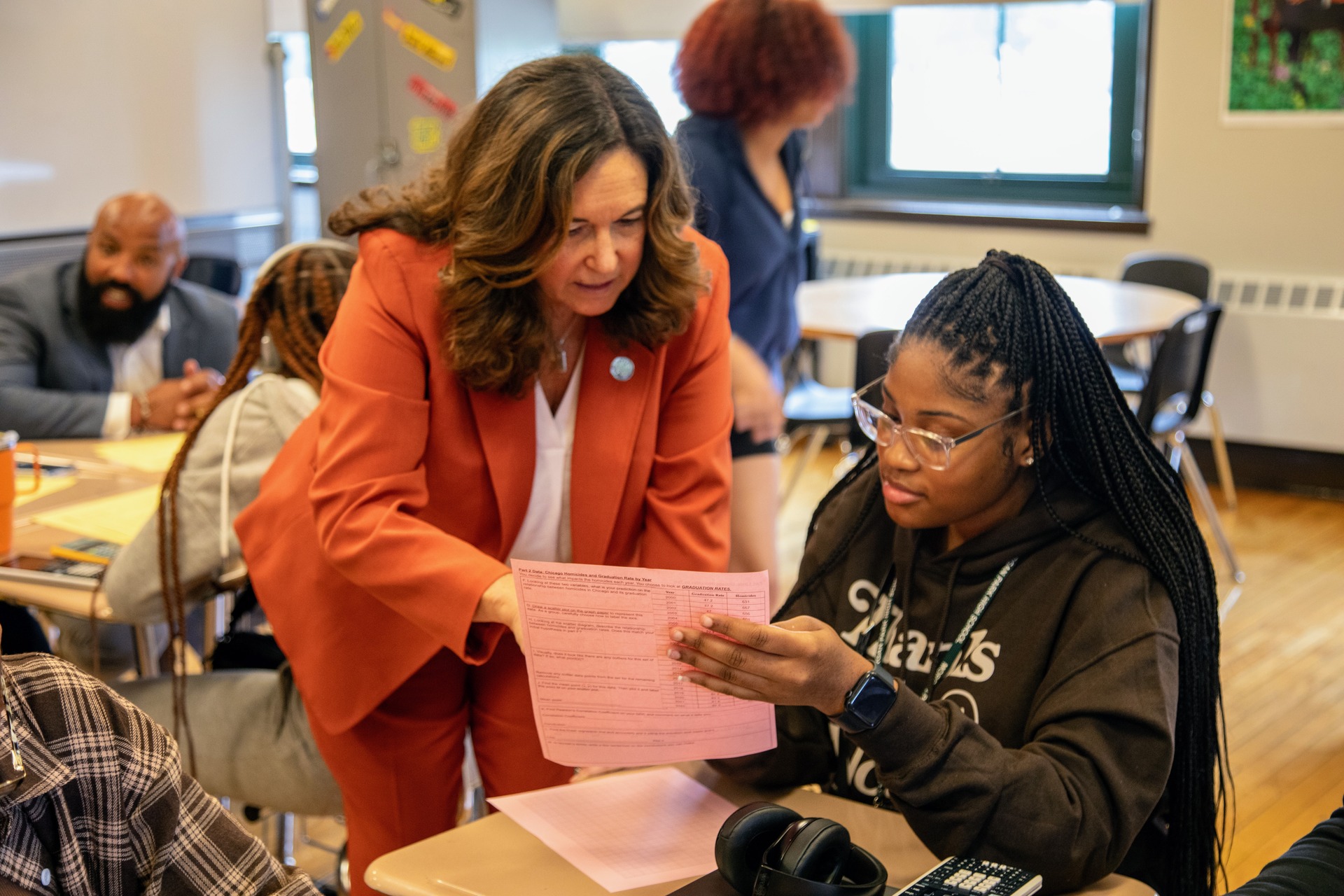 En Morgan Park, la colaboración con NPSS ha tomado varias formas entusiasmantes, como tutorías de matemáticas de altas dosis de parte de nuestros colaboradores en la organización sin fines de lucro SAGA y una profunda relación con la organización College Possible, que brinda respaldo a los estudiantes de Chicago durante su trayectoria para obtener un título universitario.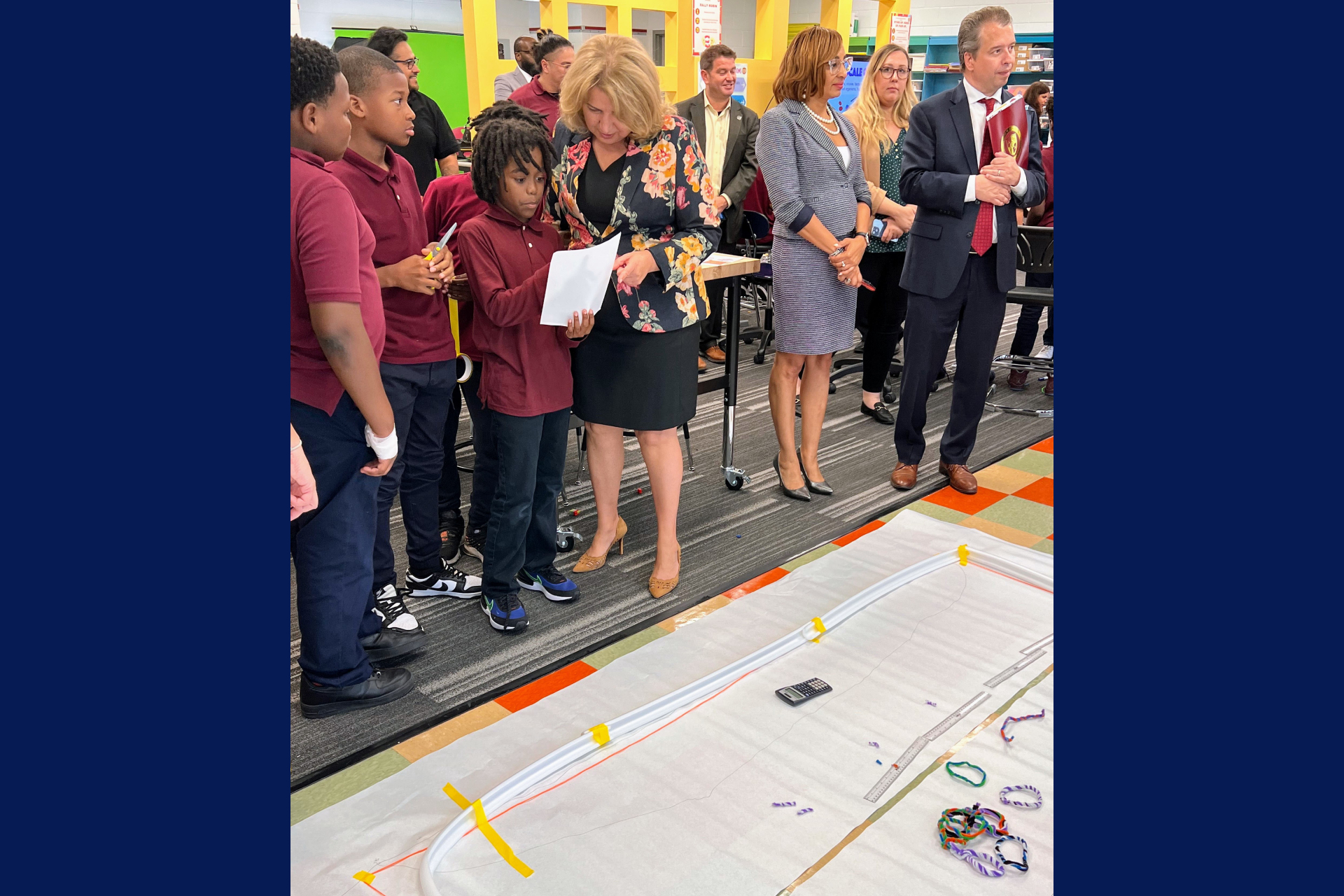 En la Academia de CTIM Earle, en la comunidad de Englewood, pudimos enseñarle a la subsecretaria Marten aún más evidencia del poder de NPSS. El respaldo de esta iniciativa ha contribuido a programas de tutoría, aumentos en el respaldo socioemocional y un programa para ayudar a preparar a los estudiantes de octavo grado a tener una exitosa transición hacia la escuela secundaria. Las colaboraciones también sirven como anclas para la comunidad escolar de Earle en su plenitud, conectando a las familias con servicios y recursos locales mientras auspician una colección robusta de clases y programas para padres.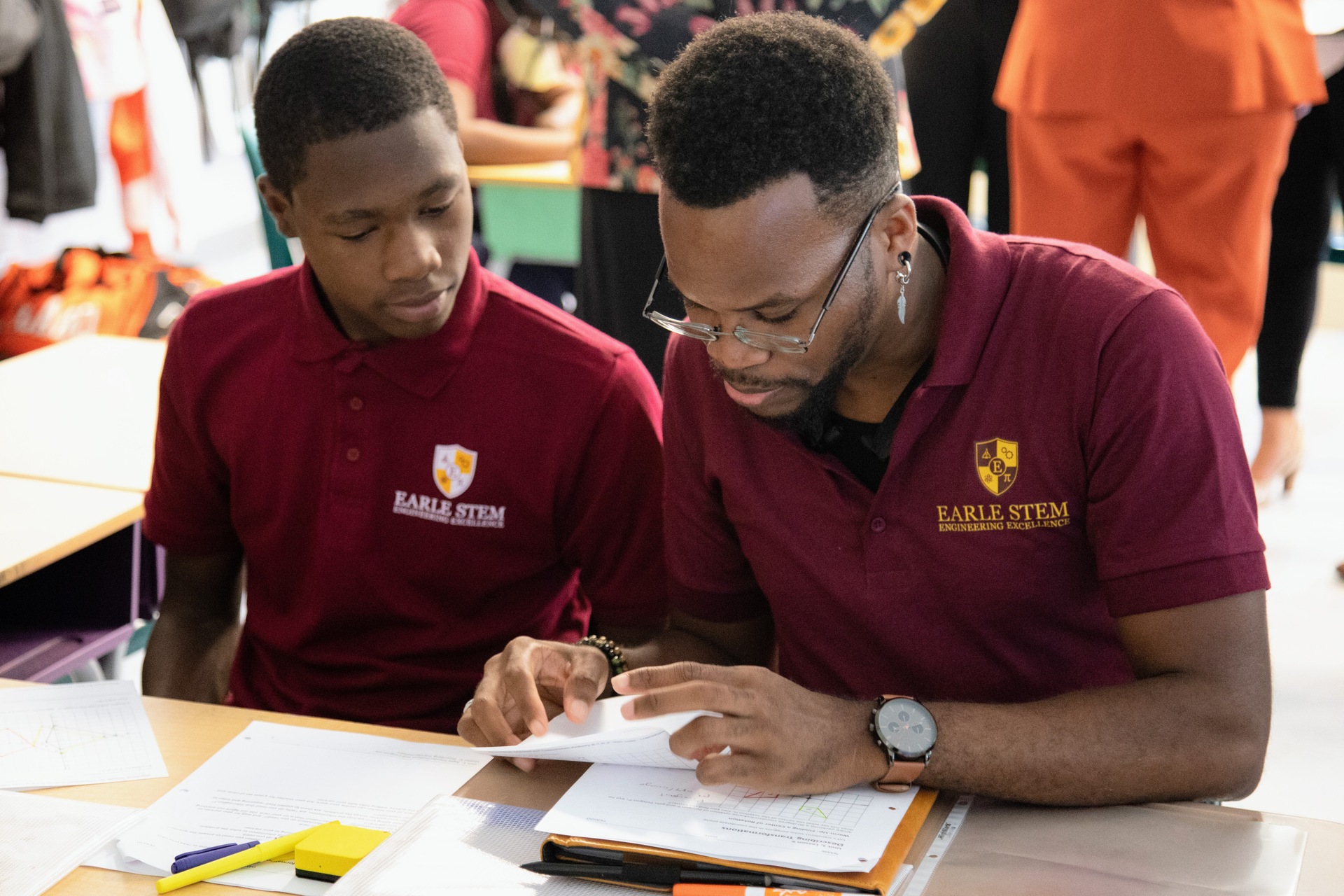 Una de mis partes favoritas de la visita de esta semana fue el exhibir todo lo que hacen las CPS para expandir el acceso al álgebra en nuestras escuelas intermedias. Junto a más de cien otras escuelas por el Distrito, Earle es parte de un programa de acceso expandido al álgebra. Por medio de este programa, miles de estudiantes de las CPS logran completar cursos de álgebra de escuela secundaria como estudiantes de escuela intermedia, dándoles la oportunidad de tomar cursos de matemáticas más avanzados una vez lleguen a la escuela secundaria, como Cálculo AP.
Gracias en gran parte a este programa de acceso expandido, la cantidad de escuelas de las CPS que ofrecen álgebra de escuela intermedia ha crecido significativamente en los últimos años, junto a la cantidad de estudiantes tomando y aprobando la Algebra Exit Exam, prueba que determina si estos estudiantes pueden pasar a otras materias de matemática en el noveno grado.
Más del 98% de las escuelas primarias de las CPS ahora ofrecen programación de álgebra, un aumento de aproximadamente 20% en comparación con hace dos años.
El año escolar pasado, más del 87% de las escuelas que ofrecen este programa tuvo estudiantes que pasaron a tomar la Algebra Exit Exam (un aumento de 11% en comparación con el año escolar 2021-22).
La tasa de aprobación entre estudiantes de octavo grado que toman la Algebra Exit Exam ha aumentado por siete puntos de porcentaje en los últimos dos años, el nivel que habían demostrado los estudiantes antes de la pandemia.
El enfoque en acelerar el crecimiento matemático de los estudiantes no solo los ayudará en la escuela secundaria: los beneficios también se harán sentir en la educación superior y el ámbito profesional, ya que nuestros estudiantes estarán mejor preparados para trabajos en campos de alta demanda en CTIM.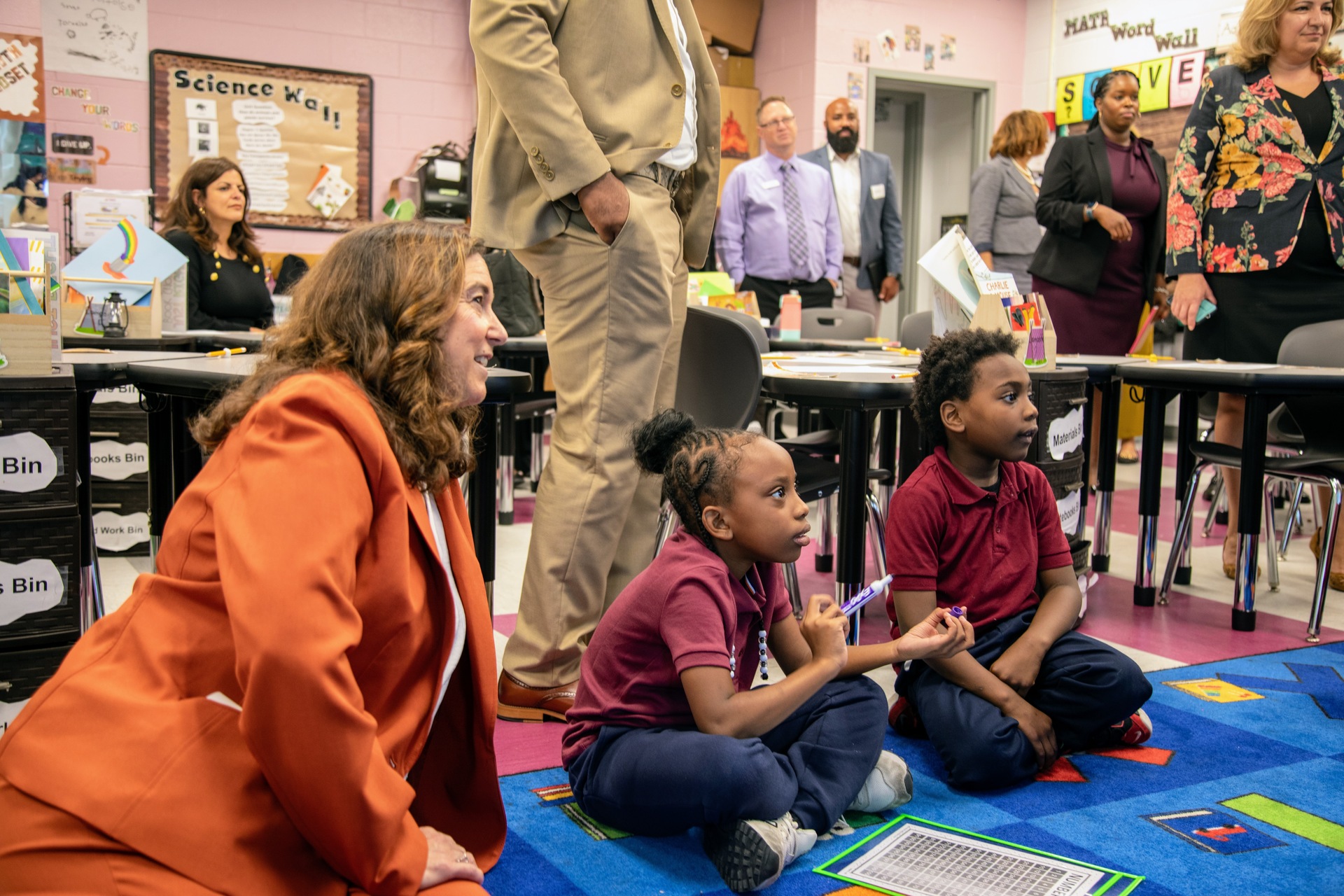 Fue un honor tener como huésped en nuestras escuelas a la subsecretaria Marten, y exhibir parte de nuestra labor de recuperación académica que ha demostrado ser tan exitosa para los estudiantes de las CPS. Espero con entusiasmo nuestra colaboración continua y agradezco a todos en nuestro Distrito por su esfuerzo en impulsar el progreso académico de nuestros estudiantes.
Sinceramente,
Pedro Martínez
Director ejecutivo
Escuelas Públicas de Chicago
¡Ayúdenos a resaltar su escuela!
Nos encanta resaltar las cosas fantásticas que ocurren cada día en nuestras escuelas, junto a las personas que las llevan a cabo. No hay mejor fuente para estas buenas noticias que ustedes los miembros de nuestras comunidades, y por lo tanto esperamos que consideren compartir sus historias por medio de este breve formulario (en inglés).
Sugerencia: El Mes de la Herencia Hispana comienza el 15 de septiembre. ¡Comparta cómo planea celebrar su escuela!
¡Ayúdenos a demostrarle al mundo que los mejores están con las CPS! Llene este formulario (en inglés) para que podamos compartir sus historias en este boletín, el blog de nuestro Distrito o nuestros canales de redes sociales.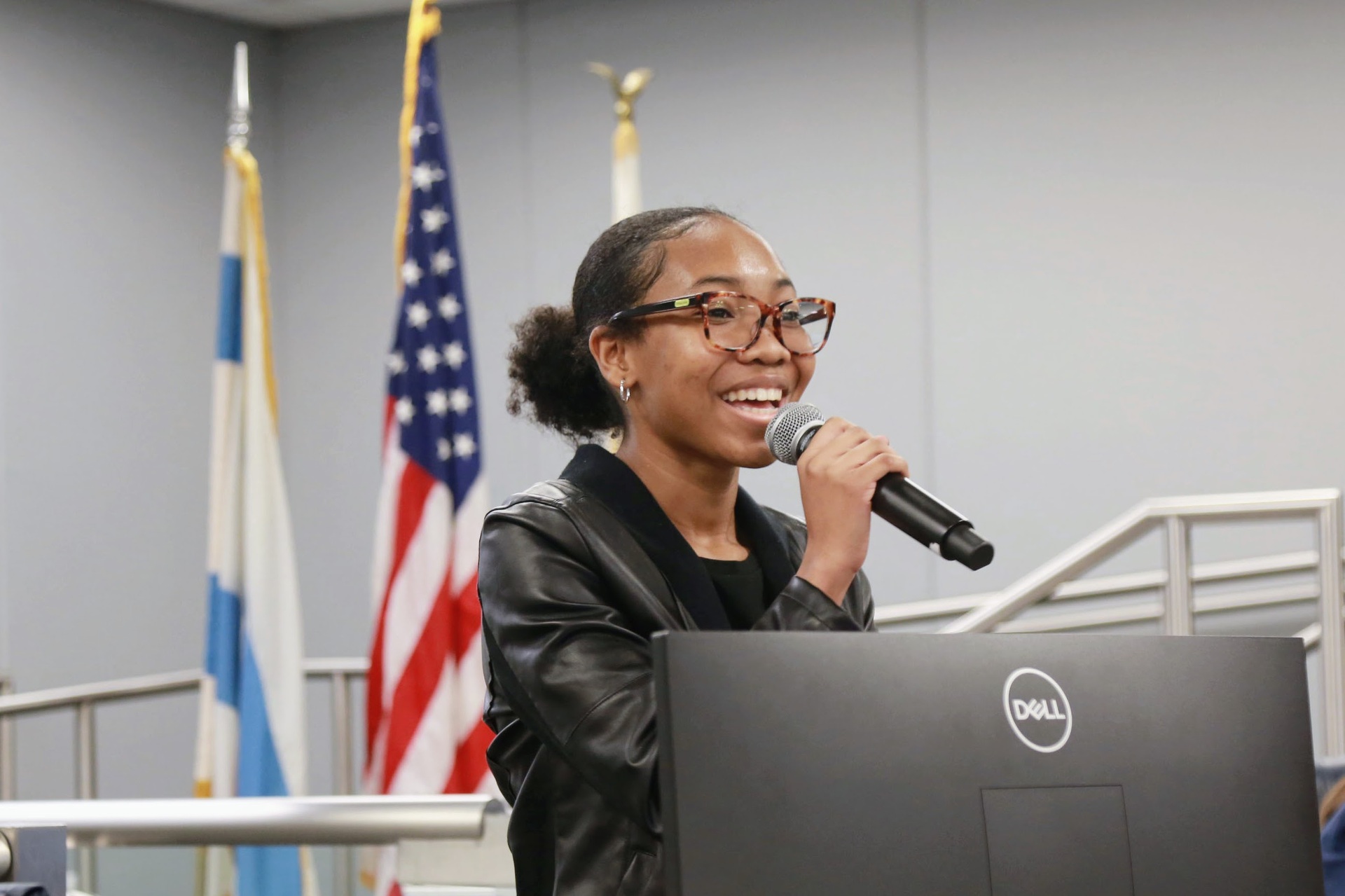 Cinco preguntas es una serie que resalta a algunos de los muchos miembros de la comunidad de las CPS que van más allá por nuestras escuelas. Si conoce a alguna persona que esté haciendo una diferencia, nomínela para que aparezca aquí (formulario en inglés).
Hoy nos complace resaltar a Kate'Lynn S., una estudiante de undécimo grado de la Escuela Secundaria Kenwood Academy y la estudiante miembro honoraria de la Junta de Educación para el año 2023-24.
Kate'Lynn se describe como una "persona escolar"; le encanta Kenwood y la comunidad que ha encontrado ahí. Cuando era más niña, Kate'Lynn principalmente permanecía callada. Sin embargo, una vez llegó a Kenwood, en el séptimo grado, se le abrieron los ojos y descubrió el tipo de líder estudiantil que podía ser. Kate'Lynn se zambulló bocarriba a cualquier oportunidad que le interesaba, y rápidamente descubrió una pasión por el gobierno estudiantil, el debate, y la voz.
Kate'Lynn se enteró de la oportunidad de ejercer como estudiante miembro honoraria de la Junta de Educación gracias a su consejera de escuela secundaria, Julie Stanton, quien le dijo que sería perfecta para el puesto.
Como estudiante miembro honoraria de la Junta de Educación, Kate'Lynn representa al estudiantado de las CPS asistiendo a las reuniones mensuales de la Junta de Educación de Chicago y abogando por las opiniones estudiantiles para sí misma y sus compañeros.
El plazo de solicitud para solicitar para convertirse en el estudiante miembro honorario de la Junta de Educación el próximo año escolar comenzará la primavera de 2024. Se les exhorta que soliciten a todos los estudiantes que estén en undécimo o duodécimo grado durante el año escolar 2024-25 y estén interesados en obtener experiencia de liderazgo y dirigir el futuro del Distrito. Visite cpsboe.org para ver el calendario de reuniones de la Junta.
¿Cuáles son tus metas como la estudiante miembro honoraria de la Junta de este año?
Estoy aquí por los estudiantes. Quiero asegurar que todos los comités de opiniones estudiantiles de nuestras escuelas sean robustos y bien respaldados, y explorar cómo podemos crear más oportunidades para que los jóvenes puedan hablar sobre la política y la vida cultural. Me interesa mucho aprender más sobre cómo interactúan las CPS y los sistemas de nuestra ciudad, y quién tiene jurisdicción sobre qué. Creo que es importante tener una filosofía política, pero también necesitamos ver cómo podemos hacer de esas ideas cambios materiales.
¿Qué asuntos que impactan a los estudiantes de las CPS son los que más te apasionan?
La justicia ambiental, especialmente la equidad de agua y nuestros procesos para detectar plomo en la tubería de la ciudad. También me apasiona la equidad en el financiamiento, que proviene de mi experiencia directa como estudiante de una escuela predominantemente negra. Mis compañeros merecen acceso a los recursos y oportunidades que los ayudarán a obtener el máximo de su educación.
¿Qué consejos tienes para los estudiantes de las CPS que quieran estar más involucrados en sus comunidades?
Sé ruidoso. No tengas miedo de ser la persona en el salón que dice lo que todos los otros piensan. Mejor todavía, sé la persona que, aunque no sea la que más habla, habla cuando es importante. No temas tu propio poder: lo tienes por una razón, o sea que úsalo.
¿Qué te gusta hacer fuera de la escuela?
Me gusta mucho patinar, y soy una lectora ávida. Leo mucha filosofía, y me encanta la ficción gótica estadounidense. Mi autora favorita es Toni Morrison. Además, mi mamá es caterer y organiza muchas fiestas. Yo la ayudo con sus eventos, pero solo con las cosas que no involucran tocar la estufa: no puedo cocinar. La última vez que lo intenté, accidentalmente quemé los fideos.
¿Dónde te ves en el futuro?
Trabajando en el campo de la equidad de agua. Quiero estudiar ingeniería química en Yale y trabajar en Nueva York. También me gustaría ser entrenadora de debate de alguna manera, y me veo potencialmente yendo a la escuela de derechos para trabajar en la justicia criminal, o con patentes si permanezco en la trayectoria de ingeniería química.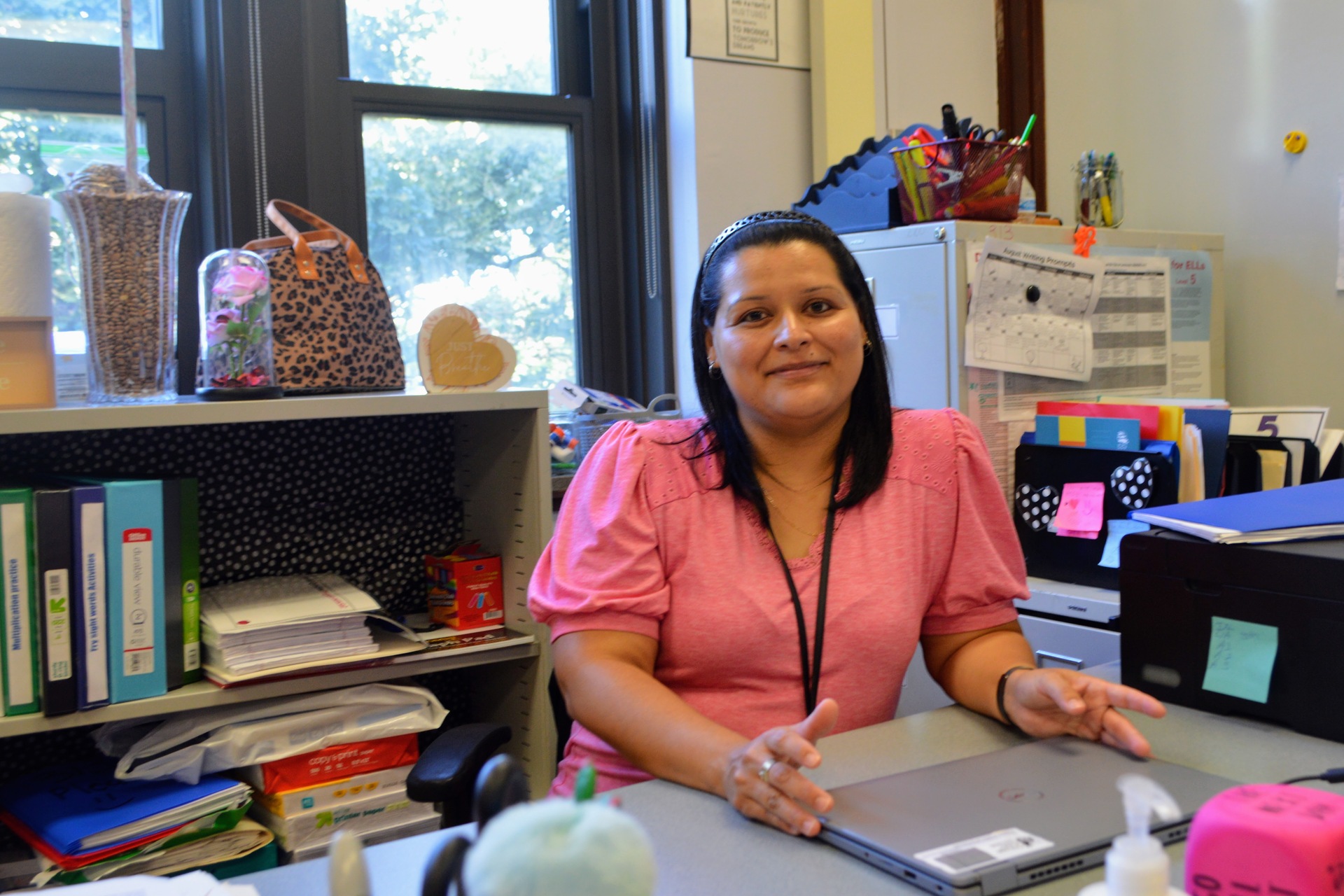 Resaltando a nuestros fantásticos maestros
El año escolar ha tenido un comienzo fantástico, y esto se debe en gran parte a los fenomenales maestros de nuestro Distrito. En la Escuela Primaria Burbank, la educadora bilingüe Isela García-Saldana dice que su enfoque educativo proviene de lo mucho que disfrutó de la escuela mientras crecía, y como sintió que tuvo excelentes maestros en sus clases bilingües.
Isela es madre de una estudiante actual de Burbank y dos egresados de la misma. Es una antigua madre voluntaria de Burbank y asistente de aula de educación especial. También es egresada de las CPS y, como muchos de sus estudiantes, vino a los Estados Unidos cuando era joven. Todas estas partes distintas de su identidad le han permitido crear un ambiente educativo donde todos se sienten acogidos.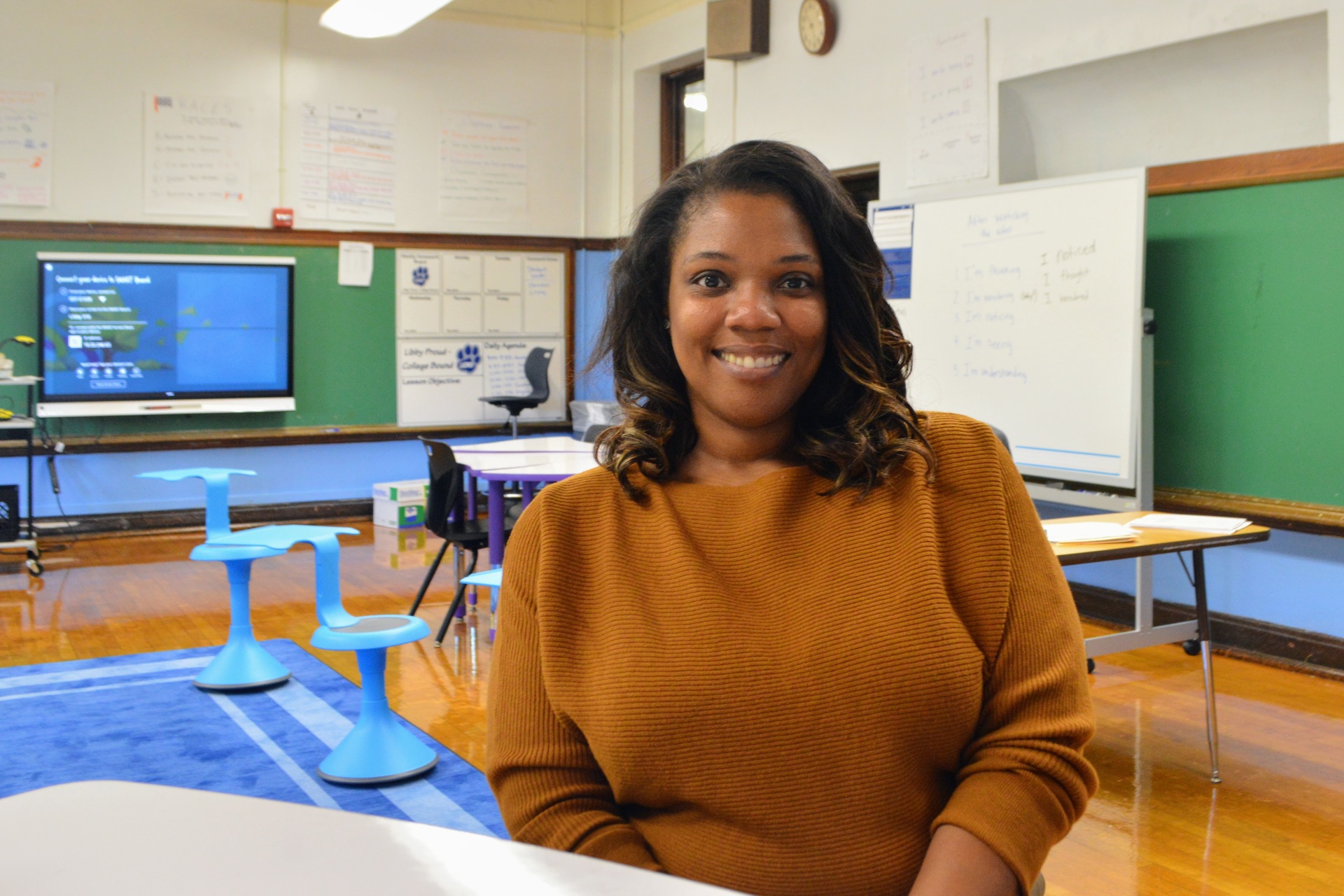 Y, en la Escuela Primaria Libby, Mekea Williamson, maestra de aprendices diversos, desea que sus estudiantes recuerden que tienen una voz y espera que nunca se conformen con menos respeto del que merecen, y que por su parte respeten a los demás. Esta misma idea la ayudó cuando era estudiante de las CPS, y por lo tanto sabe lo poderosa que puede ser.
Mekea busca que los estudiantes aboguen por sí mismos, asegurando que sepan cómo encontrar recursos por su cuenta. Si un estudiante necesita atención más personal siempre busca estar disponible. Aunque nunca olvida darles a los estudiantes trabajo apto para sus grados, sí ajusta creativamente el ritmo o la cantidad de trabajo para asegurar que esté a la par con cada estudiante y asegurar que puedan sentir satisfacción y orgullo.
Una mirada por el distrito
¡Vea algunos de los eventos más destacados que han ocurrido en nuestro Distrito!
En la Escuela Secundaria Simeón, localizada en el barrio Chatham, en el lado sur de Chicago, un grupo de catorce estudiantes logró participar en un programa de carpintería auspiciado por One Summer Chicago. Durante el verano, los estudiantes aprendieron más sobre el enmarcado de paredes, la instalación de cartón yeso, cómo hacer matemáticas relacionadas a la construcción, y expandieron sus técnicas de carpintería.
Y la Escuela Primaria Sabin, localizada en el barrio Wicker Park, comenzó el año escolar con su primer Back to School Bash. En esta fiesta, a la cual asistieron más de 200 familias, los estudiantes pudieron celebrar con juegos, comida, recortes de cabello y servicios de trenzado gratuitos gracias a Traditions Barber Shop. ¡Las familias también obtuvieron recursos y otros servicios gratuitos para prepararse para el año escolar!
¿Quiere tener un impacto duradero en su escuela? ¡Considere nominarse para su concilio escolar local!
El formar parte de un concilio escolar local (LSC, según sus siglas en inglés) y votar en las elecciones de LSC que tomarán parte este año escolar son dos maneras impactantes en que los padres, el personal, los miembros de la comunidad y hasta los estudiantes pueden hacer una diferencia en sus escuelas.
El jueves, 21 de septiembre, las CPS tendrán un evento de inauguración con información sobre cómo el unirse a un LSC y votar en las siguientes elecciones puede tener un impacto positivo en su escuela y comunidad. Aquí tiene los detalles para participar:
Fecha: Jueves, 21 de septiembre de 2023
Hora: 6 p. m. a 7 p. m.
Lugar: Virtual
Confirmación de asistencia: cps.edu/lscregistration (Al completar este formulario, asegurará que un enlace a la reunión se le envíe aproximadamente 30 minutos antes del comienzo del evento.)
Idiomas: Se ofrecerá interpretación en español y la lengua de señas americana.
Los LSC juegan un papel crítico en el éxito de nuestras escuelas. Ayudan a asegurar que los estudiantes y el personal se puedan beneficiar de un liderazgo fuerte, recursos equitativos y una visión que satisfaga las necesidades de los niños en sus plenitudes.
Por favor asista a la sesión informativa el jueves, 21 de septiembre para más información sobre las próximas elecciones de los LSC.
Nuevos platos en los menús escolares de las CPS
El Departamento de Servicios de Respaldo Nutricional de las CPS pasó el verano visitando escuelas, llevando a cabo catas y obteniendo las opiniones de los estudiantes sobre potenciales platos nuevos para los menús escolares. Los platos que fueron altamente calificados por los estudiantes ahora están en los menús escolares este año escolar.
Platos nuevos en escuelas administradas por Aramark

Platos nuevos en escuelas administradas por Open Kitchens

Panecillos con gravy
Bol aloha de pollo
Kit de pizza en pan plano
Gyros
Penne con salsa alfredo o de carne
Nuevos sabores de smoothie

Papas fritas con chile con carne y queso
Palomitas de pollo de miel picante
Ensalada de pasta estilo jerk
Barbacoa y salchicha polaca de pavo
Le recordamos que ningún plato en el menú de las CPS contiene cerdo. Puede ver pautas nutricionales de las CPS adicionales aquí y los menús escolares aquí.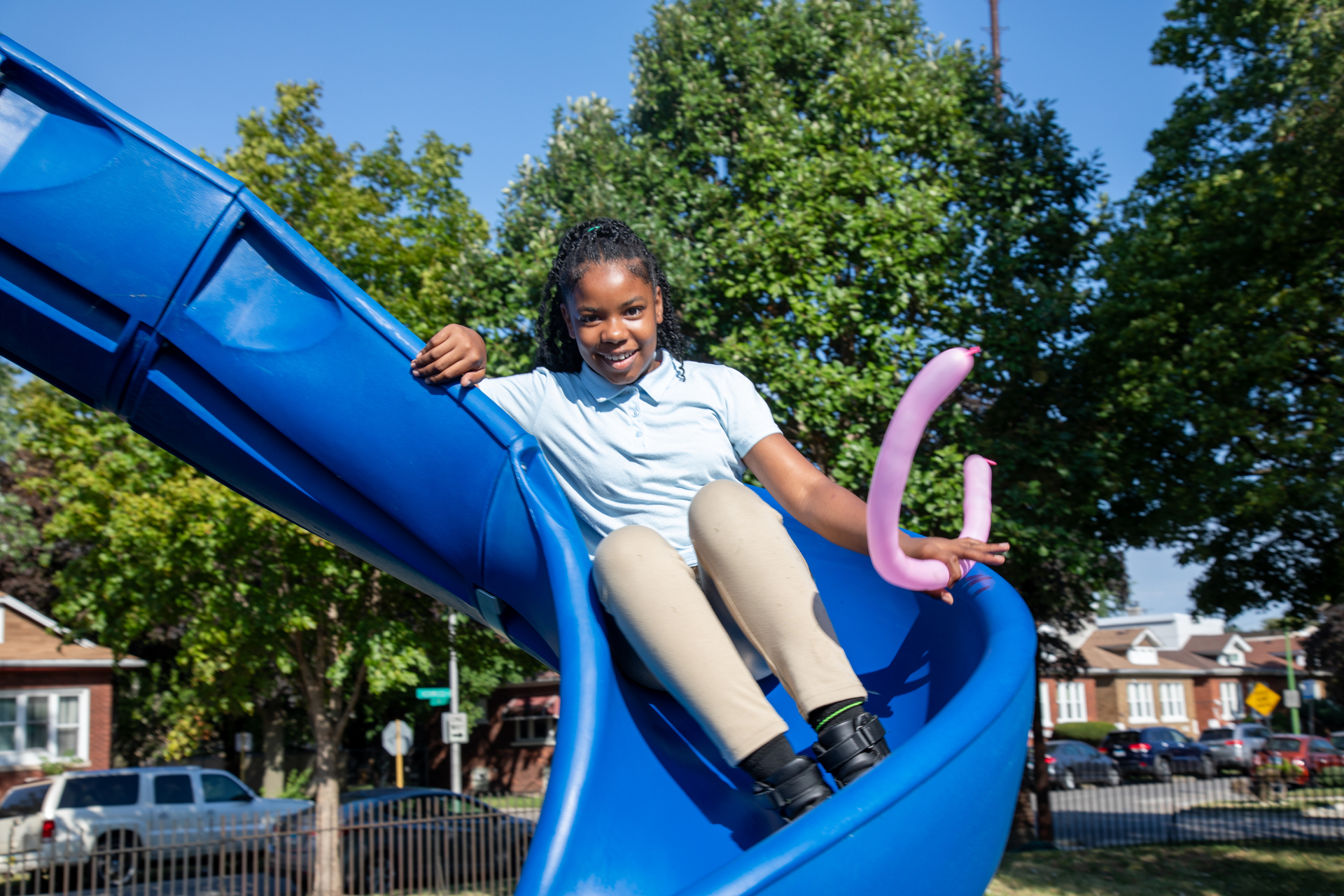 Una nueva y entusiasmante manera de expandir el juego
Gracias a una colaboración entre las CPS y varias entidades asociadas, que incluyen Discover y KABOOM!, los estudiantes en la Escuela Primaria Avalon Park, en el lado sur de Chicago, ahora tienen un nuevo parque de juegos para enriquecer su experiencia escolar. Con un diseño moderno que refleja el color característico de la escuela, el azul, este parque de juegos incluye tres toboganes, una red para escalar y varios juegos interactivos, todos sobre una segura superficie de goma. Este nuevo espacio, parte del compromiso continuo de nuestro Distrito con invertir en las escuelas de vecindarios, brindará muchos beneficios a los estudiantes, como un aumento en su orgullo y conexión con su escuela.
Información importante para familias recibiendo beneficios de Medicaid
Todas las familias que reciban beneficios de Medicaid deben renovarlos anualmente. El estado de Illinois actualmente está enviando por correo, de manera continua, versiones físicas de sus formularios de renovación. El sobre que reciba será así:

Una vez reciba su formulario de renovación, por favor llénelo y devuélvalo lo más pronto posible para asegurar que su familia no pierda su cobertura de Medicaid.
También puede renovar sus beneficios en línea. Visite abe.illinois.gov y haga clic en "Administrar Mi Caso" para entrar a su cuenta. Además, podrá encontrar en cps.edu/medicaid un guía de paso a paso sobre cómo renovar sus beneficios por correo postal o electrónicamente.
Si necesita ayuda con este proceso, llame a la línea directa Healthy CPS al 773-553-5437 o llene un formulario de solicitud de asistencia, y un coordinador de la Oficina de Salud y Bienestar Estudiantiles de las CPS felizmente le asistirá.
Oferta de boletos de las Chicago Red Stars
Únase a las Red Stars para darle la bienvenida de vuelta a nuestras participantes en la Copa Mundial, en un partido que tendrá lugar el domingo, 17 de septiembre a las 5 p. m., en el Estadio SeatGeek en Bridgeview. Las familias de las CPS pueden aprovecharse de esta exclusiva oferta de descuentos, ofrecida por orden de llegada. ¡Obtenga sus boletos ahora!
Fechas Importantes
Para más eventos próximos en el Distrito, visite cps.edu/calendar.
Miércoles, 20 de septiembre: Reunión de septiembre del Comité de Revisión de la Agenda de la Junta. Obtenga más información en cpsboe.org.
Viernes, 22 de septiembre: Día de desarrollo profesional para el personal escolar: los estudiantes de las CPS no tienen clases.
Jueves, 28 de septiembre: Reunión de septiembre de la Junta de Educación. Obtenga más información en cpsboe.org.