Kicking Off Hispanic Heritage Month and GoCPS
15 September 2023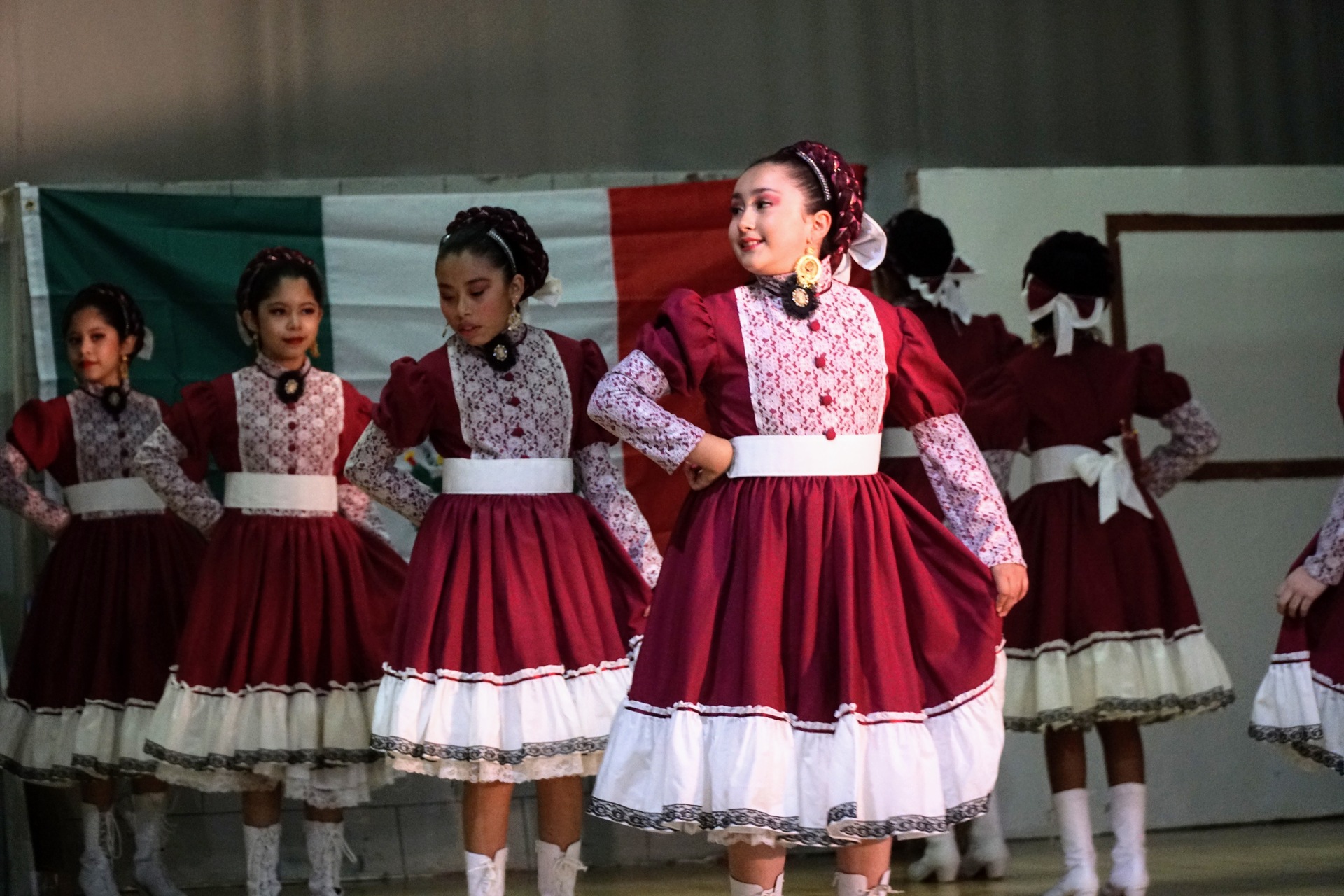 Dear CPS Families, Colleagues, and Supporters,
Today is the start of Hispanic Heritage Month—a time to celebrate Latino history and culture, and a chance to honor people of Latin descent who have made such rich contributions across all facets of American society.
This time of year is very personal for me. Growing up in Chicago's Pilsen community, I was always made to feel proud of my identity, and I want our Latino students—the largest segment of our student population—to feel that way as well in their schools. I also want our students not of Latino descent to use this month as an opportunity to learn about other cultures and embrace the diversity they see in their communities.
Schools around the city will host festivals, performances, and other special events and projects as part of Hispanic Heritage Month, some starting as early as today!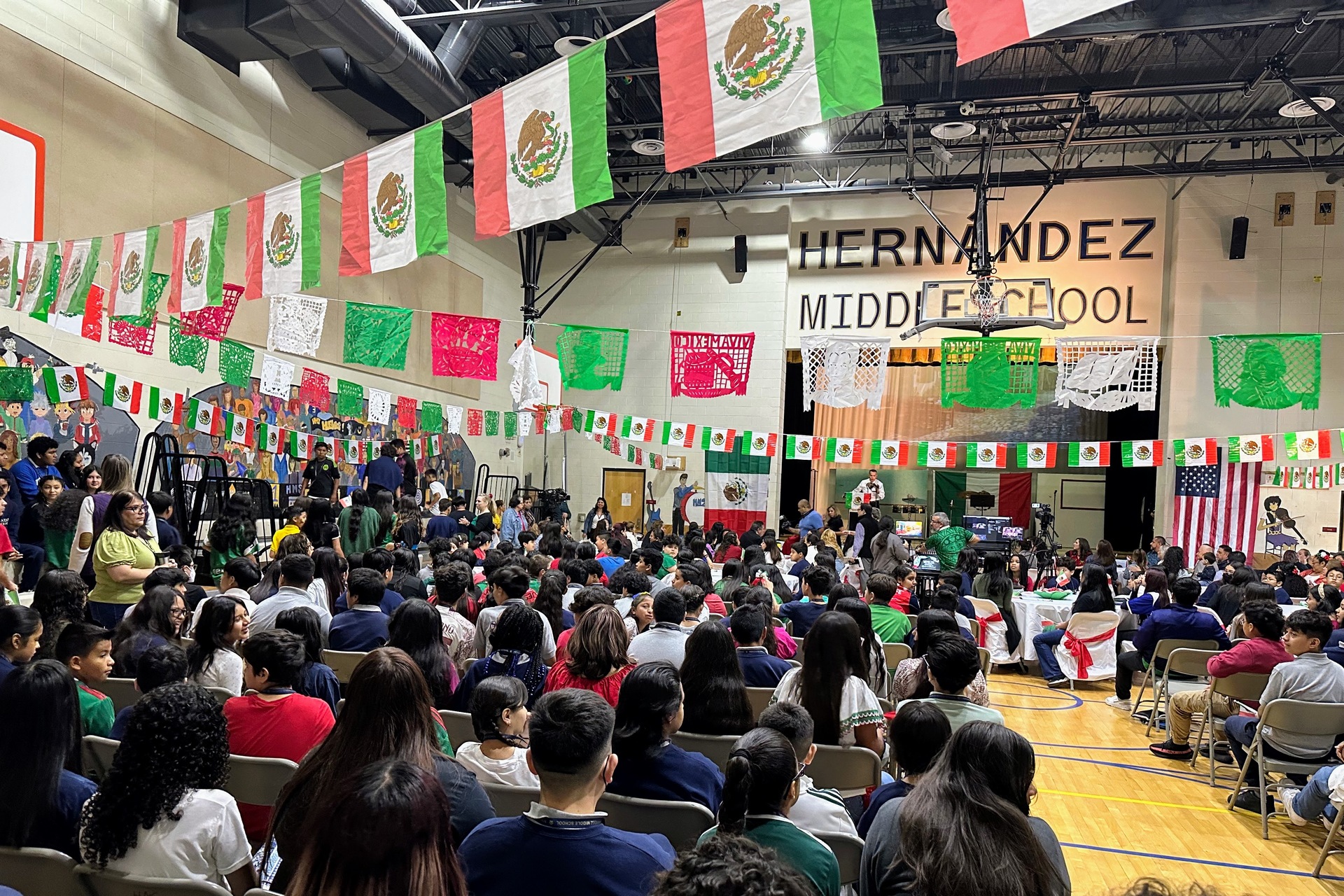 Just this morning, four schools in Chicago's Gage Park community came together at Hernandez Middle School for a vibrant kick-off to Hispanic Heritage Month. The celebration included the folkloric dance troupe from Sandoval Elementary, a mariachi ensemble from Edwards Elementary, and a performance by the Solorio High School marching band, along with a talented Rondalla player from Hernandez.
We hope to highlight many more stories like this in the coming weeks, so please be sure to share your school's plans for celebrating Hispanic Heritage Month with the District using this brief form.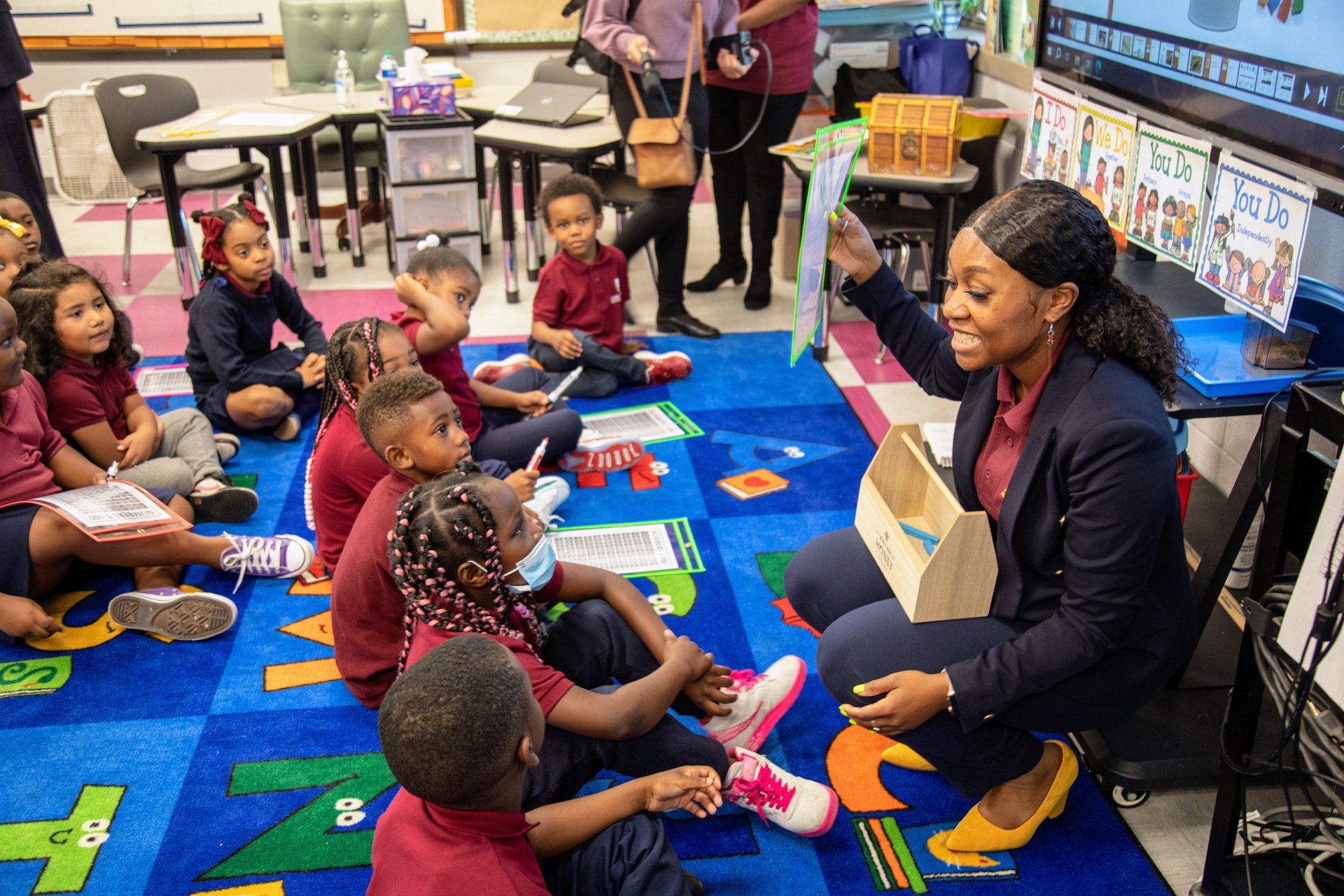 GoCPS Applications Now Open
GoCPS applications for the 2024–25 school year are now available at cps.edu/gocps.
GoCPS is our District's portal where families can explore educational options for their children. All students are guaranteed a seat in their neighborhood school, but for those families who may want to consider additional program opportunities, we urge you to explore GoCPS from now through the application deadline of November 9, 2023 at 5 p.m.
Families with students who will be entering grades K–9 in the 2024–25 school year can apply for a wide variety of academic programs.
At the elementary school level, these include:
Magnet and magnet cluster programs
Selective enrollment schools and programs
Dual-language programs
At the high school level, program opportunities include:
Selective enrollment
International Baccalaureate (IB)
Science, technology, engineering, and math (STEM)
Fine and performing arts
Service leadership academies
Career and Technical Education (CTE)
Dual-language
A complete list of available programs is available at cps.edu/gocps.
New to GoCPS This School Year
To make it more accessible for our students, the High School Admissions Test (HSAT) taken by all CPS eighth graders will now be offered in six languages: English, Spanish, Arabic, Mandarin, Urdu, and Polish. In addition, the test will now be just one hour long, consisting of a 30-minute section in reading and a 30-minute section in math. All CPS eighth graders will take the HSAT during the school day on October 11 (English) or October 17 (other languages). Scores will be available in mid-November.
CPS has also established a re-ranking period for applications from November 9 to November 22. All GoCPS applications MUST be submitted by 5 p.m. on November 9, 2023. However, students will be able to "re-rank" their GoCPS choices from November 9, 2023 at 5 p.m. to November 22, 2023 at 5 p.m. This will allow students applying to high school programs to adjust their school rankings after receiving their HSAT scores.
Get Help Navigating GoCPS
We know that families may have questions about the GoCPS process, so the CPS Office of Access and Enrollment will be hosting several training sessions for families in both English and Spanish. Click the button below to find a session and register. Families will receive a calendar invite with the video link the night before the presentation date.
Sign up for family trainings here.
From our neighborhood schools to our programs specializing in STEM, the arts, dual-language, and much more, CPS has programs to meet the unique needs of every child. I hope to see many of our families explore these options this year through the GoCPS process.
Sincerely,
Pedro Martinez
Chief Executive Officer
Chicago Public Schools
Help Us Highlight Your School
We love highlighting the amazing things that are happening day-to-day in our schools, along with the people who are making them happen. There is no better source for this good news than you—the members of our school communities—so we hope you will consider sharing your stories by completing this brief form.
Help us show the world that the best are with CPS! Fill out this form so that we can share your stories in this newsletter, on our District's blog, across our CPS social media channels, and through press releases and advisories to the media.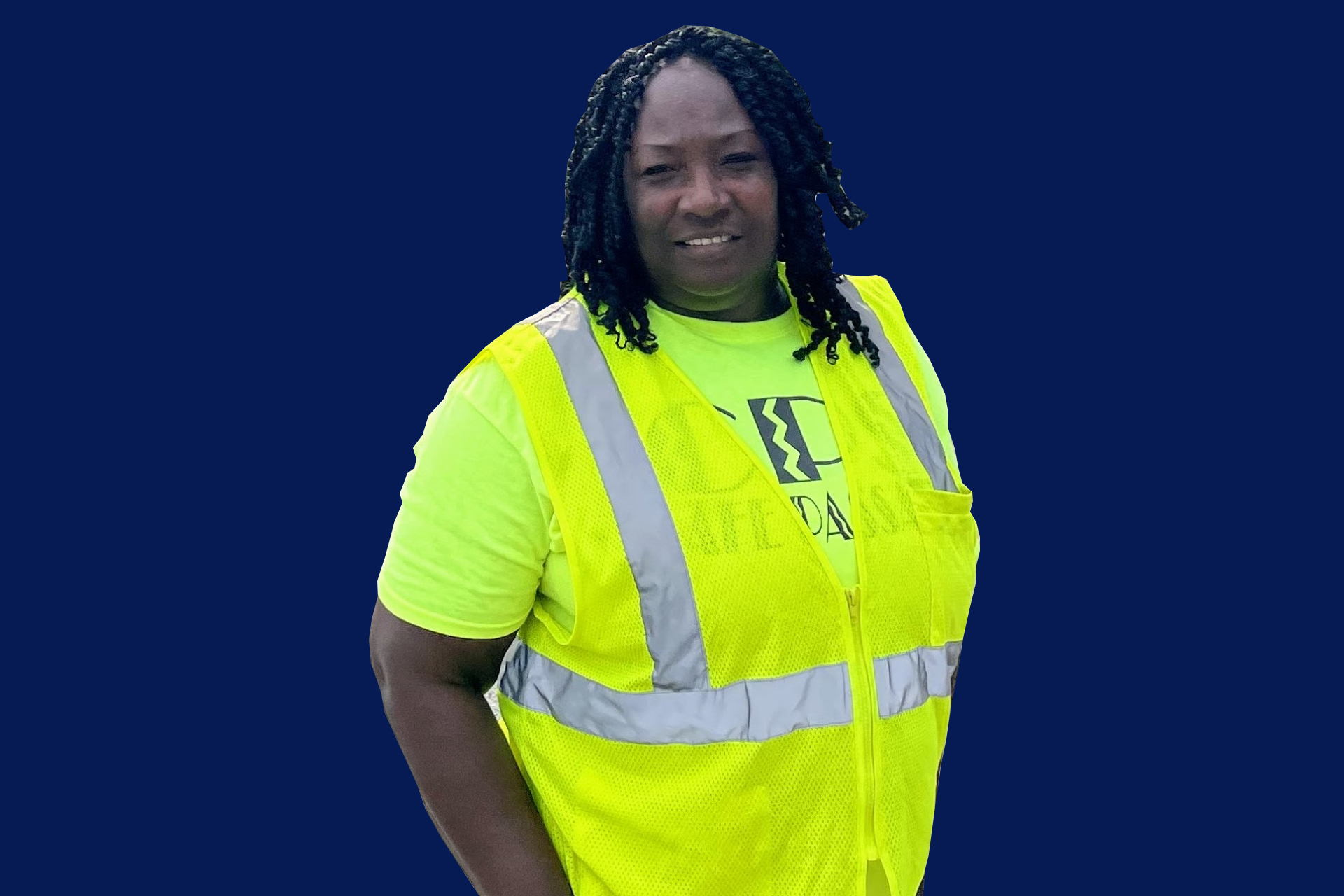 Take Five is a series that highlights some of the many members of the CPS community who are going above and beyond for our schools. If you know someone who is making a difference, nominate them to be featured here.
Meet Ms. Linda Maiden, a Safe Passage worker who has served the Altgeld Gardens community for the past 11 years. In her role, Ms. Maiden helps ensure CPS students are safe while traveling to and from Aldridge Elementary, Carver Elementary, Dubois Elementary, and CICS Lloyd Bond.
Ms. Maiden is known as a "doer" with a positive attitude and a stellar work ethic. When she first heard about the Safe Passage program, she felt compelled to apply, largely because of the ways gun violence had impacted her family. She wanted to do whatever she could to keep her community safe.
What is your message to other Safe Passage workers?
It's all worth it! Try to remember this, especially when the cold weather hits. You are doing great work for our city's children, and you are investing in your community.
Read more of our Q&A with Ms. Maiden here.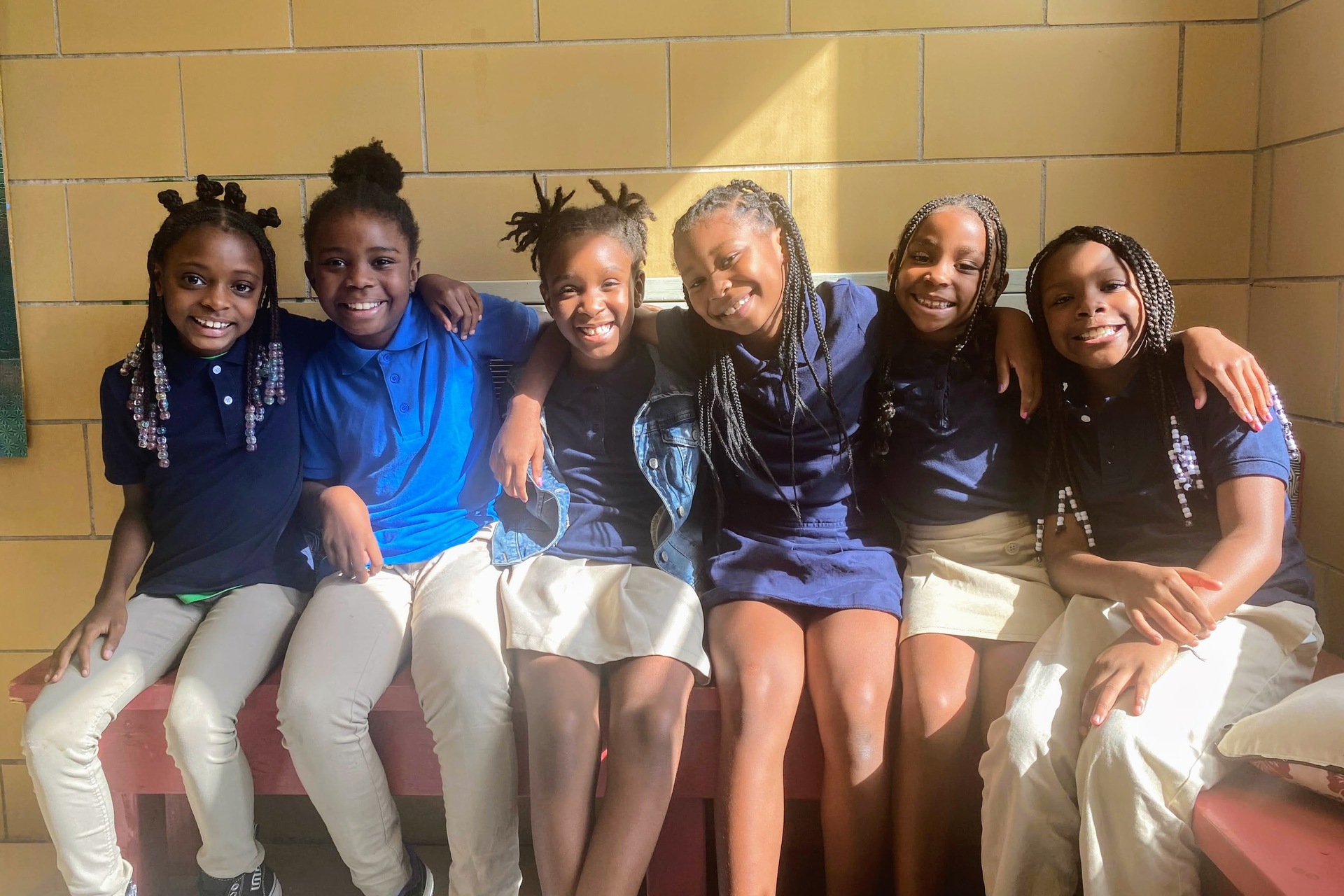 Highlighting Our Amazing Students
While the school year has just started, our students have wasted no time building their relationships with each other. At Du Bois Elementary School, a group of six third-grade students—Liana, Serenity, London, Jream, Jamiyah, and Liberty—have been friends for years. Their time in third grade is off to a great start, and they believe that their friendship is a key part of their academic success.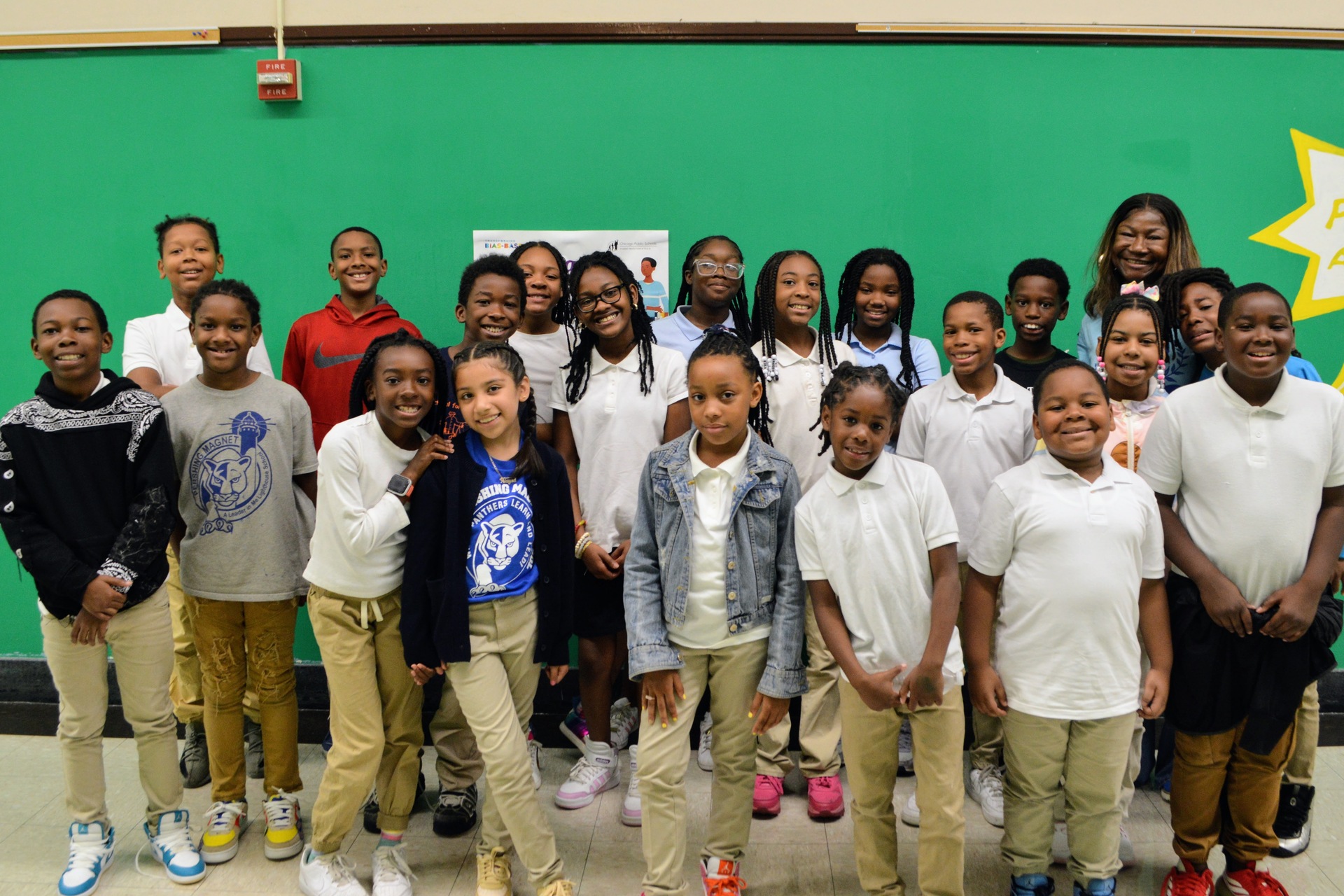 Many students at Pershing STEAM Magnet School also believe the year is off to a great start. These students are known for how responsible they are and the fact that they always welcome learning. Everyone at Pershing, especially the students, love the school's focus on STEAM (science, technology, engineering, art, and math). It helps students build their skill sets in a variety of subject areas while also being extremely engaging and fun!
A Look Around the District
Northside Learning Center in Chicago's North Park neighborhood kicked off Hispanic Heritage Month with a special visit from Grammy Award-winning artists Los Gaiteros de San Jacinto! The Colombian musical group performed their Gaita and traditional Cumbia music for the school community.
At Jamieson Elementary in the Peterson Park neighborhood, the school hosted its Cultural Heritage Festival to celebrate human diversity and cultural exchange with special guest Bolotbek Borbiev, Consul General of the Kyrgyz Republic. Guests enjoyed multicultural music, performances, food, and activities such as Henna Art, Loteria, and more.
Webster Elementary, located in the Lawndale neighborhood of Chicago, took part in Caring Theme of the Month, a school-wide initiative that exposes scholars to monthly themes that prepare them to become global citizens. Over the past year, students participated in assemblies, service projects, and activities like volunteering at the Chicago Food Depository and planting a garden.
And finally, in the Bridgeport neighborhood, the Air Force Academy High School's Color Guard team had the opportunity to perform at the Chicago Football Classic's halftime at Soldier Field!
COVID-19 Vaccine Delivery Suspended; New COVID-19 Vaccine Approved and Available Soon; CPS Vaccine Events Will Still Offer Other Vaccines
The Centers for Disease Control and Prevention (CDC) has required all vaccination providers including CPS to stop the administration of current COVID-19 vaccines as the District awaits delivery of a new approved COVID-19 vaccine formula.
This new vaccine will be arriving in Chicago soon and is specifically effective against the latest COVID-19 variants (such as Omicron and BA.2.86, or Pirola). The new COVID-19 vaccine(s) are recommended for everyone aged 6 months and older. Vaccines will be available at no cost, regardless of immigration status or whether you have insurance. Check with your healthcare provider if there are any restrictions that may apply when scheduling your appointment. If you are an adult without health insurance, visit findahealthcenter.hrsa.gov (call ahead to make sure they have the updated vaccine) or call the City of Chicago's Hotline at (312) 746-4835.
While CPS will receive updated COVID-19 vaccines in the coming weeks, other providers may get the vaccine earlier. To find an updated vaccine, check chicago.gov/covid frequently. As soon as CPS receives the updated COVID-19 vaccine, we will update the CPS community. Other vaccines that are required for students will continue to be available through CPS; visit cps.edu/vaccines for more information.
Although current levels of COVID-19 are relatively low, it is still here and a major health concern, especially to people over 65 and those with underlying health conditions. Cases of respiratory illnesses like COVID-19 and the flu are expected to increase as the weather gets cooler. Please talk to your healthcare provider about your options and what decision is best for you. Healthcare providers are available to answer questions and discuss concerns so that you are able to make an informed decision about your healthcare needs.
Learn About Teach Chicago Tomorrow: Become a CPS Teacher!
If you know a CPS senior or recent graduate that wants to become a teacher, Teach Chicago Tomorrow is the program for them. Teach Chicago Tomorrow supports students as they earn their bachelor's degree in education by providing them mentorship, financial support, and a clear pathway to becoming a CPS teacher. Currently, first-year CPS teachers make a minimum annual salary of $66,000.
To learn more about the Teach Chicago Tomorrow program, interested students should fill out the program interest form and sign up for an upcoming virtual information session. Questions? Email teachtomorrow@cps.edu!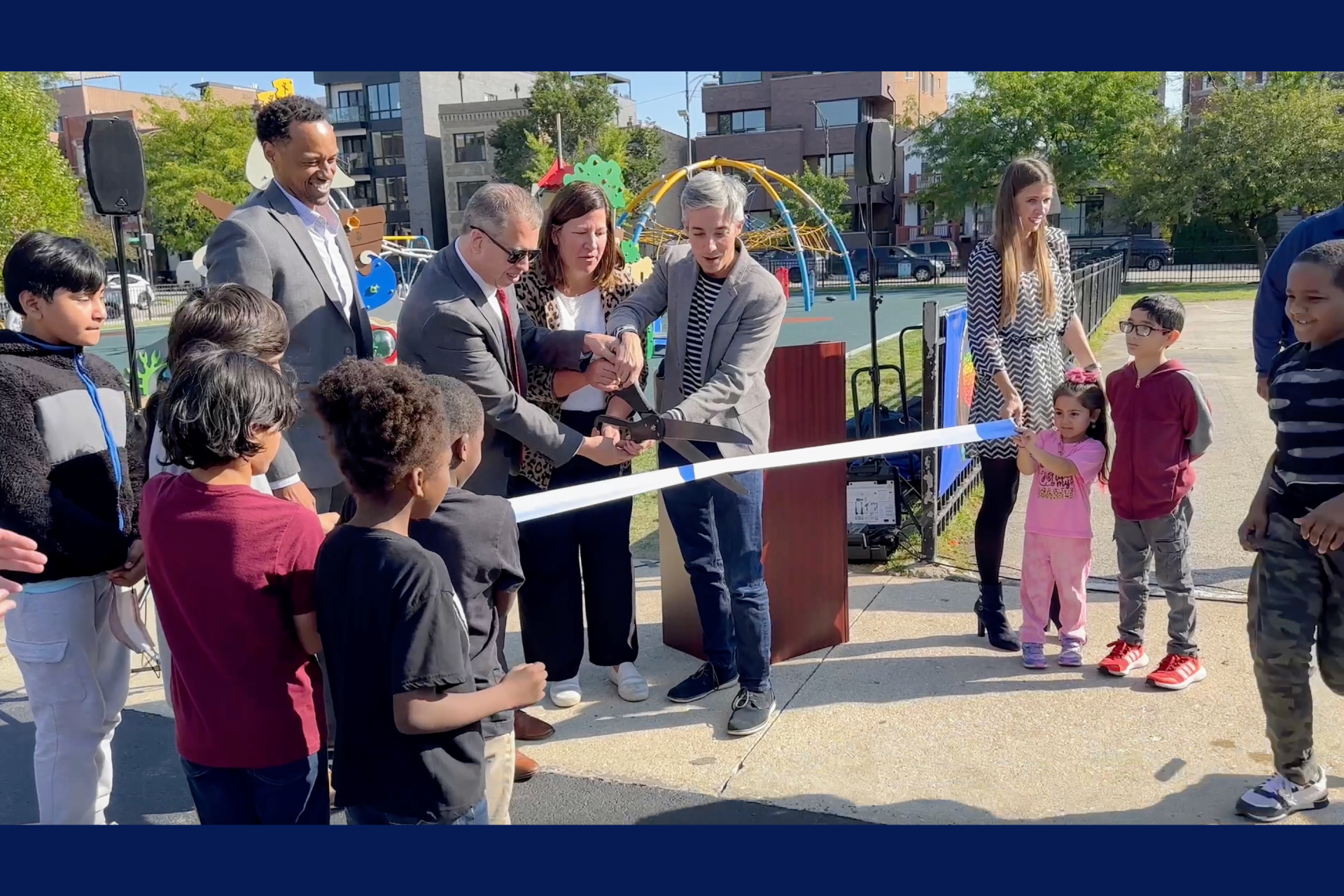 An Inclusive Play Space for Otis Elementary
The students at Otis Elementary in Chicago's West Town community, many of whom have diverse learning needs, can now enjoy a new outdoor play space as part of their school experience. In addition to swings and slides, the playground includes games and activities in Braille and sign language to foster an inclusive environment that allows diverse learners at Otis to build relationships with their peers. This outdoor space also includes a new track and turf field that will help expand options for P.E. and overall physical activity.
Attend a Parent University Open House
The CPS Office of Family and Community Engagement (FACE) is hosting open houses at 13 Parent University sites across the district. These Open Houses give families the opportunity to learn about parent programs, meet FACE staff, and connect with community organizations in their area. Check out this schedule to find a Parent University Open House near you!
Want to Make a Lasting Impact on Your School? Run for Your Local School Council!
Serving on a Local School Council (LSC), and voting in the LSC election that will take place later this school year, are two impactful ways that parents, staff, community members, and even students can do to make a difference at their schools.
On Thursday, September 21, CPS will hold a kick-off event with information on how joining the LSC and voting in the upcoming elections can make a positive impact on your school and community. Here's how to participate:
When: Thursday, September 21, 2023
Time: 6–7 p.m.
Location: Virtual
RSVP Information: cps.edu/lscregistration (By completing this form, you will ensure that a meeting link is sent to you approximately 30 minutes before the event begins).
Languages: Spanish interpretation and American Sign Language interpretation will be provided.
LSCs play a critical role in the success of our schools. They help ensure students and staff are able to benefit from strong leadership, equitable resources, and a vision that meets the needs of the whole child.
Please attend the information session on Thursday, September 21 for more information on the upcoming LSC election.
Important Information for Families Receiving Medicaid Benefits
All families who receive Medicaid benefits must renew them annually. The State of Illinois is currently mailing renewal forms on a rolling basis. The envelope will look like this:

Once you receive your renewal form, please fill it out and send it back as soon as possible to ensure that your family does not lose Medicaid coverage.
You can also renew your benefits online. Visit abe.illinois.gov and click "Manage My Case" to log in to your account. A step-by-step guide to renewing your benefits either by mail or online can be found at cps.edu/medicaid.
If you need assistance, you can call the Healthy CPS Hotline at 773-553-KIDS (5437) or fill out an assistance request form, and a coordinator from the CPS Office of Student Health and Wellness will be happy to assist you.
A Ticket Offer from the Chicago Red Stars
Join the Red Stars in welcoming back our World Cup players on Sunday, September 17 at 5 p.m. at SeatGeek Stadium in Bridgeview. CPS families can take advantage of this first-come, first-serve exclusive discount offer. Get your tickets now!
Important Dates
For more upcoming events around the District, visit cps.edu/calendar.
Wednesday, September 20: September Board Agenda Review Committee Meeting. Learn more at cpsboe.org.
Friday, September 22: Professional development day for school staff; no classes for CPS students.
Thursday, September 28: September Board of Education Meeting. Learn more at cpsboe.org.
---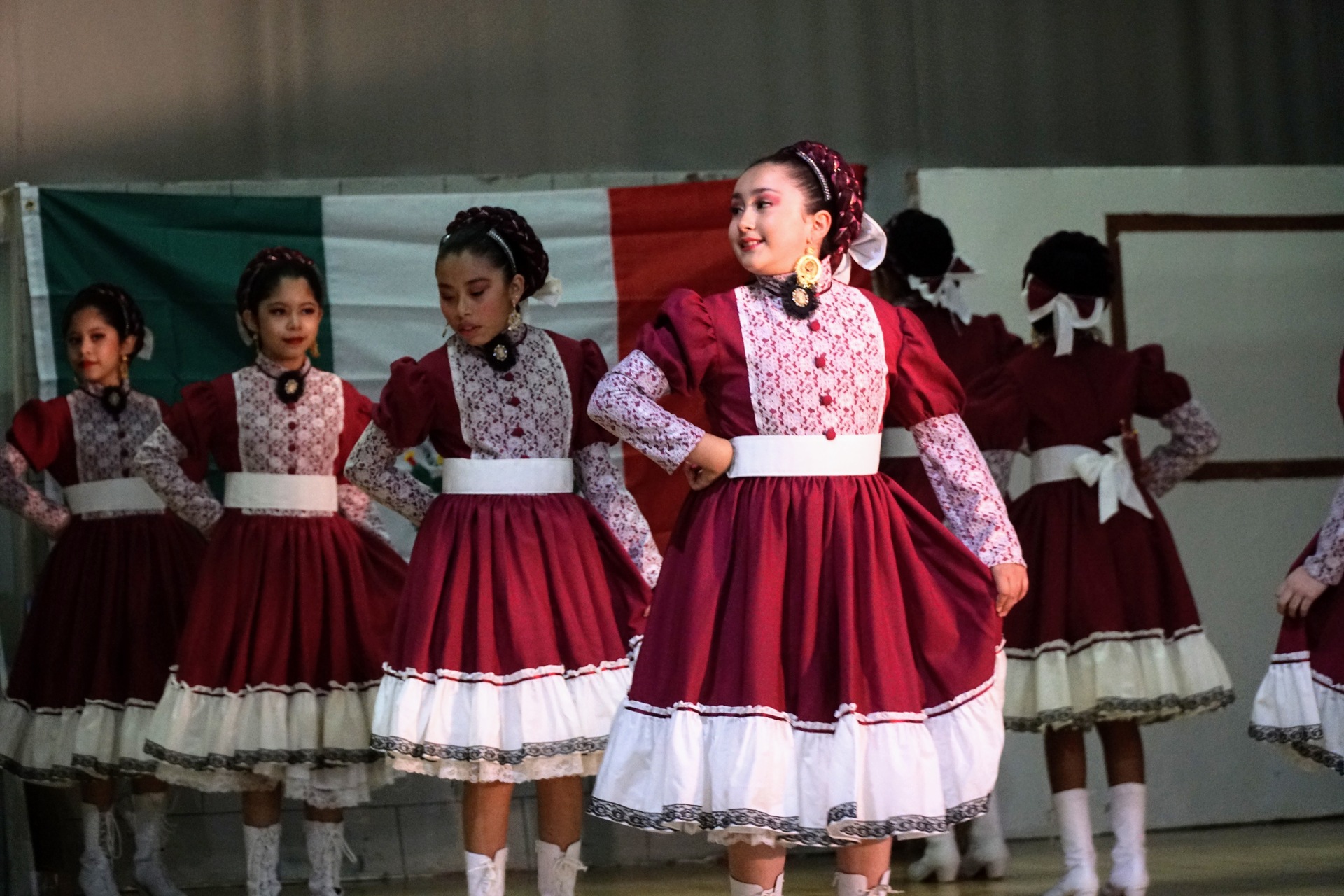 Estimadas familias, colegas y simpatizantes de las CPS:
Hoy marca el comienzo del Mes de la Herencia Hispana, un periodo para celebrar la historia y cultura latinas y una oportunidad para homenajear a las personas que han hecho tan ricas contribuciones en todos los aspectos de la sociedad.
Esta parte del año es muy personal para mí. Durante mi niñez en la comunidad de Pilsen, aquí en Chicago, siempre me animaban a celebrar mi cultura e identidad, y quiero que nuestros estudiantes latinos de CPS —el segmento más grande de nuestra población estudiantil— se sientan igual en sus escuelas. También quiero que nuestros estudiantes no latinos utilicen este mes como una oportunidad para aprender sobre otras culturas y acoger la diversidad que ven en sus comunidades.
Como parte del Mes de la Herencia Hispana, escuelas por toda la ciudad organizarán festivales, presentaciones y otros eventos y proyectos especiales. ¡Algunos hasta comenzaron hoy!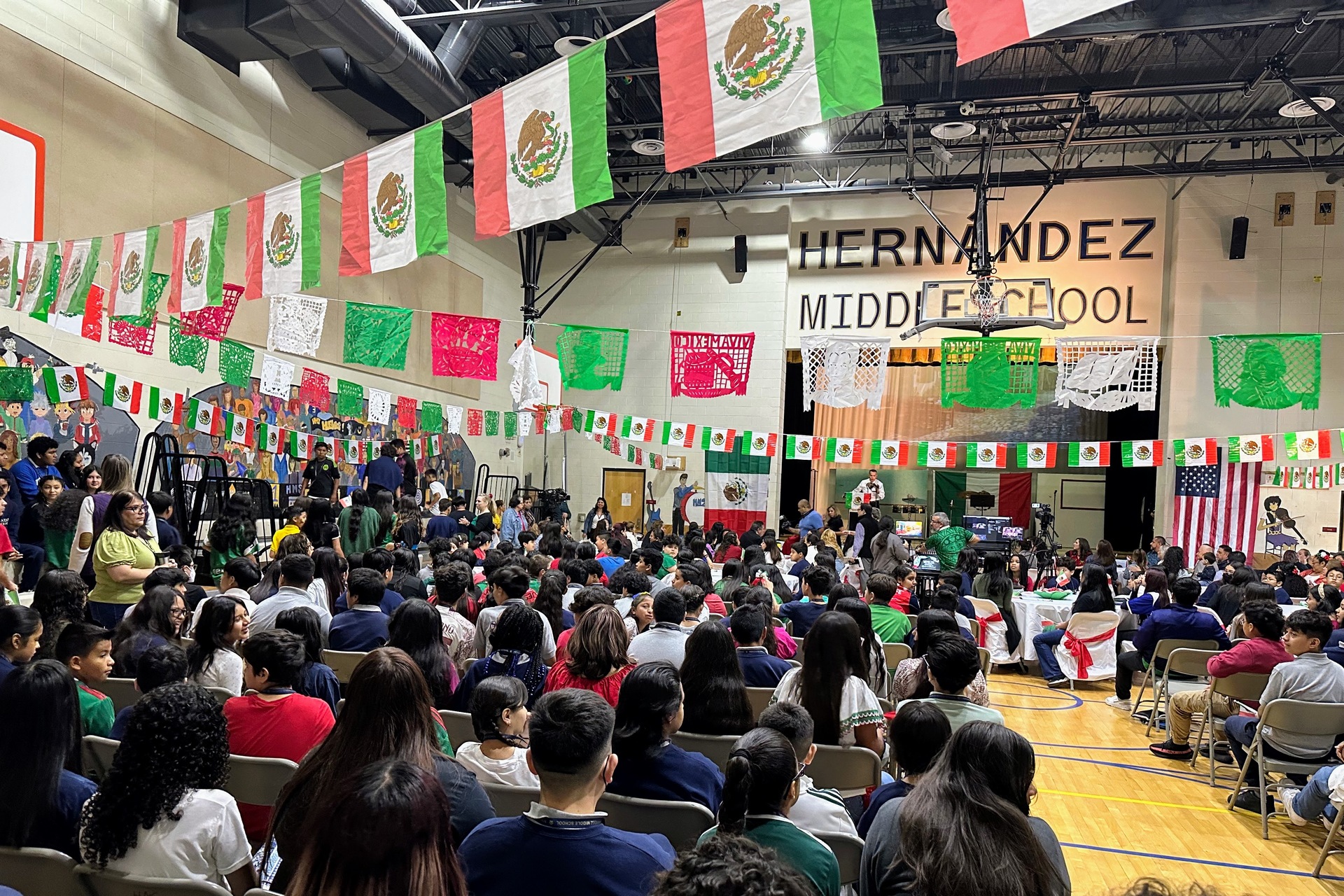 Esta misma mañana, cuatro escuelas de la comunidad Gage Park se reunieron en la Escuela Intermedia Hernández para una vibrante inauguración al Mes de la Herencia Hispana. La celebración incluyó el grupo de baile folclórico de la Escuela Primaria Sandoval, un conjunto de mariachi de la Escuela Primaria Edwards, y una presentación por la banda de música de la Escuela Secundaria Solorio, junto a una talentosa rondalla de Hérnandez.
Esperamos resaltar muchas historias como estas en los meses siguientes; por eso, asegúrense de compartir con el Distrito los planes de sus escuelas para celebrar el Mes de la Herencia Hispana, utilizando este breve formulario.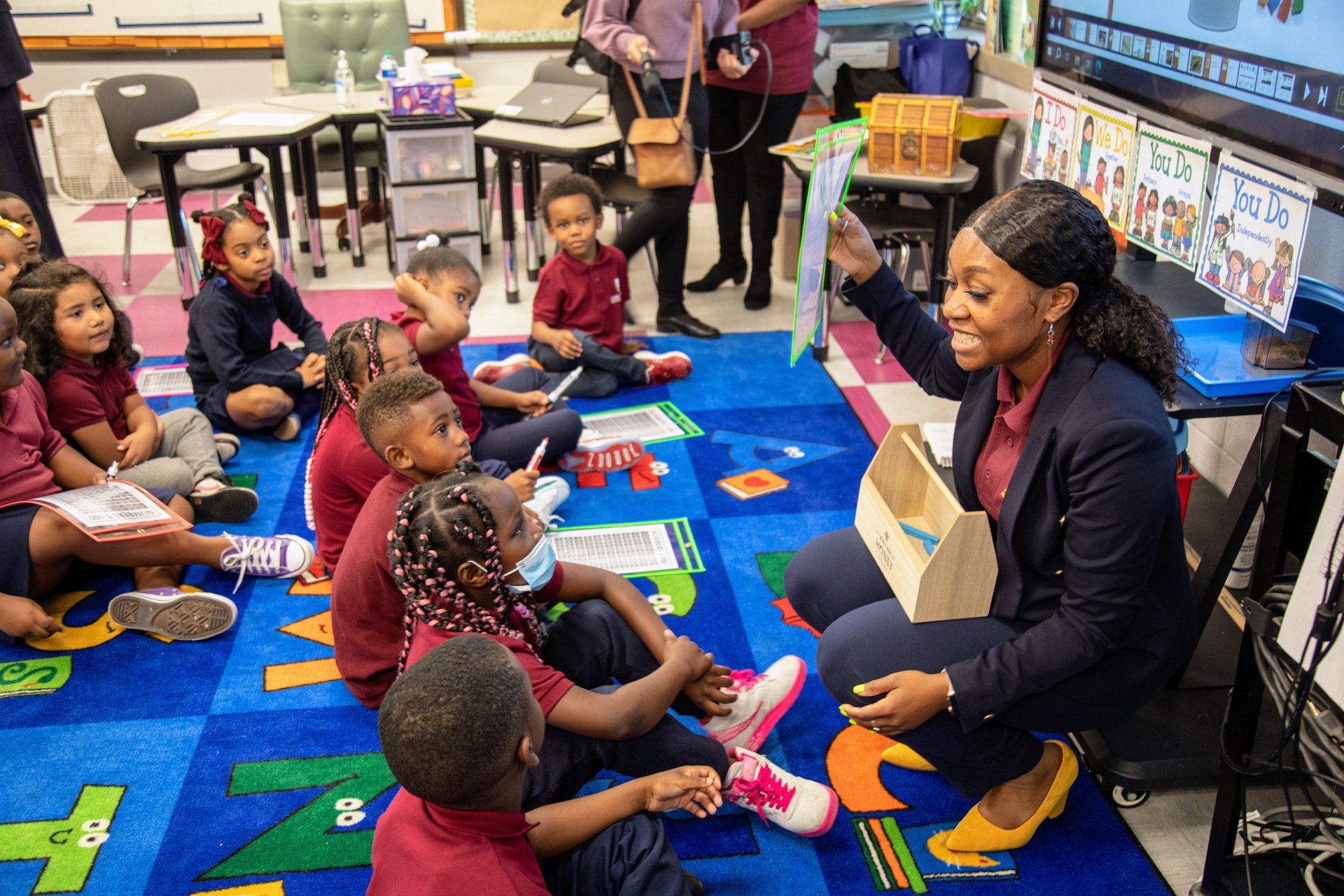 Ahora se puede utilizar GoCPS para solicitar a escuelas
Ha comenzado el plazo para solicitar a escuelas y programas para el año escolar 2023-24 por medio de GoCPS, y las solicitudes pueden encontrarse en cps.edu/gocps.
GoCPS es el portal cibernético del Distrito diseñado para que las familias puedan explorar las opciones educativas para sus niños. Todos los estudiantes tienen garantizado un espacio en el programa de educación general en sus escuelas de barrio respectivas; sin embargo, muchas familias podrán estar interesadas en oportunidades de programas adicionales, y el Distrito les exhorta explorar GoCPS durante el plazo de solicitud, que termina el 9 de noviembre de 2023, a las 5 p. m.
Las familias con estudiantes entrando a programas de kínder a noveno grado en el año escolar 2024-25 pueden solicitar entrada a una amplia variedad de programas académicos.
Al nivel de escuela primaria, estos incluyen:
programas magnet y magnet cluster
escuelas y programas de matrícula selectiva
programas bilingües
Al nivel de escuela secundaria, las oportunidades de programas incluyen:
programas de matrícula selectiva
programas de Bachillerato Internacional (IB, según sus siglas en inglés)
programas de ciencias, tecnología, ingeniería o matemáticas (CTIM)
programas de bellas artes y artes escénicas
academias de liderazgo a través del servicio
programas de educación profesional y técnica (CTE, según sus siglas en inglés)
programas bilingües
Puede ver una lista completa de los programas disponibles en cps.edu/gocps.
Cambios a GoCPS para este año
Para que sea más accesible para nuestros estudiantes, la prueba de admisión a la escuela secundaria (HSAT, según sus siglas en inglés) ahora se ofrecerá en seis idiomas: inglés, español, árabe, mandarín, urdu y polaco. Además, solo durará una hora, con un segmento de Lectura de 30 minutos y un segmento de Matemáticas de 30 minutos. Todos los estudiantes de octavo grado de las CPS que tomen la versión en inglés de la HSAT lo harán durante el horario de clases el 11 de octubre, y los estudiantes que tomen versiones en otros idiomas las tomarán durante el horario de clases el 17 de octubre. Las calificaciones estarán disponibles a mediados de noviembre.
Las CPS también han establecido un periodo de ajuste para las solicitudes, que durará desde el 9 de noviembre hasta el 22 de noviembre. Todas las solicitudes por GoCPS DEBEN ser presentadas antes de las 5 p. m. el 9 de noviembre de 2023. Sin embargo, los estudiantes podrán ajustar el órden de preferencias de sus selecciones hechas por GoCPS, y tendrán desde el 9 de noviembre a las 5 p. m. hasta el 22 de noviembre a las 5 p. m. para hacerlo. Esto les permitirá a los estudiantes que estén solicitando a programas de escuela secundaria ajustar sus preferencias tras haber recibido sus calificaciones para la HSAT.
Obtengan ayuda para navegar GoCPS
Sabemos que las familias podrán tener preguntas sobre el proceso de GoCPS, y por lo tanto la Oficina de Acceso y Matrícula estará llevando a cabo varias sesiones de entrenamiento para las familias, en inglés y español. Hagan clic en el enlace a continuación para encontrar una sesión e inscribirse. La noche antes de la fecha de cada presentación, las familias inscritas recibirán una invitación de calendario con el enlace del video.
¡Inscríbase para entrenamientos familiares aquí!
Entre nuestras escuelas de barrio y nuestros programas especializados en CTIM, las artes, el bilingüismo y mucho más, las CPS tienen programas para satisfacer las necesidades únicas de cada niño. Espero ver a muchas de nuestras familias explorar estas opciones este año por medio del proceso de GoCPS.
Sinceramente,
Pedro Martínez
Director ejecutivo
Escuelas Públicas de Chicago
¡Ayúdenos a resaltar su escuela!
Nos encanta resaltar las cosas fantásticas que ocurren cada día en nuestras escuelas, junto a las personas que las llevan a cabo. No hay mejor fuente para estas buenas noticias que ustedes, los miembros de nuestras comunidades, y por lo tanto esperamos que consideren compartir sus historias por medio de este breve formulario (en inglés).
¡Ayúdenos a demostrarle al mundo que los mejores están con las CPS! Llene este formulario (en inglés) para que podamos compartir sus historias en este boletín, el blog de nuestro Distrito o nuestros canales de redes sociales.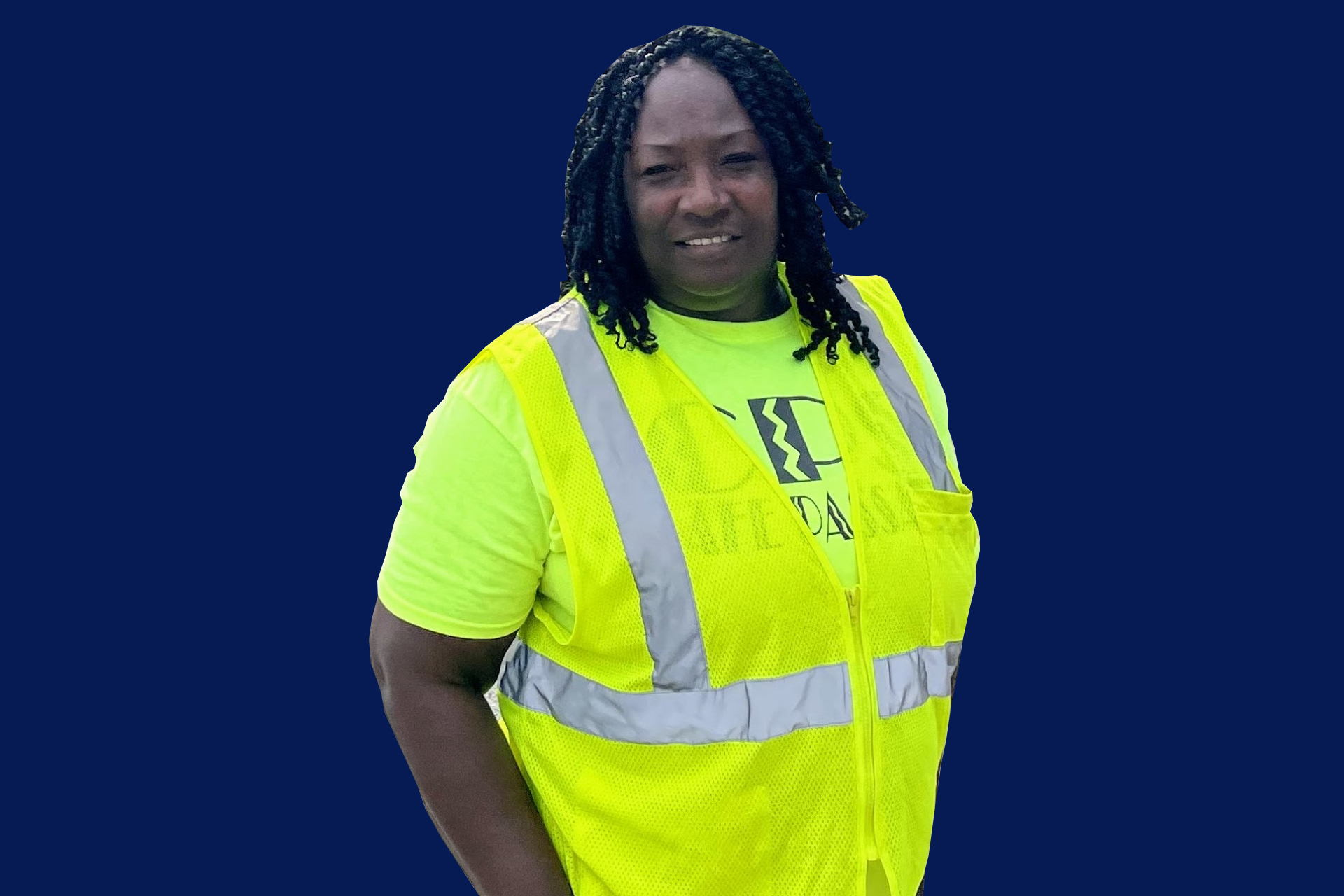 Cinco preguntas es una serie que resalta a algunos de los muchos miembros de la comunidad de las CPS que van más allá por nuestras escuelas. Si conoce a alguna persona que esté haciendo una diferencia, nomínela para que aparezca aquí (formulario en inglés).
Conozca a Linda Maiden, una trabajadora del programa Safe Passage que ha trabajado en la comunidad Altgeld Gardens por los últimos once años. Ahí, Maiden ha ayudado a asegurar que los estudiantes de las CPS estén seguros en sus viajes de ida y de vuelta a la Escuela Primaria Aldridge, la Escuela Primaria Carver, la Escuela Primaria Dubois y CSCS Lloyd Bond.
Linda Maiden es conocida como una mujer de acción, con una actitud positiva y una ética profesional estelar. Al escuchar sobre el programa Safe Passage, se sintió inspirada a solicitar un puesto en este, principalmente debido a las maneras en que la violencia con armas de fuego ha impactado a su familia. Quería hacer todo lo posible para mantener segura a su comunidad.
¿Cual es su mensaje a otros trabajadores de Safe Passage?
¡Todo vale la pena! Intenten recordar esto, especialmente cuando llegue el frío. Están haciendo una gran labor por los niños de nuestra ciudad, y están invirtiendo en nuestra comunidad.
Lea más de nuestra entrevista con Linda Maiden aquí.
Resaltando a nuestros fantásticos estudiantes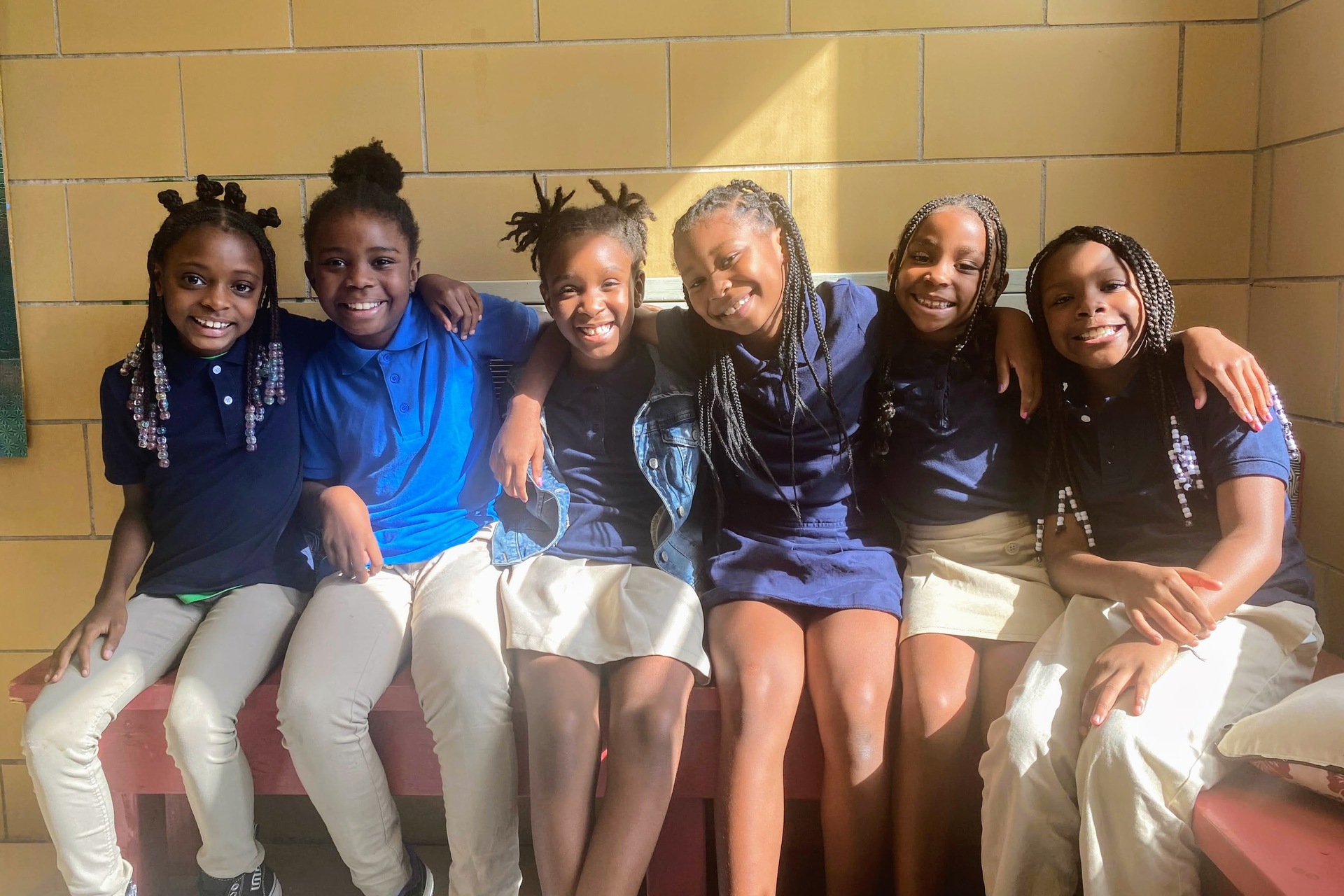 Aunque apenas ha comenzado el año escolar, nuestros estudiantes no han perdido tiempo cuando se trata de crear vínculos entre sí mismos. En la Escuela Primaria Du Bois, un grupo de seis estudiantes de tercer grado —Liana, Serenity, London, Jream, Jamiyah y Liberty— han sido amigos por años. Su tercer grado ha tenido un excelente comienzo, y ellos creen que su amistad es una parte clave de su éxito académico.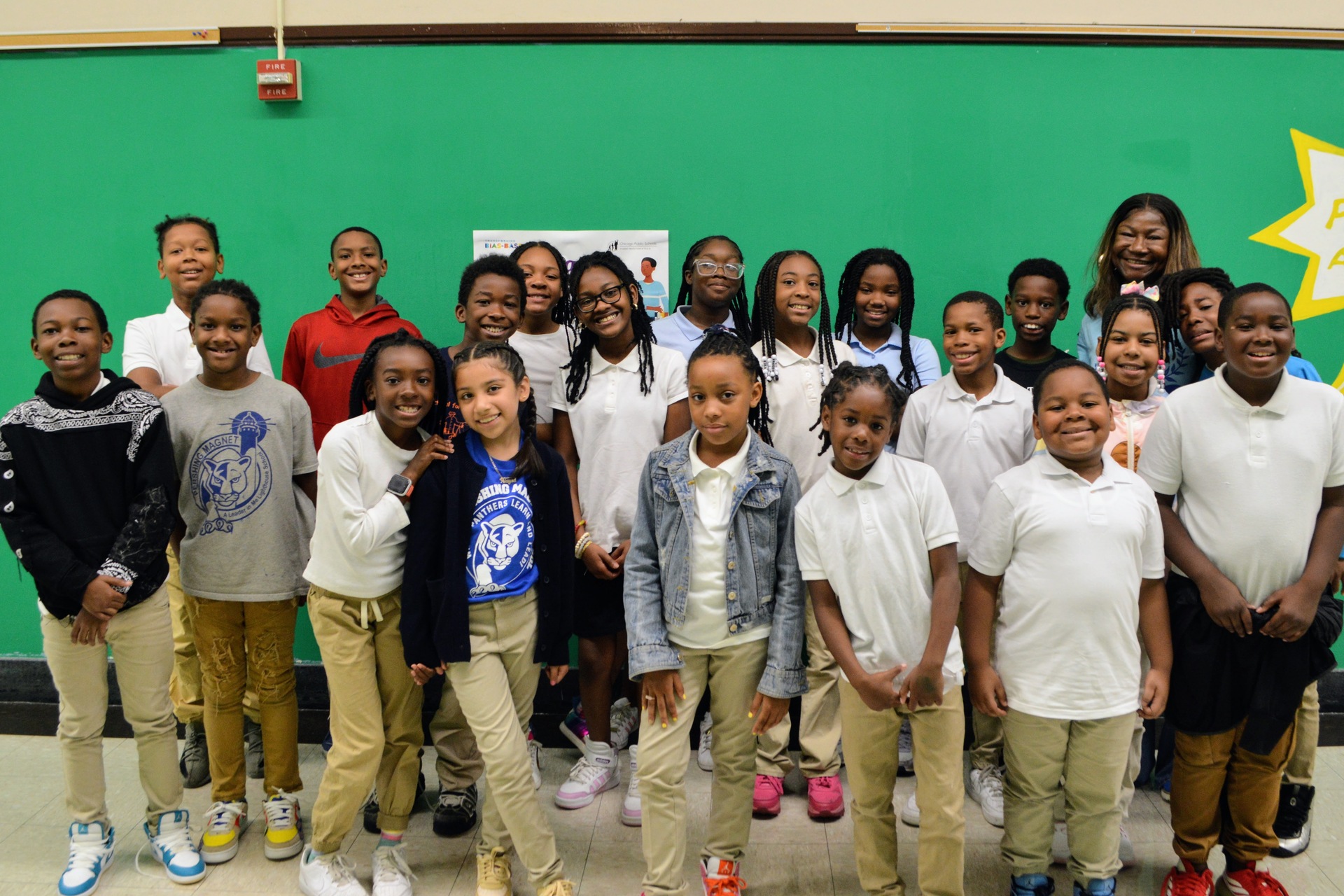 Muchos estudiantes en la Escuela Magnet de CTIM Pershing también creen que el año ha comenzado muy bien. Estos estudiantes son conocidos por lo responsables que son y por siempre acoger el aprendizaje. A todos en Pershing, especialmente a los estudiantes, les encanta el enfoque de la escuela en cursos y programas de CTIAM (ciencias, matemáticas, ingeniería, arte y matemáticas). Les ayuda a los estudiantes a desarrollar sus destrezas en una variedad de sujetos, y además son extremadamente interesantes y divertidos.
Una mirada por el Distrito
¡El Centro de Aprendizaje Northside, en el barrio North Park, comenzó el Mes de la Herencia Hispana con una visita especial del elenco musical Los Gaiteros de San Jacinto, que en 2007 ganaron un Grammy! El grupo musical colombiano tocó sus gaitas y cumbias tradicionales para la comunidad escolar.
En la Escuela Primaria Jamieson, en el barrio Peterson Park, la escuela llevó a cabo su Festival de la Herencia Cultural para celebrar la diversidad humana y el intercambio cultural, que hicieron con el invitado especial Bolotbek Borbiev, cónsul general de la República Kirguisa. Los invitados disfrutaron de música multicultural, presentaciones, comida y actividades como arte de alheña, juegos de la lotería y más.
La Escuela Primaria Webster, localizada en el barrio Lawndale, tomó parte de Caring Theme of the Month, una iniciativa a nivel escolar que expone a los estudiantes a temas mensuales que los ayuda a convertirse en ciudadanos globales. Durante el último año, los estudiantes han participado en asambleas, proyectos de servicio y actividades como voluntariado en el Banco de Alimentos de Chicago y plantar un jardín.
Finalmente, en el barrio Bridgeport, la guardia de color de la Escuela Secundaria Air Force Academy tuvo la oportunidad de hacer una presentación durante el intermedio del Chicago Football Classic, en Soldier Field.
Suspendido el envío de las vacunas contra el COVID-19; ratificada la nueva vacuna contra el COVID-19, que estará disponible pronto; el evento de vacunación de las CPS todavía ofrecerá otras vacunas
Los Centros para el Control y la Prevención de Enfermedades (CDC, según sus siglas en inglés) ha exigido a todos los distribuidores de vacunas, incluidas las Escuelas Públicas de Chicago, que cesen la administración de las vacunas contra el COVID-19 actuales, mientras el distrito espera la entrega de nueva y recién ratificada fórmula de vacuna contra el COVID-19.
Esta nueva vacuna llegará a Chicago pronto y es específicamente efectiva contra las variantes más recientes de COVID-19, como Omicron, BA.2.86 y Pirola. Las nuevas vacunas contra el COVID-19 son recomendadas para todas las personas de seis o más meses de edad. Las vacunas estarán disponibles libre de costo, sin importar el estatus de inmigración o si se tiene seguro médico. Verifique con su proveedor de atención médica para determinar si existe alguna restricción que pueda aplicar al momento de programar su cita. Si es un adulto sin seguro médico, visite findahealthcenter.hrsa.gov (llame con anticipación para asegurarse de que tengan la vacuna actualizada) o llame a la línea directa de la ciudad de Chicago, al (312) 746-4835.
Aunque los niveles actuales de COVID-19 están relativamente bajos, el virus aún está aquí y continúa presentando un peligro a la salud, especialmente a las personas de más de 65 años y aquellos con condiciones de salud subyacentes. Se espera que los casos de enfermedades respiratorias como el COVID-19 y la influenza aumenten según enfría el tiempo. Por favor hable con su proveedor de atención médica sobre sus opciones, para determinar cuál es la mejor decisión para usted. Los proveedores de atención médica están disponibles para responder preguntas y discutir preocupaciones para que usted pueda tomar una decisión informada sobre sus necesidades médicas.
¡Aprenda sobre Teach Chicago Tomorrow y cómo convertirse en maestro de las CPS!
Si conoce a un estudiante de duodécimo grado o recién egresado de las CPS que quiera ser maestro, Teach Chicago Tomorrow es el programa para ellos. Teach Chicago Tomorrow apoya a los estudiantes mientras estos trabajan para obtener sus bachilleratos en educación, brindándoles consejería, respaldo financiero y una dirección clara para convertirse en maestro de las CPS. Actualmente, los maestros de las CPS en su primer año tienen un salario anual mínimo de $66,000.
Para saber más del programa Teach Chicago Tomorrow, los estudiantes interesados deben llenar el formulario de interés en el programa e inscribirse en una sesión informativa virtual que tendrá lugar en el futuro. De tener preguntas, favor escribir a teachtomorrow@cps.edu.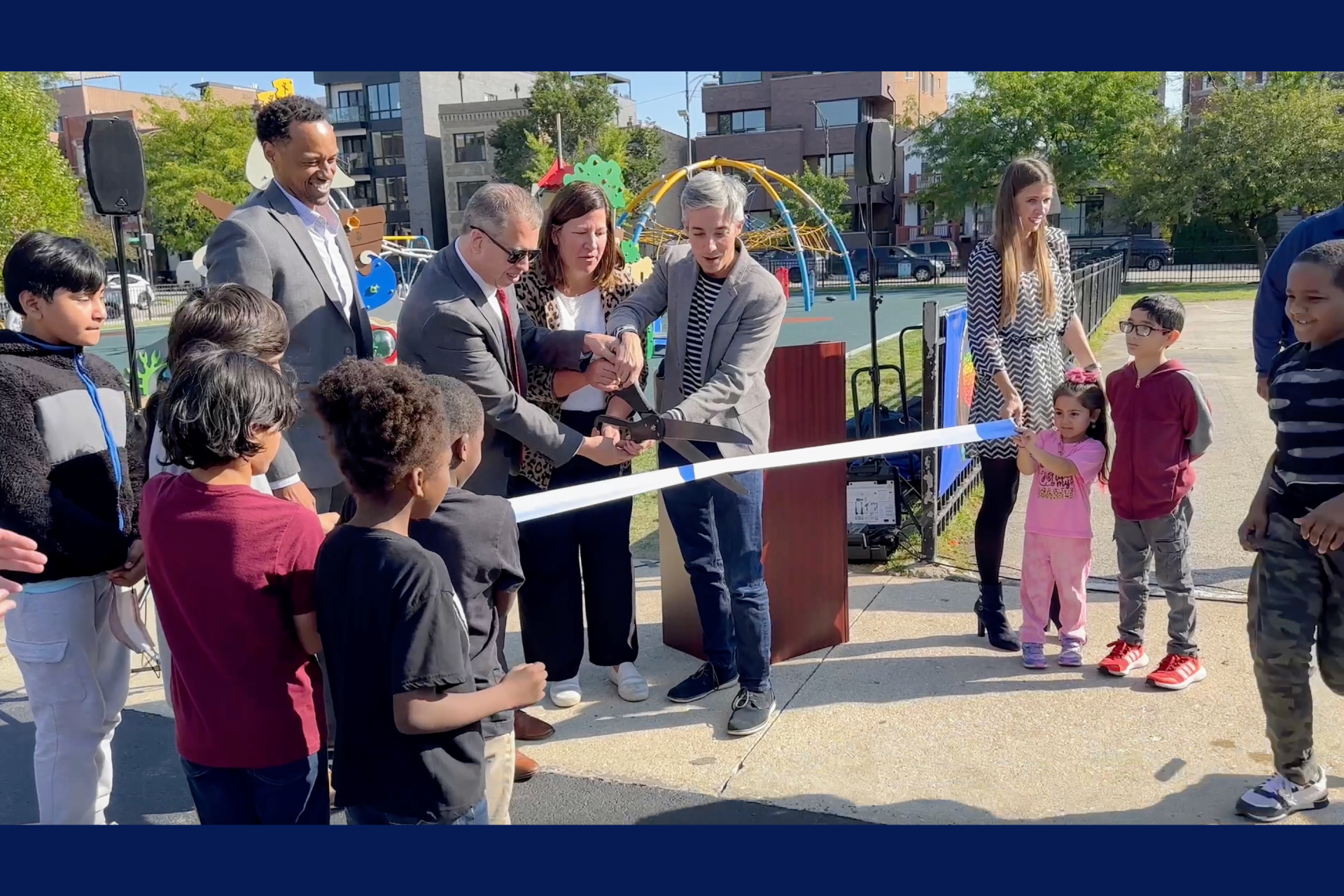 La Escuela Primaria Otis recibe un espacio de juego inclusivo
Los estudiantes de la Escuela Primaria Otis, en la comunidad West Town —que en su mayoría poseen necesidades de aprendizaje diversas—ahora pueden disfrutar de un espacio de juego exterior como parte de su experiencia escolar. Además de columpios y toboganes, el espacio de juego incluye juegos y actividades en braille y la lengua de señas que permiten a los estudiantes diversos en Otis crear vínculos con sus compañeros. Este espacio exterior también incluye un nuevo campo de césped con una pista que ayudará a expandir las opciones de educación física y facilitará la actividad física en general.
Asista a un evento de puertas abiertas de Universidad de Padres
La Oficina de Participación Familiar y Comunitaria de las CPS (FACE, según sus siglas en inglés), está abriendo sus puertas en trece sedes del programa Universidad de Padres por el distrito. Estos eventos de puertas abiertas (también conocidos como open houses) les darán a las familias la oportunidad de aprender sobre programas para padres, conocer personal de la FACE y hacer conexiones con organizaciones locales en sus áreas. Vea este programa para encontrar un evento de puertas abiertas de Universidad de Padres cerca de usted.
¿Quiere tener un impacto duradero en su escuela? ¡Considere nominarse para su concilio escolar local!
El formar parte de un concilio escolar local (LSC, según sus siglas en inglés) y votar en las elecciones de LSC que tomarán parte este año escolar son dos maneras impactantes en que los padres, el personal, los miembros de la comunidad y hasta los estudiantes pueden hacer una diferencia en sus escuelas.
El jueves, 21 de septiembre, las CPS tendrán un evento de inauguración con información sobre cómo el unirse a un LSC y votar en las siguientes elecciones puede tener un impacto positivo en su escuela y comunidad. Aquí tiene los detalles para participar:
Fecha: Jueves, 21 de septiembre de 2023
Hora: 6 p. m. a 7 p. m.
Lugar: Virtual
Confirmación de asistencia: cps.edu/lscregistration (Al completar este formulario, asegurará que un enlace a la reunión se le envíe aproximadamente 30 minutos antes del comienzo del evento.)
Idiomas: Se ofrecerá interpretación en español y la lengua de señas americana.
Los LSC juegan un papel crítico en el éxito de nuestras escuelas. Ayudan a asegurar que los estudiantes y el personal se puedan beneficiar de un liderazgo fuerte, recursos equitativos y una visión que satisfaga las necesidades de los niños en sus plenitudes.
Por favor asista a la sesión informativa el jueves, 21 de septiembre para más información sobre las próximas elecciones de los LSC.
Información importante para familias recibiendo beneficios de Medicaid
Todas las familias que reciban beneficios de Medicaid deben renovarlos anualmente. El estado de Illinois actualmente está enviando por correo, de manera continua, versiones físicas de sus formularios de renovación. El sobre que reciba será así:

Una vez reciba su formulario de renovación, por favor llénelo y devuélvalo lo más pronto posible para asegurar que su familia no pierda su cobertura de Medicaid.
También puede renovar sus beneficios en línea. Visite abe.illinois.gov y haga clic en "Administrar Mi Caso" para entrar a su cuenta. Además, podrá encontrar en cps.edu/medicaid un guía de paso a paso sobre cómo renovar sus beneficios por correo postal o electrónicamente.
Si necesita ayuda con este proceso, llame a la línea directa Healthy CPS al 773-553-5437 o llene un formulario de solicitud de asistencia, y un coordinador de la Oficina de Salud y Bienestar Estudiantiles de las CPS felizmente le asistirá.
Oferta de boletos de las Chicago Red Stars
Únase a las Red Stars para darle la bienvenida de vuelta a nuestras participantes en la Copa Mundial, en un partido que tendrá lugar el domingo, 17 de septiembre a las 5 p. m., en el Estadio SeatGeek en Bridgeview. Las familias de las CPS pueden aprovecharse de esta exclusiva oferta de descuentos, ofrecida por orden de llegada. ¡Obtenga sus boletos ahora!
Fechas Importantes
Para más eventos próximos en el Distrito, visite cps.edu/calendar.
Miércoles, 20 de septiembre: Reunión de septiembre del Comité de Revisión de la Agenda de la Junta. Obtenga más información en cpsboe.org.
Viernes, 22 de septiembre: Día de desarrollo profesional para el personal escolar: los estudiantes de las CPS no tienen clases.
Jueves, 28 de septiembre: Reunión de septiembre de la Junta de Educación. Obtenga más información en cpsboe.org.