Next Step for CPS Families Renewing Medicaid Benefits
01 May 2023
**IF YOUR FAMILY RECEIVES MEDICAID BENEFITS, PLEASE READ THIS MESSAGE IN ITS ENTIRETY**
Dear Parents and Guardians,
At Chicago Public Schools, we take pride in helping to connect our families with important programs, services, and benefits, including reduced-cost health care benefits through Medicaid. Because the COVID-19 public health emergency is ending this spring. families will again need to renew their Medicaid benefits starting this year. Everybody's renewal date is different, so it is critical that you get ready to renew.
As we stated in our March 30, 2023 letter, the first step in this process was to ensure that your contact information in the state's database is up-to-date. (If you're unsure if your information is up-to-date, please access your account at abe.illinois.gov or contact CPS by calling the Healthy CPS Hotline at 773-553-KIDS (5437) or filling out an assistance request form).
In the next stage of this process, the State of Illinois will mail out physical renewal forms starting in May. Please make sure to regularly check your mailbox for your renewal form during this time. You can also find your renewal form by selecting "Manage My Case" on abe.illinois.gov. Once you receive your renewal form, please fill it out and send it back as soon as possible to ensure that your family does not lose Medicaid coverage.
The envelope will look like this: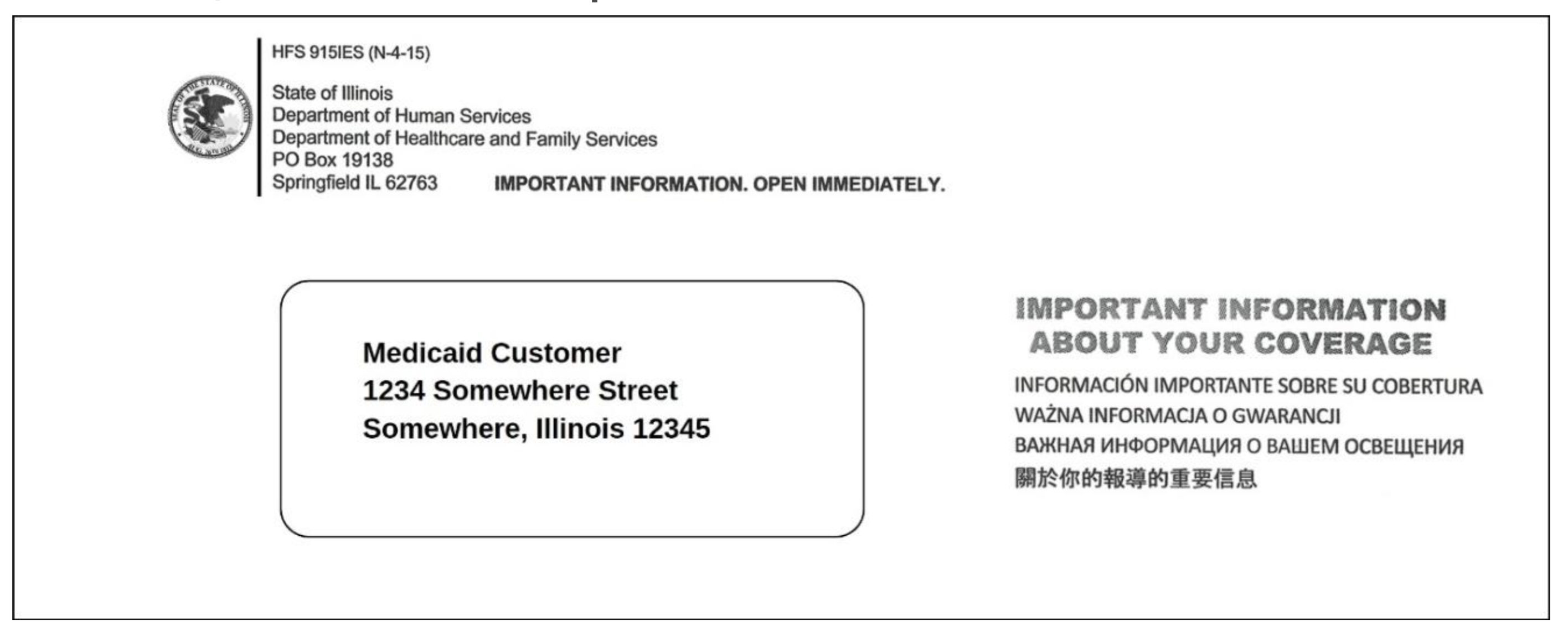 If you need any help with this process, or if you are currently not receiving Medicaid benefits and you think you are eligible, call the Healthy CPS Hotline at 773-553-KIDS (5437) or fill out an assistance request form and a staff member from the CPS Office of Student Health and Wellness will be happy to assist you.
For more information about Medicaid renewal, please visit cps.edu/medicaid.
Thank you,
Chicago Public Schools
---
**SI SU FAMILIA RECIBE BENEFICIOS DE MEDICAID, FAVOR LEER ESTE MENSAJE POR COMPLETO**
Estimados padres y tutores legales:
En las Escuelas Públicas de Chicago, nos enorgullece ayudar a conectar a nuestras familias con programas, servicios y beneficios importantes, que incluyen los beneficios de atención médica de costo reducido por medio de Medicaid. Debido a que la emergencia de salud pública por el COVID-19 terminará esta primavera, las familias otra vez tendrán que renovar sus servicios de Medicaid, a partir de este año. La fecha de renovación de cada uno es distinta, y por lo tanto es crítico que estén listos para renovar.
Como informamos en nuestra carta del 30 de marzo de 2023, el primer paso en este proceso fue asegurar que su información de contacto en la base de datos estatal estuviera al día. (Si no está seguro que su información esté al día, por favor acceda a su cuenta en abe.illinois.gov o contacte a las CPS llamando a la línea directa Healthy CPS por medio de 773-553-5437 o llenando un formulario de solicitud de asistencia.)
En la siguiente etapa de este proceso, el estado de Illinois, a partir de mayo, enviará formularios de renovación por correo postal. No olvide revisar su buzón en búsqueda de este formulario durante este periodo. También podrá encontrar su formulario de renovación seleccionando "Administrar Mi Caso" en abe.illinois.gov. Una vez reciba su formulario de renovación, por favor llénelo y envíelo de vuelta lo más pronto posible para así asegurar que su familia no pierda su cobertura de Medicaid.
El sobre se verá así:

De necesitar ayuda con este proceso, o si actualmente no recibe beneficios de Medicaid pero piensa que puede ser elegible para obtenerlos, llame a la línea directa Healthy CPS al 773-553-5437 o complete un formulario de solicitud de asistencia y un miembro del personal de la Oficina de Salud y Bienestar Estudiantiles felizmente le asistirá.
Para más información sobre la renovación de Medicaid, por favor visite cps.edu/medicaid.
Muchas gracias.
Escuelas Públicas de Chicago