CPS Meal Sites
The health and wellbeing of our students and staff is always our top priority. Since the temporary closure of our schools due to COVID-19, Chicago Public Schools (CPS) has served millions of grab-and-go meals to families. We are committed to providing meals throughout spring break. Parents/Guardians/Students can pick up meals at more than 120 schools on March 29, 30, 31 and April 1 from 9:00am to 1:00pm.
Meal Site Schedule
Keep Track of upcoming meal pick-up dates.
| | | |
| --- | --- | --- |
| April 18 | CLOSED | |
| April 19 | OPEN | 8am - 1pm |
| April 20 | OPEN | 8am - 1pm |
| April 21 | OPEN | 8am - 1pm |
| April 22 | OPEN | 8am - 1pm |
| April 23 | OPEN | 8am - 1pm |
| April 24 | CLOSED | |
* Times are subject to change.
Menu
Fresh fruits, fresh vegetables, fat-free and 1% milk, and peanut butter (or Sun Butter®) and jelly sandwiches are served every day in addition to our core menus. See each month's core menu and nutritional information for your child's school below.
Download 2021 Spring Break Meal-Kit Menu
Download April Pre-K In-School Breakfast, Lunch, and Snack Menus
Download April K-12 In-School Breakfast Menu
Download April K-12 In-School Lunch Menu
Download April Meal Distribution Kit Menu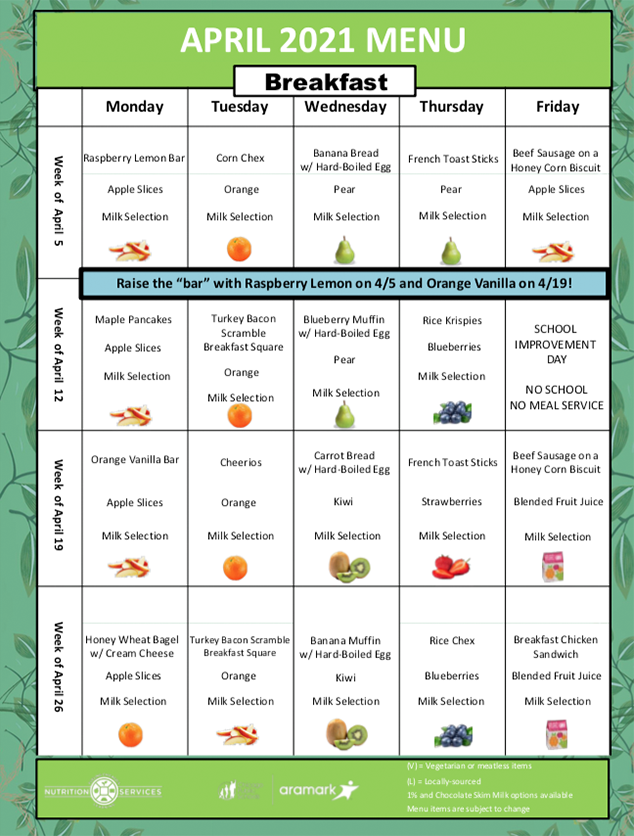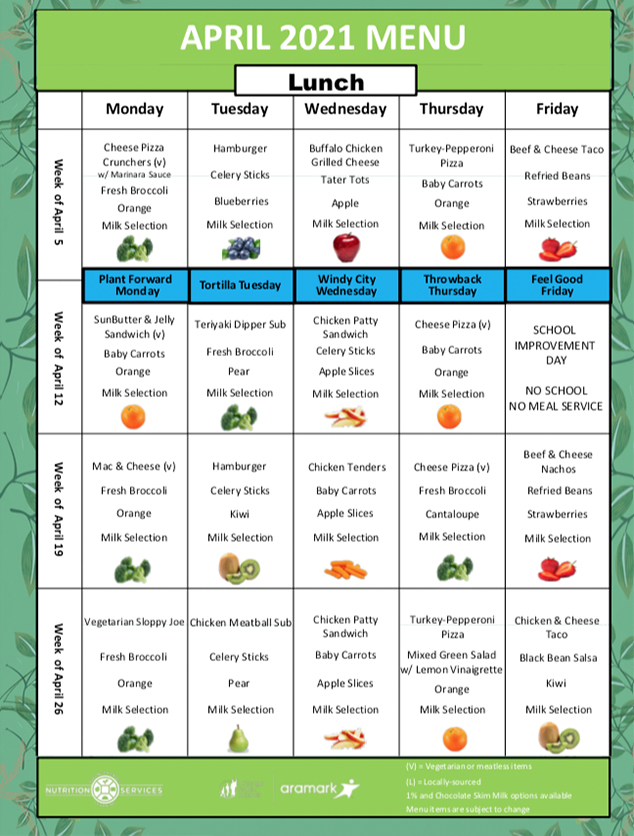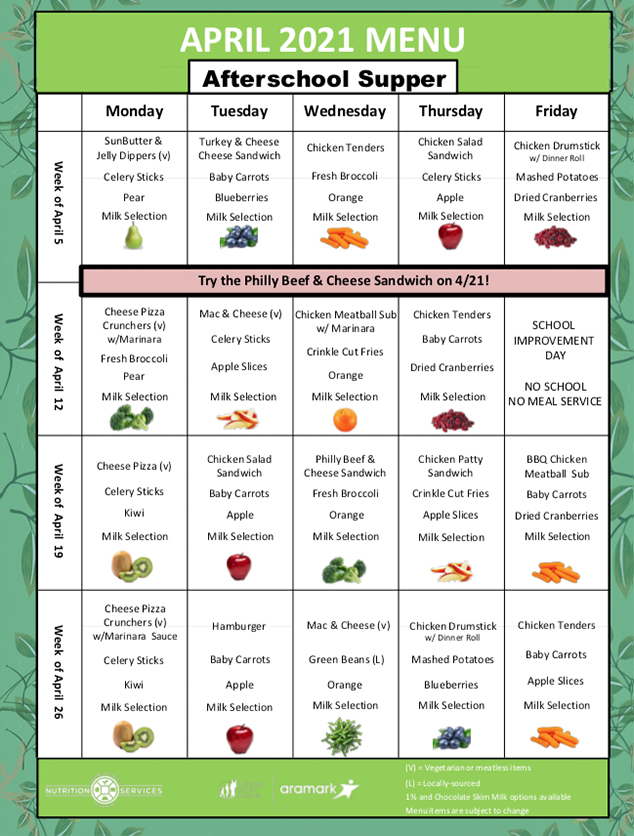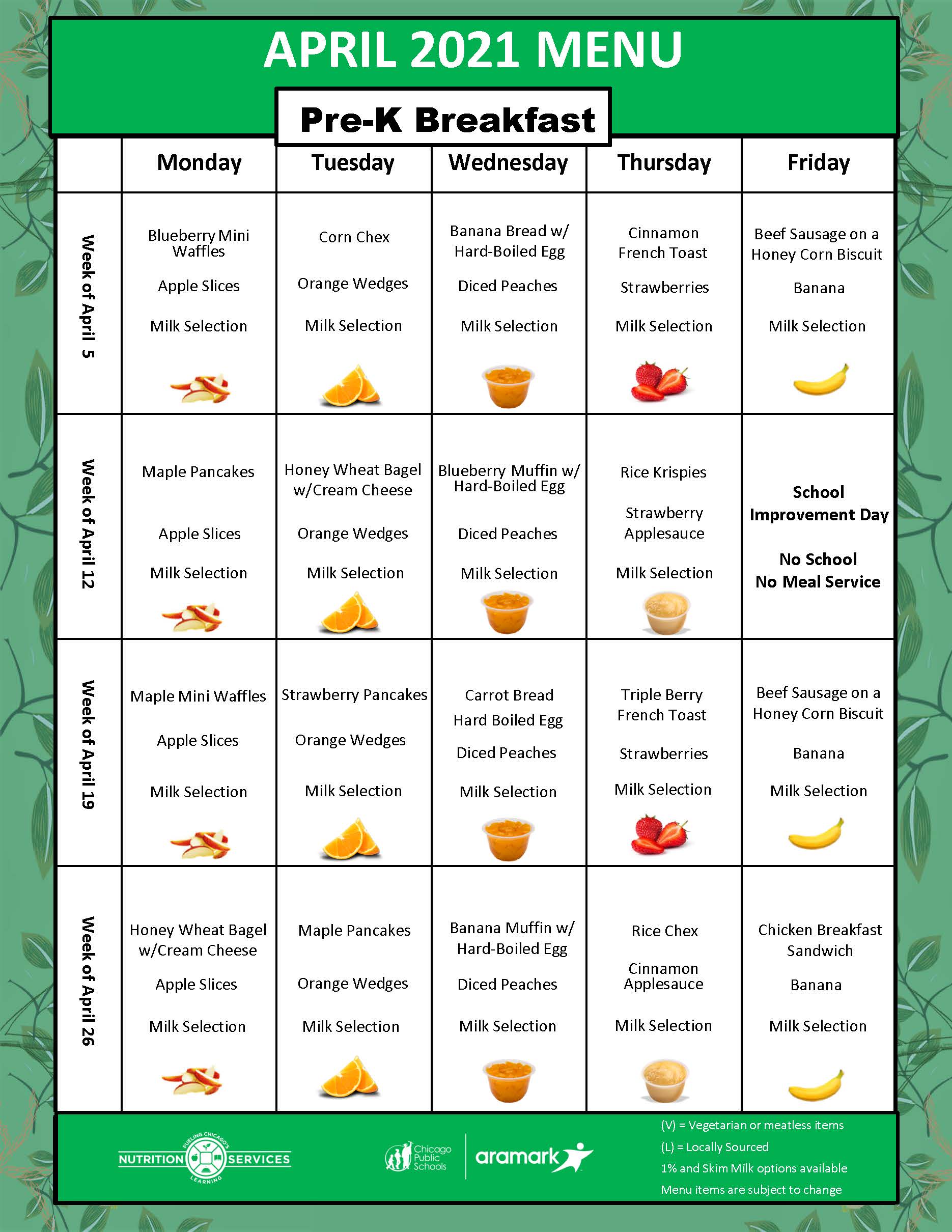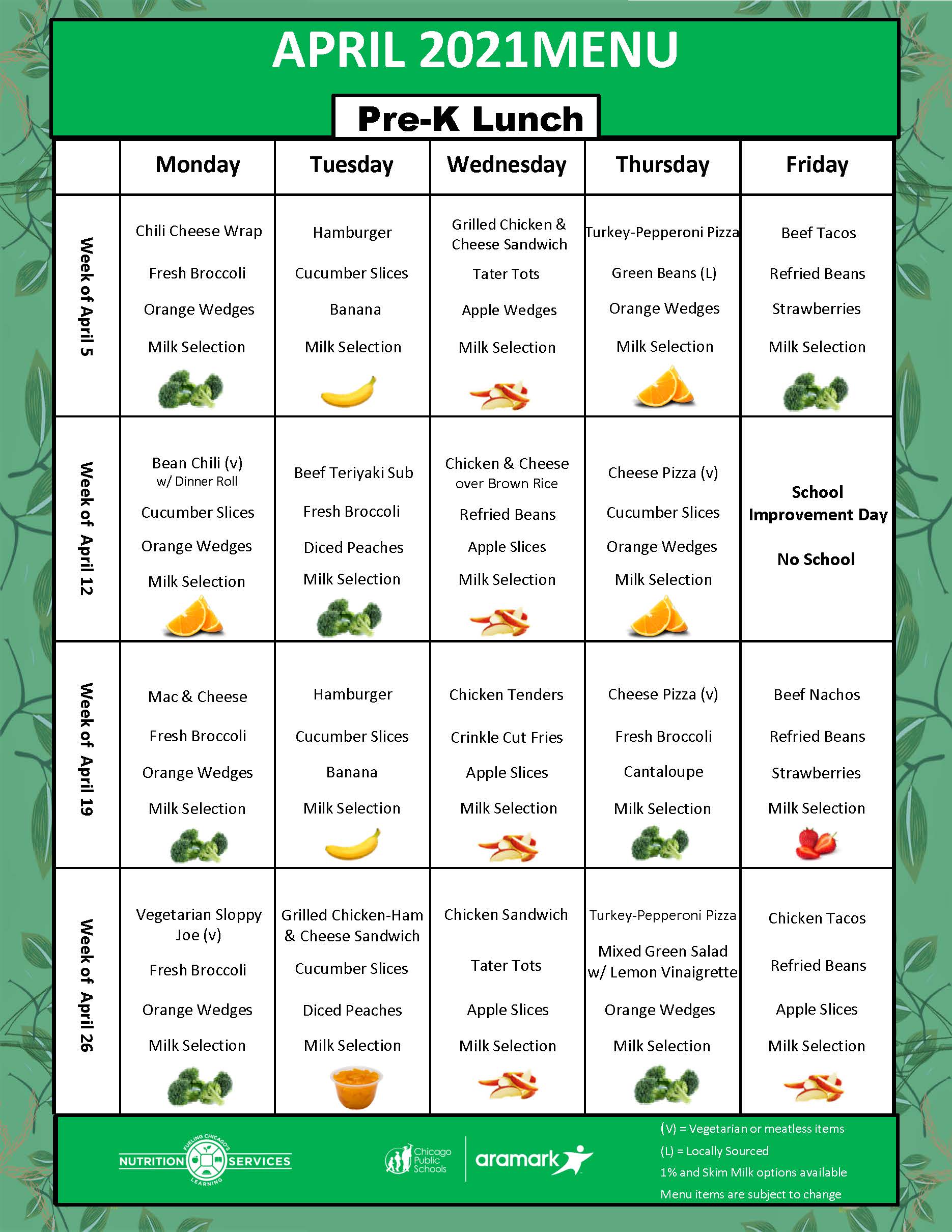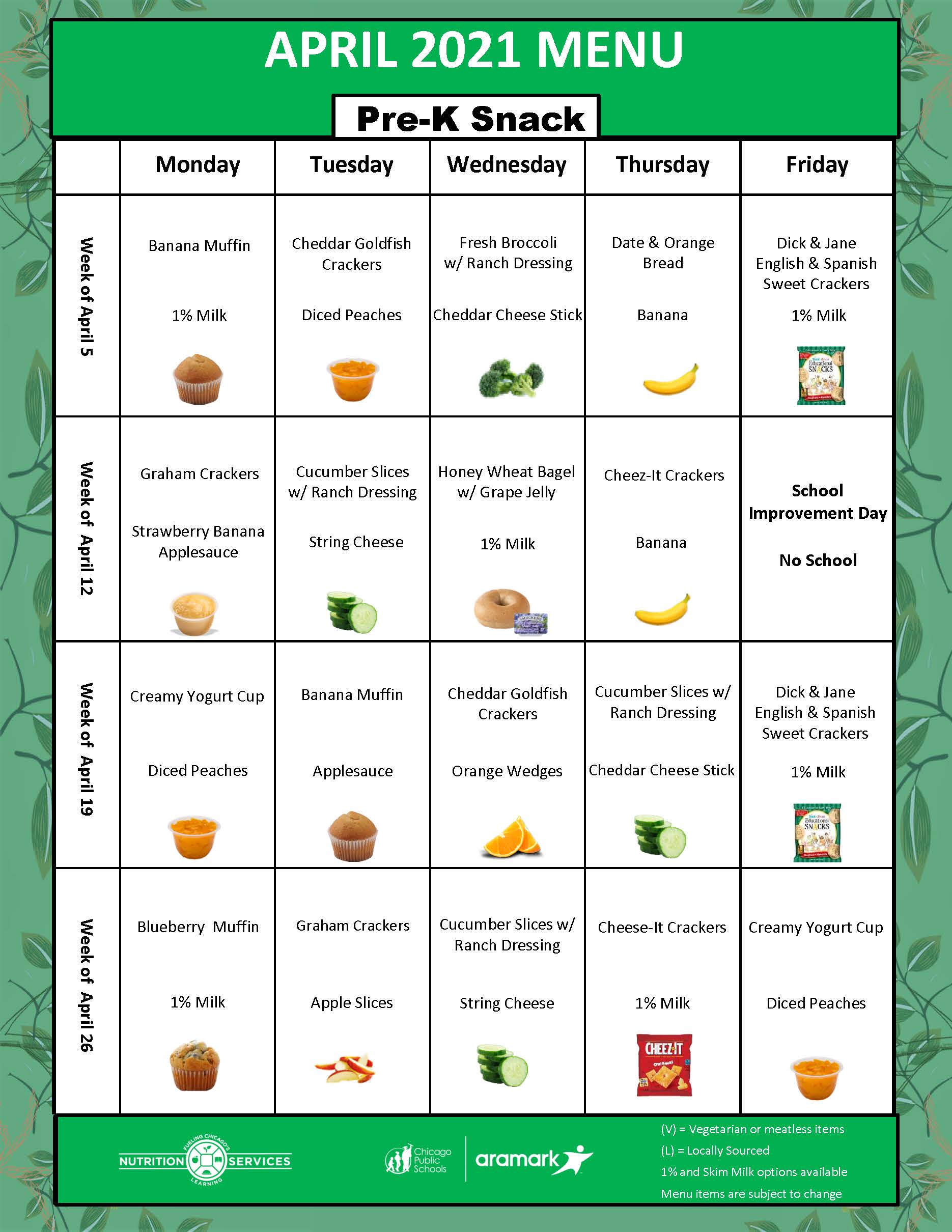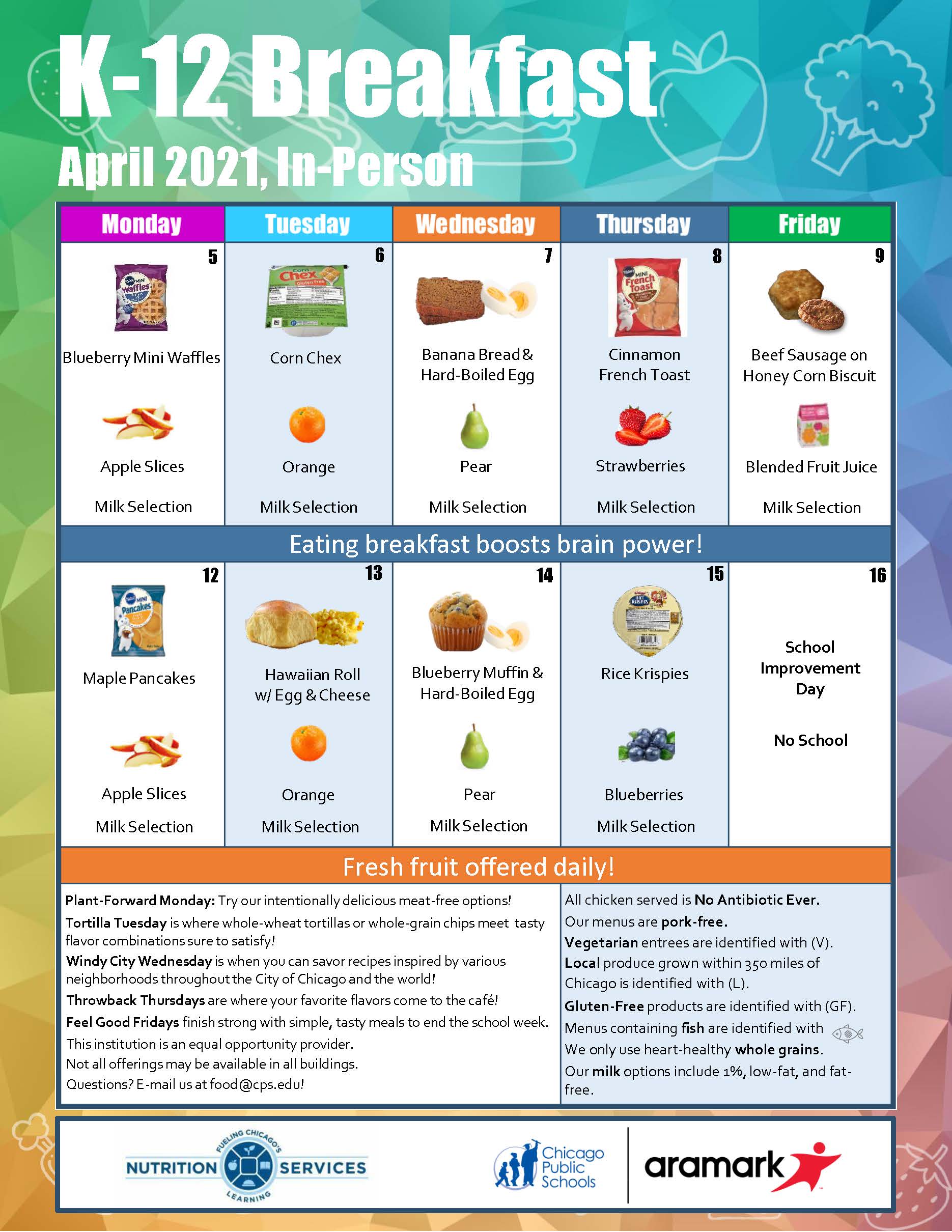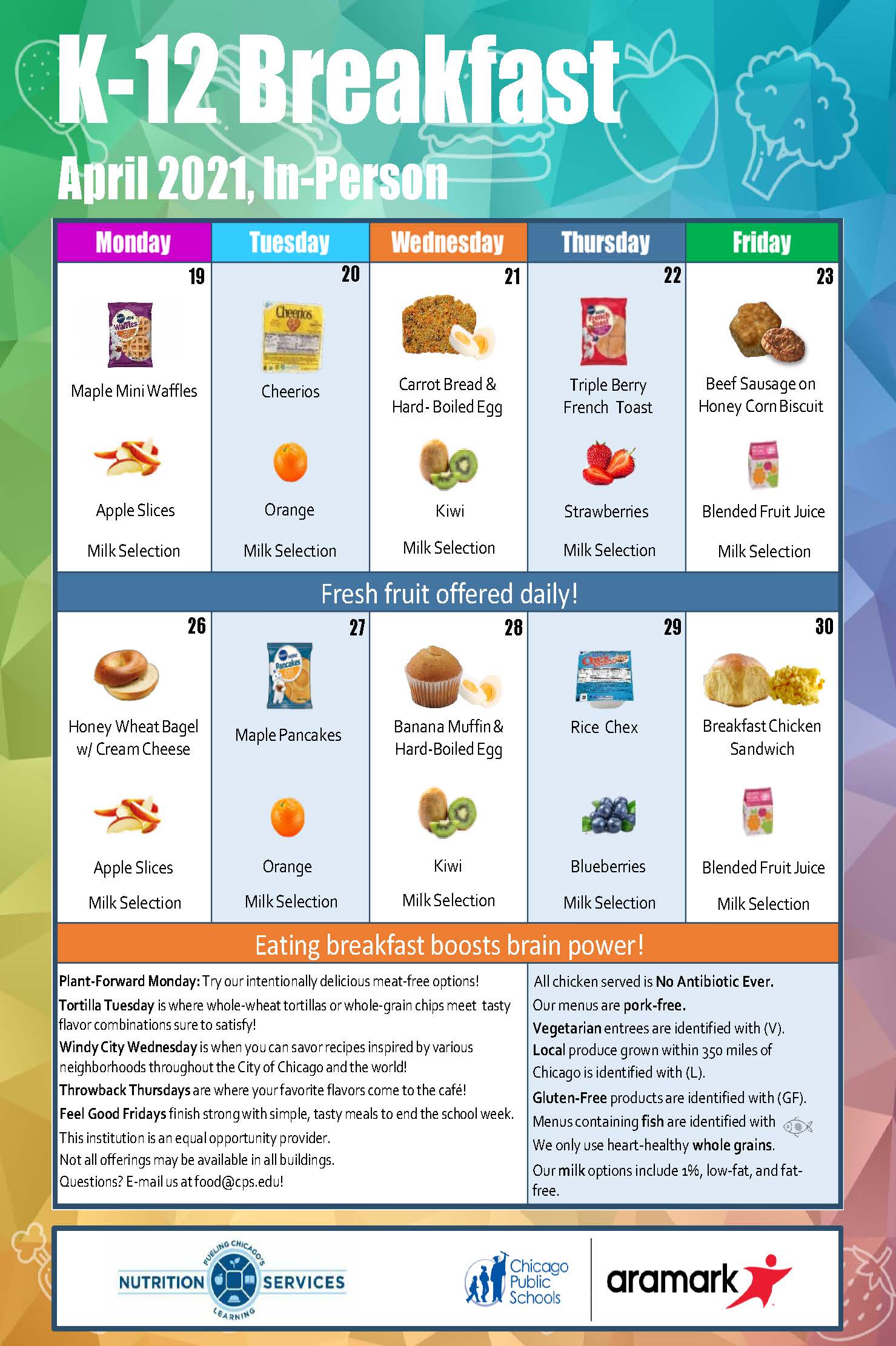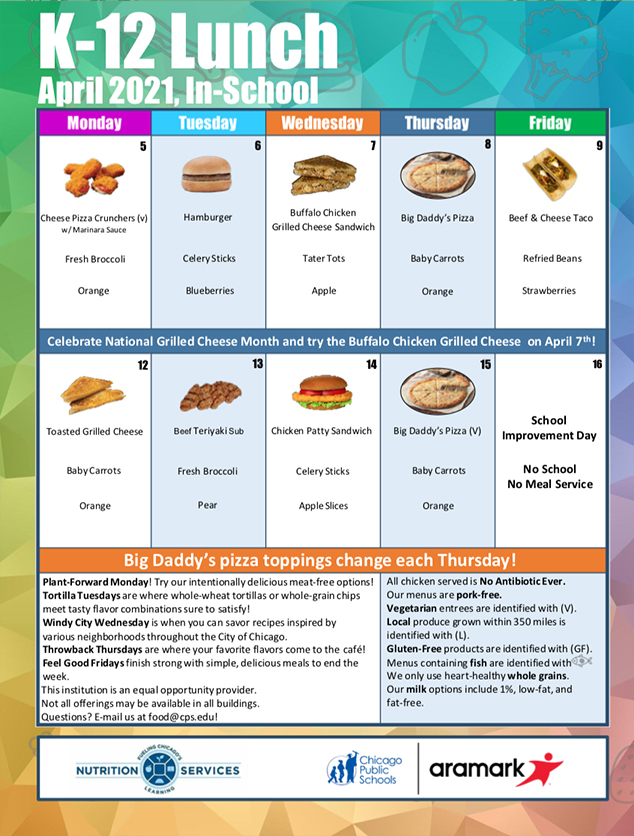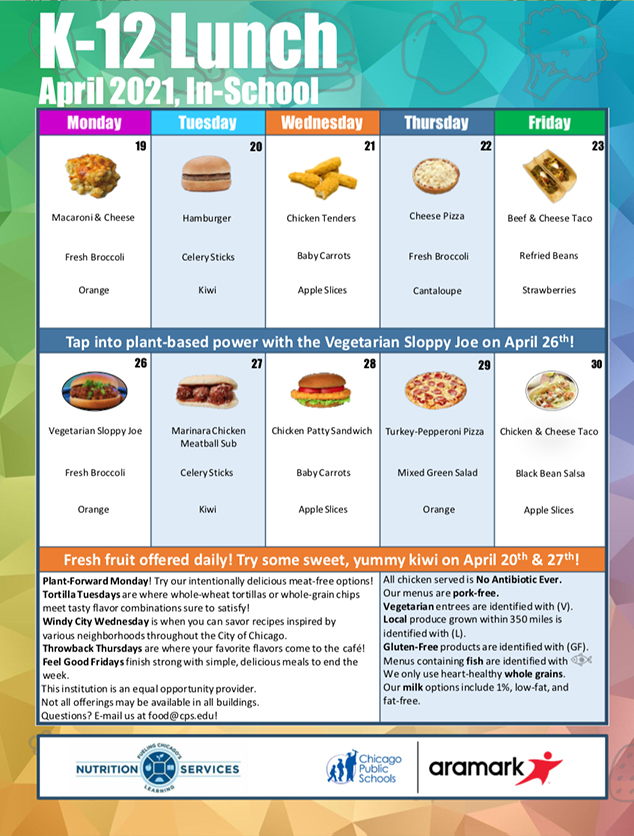 Carbohydrate Reports
Potential Changes
There may be times when the district needs to change available meal sites. These changes may happen for several reasons:
Community needs for nutrition support may change
Sites may merge to cover unexpected staffing demands or absences
A school may need to undergo special cleaning or repairs
Equipment may need to be serviced or replaced
A school may need to undergo a COVID-19 or other public health investigation
Please monitor this page for the latest information on available meal pick-up days.
Dietary Restrictions
Vegetarian options are always available. For support accommodating other dietary restrictions, including food allergies, contact your school or email food@cps.edu. Find more information on supporting students with food allergies on the Allergies section of the Chronic Conditions page.
Reporting Issues with School Food
If there is an issue with a single meal, the student should notify the school's dining manager, who should offer another option.
If there are consistent issues with the food at your school, please take the following steps:
Continue to report them to your dining manager.
Report the issue to your school principal.
Begin to keep a daily log.
Report the issues to food@cps.edu.
CPS Farm to School

Farm to School integrates local food in the dining center and growing food in the school garden.

CPS Nutrition Guidelines

CPS is committed to providing healthy, high-quality food to all students.

Help Us Create New Menus

Parents, please take a short survey about breakfast and lunch items your child enjoys.