Update (11/5/2019)
The text below reflects the FY2020 original budget that was approved by the Board of Education on August 28, 2019. For details on the FY2020 amended budget, please follow this link. Additionally, the amended budget information is reflected in the Interactive Reports feature found on the left-hand toolbar.
Thanks to the families, educators, parents, and lawmakers who advocated for historic funding reform in 2017, Chicago Public Schools (CPS) has been able to stabilize its finances and make unprecedented investments in early childhood education, school facilities, and high-quality academic programming such as Science Technology Engineering, and Math (STEM); Advanced Placement (AP); International Baccalaureate (IB); dual credit; and dual enrollment. When you couple these investments with graduation and Freshman OnTrack rates that are at an all-time high and more CPS students than ever enrolling in college, we have much to be proud of as a district.
While significant progress has been made, CPS remains underfunded based on the state's own funding adequacy targets, with CPS receiving a funding allocation that is $1.9 billion below the appropriate level. Additional funding from the state will be crucial as the district works to continue its academic progress and narrow the opportunity gap for students of color, English learners, diverse learners, and students living in the South and West sides.
In March 2019, we launched a new Five-Year Vision that is focused on addressing these opportunity gaps, promoting equity, and building on the core commitments that remain at the heart of who we are: academic progress, financial stability, and integrity.
To achieve this vision, CPS' FY2020 operating budget invests $3.8 billion in school-level funding for FY2020, allocating $619 million to capital projects such as state-of-the-art science labs, high speed internet, cutting edge technology, and the expansion of free, full-day Pre-K and high-quality academic programming. Schools will receive nearly $73 million in academic investments this year because we know rigorous, dynamic curriculum allows our students to reach their full potential. Above all, we are prioritizing equitable funding for our schools on the South and West sides to ensure every student in the district has access to the world-class education they deserve.
Narrowing the Opportunity Gap for Students Most in Need
With our district's improved financial position and our students making remarkable academic progress, CPS is focused on improving equity in our schools by working to ensure all students receive the same opportunities for a high-quality education, regardless of their race, zip code, country of origin, or diverse learning needs.
The FY2020 budget allocates millions of dollars to ensure that students who most need support will receive the necessary resources to help them reach their full potential. Most notably, CPS has established a $31 million Equity Grant program to support 219 schools that have low or declining enrollment. Funds provided through this grant will help ensure these schools, many of which serve our city's most vulnerable populations, can continue offering high-quality academic programs during the 2019–20 school year.
Students from limited-income backgrounds need additional resources to be successful, and to ensure we support students equitably, CPS is increasing the per-student funding allocation for limited-income students for the second consecutive year. Although the district's overall enrollment has decreased, we will maintain total school-based Title I allocation, which will raise the average per-student Title I allocation from $853 in FY19 to $887 in FY20.
The FY2020 budget includes $12 million in new state funding for our district's English Learners, ensuring these students receive a high-quality education that supports their unique learning needs and celebrates their diversity, which is one of our district's greatest assets. This investment guarantees that 35,000 students in 112 schools — approximately half of the district's English learners — will receive additional funding to support bilingual instruction in SY2019–20. The FY2020 budget also includes an additional $22 million in special education funding, which will help ensure schools have the resources they need to meet the specific needs of students with Individualized Education Programs (IEPs).
To ensure greater accessibility for students with disabilities, the FY2020 budget also dedicates more than $10 million to ADA improvements across the district. These funds are the start of a five-year plan to ensure the first floor of every CPS school is accessible to all children and adults with disabilities. In FY2020, CPS will partner with the Mayor's Office for People with Disabilities to select the schools that most need support this year.
These investments are just a few examples of our district's renewed focus on equity. They build on other efforts from SY2018–19, including the Curriculum Equity Initiative, which will provide teachers in every CPS school access to a rigorous, culturally-relevant curriculum, and the launch of CPS' first Equity Office. The Equity Office played an important role in developing the district's FY2020 budget proposal by helping to ensure that resources are distributed fairly and equitably across CPS schools so that all students can share in our record-setting progress.
Supporting Principals and Funding School-Level Success
It is critically important to afford our principals the time to thoughtfully plan for the next school year, and we are proud that we were able to provide FY2020 school budgets to principals in March 2019 — the earliest budget release in recent memory.
For the second consecutive year, school-level funding is based on each school's 20th-day enrollment from SY2018–19. These funding levels will not decrease, even if fall 2019 enrollment is lower than it was in fall 2018. However, if fall 2019 enrollment exceeds last year's enrollment, schools will receive additional funding. This funding approach gives principals the ability to plan with confidence, knowing that their funding allocation will not decrease if enrollment declines.
The FY2020 operating budget adds $73 million in additional school-level investments, highlighted by the following:
We are investing $27 million to ensure up to an additional 2,800 four-year-old students, most living on the city's South and West sides, will have access to free, full-day Pre-K in the fall of 2019 as part of our multi-year commitment to provide free, full-day Pre-K to all four-year-olds in Chicago.
Following a first-of-its-kind program application process for schools to request new high-quality academic programs, CPS is investing in the district's largest-ever academic program expansion by investing $5.2 million next school year as part of a $32 million multi-year investment in programs including STEM, IB and Dual Language at 32 schools. To help ensure that every student in every community has access to a well-rounded, high-quality education, we are investing over $31 million to provide Equity Grant funding to 219 schools that are experiencing low or declining enrollment.
We are allocating $12 million in supplemental funding to support bilingual education and, in alignment with changing student needs, providing $22 million in additional special education funding compared to initial 2018–19 allocations.
We are allocating $12 million in supplemental funding to support bilingual education and, in alignment with changing student needs, providing $34 million in additional special education funding compared to initial 2018–19 allocations.
We are increasing our Student-Based Budgeting rate by 2.5 percent — from $4,397 per student to $4,506.93 per student — to support high-quality academic programming and higher teacher salaries.
Investing in Robust Campuses to Educate the Whole Child and Enrich Communities
To create stronger schools that educate the whole child and enrich their communities, we are investing in the outdoor recreational spaces at schools throughout the city. The FY2020 budget includes nearly $45 million for site improvements across the city, such as playgrounds, playlots, and turf fields, that will support students both inside and outside of the classroom. Through the Space to Grow program, five schools will have their schoolyards transformed into functional spaces to play, learn, garden, and participate in physical activity, outdoor learning, and community engagement. Additionally, we will build a new athletic field at Morgan Park High School.
Preparing Students for 21st Century Success
The FY2020 budget allocates $30 million to build state-of-the-art science labs in 29 CPS high schools as part of a multi-year investment to ensure every high school in Chicago will have a state-of-the-art science lab by 2021. This investment helps the district ensure all students develop the skills needed to compete in college and a global, 21st century economy.
To improve access to modern technology in schools throughout Chicago, the district is in its second year of fulfilling a $125 million investment that will ensure all schools have the devices and internet connectivity needed to engage with the modern educational resources. In FY2020, CPS is allocating $85 million to provide new equipment to support the use of teacher-directed classroom technology in over 130 schools and upgrade school network bandwidth.
Strengthening Neighborhood Schools with High-Quality Academic Programming
CPS is committed to providing excellent educational opportunities for families living in every Chicago neighborhood. This commitment is reflected in the FY2020 budget, which provides for an unprecedented expansion of high-quality academic programs. Fueled by a first-of-its-kind application process that urged school communities to submit proposals for the academic programs they felt would be most beneficial to their students, the district is funding the expansion of dynamic programs such as STEM, IB, world language, and fine and performing arts at 32 CPS schools this year.
Relevant, well-rounded, and rigorous curriculum allows our students to challenge themselves academically and reach their full potential. The FY2020 budget adds 1,900 IB seats at seven schools, bringing the total number of students with access to this curriculum to more than 19,000, which is the largest IB network in the country. In addition, 6,000 more students will have access to STEM and STEAM programming as a result of this budget, better preparing them to thrive in a technology-driven economy, and a new Gifted program at McPherson Elementary will bring the number of schools providing accelerated coursework through Gifted programs to 22.
Through the creation of six new fine and performing arts schools, the FY2020 budget will provide an additional 3,000 students with programming that integrates art, music, and dance throughout the school day. New personalized learning programs will be implemented at two schools in 2019, meaning 118 schools will use personalized learning programs to tailor instruction to the unique needs and interests of each child.
Our district is home to many culturally- and linguistically-diverse communities, and CPS is committed to helping our students develop into well-rounded global citizens. The budget for FY2020 creates four new dual-language schools and two additional world language programs so more CPS students will have the opportunity to develop literacy and fluency in a foreign language and expand their cultural understanding.
Building a Strong Foundation for Our City's Youngest Learners
As the next step in the City of Chicago's commitment to offer all four-year-olds access to free, full-day Pre-K by 2021, CPS is investing $120 million in capital funding and $27 million in additional school-based Pre-K funding in the FY2020 budget.
Twenty million of the total $120 million in capital funding will support the conversion of classrooms to support Pre-K beginning in Fall 2019, and $100 million will support the development of new Pre-K classrooms at schools throughout the city following outreach and engagement with school communities. CPS will work in the months ahead to identify the schools that will receive investments through the $100 million capital funding allocation, and preference will be given to schools in high needs areas that educate students from limited income households.
The additional $27 million in school-based allocations will immediately open more than 100 new Pre-K classrooms in 28 high-needs communities. As a result of this investment, up to an additional 2,800 students will have access to high-quality Pre-K in fall 2019.
Staffing Investments to Promote Equitable Access to High-Quality Schools
The district has committed to expanding staffing levels for key support roles over the next five years, and the FY2020 budget allocates $10 million to augment staffing levels for additional nurses, social workers, and case managers. The following positions will be prioritized for the district's highest-need schools to help ensure equitable access to student supports.
Nurses: The district has allocated $2.5 million to hire an additional 30 nurses during FY2020 to ensure more schools can provide students with consistent, high-quality nursing services.
Social Workers: To meet the needs of both special education and general education students, CPS has allocated $3.5 million to fund 35 additional social worker positions in FY2020. Due to the limited candidate pool available, the district does not anticipate being able to fill these vacancies immediately, but we are committed to developing the recruiting pipeline needed to begin staffing these positions over the course of the next year.
Case Managers: To ensure diverse learners receive the supports and services they need to access a high-quality education, the district is allocating $3.6 million in FY2020 to fund 30 additional case manager positions for schools in high-need communities with a high diverse learner student population.
To address candidate shortage and establish a stable pipeline of qualified candidates, the district is also investing $400,000 in FY2020 to support ongoing clinical staff recruitment pipeline programs and efforts.
Investing Produces Results
The FY2020 budget provides our school communities with the resources they need to build on their record-breaking gains. CPS has become a national leader in urban education, and in the past year our schools have earned the following recognition and achievements:
According to U.S. News & World Report, CPS schools claimed seven of the top ten spots and 20 of the top 100 high schools in Illinois, with nine CPS schools ranking among the top 350 schools in the United States.
Students earning a diploma hit an all-time high of 78.2 percent in 2018 — with the biggest improvements coming from African American and Latinx males. The graduation rate has steadily risen, growing more than 37 percent since 2011, when just over half of CPS students earned a high school diploma.
In 2018, 89.4 percent of freshmen were considered on-track to graduate, which is the highest measure on record and a nearly 30 percent improvement since 2011. The Freshman OnTrack rate is a research-based measurement that is the single best indicator of whether or not a student will graduate, and this improvement signals that more CPS students are likely to graduate than ever before.
More Chicago elementary students are meeting or exceeding national attainment standards for math than ever before, and reading scores have held steady at their previous record-high. In 2018, a record 56.6 percent of students met or exceeded the national average in math scores, and 61.4 percent of students met or exceeded the average in reading scores on the 2017–18 NWEA MAP assessment.
In 2018, more CPS graduates earned college and career credentials than ever before. Credential attainment jumped 3.2 percentage points, with 46.6 percent of 2018 graduates earning at least one early college and career credential, which helps make college more accessible and affordable for students and their families.
The class of 2018 earned more than $1.33 billion in scholarship offers — $90 million more than 2017 and five times more than 2012, when CPS students earned $266 million in scholarship dollars. This dramatic increase is consistent with the district's strategic expansion of postsecondary initiatives and college-level programming such as IB, STEM, AP, dual credit, and dual enrollment in schools across the city.
More high school students are staying in school than ever before, with the one-year dropout rate at an all-time low of 6.4 percent in 2018, and with the biggest improvements coming from African American students. CPS' investments in mentoring, after-school programming, and social-emotional learning continue to support students and help them stay in school. Since 2011, the one-year dropout rate has decreased by 43 percent.
During the 2017–2018 school year, 213 CPS students earned the AP Capstone Diploma — more students than any other district in the nation. AP Capstone is an intensive diploma program that requires students to earn a score of 3 or higher in both AP Seminar and AP Research courses, and four additional AP exams. AP Seminar and AP Research assessments go beyond exams to include academic papers, multimedia presentations, and defense of findings in order to prepare students for college and career success through the development of critical thinking, academic research, collaboration, presentation, and time management skills.
CPS has made major investments in social-emotional learning programming, training, and initiatives in recent years to better support the needs of our students. As part of these efforts, CPS created the Supportive Schools Certification to recognize schools have prioritized supportive school environments. In 2019, the number of schools that received a Supportive Schools Certification rose from 447 to 524.
The investments outlined in this budget will allow students to build on this considerable momentum and maintain the reputation Chicago has established as a national leader in the field of urban education.
FY2020 Budget Overview
Chicago Public Schools (CPS) revenues are projected to increase in FY2020, keeping the district on track for sustainable growth after a period of fiscal uncertainty. This change is due to the stability established in the third year of the state-wide Evidence-Based Funding (EBF) model, as well as increased property tax revenues and other local funding sources. CPS projects that it will take in $6,120 million in operating revenues in FY2020 — an increase of $198 million compared to FY2019.
However, this improved financial outlook still does not elevate the district's revenue collection enough for our students to receive all the resources they need and deserve. In particular, CPS will still require $1,924 million more in FY2020 state funding in order to fully fund our schools according to the Illinois State Board of Education's own EBF formula.
Budget Overview Table 1: FY2020 Proposed Operating Budget (millions)
FY2019
Operating
Budget
FY2020
Operating
Budget
FY2020 vs.
FY2019
Budget
Property Tax
$2,899.4
$3,073.8
$174.4
Replacement Tax
$126.2
$151.0
$24.8
TIF Surplus
$22.3
$96.9
$74.6
All Other Local
$214.2
$192.8
$(21.4)
Total Local
$3,262.1
$3,514.4
$252.3
State
$1,610.3
$1,610.1
$(0.2)
State Pension Support
$238.9
$257.3
$18.5
Federal
$805.4
$732.7
$(72.6)
Investment Income
$5.0
$5.0
$0.0
Total Reserves
$62.6
$56.0
$(6.6)
Total Revenue
$5,984.2
$6,175.5
$191.3
Total Expenditure
$5,984.2
$6,175.5
$191.3
For additional details on the FY2020 operating budget please see Appendix II of this chapter, as well as the Revenue Chapter of the Budget Book.
FY2020 Capital Budget Overview
The FY2020 budget for Chicago Public Schools includes a capital budget totaling $821 million of investments in long-term district priorities, including facility renovations to keep schools safe, warm, and dry, improvements to make sure every high school in the city offers state-of-the-art access to science labs, and district-wide access to digital learning tools. To support schools throughout the city, the FY2020 capital plan provides funding in five main areas: critical facility needs, interior improvements, educational programs, site improvements, and IT and security upgrades.
As of August 2019, there are roughly 325 active projects across the district. These projects include major renovations to ensure our schools stay warm and dry, facility construction to relieve overcrowding, security cameras to provide a safer environment for our children, and renovations to aid programmatic enhancements, among others.
The FY2020 capital budget is funded by future bond proceeds backed by the Capital Improvement Tax (CIT) and Evidence-Based Funding (EBF), potential state capital funding, federal E-Rate revenue, and potential outside resources as they become identified.
Full details on the FY2020 capital budget are available on the interactive capital plan website: www.cps.edu/capitalplan. The site allows users to quickly select projects by school, geographic area, type, and year.
FY2020 Debt Budget Overview
The FY2020 budget includes total appropriations of approximately $700 million for principal and interest payments on the district's outstanding bonds.
CPS' Capital Improvement Program, described in the Capital chapter, funds long-term investments that provide our students with a world class education in high-quality learning environments. CPS relies on the issuance of bonds to fund the investments laid out in our Capital Improvement Program, which include roofs, envelopes, and windows; state-of-the-art high school science labs; high-speed internet and digital devices; playgrounds and athletic fields; and expansion of full-day Pre-K and other high-quality programmatic investments. Bonds are debt instruments that are similar to a loan, requiring annual principal and interest payments.
The FY2020 budget provides our school communities with the resources they need to build on their record-breaking gains. CPS has become a national leader in urban education, and in the past year our schools have earned the following recognition and achievements:
As of June 30, 2019, the Board of Education has approximately $8.4 billion of outstanding long-term debt and $450 million of outstanding short-term debt.
For additional information on the FY2020 Debt budget, please see the Debt chapter of the budget book.
Appendix I: FY2019 Operating Budget Financial Performance
Due largely to higher than expected TIF surplus and property tax revenues, and spending levels below budget, CPS is estimated to end the year with revenues exceeding expenditures by $41 million. The end-of-year surplus improves the district's financial position by reducing, but not eliminating, the need for short-term borrowing.
Appendix I Table 1: FY2019 Year-End Estimates (millions)
FY2019 Budget
FY2019 Estimated
End of Year
Variance Over
(Under) Budget
REVENUES
Property Tax
$2,899.4
$2,952.9
$53.5
Replacement Tax
$126.2
$152.3
$26.2
TIF Surplus
$22.3
$96.9
$74.6
All Other Local
$214.2
$143.9
$(70.3)
State
$1,610.3
$1,554.8
$(55.5)
State Pension Support
$238.9
$238.9
$-
Federal
$805.4
$755.4
$(50.0)
Investment Income
$5.0
$5.7
$0.7
Total Revenue
$5,921.6
$5,900.8
$(20.8)
EXPENDITURES
Salaries
$2,503.1
$2,554.2
$51.2
Benefits
$1,450.9
$1,424.4
$(26.5)
Contracts
$1,292.0
$1,337.9
$45.9
Commodities
$243.4
$359.7
$116.3
Transportation
$106.2
$106.1
$(0.1)
Equipment
$18.3
$53.3
$34.9
Others
$-
$-
$-
Contingencies
$370.3
$24.6
$(345.8)
Total Expenditure
$5,984.2
$5,860.2
$(124.0)
Revenue (less than) Expenditure
$(62.5)
$40.6
Revenues
Local Revenue
While the disbursement of property taxes in the second installment of property tax bills is still yet to be completed, the year-end total of property tax revenue is projected to come in $6 million higher than the originally budgeted amount of $2.9 billion. Because of higher than expected assessment increases within Transit TIF boundaries, revenues from the Transit TIF were $48 million higher than expected. Personal Property Replacement Tax (PPRT) revenues are projected to come in $26 million above budget due to higher than expected statewide receipts of corporate income.
State Revenue
Under the Evidence-Based Funding (EBF) model, CPS in FY2019 received $40 million less than originally budgeted in EBF revenues. This was a result of other school districts being further from their adequacy targets than expected, and because diversions to schools approved by the Illinois State Charter School Commission (SCSC) were higher than expected. Categorical grant revenue is also projected to be $15 million lower than budgeted, because of decreased revenues from Orphanage Tuition and transportation.
Federal Revenue
Federal revenues received in FY2019 were $50 million lower than budgeted. Much of these reduced federal revenues was offset by a corresponding reduction in expenditures typically reimbursed with federal funds.
Expenditures
Estimated FY2019 expenditures are $124 million lower than the FY2019 budget. This underspend is largely driven by grant and school-based contingencies. Funds budgeted in contingencies may not spend their full budgeted amount especially in the case where anticipated grant funds are not received.
Appendix II: FY2020 Summary Information
The FY2020 operating budget is approximately $6.18 billion. Sixty eight percent of the budget is tied to teacher and education support personnel salaries and benefits (including pension costs). Charter tuition makes up nearly 12 percent of the operating budget while commodities (utilities, textbooks, supplies), transportation, contractual services, contingencies, and equipment make up the remaining 20 percent.
Appendix II Chart 1: FY2020 Budget by Expense Category (millions)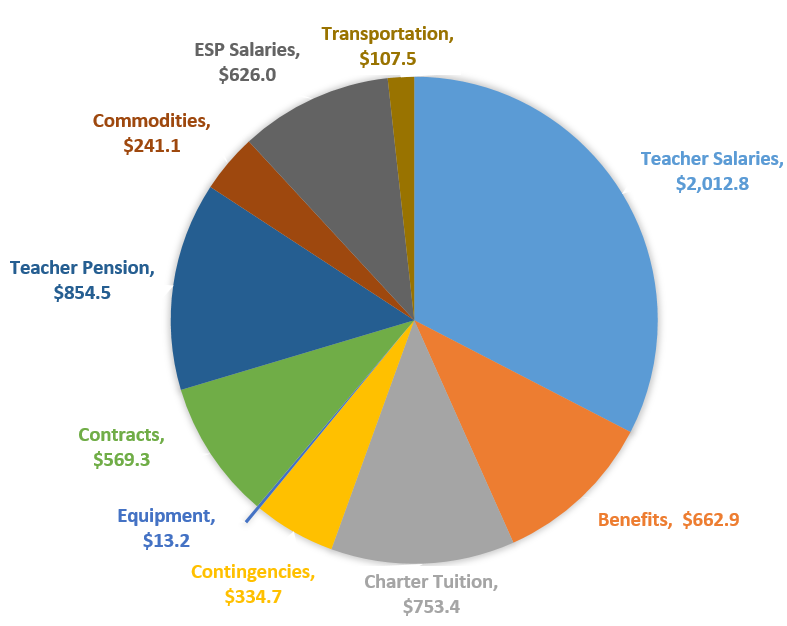 The FY2020 budget includes 38,037 FTE, an increase of 930 FTE from the FY2019 budget. 97% of all positions in the FY2020 budget provide direct support to schools.
Appendix II Chart 2: Of the 38,037 Positions in the FY2020 Budget, 97% Directly Support Schools (FTEs)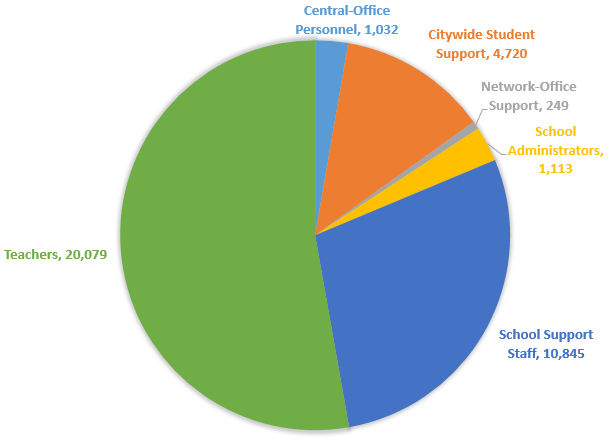 Appendix II Table 1: FY2019 Projected Expenditures vs. FY2020 Budget
FY2018
Expenditures
FY2019 Projected
Expenditures
FY2020 Proposed
Budget
Salaries
$2,436,266,892
$2,554,240,792
$2,638,844,896
Benefits
$1,399,213,799
$1,424,409,310
$1,517,399,044
Contracts
$1,245,247,852
$1,337,860,113
$1,322,684,750
Commodities
$252,796,378
$359,716,294
$241,094,132
Transportation
$106,021,382
$106,110,711
$107,537,226
Equipment
$36,313,379
$53,258,001
$13,231,464
Others
$50,563
$-
$-
Contingencies
$37,969,855
$24,568,161
$334,745,742
Grand Total
$5,513,880,100
$5,860,163,382
$6,175,537,251
Salaries and Benefits. 68 percent of operating expenditures in FY2019 were on employee salaries and benefits. The FY2020 salary budget reflects an increase of $178 million over FY2019 spending due to a combination of factors. Positions that remained unfilled during the course of FY2019 caused a reduction in FY2019 spending and the addition of positions in the FY2020 budget, drives the increase year-over-year. Additionally, funds that are held in contingency often get transferred and spent on salary and benefits during the year (see "Contingencies" below for additional detail) which accounts for the remaining increase.
Contracts. This category includes tuition for charter schools and private therapeutic schools and payments for clinicians - such as physical therapists and nurses - that are not CPS staff. This category also includes early childhood education programs provided by community partners, and programs such as Safe Passage. In addition, this category includes repair contracts, legal services, waste removal, janitorial services, engineering, and other services. FY2019 spending is projected to be higher than the FY2020 budget due to efforts to address school-based maintenance issues, including elevator and fire system upgrades and other environmental related repairs throughout the district.
Commodities. Commodities include spending on items such as food and utilities (which make up the largest share), as well as instructional supplies such as textbooks, software, and other supplies, such as postage and paper. FY2019 spending is projected to be higher than the FY2020 budget due to higher than anticipated FY2019 spending on digital curriculum materials and software, software licensing and support for the district's student information and financial systems, and other instructional materials.
Equipment. Equipment pays for the cost of furniture, computers, and similar other non-consumable items. During FY2019, district spending increased in this category to provide uniform technology within classrooms. Additionally this category experiences increases in spending during the year as schools transfer funds into the equipment account from other areas of their respective budgets.
Transportation. The cost of bus service is the vast majority of the transportation budget, but it also includes costs for CTA passes and reimbursement that the district is legally required to provide. The FY2020 budget for transportation is relatively flat as compared to FY2019 expenditures, due to the continual optimization of routes as contractual costs rise.
Contingencies. This account type includes three categories of spending. The first category represents funding that has been budgeted but not yet allocated to specific accounts or units where it will eventually be spent. Under the SBB system, schools are not required to allocate all of their funds, but can hold some in contingency while they determine how they want to spend it. Similarly, the district holds grant funds in contingency, particularly if the grant is not yet confirmed. Spending should rarely take place from contingency accounts, which is why the budget is significantly higher than the actual expenditures.